All Posts Tagged With: "MAC Makeup"
It's a Monster collaboration: Pink 4 Friday by MAC Cosmetics and Nicki Minaj. The Trinidadian hip-hop diva has personally designed a LIMITED EDITION MAC Lipstick, Pink Friday, to celebrate the release of her highly anticipated debut album of the same name. Putting her trademark barbz glamour twist on a bright, creamy pink satin formula, Nicki says, "MAC's Pink Nouveau was my favourite lipstick for years, but it's all about Pink Friday!"
Nicki's exclusive shade will only be available for purchase four Fridays beginning Friday, November 26, 2010, while supplies last, ONLY at maccosmetics.com.
Introducing MAC Digi- Dazzle!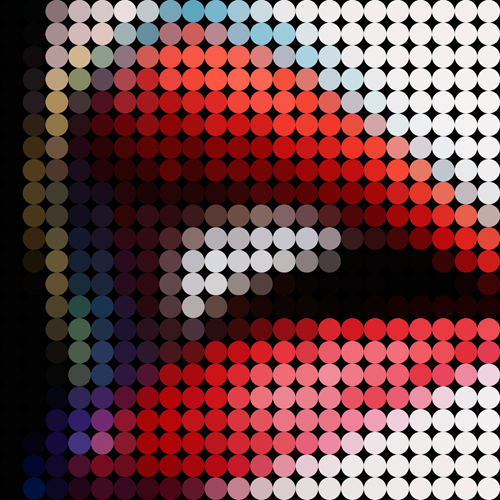 By MAC: We took out the razzle, kept the dazzle, and added a hint of glee! Then we digitized the drama, producing new heights in tonality from Hot Sass to Hellraiser – 13 colours to astonish, awe and electrify the lippiest critic. A limited-edition collection that makes boredom and predictability a thing of the past. What modern lips do best: Digi-Dazzle. Do you compute?
Introducing the new MAC Dare To Wear collection!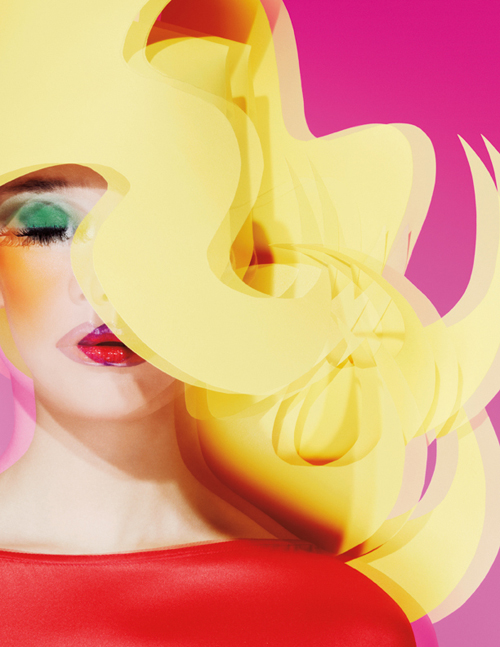 By MAC: Our own Lady Gaga mobilized legions of you to DARE TO WEAR…and it's created a wave of energy, excitement and outrageousness all around the world! Join the brigade of loud-and-proud who daily dare to declare their own individuality. High-powered pigment and holographic pearl create a crazy-intense, shine-saturated gloss, combined with Pop Eye Shadow shades, as over-the-top as Lady G Live! Inter-dimensional one-coat colour on the first stroke means there's always an encore! Creamy soft application grabs and sculpts, gel structure molds and has a bouncy feel – pure exhilaration, it's a personal high! More and more of you, every minute, every hour, every day, not afraid to DARE TO WEAR. Bravo!
Introducing MAC In The Groove. Every once in a while don't you just want to let go, feel the flow, and get In The Groove? Start with a little '70s Batik, add some '80s Neo-Mod Tie-Dye fun, some Marrakech mystique, and you're feeling groovy! A modern, flowing and fabulous way with bold, kaleidoscopic colour combined with boho charm and up-to-the-minute catwalk style. Nine NEW Mineralize Eye Shadows, six Cremesheen Lipsticks, six Cremesheen Glass, four Mineralize Skinfinish Powders, and five NEW Mineralize Blush Duos. Shadows are matte, sans glitter and in a trio format. Creamy lips play perfectly off Mineralize satin-smooth eyes. Turn on and groove out!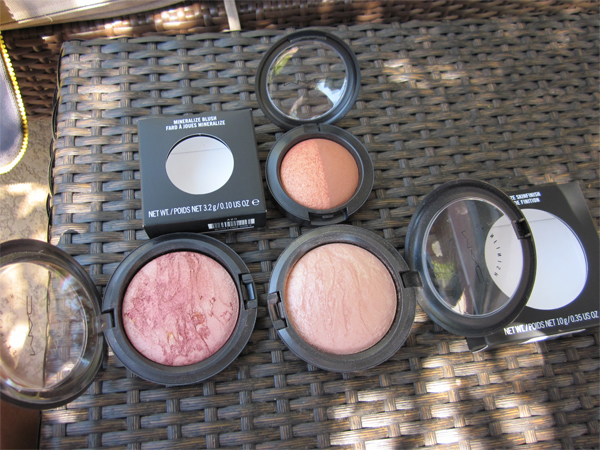 T To B clockwise: MAC In The Groove Minerlize Blush Duo ($23) A Little Bit Of Sunshine satin light brown and pearl beige. Minerlize Skinfinish ($28) (which is Marta Walsh's absolute favorite MAC blush collection) By Candle Light golden pink (ans amazing shade especially if you have an olive/dark skin tone because it's so light it stands out on my dark skintone). Minerlize Skinfinish Petticoat pale rose with gold and amber veining.
New York Fashion Week Fall Winter 2010. Show: Peter Som. Makeup by MAC Cosmetics.
The look and inspiration: "The look was Uptown girl meets Woodstock, a shimmery golden eye to contradict the deep, dark purple lip ." – Tom Pecheux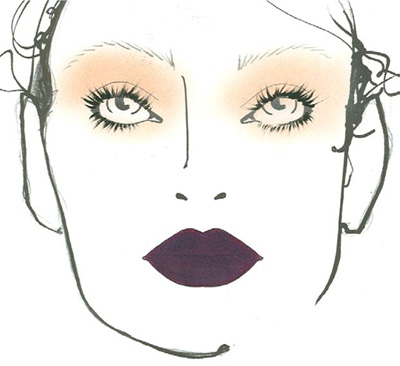 The makeup breakdown, products are all by MAC Cosmetics.
Eyes:
Studio Sculpt Concealer – applied over the eyelid
Set Powder in Invisible – powdered over the eye area to set concealer
Pigment in With Legal – swept over the concealed eyelid from lash to brow and in the inner eye corner
Iridescent Powder in Silver Dusk – lightly applied to the inner eye corner and under the brow bone
Studio Fix Lash – applied to top and bottom lash
New York Fashion Week Fall Winter 2010. Show: RODARTE. Makeup by MAC Cosmetics.
The look and inspiration: "My inspiration is Jung's 'Collective Unconscious ' and polarization – the girls appear spirit like, pale skinned and ghoulish ."– James Kaliardos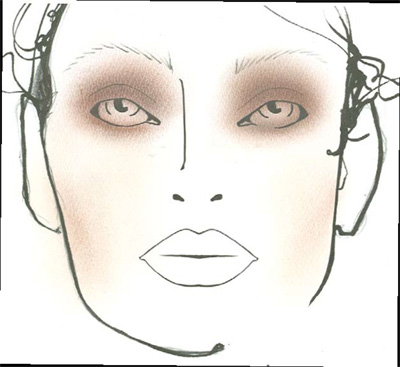 The makeup breakdown, products are all by MAC Cosmetics.
Eyes:
Eye Shadow in Quarry – applied under the eye and to the eye lid and diffused up to the brow using a MAC 213 Brush
Eye Shadow in Silver Ring – layered over the Quarry
Pigment in Pink Opal – applied to the outer brow bone to highlight
Party Makeup: Nothing says more party like a rock star than a little a bit of glitter. Sparkly eyes are sexy and elegant with an edge, all in one. My favorite is MAC Glitter in Gold ($19.50) which I apply on the corner of my eye lids after I'm done applying my normal eye shadow. I also dab just a little bit on top of my cheek bone line. Imagine a 'C' motion from the corner of eye lids to top of cheekbone. Expect lots of followers at the party and unusually adventurous New Year's Eve!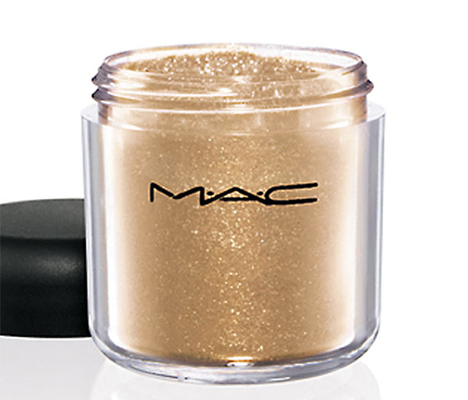 MAC Glitter is part of the MAC Make-Up Art Cosmetics Collection and can be applied directly to the skin or combined with products to create high-level glitter and sparkle effects on all areas of the face, skin and hair. Shades include: Fuchsia, Reflects Rust, and Reflects Copper.
When MAC meets the lore and legend that is Lilly Pulitzer, you get a fabulous and funky fun new chapter: a bit of Mar-a-Lago, some well-to-do winky-wink, and a dash of retro-modern pop culture mayhem in prints and colours that make it hip to be in permanent happy land! A collaboration that feels like the best tongue-in-chic resort retort, with all the wonderful prints and Key West colour combinations Lilly has done so beautifully since, well, forever! Fly down to South Florida, with MAC in Lillyland!
Available January 7, 2010 through February 2010 at all MAC locations.

Brush 168 LARGE ANGLED CONTOUR
For expert application of cheek contour. This brush is a large angled contour. the fibres form a buff ed edge and are soft and firmly bundled. Suggested Retail Price $32.00 U.S./$38.50 CDN
239 EYE SHADER
Soft and dense to shade or blend eye shadow or emollient-based products. This brush has a tapered, rounded edge with smooth, firm, fine fibres. It can be used to build intense colour on the eyelid. Suggested Retail Price $24.50 U.S./$29.50 CDN
All Ages, All Races, All Sexes is our credo. Now MAC takes the "One World" idea further than ever, with a multi-culti colour story, intent on a universal focus – spectacularly shaded and shaped brows for all, because beautiful people come in colours! Miraculously matched to the individual, Impeccable Brow Pencil is the ultimate artist's tool to fill, lengthen and shape, with a firm tip that sharpens application for high-performance precision. Penultimate Brow Marker, in one shade suits all, is a liquefied glide adept at the all-important arch. But that's not all: Lipstick, Lipglass, Eye Shadow and Nail Lacquer shade extensions speak your language, a match for every international skin tone.
Available January 7, 2010 through March 2010 at all MAC locations.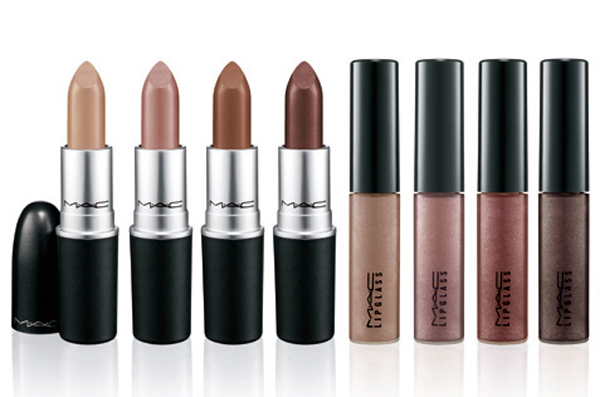 LIPSTICK
Equality Light dirty mauve with traveling pearl (Lustre)
Myself Creamy pale yellow beige (Lustre)
Empowered Creamy mid-tone neutral brown (Satin)
5N Plumy sheer brown (Lustre)
Suggested Retail Price $14.00 U.S./$16.50 CDN
LIPGLASS
Naked Frost Sheer taupe with silver pearl (Frost)
Glamour for All Sheer pale baby pink with pearl (Frost)
Liqueur Frosted mid-tone pink brown (Frost)
Spirit & Soul Frosted dark cool brown (Frost)
Suggested Retail Price $14.00 U.S./$16.50 CDN
MAC In The Studio: Dramatic, daring Lashes have been a chic and urbane part of the modern Artist's persona since Edie and friends made it all happen Downtown, on block-print canvas or grainy 16-millimetre film. Multi-media, counter-culture, the ultimate cool. In The Studio is the epitome of the look updated, featuring new Studio Fix Lash in Black Fix or Studio Brown, with the latest thermoplastic synth-rubber moulded brush, designed to kill clump as it separates lashes. Go for the bold stroke, as they do In The Studio. Available December 26, 2009 in the permanent collection at all MAC locations.