All Posts Tagged With: "REN Moroccan Rose Otto Body Wash"
Talking Makeup is excited to let you know about new product launches from REN Bio-Active Skincare.
I'm particularly excited about the launch of REN Moroccan Rose Otto Sugar Body Polish because I just can't get enough of REN Moroccan Rose Otto Body Wash (…it's SO good).
Moroccan Rose Otto Sugar Body Polish: Unveil a silky smooth finish with this aromatically scented exfoliating polish, formulated with Paraguay Cane Sugar, Kola Nut and Almond Oil that invigorates and tomes skin. SRP: $60. Available: June 2009. Exclusively available at Space NK.

REN No. 1 Purity Cleansing Balm – being hailed as the eco-friendly version of the iconic Eve Lom Cleanser. Exfoliates, removes makeup, cleanses and moisturizes all in one.
Robert Calcraft or Rob Calcraft one of the founders on REN Skincare has recently appeared on UK's reality television show The Secret Millionaire.
I'm still a huge REN Skincare fan, in fact REN Moroccan Rose Otto Body Wash is one my favorite body washes ever! It is so pure and delicate I even use it on my boys (3 and 10 months).
REN Moroccan Rose Otto Body Wash is also a must-have green summer body wash, especially after-sun I like to use gentle body washes to sooth my skin. And the REN body wash aroma is very delicate and light! Perfect for the hot summer days or night!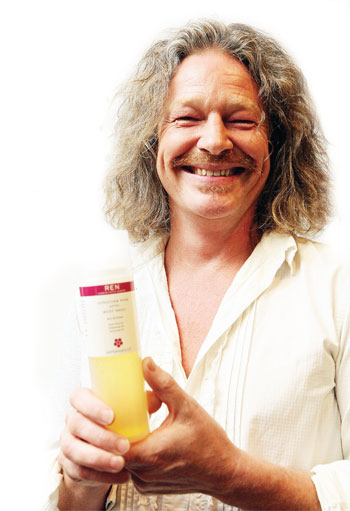 Robert Calcraft & Antony Buck in an interview with me about REN Moroccan Rose Otto Body Wash back in June 2007:
"It is one of the very few products out there that contain (ridiculously expensive) real rose otto oil. The oil we use is extracted using steam rather than chemicals so it is even purer. The fragrance you get from the real thing is so extraordinary that once tried you can't forget it. In addition and as with all our products there's no petrochemicals, sulfates, parabens, synthetic fragrance etc etc so the whole experience is very different (and much nicer) than your run of the mill body wash."
REN skincare is named after the Swedish word for "clean," and it sure lives up to its name. REN is formulated WITHOUT:Parabens, Sulfates, Synthetic Fragrances,Synthetic Dyes, Petro-Chemicals, and Phthalates.
REN skincare is natural yet an effective skincare line and these are my favorite products from the line:
REN Moroccan Rose Otto Body Wash is a gentle wash, it smells bit rosey without being overpowering. It is perfect if you have a sensitive skin or very dry skin. I even use REN Moroccan Rose Otto Body Wash on my boys, Jake and Kieran, who are 3 and 9 months. I've received a sample a week ago, between my husband and I, and the boys, my REN Moroccan Rose Otto Body Wash is almost gone and I'm tempted to buy another one!

REN Moroccan Rose Otto Body Wash: A luxurious body wash formulated with Moroccan rose otto oil. $27
REN Glycolactic Skin Renewal Peel Mask is perfect if you are looking to exfoliate and renew your skin without scrubbing and micro-beads. It goes on skin smoothly and gently and it does all the exfoliating work your skin needs without scrubbing! Simply leave for 10 minutes and rinse with warm water.
Watch Marta's video blog for today talking about her favorite body washes.

Marta's video blog for today was provided by www.misslush.com  style & beauty video sharing website. Upload your video today, just register it's FREE, and upload! Also, join & chat in Miss Lush's Forums!
Marta's top body washes include:
Top Body Washes include:
Aveeno Skin Relief Body Wash Fragrance Free: With Natural Colloidal Oatmeal. Moisturizes to relieve dry, itchy skin. Gentle cleansing. Aveeno Active Naturals. Dermatologist recommended. Aveeno Skin Relief Body Wash Fragrance Free truly moisturizes as it cleans, so your skin feels soft and smooth all day long. Under: $10.

Caress Evenly Gorgeous Exfoliating Body Wash: Caress Evenly Gorgeous Body Wash with burnt brown sugar and karite butter, gently exfoliates and lusciously moisturizes to reveal beautifully even toned skin. Go ahead, be daring! Under $5 (at Walmart).