Other Recent Articles
Victoria Rowe is a Celebrity Makeup Artist who had worked with Lady Gaga, Keri Hilson, Ashley Greene, and now Sarah Carter from the new Spielberg series, "Falling Skies". I've met Victoria one day backstage at LA Fashion Week few years a go and I must say she is one cool and talented lady. I'm now pleased to share with Victoria's makeup tips especially for summer.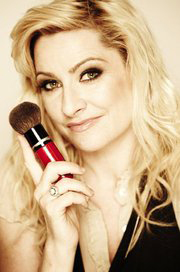 Victoria's TOP TEN Makeup Items
Everyone NEEDS to have at home or in their purse right now!
1. Oil free facial moisturizer I prefer ALBA Oil-free Green Tea Moisturizer, Avalon Organics Lavender Moisture cream for sensitive skin, or BLISS SPA Oxygen +Vitamin C Cream (gel). Any of these will combat dryness without oil and, dare I say, help get rid of most every kind of ACNE in a woman, girl, or man of any age.