All Posts Tagged With: "Q-tips"
Holiday Beauty: I love this time of the year. Getting ready for the holiday season and setting the mood and holiday ambiance in my house is my favorite things to do. This is why I'm excited to see the new Q-tips Holiday Packs just in time for the upcoming festive season. The new Q-tips Vanity Packs in general are THE best beauty product makeover of the year (Yes! According to me:). It's a whole new era for cotton swabs.
Watch Marta's Video Blog: Hi guys! I'm excited about Talking Makeup's latest Q-Tips giveaway!! Have you seen the latest Q-Tips vanity boxes? They are SO beautiful! It's a whole new era for Q-tips!
I'm giving away 4 gorgeous Q-Tips boxes and a fabulous jewelry box to go with!! You don't want to miss this!!
How To Enter To WIN:
1. Click here for Talking Makeup's YouTube Channel & SUBSCRIBE.
2. Once you are subscribed, simply leave a comment.
Good Luck!!:)
I can't contain my excitement about this latest beauty idea: Q-tips Vanity Packs. It's about time Q-tips get a makeover because they deserve it. Q-tips are a must-have beauty product in any bathroom, and they are so versatile. You can use Q-tips to clear your ears, take off eye makeup, correct makeup, and apply an acne treatment on that specific breakout spot.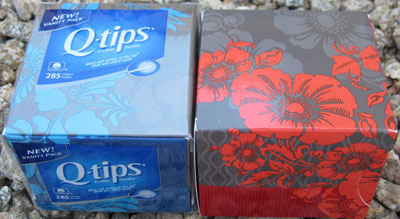 With Q-tips Vanity Packs your Q-tips gets love, but you also look smart! I want to meet the creative  team who came up with the beautiful designs for the Q-tips Vanity Packs and thank them. They can accentuate any bathroom, and take it from drab to glam. Who knew Q-tips Vanity Packs could do all that. There is definitely a new era in my bathroom:)
Celebrity makeup artist Troy Jensen (Troy does makeup for Kim Kardashian), shares top tips fro rescuing any beauty routine: