All Posts Tagged With: "V Magazine"
Sneak peek photo from V MAGAZINE of actor and SNL comedian Andy Samberg shot by photographer Kenneth Cappello and styled by Kris Zero for the upcoming V67. V67, also known as "The New York Issue," does not hit newsstands until September 2nd, 2010.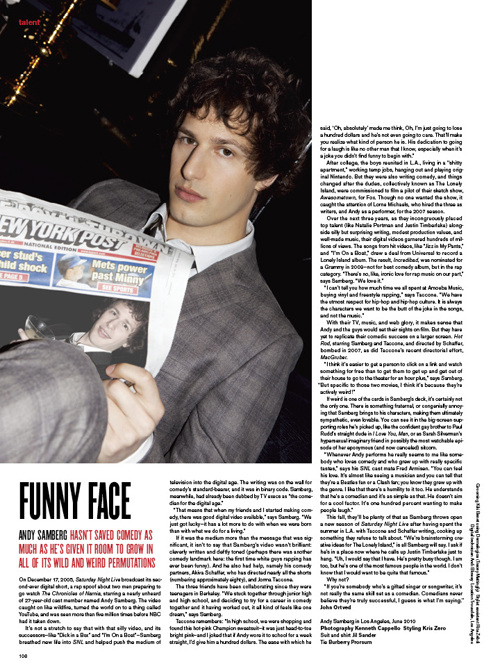 V MAGAZINE "Funny Face"
"Andy Samberg Hasn't Saved Comedy As Much As He's Given It Room To Grow In All of Its Wild And Weird Permutations"
Sneak Peek: Photos of supermodel Stella Tennant, shot by famed photographer David Sims for the upcoming V MAGAZINE – The New York issue (#67). Stella was styled by: Beat Bolliger. Hair: Guido. Makeup: Lucia Pieroni. V67 does not hit newsstands until September 2nd.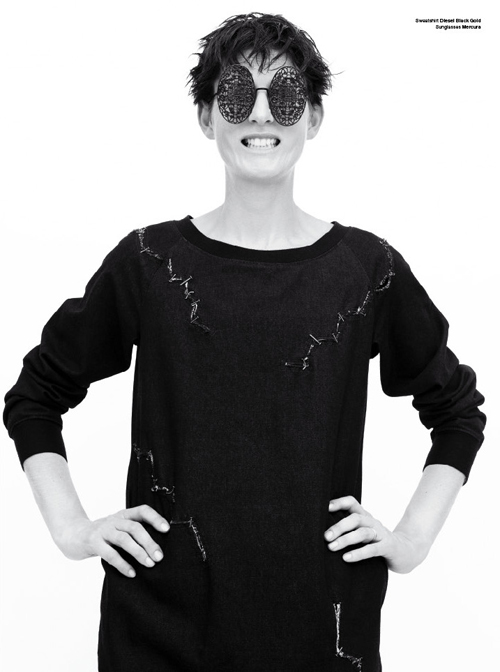 V MAGAZINE "STELLA"
V MAGAZINE pays tribute to the original cool girl, Stella Tennant with a David Sims portfolio of Stella looking as quirky and aristocratic as ever. The veteran supermodel is still as fascinating as the day she debuted and Sims' black and white shots give her every opportunity to show her personality and versatility. This 12-page spread heralds Stella's insatiable comeback.
WATCH: Hair Play. In collaboration with Shu Uemura Art of Hair, V Magazine explores the natural beauty of rising starlet Coco Young. In a Vmagazine.com exclusive, famed hair stylist Conrad Dornan toys with the tresses of Young, a student and part time model whose love for Helmut Newton resonates in her ever changing hair styles. 
HAIR PLAY from V Magazine on Vimeo.
A Starworks Artist Production. Directed by Crystal Moselle.
Sneak Peek: Photos from V MAGAZINE of celebrities Bar Refaeli (supermodel currently dating actor Leonardo DiCaprio), Devon Aoki (model/actress currently dating actor Joseph Gordon-Levitt), and Noemie Lenoir (model/actress) shot by famed American photographer Arny Freytag and Styled by Sally Lyndley for the upcoming V66. Arny has held the record for photographing the most Playmate centerfolds in Playboy Magazine. This spread celebrates the upcoming V Magazine "Sexy Body Issue."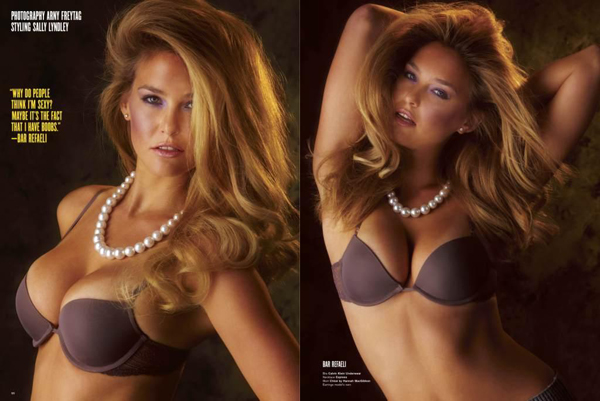 "Why do people think I'm sexy? Maybe it's the fact that I have boobs." – Bar Refaeli
Sneak peek to V Magazine's The Sexy Body Issue, which includes a 20-page collections story by Willy Vanderperre and styled by Olivier Rizzo. The story underscores the message of The Sexy Body Issue, which is that beautiful bodies and shapely women are firmly back in fashion. The story's casting, which features everyone from Miranda Kerr (who just got engaged to actor Orlando Bloom) to Kasia Struss to Karolina Kurkova to Jacquelyn Jablonski, reflects that.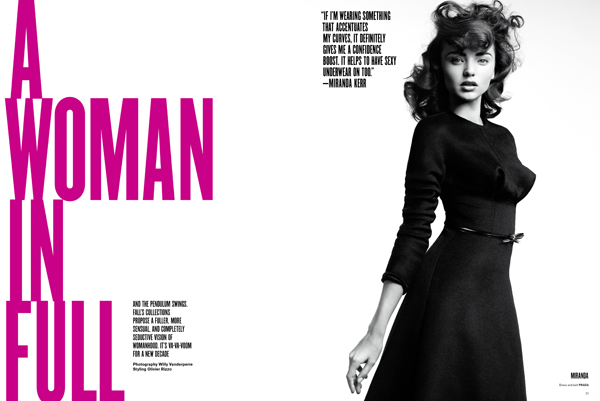 "If I'm wearing something that accentuates my curves, it definitely gives me a confidence boost. It helps to have sexy underwear on too." – Miranda Kerr
Sneak peek of supermodel Adriana Lima gracing the cover of V Magazine's first foreign edition, V Spain (issue #5): "The Sexy Body Issue." which features 50 of the hottest bodies in the world. This is the first official Sexy Body issue. Adriana Lima's cover is shot by Mario Sorrenti and styled by Andrew Richardson. Adriana wears a Dior cardigan. V Spain hits newsstands today on June 22nd, 2010, in Spain, Puerto Rico, Brazil, Argentina, Mexico, Portugal and select locations in NY, Miami and Los Angeles. It's also available for purchase at www.vmagazine.com/shop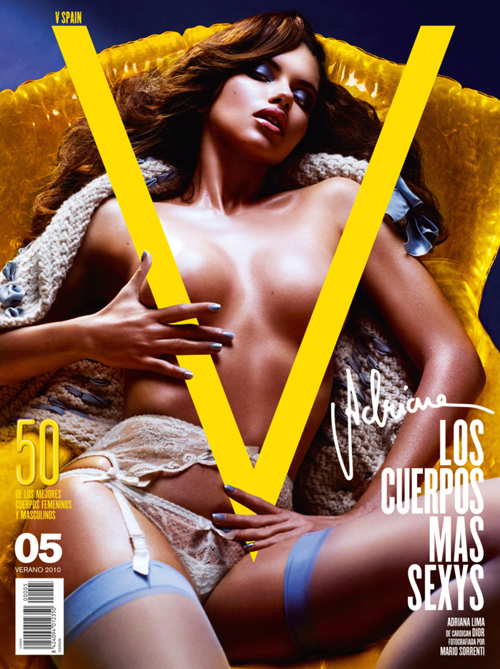 V MAGZINE The Sexy Body Issue featuring Adriana Lima
Sneak peek to photos shot by Sebastian Faena and styled by Carlyne Cerf de Dudzeele for the upcoming V MAGAZINE (issue #66) starring Alessandra Ambrosio, Dree Hemingway, Eniko Mihalik, Maryna Linchuk, Evandro Soldati, Martin Landgreve, Jacques Naude, Simon Nessman, and Constance Jablonski. In celebration of the World Cup, this 12-page spread was inspired by the Argentine phenomenon of "botineras," or footballer's wives. V66, "The Sexy Body Issue," features the 50 hottest bodies in the world, and it does not hit newsstands until July 8th, 2010.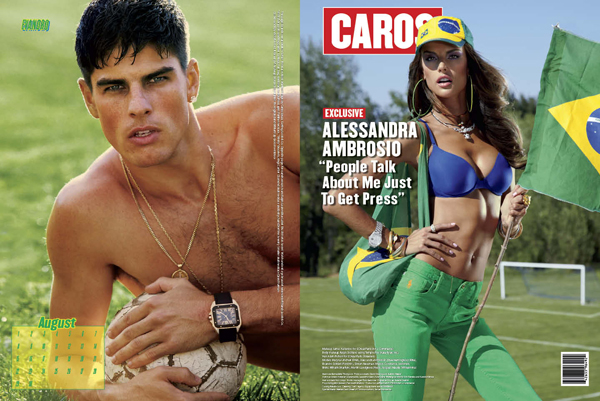 Click images to enlarge
Sneak Peek: The cover for the next V Magazine (issue #65) which hits newsstands Tuesday, May 11th, 2010: "The Summer Scorcher issue," starring gorgeous actress Scarlett Johansson. Scarlett stars in Iron Man 2 which opens in theaters today, May 7th, 2010. The 21st century starlet was shot by famed photographers Inez van Lamsweerde and Vinoodh Matadin, and discussed her transformation as a woman with the various challenges she has faced throughout her career as an actress.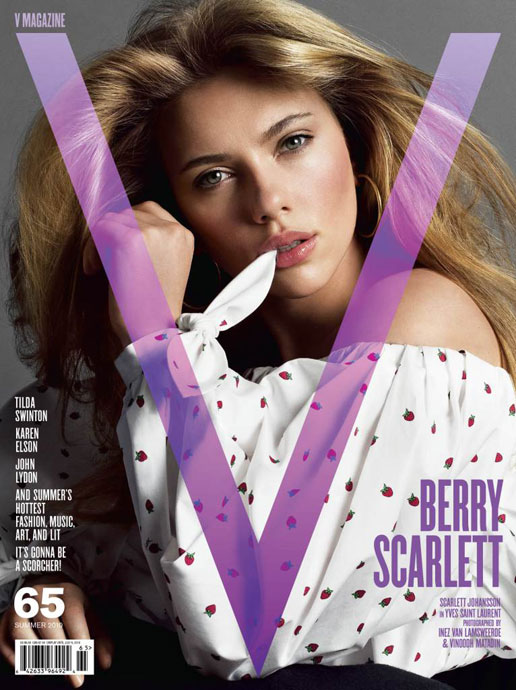 "Working with these incredible hair and makeup teams, you go in looking like a schmoe, and you come out like a movie star."-Scarlett Johansson
Sneak Peek: Photos from of an exclusive art collaboration with The Boys Collective, shot by famed photographer Glen Luchford for the upcoming V MAGAZINE (issue #65) newsstands until May 11th, 2010. Daisy Lowe, Lea Groesland, Tao Okamoto are featured along with archival imagery of supermodels Kristen McMenamy, Kate Moss and actor Steve Buscemi.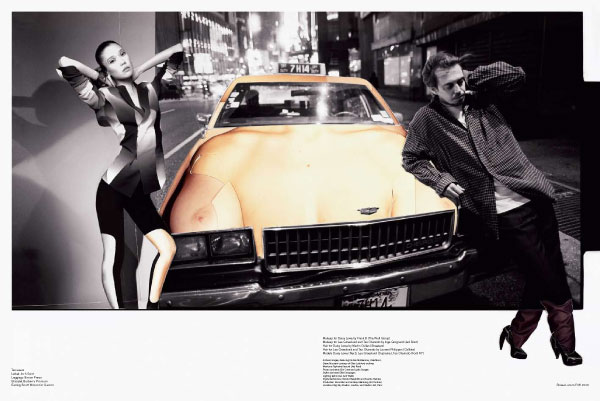 "POSTER CHILD". In an exclusive collaboration, New York art group The Boys Collective explores the surface of the fashion image by cutting, collaging, and setting fire to it. Photography: Glen Luchford. Styling: Beth Fenton. Artwork: Mario Brotha from The Boys Collective.
Sneak Peek: Photos that will be featured in the next V Magazine of John Lydon (stage name Johnny Rotten), 80's hit band DEVO, and supermodel/singing siren Karen Elson along with the accompanying inside stories of each musician for the upcoming V (issue #65).
"John Lydon". Punk Rock's valiant and vicious leader still has plenty to sing (and shout) about. For those who thought John Lydon was living out a quiet life in the California sunshine, think again. Here comes the Return of Public Image LTD. Photographer: Hedi Slimane.
"Bird Songs". Modeling made Karen Elson a star, but she didn't get free until she started to sing. Now her debut album is one of the year's most anticipated releases, and it's been a long time coming. Photographer: Glen Luchford. Stylist: Ana Steiner.