All Posts Tagged With: "Paris"
Paris Fashion Week: Rounding out Fashion Week Fall/Winter 2010, Guido, Redken Creative Consultant is backstage in Paris creating hairstyles that are both eye catching and inspirational. Find out about the inspiration and products used today in Paris at the Balenciaga and Nina Ricci shows to complement the designers' Fall/Winter 2010 collections!
BALENCIAGA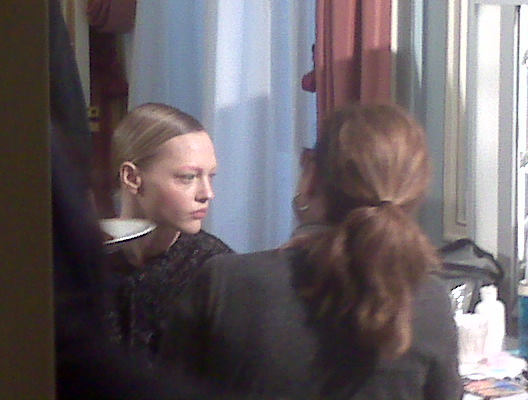 Wanting to the look to appear slightly futuristic, Guido created a sophisticated look at Balenciaga to compliment, not compete with the clothes. "Balenciaga design house is very forward thinking and great to work with, which allows me to create a vision for the hair that compliments the clothing." – Guido, Redken Creative Consultant
Products: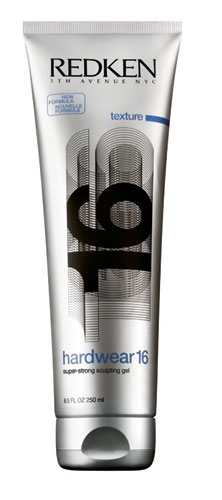 Votre Vu Almond Pie Rich Soufflé Lotion for the Body ($48) is Marta's new beauty obsession! This body cream smells amazing and is super hydrating. What's in it: Sweet Almond Oil, Grape Seed Oil, Shea Butter, Coconut Oil, Macadamia Oil, and Vitamins A and E. The Votre Vu body souffle feels like whipped liquid silk, if that makes sense. It makes me look forward to my after shower or bath pampering. I just can't get enough!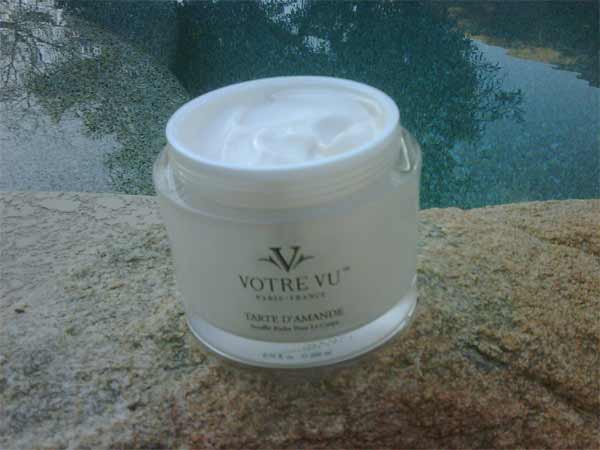 Visit votrevu.com for additional product details.
STRAIGHT FROM PARIS: I would love one day to attend the CHANEL Haute Couture presentation in Paris. Meanwhile all I can do is admire from the distance. I have selected some of my favorites looks from the CHANEL collection to give you a sneak peek. BTW I love the hairstyle and the true coral lips seen on the runway models. The hairstyle? It's a cross between Minnie Mouse and Hello Kitty. Better yet, I see an Asian influence, an Asian Doll perhaps, or the glamour of Shanghai. The fingerless gloves are so Karl Lagerfeld. The silver shoes add a bit of  a space-age element making the whole look very intriguing. And finally, can the skort (skirt plus shorts) make a comeback?
Which CHANEL Haute Couture Spring/Summer 2010 look is your favorite?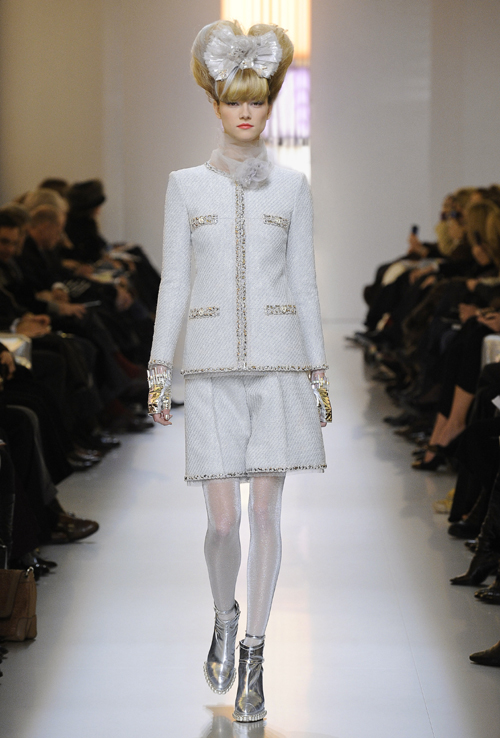 The CHANEL Haute Couture Spring/Summer 2010 collection debuted in Paris yesterday, Tuesday January 26th 2010.
Talking Makeup is excited to share with you exclusive VIP  CHANEL Haute Couture Spring/Summer 2010 photos!
Also, WATCH Karl Lagerfeld interview in French at the CHANEL Haute Couture Spring/Summer 2010 presentation: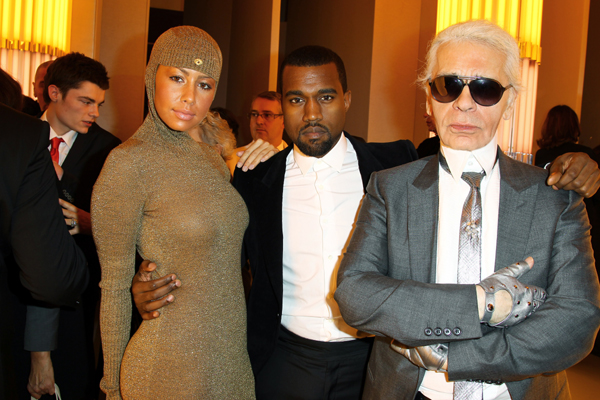 From Left: Amber Rose, Kanye West, and Karl Lagerfeld
ASSOULINE Announces the Release of PIERRE CARDIN: 60 YEARS OF INNOVATION By Jean-Pascal Hesse.
"Geometric motifs, asymmetry, oversized buttons and collars, hooped dresses, vinyl inserts-Cardin is an original in every sense of the word."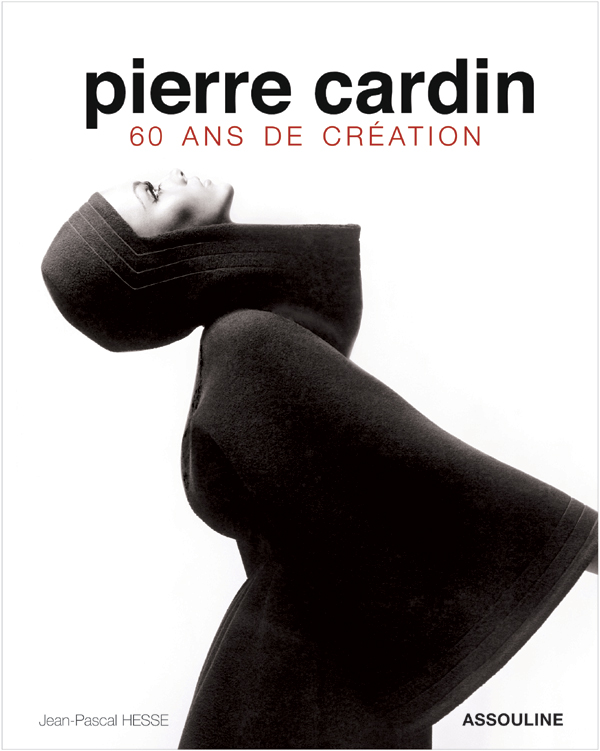 ASSOULINE is delighted to celebrate the sixtieth anniversary of the Masion Cardin, with the publication of a commemorative retrospective of the work of its founder, fashion designer Pierre Cardin.
Born in 1922 in San Biagio di Callalta, near Venice, Pierre Cardin immigrated to Paris in 1924. After working briefly with Elsa Schiaparelli, Cardin joined Dior in 1946 and opened his own couture house in 1950. He was a pioneer from the start, creating a design-based, architectural fashion with a futurist sensibility. Cardin also had an avant-garde understanding of fashion's relationship to new audiences, presenting his collections to large crowds. He was the first to demonstrate that fashion can be both a creative process and a business-and that one man can excel as both a businessman and an artist.
Available at: assouline.com
Read full article in styleinterviews.com
Lancôme officially welcomed Julia Roberts to the brand this week with an intimate dinner held at the Hôtel de la Monnaie in Paris. Among the guests were Julia's husband, photographer Mario Testino, who shot Julia's Lancôme ads, French Vogue editor Carine Roitfeld and hairstylist Serge Normant. Among the announcements: advertising featuring Julia, for Lancôme's new mascara, Définicils Precious Cells, will debut later this year (2010).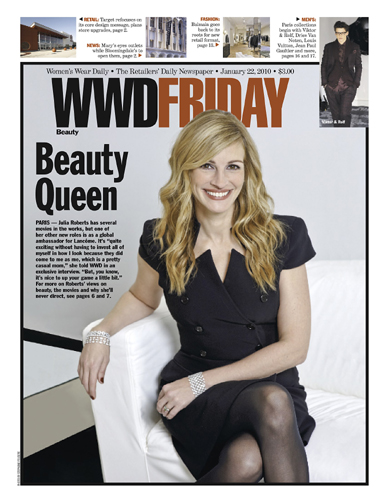 Julia Roberts Lancôme's Global Ambassador: Interview in WWD