All Posts Tagged With: "Fashion's Night Out"
NARS Introduces Silver Odyssey Fashion's Night Out Exclusive. To celebrate the upcoming Fashion's Night Out, for the first time NARS has created a collection, exclusive for the night. Introducing Silver Odyssey. Featuring Via Crispi Larger Than Life Long-Wear Eyeliner and Space Odyssey Nail Polish, both products are unique and richly pigmented metallic silvery hues, guaranteed to make you sparkle on fashion's most celebrated night.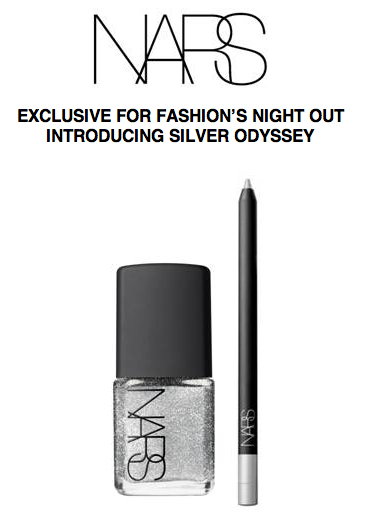 Products Include…see the pics!
English fashion designer Henry Holland (best known for his bold, 80's inspired collections) has teamed up with ASOS.com to offer exclusive tank dresses for $40, on sale on Sept 10th, 2010, at www.asos.com. The dress will debut in the ASOS/Teen Vogue Fashion Show on Perry St, West Village, NYC during FNO at 7PM EST. (BTW Marta Walsh used to live right on Perry Street & Bleecker. Best times:)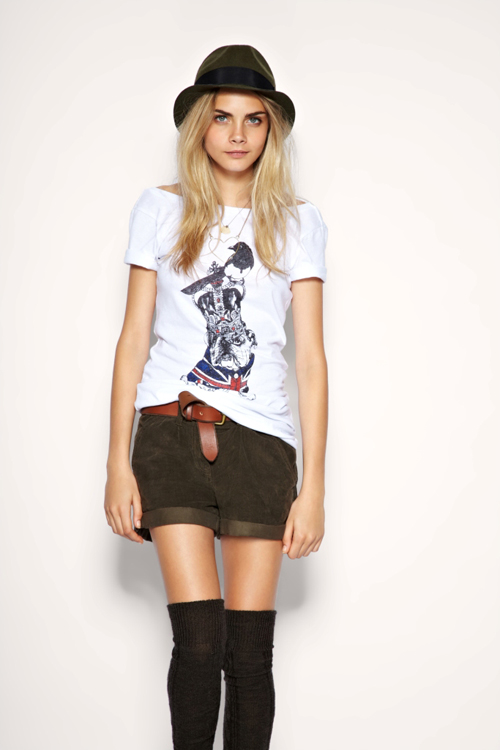 On August 11th, 2010, Mayor Bloomberg along with Anna Wintour, retailers, and many CFDA designers met down at City Hall for a press conference to kick-off Fashion's Night Out this year.

L to R: Editor-in-chief of American Vogue Anna Wintour and designer Tommy Hilfiger
Are you a huge fashion fan? CBS has announced a contest calling for fashion fans like you from all over the country to upload an original video that could help you earn the title of Fashion's Number One Fan.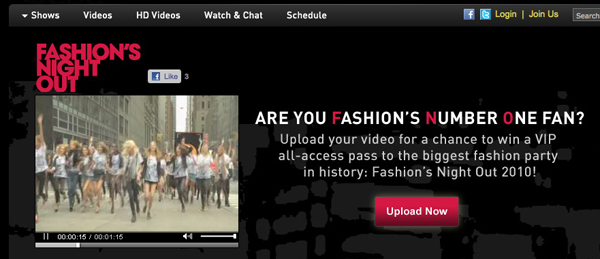 After a period public voting to narrow down the finalists, CBS, Vogue, the Council of Fashion Designers of America (CFDA) and New York City & Company will select one winner to be flown to New York City for the biggest fashion party in history: Fashion's Night Out 2010. Here are more details and the link to enter…
We've just learned that Rihanna wore Giorgio Armani Beauty's latest lipstick addition: Rouge D'Armani 401  during Fashion's Night Out 9/10/09.
Rouge D'Armani was debuted during Fashion's Night Out by Giorgio Armani Beauty.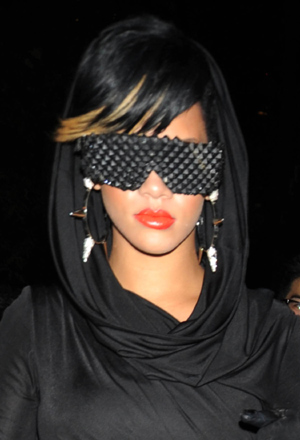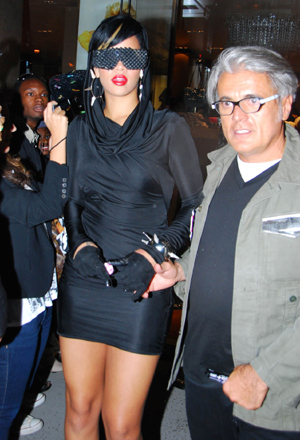 Get A Sneak Peek To Rouge d'Armani NEW Lipstick by Giorgio Armani Beauty
Images via www.hollywoodtuna.com
Celebs were hitting the streets of New York City last night to celebrate Fashion's Night Out. Giorgio Armani Beauty's A-Team was also out last night – getting top stars glam for a preview dinner for the Richard Hambleton exhibition, which will open September 15 and was presented by Vladimir Restoin Roitfeld and Andy Valmorbida in collaboration with Giorgio Armani.
True to the Armani aesthetic the A-list guests including, Bruce Willis and wife Emma Heming, Kerry Washington and Devon Aoki were outfitted in understated, elegant looks. The makeup was classic and featured strongly lined eyes and pinkish-nude lips. See below on how to get the looks from these celebs last night: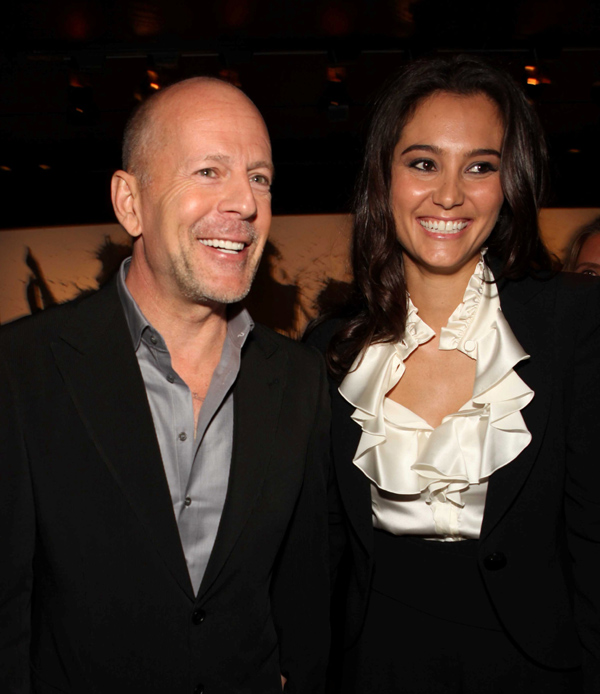 Emma Heming (above image next to Bruce Willis): Luminous Silk Foundation 7 gave Emma a dewy complexion and fluid sheer 11 was dabbed on to her cheeks to add a rosy glow. Her lids were dusted with Maestro Eye Shadow XX and Smooth Silk Eye Liner was blended along the lash line to create a dramatic smoky effect. A sweep of Eyes to Kill Mascara and a wash of nude lip shimmer were added as finishing touches to her natural glam look.
Kerry Washington: Lasting Silk UV SPF 20 Foundation 9 was swept across Kerry's face to create a matte complexion, with subtle luminosity. To add dimension, blending blush duo 4 was used for contouring and added a pop of color on the cheekbones. To add a touch of drama, maestro eyeliner and Eyes to Kill Mascara were used to define the eyes and a sweep of Lip Shimmer 59 in taupe completed the look.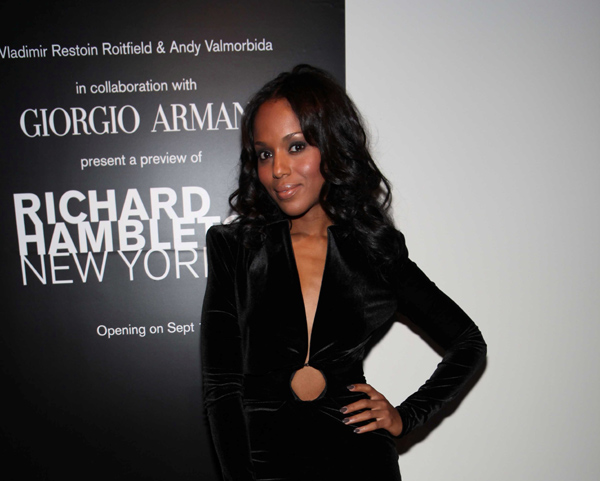 Devon Aoki: Face Fabric 3 offers sheer coverage and allowed Devon's natural glow to shine through. Sheer Bronzer 5 was applied to the cheekbones to define her look and give her complexion a sun-kissed effect. Eyes to Kill Palette 1 offers taupe and grey shades, which were used to create a subtle smoky eye with liquid liner and a sweep of mascara added to complete the look.
For those of you aware of Fashion's Night Out, being held tomorrow, Thursday, September 10th, in New York, NARS will be creating '80's rock star' makeovers (à la Marc Jacobs) in numerous locations.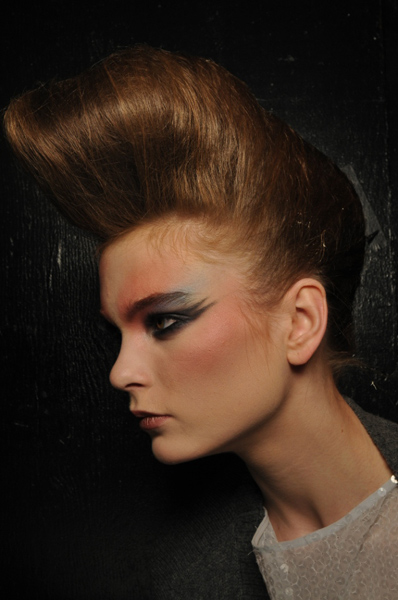 Top look at the NARS And Marc Jacobs at Fashion's Night Out
Fashion's Night Out is an initiative, hosted by VOGUE, to encourage consumer spending in retail markets around the world. Model appearances, exuberant window displays, designer cameos and beauty makeovers are all part of the event that's kicking off New York Fashion Week. From borough to borough, New Yorkers will be celebrating their city's fashionable reputation (not to mention some charitable perks: proceeds from the official Fashion's Night Out T-Shirts are being donated to the National September 11th Memorial and Museum).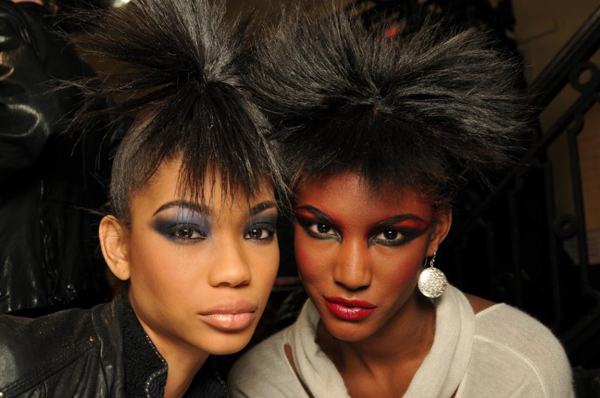 Top looks at the NARS And Marc Jacobs at Fashion's Night Out
Join Fashion's Night Out with Giorgio Armani Beauty and get a sneak peek to Rouge d'Armani-the NEW Lipstick!!
Fashion's Night Out – Giorgio Armani Beauty: Our lips are sealed…with a kiss…and you can be the first one to get in on the secret during Fashion's Night Out on Thursday September 10th. Come to the Giorgio Armani Beauty counter at Saks Fifth Avenue NY where National Artistic Director and Celebrity face designer, Tim Quinn, will be for one night only from 5pm-8pm to discuss fall trends and debut Rouge d'Armani – the new lipstick from Giorgio Armani featuring 8 hour wear and pure color ecstasy.
For that night only Giorgio Armani Beauty will feature Rouge d'Armani #400 rouge and #600 plum, (a shade that's sure to be in Vogue Beauty Editor Sarah Brown's makeup bag for fall!). Be the first to get these luxe lipsticks at Saks Fifth Avenue from 5pm-8pm on the 10th because after that both Tim and the coveted shades disappear until October 15th…(psst – we will also have a wait list at the counter so you can be the first to get them when they officially hit counters next month!)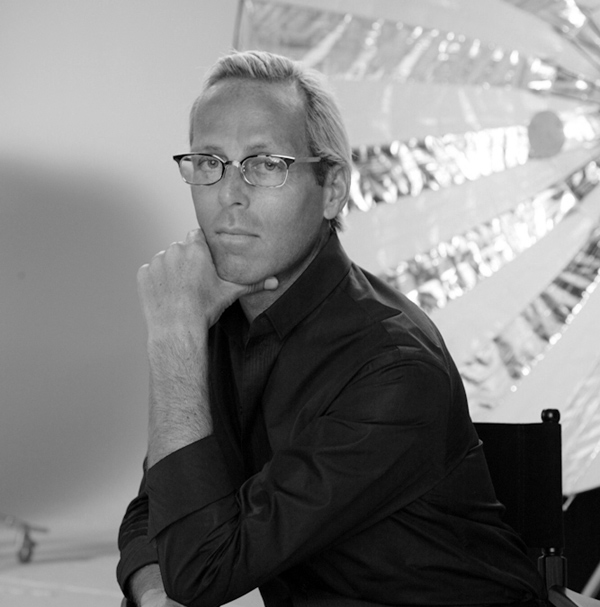 Tim Quinn, National Artistic Director and Celebrity face designer for Giorgio Armani Beauty
Join Lancôme on Fashion's Night Out Thursday, September 10th, 2009! Not a New Yorker, or not visiting New York that day? Not to worry! Lancôme is doing giveaways every day between now and Fashion's Night Out on The Lancôme Blog!
Bloomingdale's SoHo
Lancôme Counter
6 to 7 p.m.
Stop by our beauty blogger bash! Mingle with your favorite beauty bloggers and meet them in person. The first 100 people to stop at the counter and give the password "Paris" gets a full-sized product as a little thank you.
And, Arlenis Sosa will be joining them at Bloomingdale's SoHo, September 10th, from 6-7pm
Saks Fifth Avenue
Lancôme Counter
6 to 7 p.m.
Come meet Daria Werbowy, the Lancôme spokesmodel and international supermodel, at her very first U.S. personal appearance. Daria is the face of Lancôme's newest fragrance, Hypnôse Senses, which debuts in mid-October. But we'll have 30 bottles for sale that night for those fragrance aficionados eager to get the first bottles. (First come, first serve.) Make sure to stop by, say hi and try our new scent.
Bergdorf Goodman
Lancôme Counter
6 to 7 p.m.
Vogue Fashion's Night Out Saks Fifth Avenue New York.  An international celebration of fashion and retail promotion.
"The Ten Reasons to Believe": Join La Mer at Saks Fifth Avenue New York to discover ten reasons Crème de la Mer has become the most coveted skincare treatment in the world.

For the first time ever, Robin Shandler, Executive Director of Global Product Development, The Max Huber Research Labs, will be on hand to personally answer questions while guests enjoy signature La Mer skincare and Skincolor treatments. Shop, pamper yourself and discover the miraculous benefits that have made La Mer a true beauty legend.
WHEN: Thursday, September 10th 2009
7:00 to 10:00 PM
WHERE: Cosmetics Floor
Saks Fifth Avenue
611 Fifth Avenue