All Posts Tagged With: "LORAC"
Sephora's 2010 holiday gift collections are must-have! They make Christmas shopping for your beauty obsessed friends and family super easy and a no brainer.
Sephora Holiday Gift Collections 2010 Marta Walsh's Picks:

Too Faced Enchanted Glamourland ($145 Value), $49
LORAC recently created a video of behind the scenes footage from a recent photo shoot where Carol Shaw created the stunning looks to showcase their fall, spring and holiday collections. WATCH!
Also, look out for a special kit LORAC has available on their website (loraccosmetics.com) for Cyber Monday. It's called CYBER MONDAY COLLECTION..
Loving LORAC Close Up: Real Life To Red Carpet Eye Tutorial ($36). The kit includes the perfect everyday or night eye shadow shades and all you need for your eyes to go from the office all the way to a party night out. Amazing! Here is a 'close up…
LORAC Close Up: Real Life To Red Carpet Eye Tutorial comes in this kit…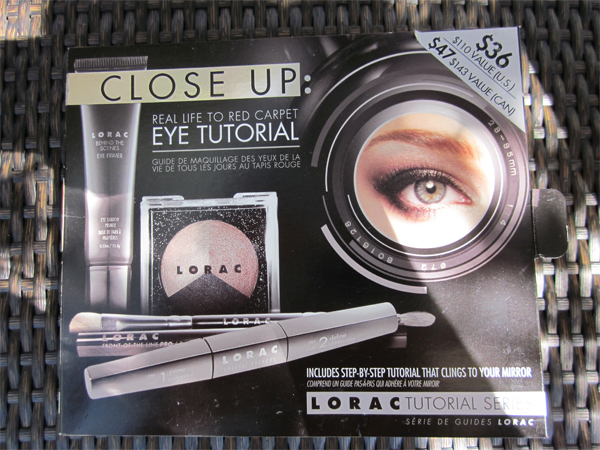 When you open you see this…
This season fashion and beauty collide with the latest launch from LORAC. LORAC is thrilled to offer you the equivalent of the little black dress (LBD!) in cosmetics with the introduction of the Little Black Palette– an accessory featuring 4 color-coordinating, silky-smooth wearable baked eye shadows and a mini Behind The Scenes Eye Shadow Primer.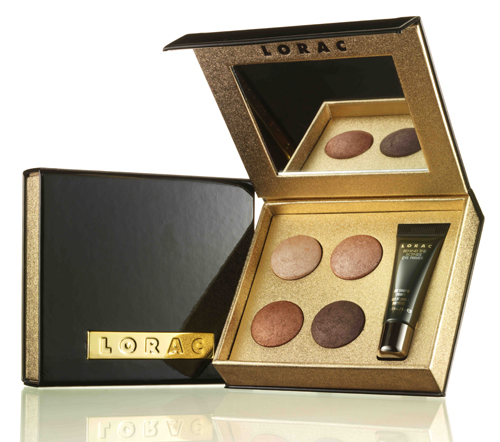 Mix these neutral hues to add a subtle hint of shimmer to your lids for day or create a sexy smoky eye for night. Packaged in a sleek, black patent leather case – this palette not only transforms your look, it transforms your wardrobe — evening wear designer Allen Schwartz of A.B.S agrees!
Last year (2008) I've interviewed my favorite TV host Giuliana Rancic for Beauty Interviews Talking Makeup's celebrity beauty section. I would like to share with you my interview with Giuliana just in case you've missed it.
Giuliana Rancic is the beautiful host we know from E!News. Her Style network reality show Giuliana & Bill with hubby Bill Rancic just got picked up for another season! In this interview Giuliana shares with us some of her beauty secrets, her favorite way to relax, and why she is trying to convince her E! bosses to let her take a week off.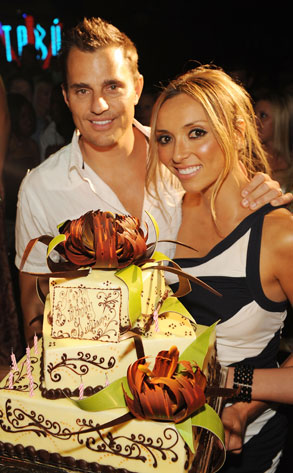 Giuliana Rancic with husband Bill Rancic
Photo credit: Getty Images and www.dailymakeover.com
I keep my hair beautiful thanks to… Kerastase hair products.
My favorite skincare products are… Patricia Wexler MD. I use her moisturizing eye cream and cleansers religiously. At night, I use DDF's foaming face cleanser. It's a magical blue liquid that keeps my skin so clean.
I get my eyelashes looking long, full, and sexy using .. MAC Pro Lash in Coal Black
TANtalizer Award Show Glow by LORAC is a body-firming bronzing mousse. The mousse contains a unique caffeine and anti-cellulite complex that helps smooth and tone the skin while adding a golden glow.
TANtalizer Award Show Glow by LORAC has a luxurious grapefruit vanilla scent. SRP: $32.
New Lorac Glam Rocks is a metallic loose powder eye shadow, perfect when you want to get glammed up. 
Lorac Glam Rocks eye shadow comes in 3 shades: Metallic Copper, Metallic Gold, and Metallic Pearl.  Cost: $16. 
Don't miss out on Talking Makeup favorite, Lorac Glam Glitz Glitter Limited Edition set of eight new, delicious flavored Lip Polish shades.  Glam Glitz Glitter by Lorac Cosmetic is a perfect Christmas gift for her.  Since most women get sick of one shade of lip gloss, here you get 8 24k gold plated yummy glittery lip gloss shades that you can wear alone or mix together.
Shades include: Gold 1 (Banana Split – nude), Gold 2 (Peanut Brittle – soft coral pink shimmer), Gold 3 (Cotton Candy – pink shimmer), Gold 4 (Watermelon Taffy – vibrant coral), Gold 5 (Bubblegum Jelly Bean – pink with silver shimmer), Gold 6 (Butterscotch Toffee – lavender shimmer), Gold 7 (Double Fudge – caramel with silver shimmer), and Gold 8 (Candy Apple – rich plum with silver shimmer) – all in a gold gift box.  Cost:  $25.
New at LORAC is a limited edition Snake Charmer Face Palette which is a palette for eyes and cheeks.  The Snake Charmer Face Palette is inspired by the the jungle.  The face palette is packaged with an exotic, warm, shimmery snake leather tones and is meant to hypnotize all the other snakes in the jungle.  In translation:  you will be envied by other girls where ever you go!   The face Palette includes shadows in the following shades:  Enchanted Ivory, Mystical Gold, Charming Copper, and Royal Brown; and blush in Hypnotically Peach.   Yours for $35.
LORAC Cosmetics was founded by Carol Shaw.  Shaw began selling her make line in an upscale  L.A. salon busy with some of Hollywood's most famous faces. LORAC makeup line got his way into the fashion industry and Carol Shaw was working with world famous photographers and models, while receiving great reviews in fashion magazines.  LORAC branched out, developing skin-perfecting powders and luminizing lotions, such as:  makeupPREP Gentle Skin Resurfacer which is a gentle resurfacing cream that's the number one professional secret for smooth, polished, luminous skin, the first step in preparation for perfect makeup application.  Cost:  $32 for 3.7 oz.  And  aquaPRIME Oil Free Makeup Primer which is a water-based makeup primer that moisturizes and prepares your skin for silky smooth makeup application with a lightweight, colorless gel texture that's is oil free, fragrance free, and silicone-free.   Cost:  $30.