All Posts Tagged With: "Marchesa"
Sarah Jessica Parker looked fabulous in Marchesa at the Launch of the Halston Heritage Collection at the Bay in Toronto, Canada, March 16, 2010. Sarah wears a black shooting star tuxedo dress. Do you love?
Terri Seymour at the Elton John Annual Oscar Party 2010: Makeup by Celebrity Makeup Artist Melissa Walsh.
"This is how I did Terri Seymour's makeup this afternoon for Elton John's annual Oscar party for his his Aids Foundation – if you aren't going to the actual Academy Awards ceremony this is the place to be!"-Melissa Walsh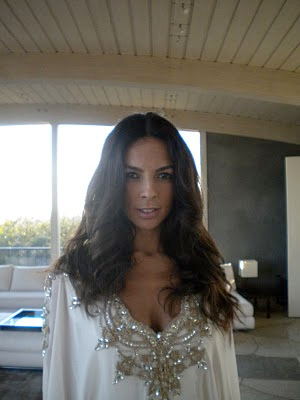 Base: Smooth Hourglass Cosmetics Fluid Veil evenly over the whole face blending out from the middle and downwards.
Under eyes: Dot a little Smashbox Photo-Op Eye Brightener under the eyes to brighten.
Gabourey Sidibe Oscars 2010: The Makeup.
Celebrity Makeup Artist Toby Fleischman created Gabourey Sidibe's Oscars 2010 makeup look.
How to get Gabourey Sidibe's Oscars 2010 makeup look by Toby Fleischman:
"I had the honor of working with Gabourey Sidibe yesterday for the Oscar…It was Gabby's big night after a long 14 month promotion of "Precious" so we really wanted it to be all about her. After seeing the magnificent Marchesa gown, it was an easy choice as to what her make up look should be – keep it simple and toned down so she could shine with her amazing spirit and beauty. MAC Studio Fix Fluid keeps Gabby's skin looking creamy and gorgeous and it's matte quality works to keep the shine down. We wanted a soft metallic eye to pick up the jeweled accents on the dress.
Vera Farmiga Oscars 2010: The Hairstyle
Best Supporting Actress nominee Vera Farmiga wore a swirling, ruffled Marchesa gown in a vibrant berry color that was pure red carpet. Her Oscar hair look, created by celebrity stylist Lona Vigi, was soft, romantic and very modern.
How to get Vera Farmiga's Oscars 2010 hairstyle: The design emphasized soft, wavy texture as well as volume, and used a professional Velecta Paramount Paris X:Q Onyx blow dryer ($299.95) to create its essential structure and shape. Vigi started with wet hair, sprayed on volumizer, and used the high setting of the powerful dryer to quickly dry the hair while sculpting curls using a small round brush. She then pinned each barrel curl in place to build in height, and used the cool setting to lock in the curls.
"This French-made dryer is my new favorite tool," explained Vigi. "It's really fast and powerful yet so lightweight, and quiet enough to have a conversation while I'm working. The quality is amazing! Velecta Paramount Paris dryers are made by hand from start to finish by one person, and I love that it's ergonomic and low-EMF."
Gabourey Sidibe looks glamorous in a Marchesa gown at the 82nd Annual Academy Awards. Gabourey wears a sapphire silk chiffon dress with draped bodice and sleeves with hand embroidered crystal detail. Do you love?
Vera Farmiga looks pretty in a MARCHESA gown at the 82nd Annual Academy Awards, March 7, 2010. Vera wears a silk crepe strapless column dress with sculpted pleated cascade. Do you love?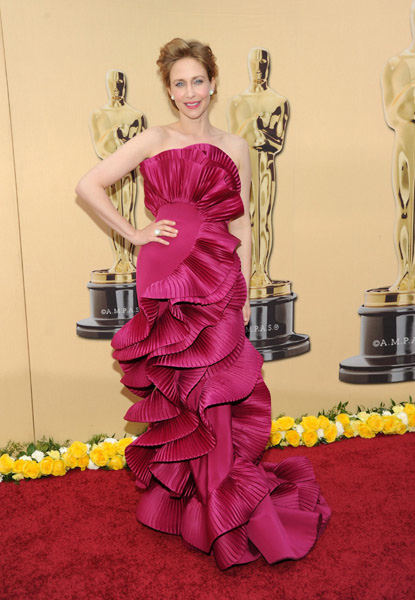 Sandra Bullock Oscars 2010. Hairstyle by Fekkai stylists Adir Abergel. Adir wanted to bring back simplicity, with Sandra's sleek and straight down-do. The strong side part created beautiful lines to compliment her dress by Marchesa. He modernized the texture of the hair by creating a sleek look, with a slight wave at the end.
Sandra Bullock is wearing a silver beaded column Marchesa gown with embroidered illusion bodice to the 82nd Annual Academy Awards.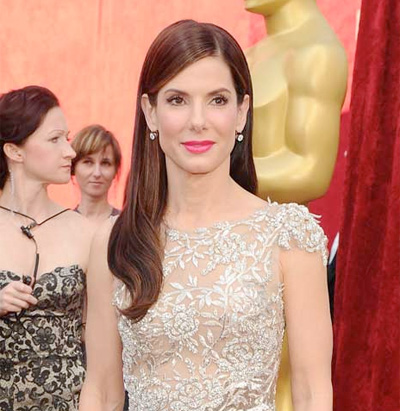 How to get Sandra Bullock's Oscars 2010 Hairstyle:
Conditioned hair is very important for any sleek style. Abergel used FEKKAI ADVANCED GLOSSING SHAMPOO AND CONDITONER, leaving the conditioner on for 15 minutes. He then rinsed and towel dried the hair. Then he parted the hair in a deep side part.
Emmy Rossum stuns in a MARCHESA dress and Georgina Chapman for Garrard Jewelry. At the the Montblanc Charity Cocktail hosted by The Weinstein Company to benefit UNICEF held at Soho House, March 6, 2010. Emmy wears a chiffon dress with embroidered ribbon detail and a black diamond Georgina Chapman for Garrard ring. Do you love?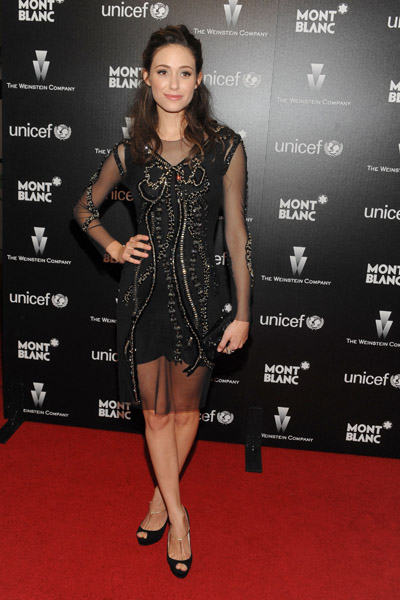 Vera Farmiga stuns in a MARCHESA dress and carries a MARCHESA clutch at the 25th Film Independent Spirit Awards, March 5, 2010. Vera wears a silk wool strapless dress with draped bodice and carries a Karung metal frame clutch with hand beveled quartz crystal clasp. Do you love?
Demo Moore stuns in MARCHESA at the London Premiere of Valentine's Day, February 11, 2010. Demi wears a black matte crepe strapless cocktail dress with organza flower detail. Do you love?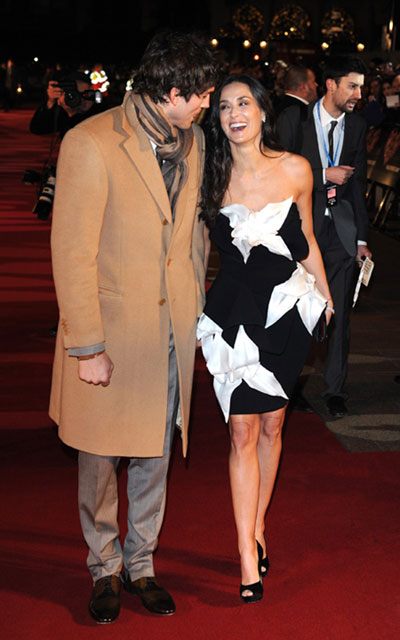 L to R: Ashton Kutcher and Demi Moore