All Posts Tagged With: "Mario Testino"
Sneak Peek: Photos from V MAGAZINE of celebrities Bar Refaeli (supermodel currently dating actor Leonardo DiCaprio), Devon Aoki (model/actress currently dating actor Joseph Gordon-Levitt), and Noemie Lenoir (model/actress) shot by famed American photographer Arny Freytag and Styled by Sally Lyndley for the upcoming V66. Arny has held the record for photographing the most Playmate centerfolds in Playboy Magazine. This spread celebrates the upcoming V Magazine "Sexy Body Issue."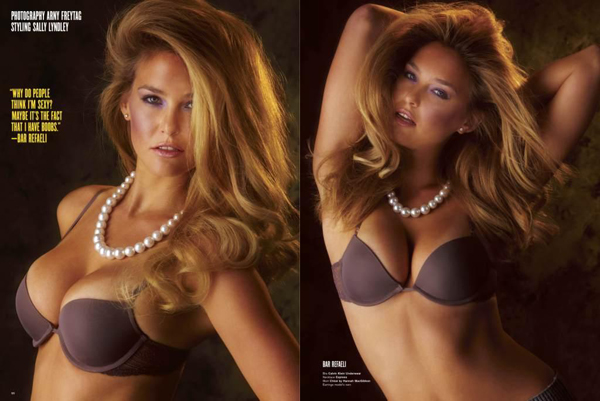 "Why do people think I'm sexy? Maybe it's the fact that I have boobs." – Bar Refaeli
French siren Marion Cotillard is featured on the cover of VOGUE July 2010. With a new film out this month, the Oscar winner reveals to Contributing Editor Joan Juliet Buck her passion for music and Modigliani—and her true bohemian spirit. Photographed by Mario Testino.
Marion Cotillard on playing in the Expressionist-Surrealist band Yodelice fronted by composer Mazim Nucci: "I play the bass guitar, keyboard, and tambourine—I'm their one-woman band and all-purpose maid," Cotillard explains. She's taken to appearing with Yodelice on tour, dressed as a man, under "Simone," the name of her maternal grandmother. "It's pretty refreshing to be in a situation where the spotlight is on someone else."
Here is a sneak peek to Blake Lively's photos in Vogue Magazine June 2010. Blake was photographed by Mario Testino. Do you love?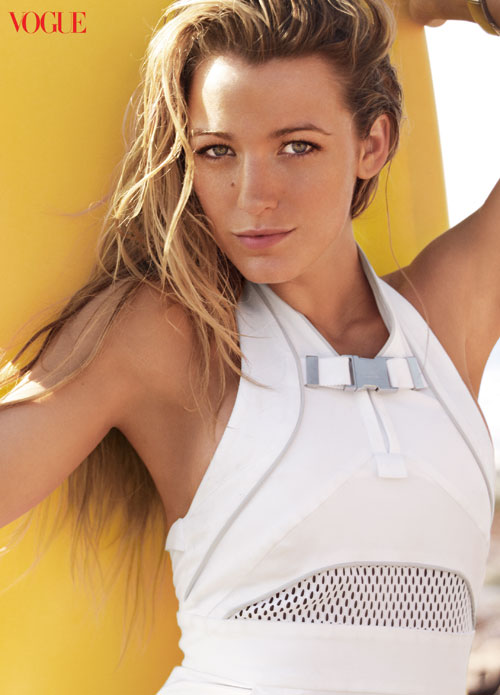 Sarah Jessica Parker is gracing the cover of VOGUE Magazine May 2010: In a salute to the upcoming exhibition at the Metropolitan Museum of Art Costume Institute, "American Woman: Fashioning a National Identity," VOGUE's May 2010 issue offers a celebration of the same topic. To herald the cause and as the emblem of today's American woman, Sarah Jessica Parker is VOGUE's May cover star. VOGUE contributing editor Vicki Woods visits with Ms. Parker as she prepares for the upcoming release of the sequel to Sex and the City, begins her role as president and chief creative officer of Halston, and faces the challenges of being a mom to three small children. Styled by Tonne Goodman, Ms. Parker was photographed for the cover by Mario Testino.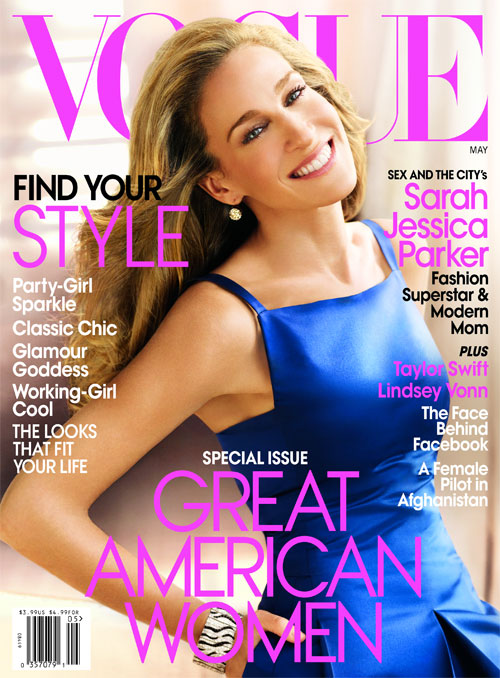 Photo Credit: Mario Testino/VOGUE
WATCH the behind the scenes of the Sarah Jessica Parker VOGUE May 2010 Photo Shoot (via: vogue.com):
Highlights From the Article:
The CHANEL Fall/Winter 2010-2011 Ready-to-Wear Collection debuted at the Grand Palais in Paris on March 9th, 2010. Here are some photos from the CHANEL fashion show front row and VIP.
Karl Lagerfeld and Venessa Paradis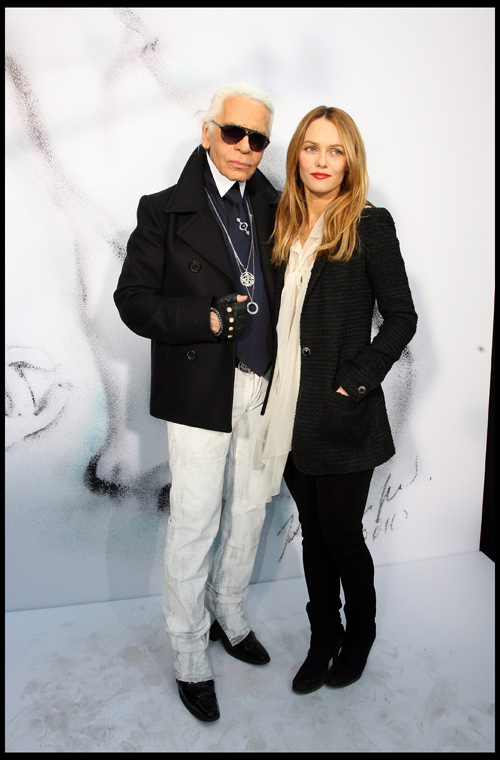 For VOGUE's eighth annual March power issue, writer and actress Tina Fey is the magazine's standard-bearer. In a candid conversation with Jonathan Van Meter, Fey describes herself as a celebrity flying the flag for "normal." However, as Anna Wintour notes in her editor's letter, "there is nothing ordinary about her brilliance, her perceptiveness, or her beauty. Mario Testino and Tonne Goodman's portfolio of the star captures a woman who fully understands the power of style to elevate the everyday."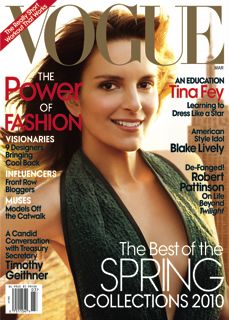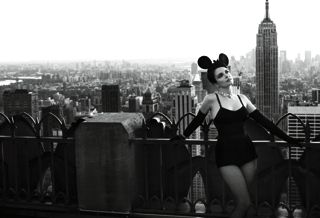 Highlights from the Article
Going Rogue: Ever since her devastatingly funny Sarah Palin impressions, she has for the first time in her life attracted unwanted attention—and hate mail. "People started projecting politics onto me," she says. "There are people who hate me now because of that."
Actress Kirsten Dunst, was shot by Mario Testino for the upcoming V MAGAZINE (issue #64). Inside Dunst discusses her unique friendships with both the Mulleavy sisters of Rodarte and Japanese pop artist Takashi Murakami as well as her upcoming long-awaited film All Good Things. V64 hit newsstands today, March 4, 2010.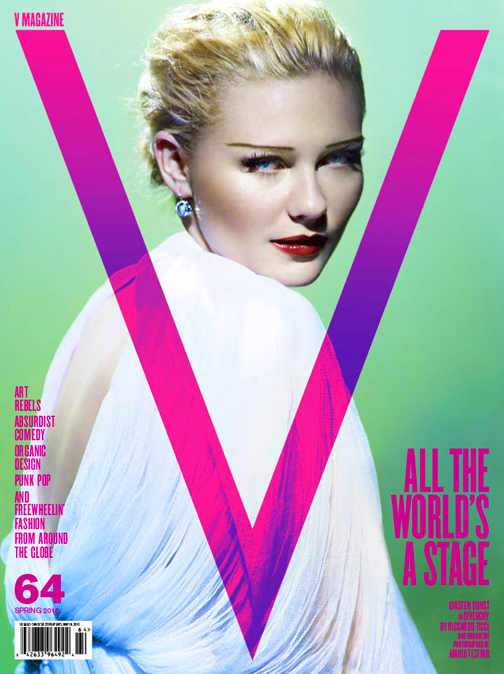 "THE ART OF BEING KIRSTEN DUNST"
Hollywood's bored and beautiful blonde has become an icon for a generation, but this year it's all about reinvention. Art muse, rising director, even serious dramatic actress—you can be anything when you're Kirsten Dunst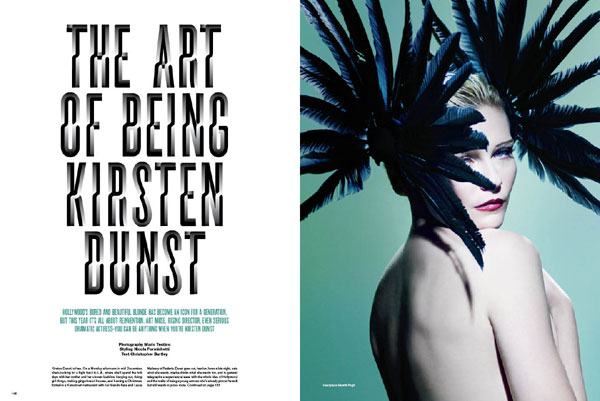 Supermodel Daria Werbowy, was shot by Mario Testino, for the new issue of V MAGAZINE (#64). V64 does not hit newsstands until March 4, 2010.

Photographer: Mario Testino
The 10-page spread was inspired by Mexican actress Maria Felix—also known as La Doña—a woman who eventually became a fixture in the fashion world as well as in Mexican cinema. Once dressed by designers like Christian Dior, Givenchy, Yves Saint Laurent and Chanel, Felix also commissioned serpent and crocodile diamond necklaces from Cartier Paris—clearly an influence in V's "Ave Maria."
Lancôme officially welcomed Julia Roberts to the brand this week with an intimate dinner held at the Hôtel de la Monnaie in Paris. Among the guests were Julia's husband, photographer Mario Testino, who shot Julia's Lancôme ads, French Vogue editor Carine Roitfeld and hairstylist Serge Normant. Among the announcements: advertising featuring Julia, for Lancôme's new mascara, Définicils Precious Cells, will debut later this year (2010).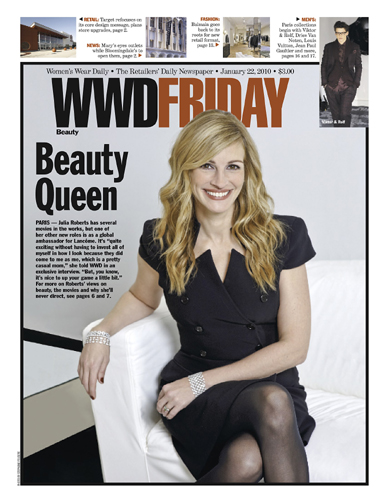 Julia Roberts Lancôme's Global Ambassador: Interview in WWD
Actress Jesica Biel is featured on the cover of Vogue Magazine February 2010, on national newsstands January 26, 2010. The Jessical Biel article  in Vogue is by Jonathan Van Meter and is titled: The Real Biel. Jessica is photographed by Mario Testino. For the Cover fashion Jessica is in: Ralph Lauren Collection and RRL Ralph Lauren.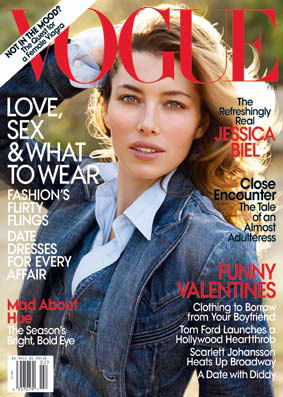 "I think my Valentine's wish would be that she be embraced by and play a larger role in the fashion world. She symbolizes everything American fashion stands for: health, beauty, fitness, and grace. She'd make a great partner for any designer" — Anna Wintour on Jessica Biel in this month's "Letter from the Editor"