All Posts Tagged With: "Jerry Hall"
Though the news of her Chanel Cruise 2011 appearance and photoshoot with Karl Lagerfeld are still making the rounds on fashion blogs, Georgia May Jagger already has a new modeling pose to show off. But this time instead of standing alone, she's teaming up with a model very close to her heart – her mother, Jerry Hall! The mom and daughter team just announced that they'll be fronting the campaign for the Australian skincare range Invisible Zinc. Read full article in Modelinia.com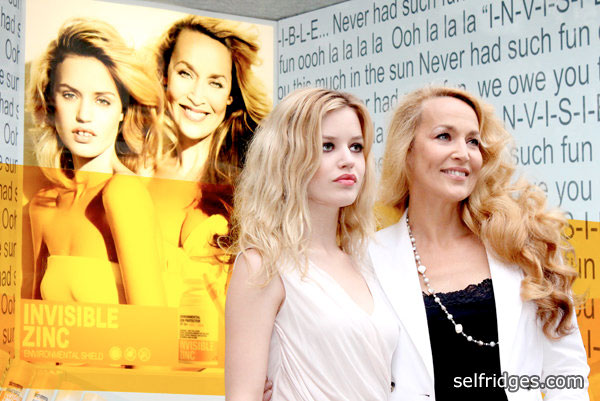 Finally, the ad campaign for Georgia May Jagger is out! Georgia is the beautiful daughter of Jerry Hall and rock star Mick Jagger. Appropriately, the luscious-lipped model is showing off Rimmel London's New Colour Show Off Lipstick, displaying a pout that women all over are sure to envy and attempt to replicate. She flounces around London with her friends, touching up her deep red in a store window, and takes over a big-screen in the city center -all thanks to her lips. Read full article in modelinia.com
When I think about Rock Stars all I see is amazing parties and lots of fun. But have you  ever wondered what it's like to be a rock star's daughter? America's version is Nicole Richie and Britain's versions are the following beauties. Which of Britain's It Rock Star Daughters is your favorite?
Peaches Geldof is the daughter of British rock star Bob Geldof and British television presenter and writer Paula Yates. Peaches seems to get tons of press in the UK for being a party girl. However, Peaches is not just all about good times. She writes a column for Nylon Magazine. In 2009 Peaches was signed to a six-figure modeling deal to become the face of the Miss Ultimo collection. She is also a DJ and a TV reporter. Peaches reminds me a lot of her mother who has passed away in 2000 with her beauty, charm, and journalism talent. You can even follow Peaches Geldof on Twitter.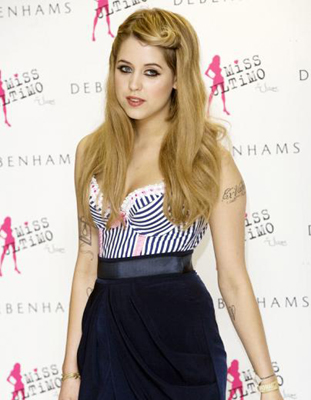 I stumbled upon this vintage Jerry hall video commercial for Revlon Flex Shampoo from the 1980's. Which reminds me Revlon Flex Shampoo was probably the first ever shampoo I've used back growing up in Israel. It was revolutionary for us back in the days, LOL. I'm also very fascinated to see the different hair styles and looks women perceived as in style in those days. I'm a huge Jerry Hall fan. Before Kate Moss and Heidi Klum there was a beautiful supermodel called Jerry Hall. It is not just Jerry's looks that I like, it's her incredible charm and grace when she talks, and how she carries herself.
Sienna Miller wearing CHANEL Beauté at the international premiere of G.I. Joe, Monday, July 27, 2009, Tokyo, Japan.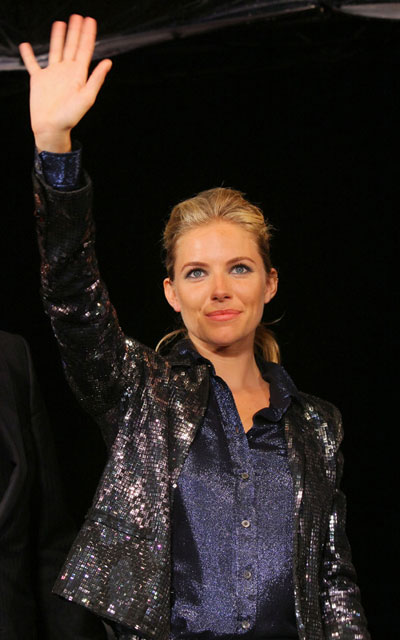 Get Sienna Miller's Look: Sienna Miller's makeup was done by Makeup Artist Kate Lee for CHANEL Beauté, and here is how to get the look:"For the Tokyo premiere Sienna wore a Gucci suit. Her hair was up and in a modern/ chignon type ponytail, so I decided to make the look more of a subtle version of Jerry Hall/ Helmut Newton by gently smoking out the eye with a mid grey matte shadow. Inside the eye I used CHANEL Intense Eye Pencil in Graphite to add intensity, and the silvery grey reflects the light. I wanted to balance the look without conflicting with her amazing suit. On the lids I used the grey shadow from the CHANEL Smoky Eyes Quad, with the CHANEL Eclat Lumiere in Beige Rosé as a base. On her lashes I used several coats of Exceptionnel de CHANEL Mascara. I sculpted the cheek bones with CHANEL Powder Blush in Fresque. Final touch… the lips were CHANEL Rouge Allure in Instinctive."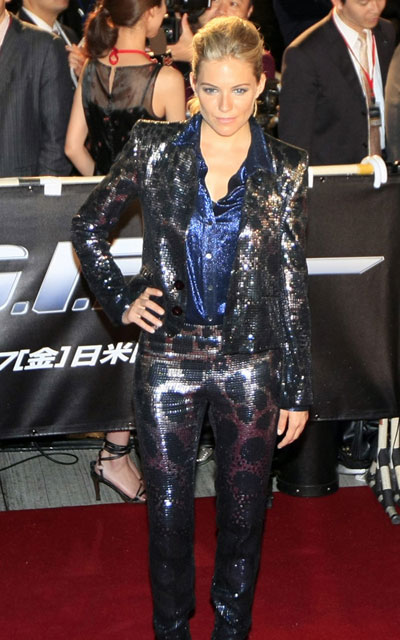 Images via: celebrity-gossip.net