All Posts Tagged With: "Natalie Portman"
All I can say about Natalie Portman at the screening of "Brothers" in NYC this week is: I'm mesmerized! Natalie is one of the most beautiful and most photogenic stars on planet earth.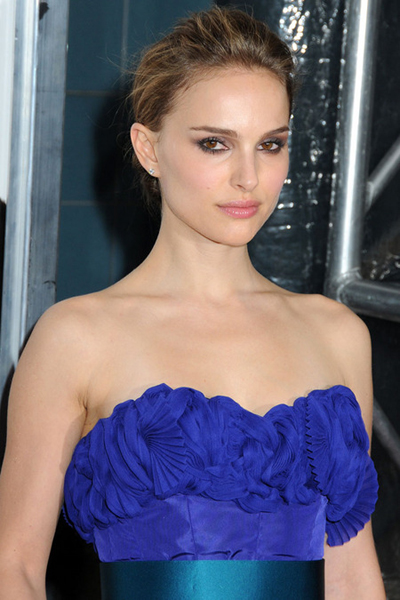 Natalie Portman looks beyond beautiful on the cover of V Magazine this month. Natalie is probably one of the few people I know or could imagine having not much hair and still look stunning. And, I love her 80's inspired punk hairdo and eye makeup. What a brilliant photo. Natalie was photographed by Mario Testino. Mario, I would like to meet you one day!:)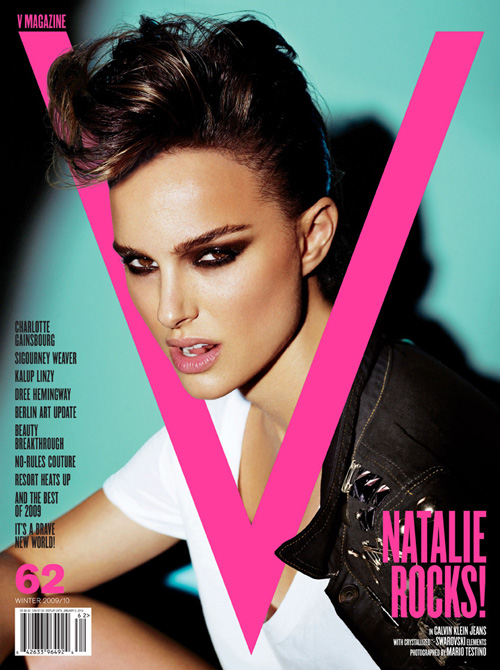 Natalie Portman was wearing CHANEL to the American Ballet Theater Fall Gala on October 7, 2009. Natalie's dress is from the 2009/10 CHANEL Cruise Collection.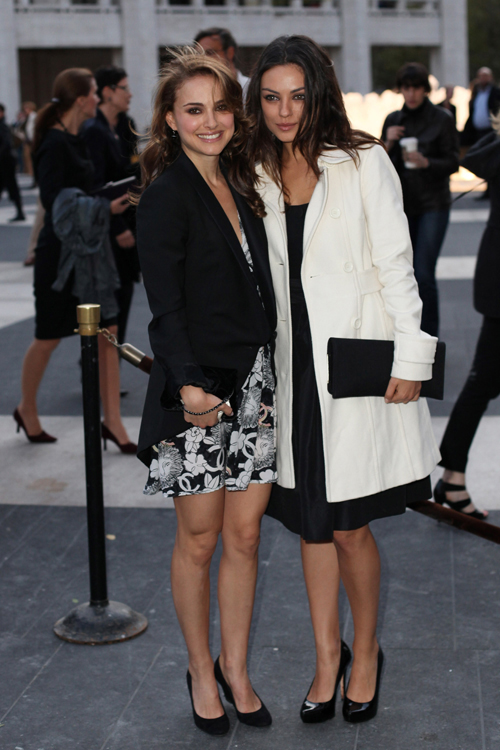 From left: Natalie Portman, Mila Kunis
Natalie Portman was spotted all dressed down and without  makeup!
And this is Natalie Portman all dressed up for Oscars 2009:
Which of Natalie Portman's looks is your favorite? And does Natalie Portman need makeup to look pretty?
Want to know what I think?
Oscar wasn't the only accessory that sparkled at last nights show luxurious, brilliant hair shined its way throughout the main event. Pureology PureArtists Mary Katherine Hecht, Tyson Daniel, Sherilynn Smart, Darren Pena and April Webster and Wendy Belanger list the top three hair trends of last night's 81st Academy Awards along with step-by-steps for you to achieve the award show look at home. 
Top celebrities including Michael Shannon, Viola Davis, Amy Adams, Taraji P. Henson, Jane Seymour and Ted Danson, that attended the WOW! Creations Lifestyle Gifting Lounge at the Beverly Hilton Hotel received Pureology InCharge Firm Finishing Spray

…and GlossingMist Shine Spray in their gift bags.

Top hair trends at the Oscars:
1. Elegant Partial Up-Do as seen on Angelina Jolie
2. Futuristic Mold as seen on Kate Winslet
3. Chic Chignon as seen on Natalie Portman
Elegant Partial Up-Do: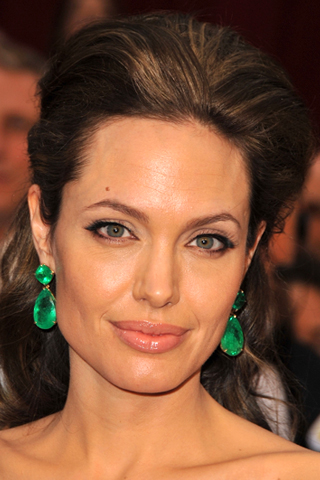 Angelina Jolie.
1. Set the hair with a 1.5 inch curling iron using Pureology InCharge Flexible Styling Spray. Pin the curls, let set and cool.
Retro ruled the red carpet last night, with 30s, 40s and 50s glamour on display. Smooth waves and constructed pinning ushered in new, softer styles that were timelessly elegant.
Kevin Mancuso, Creative Director for Nexxus Salon Hair Care, created the modern and romantic updo worn by presenter Natalie Portman. With a sweeping side part and soft curl, pinned into a beautiful knot at the nape of her neck, the look was deceptively easy to create. Kevin described how to get the look below in a few simple steps.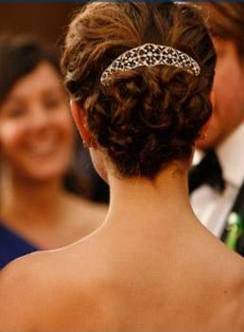 How-to Get Natalie Portman's hairstyle at Oscars 2009:
Step 1: Apply a volumizing styler to the roots, like Nexxus Root Exxtend, to add body into the hair.
Distribute a medium-hold mousse, such as Nexxus Mousse Plus, throughout hair to and maintain and support the structure of the style. More modern updos employ product instead of teasing to build body, for a softer, healthier look. Blow dry hair with a large round brush, concentrating on the ends to smooth the hair.
CHANEL Beauté and its Makeup Artist, Jeanine Lobell, created Natalie Portman's makeup look for the 2009 Academy Awards.
Beauty Inspiration: "My inspiration for Natalie on Oscar night was her dress… The colour was a fantastic orchid, and being Rodarte, I wanted to do cool punk rock sexy fairy make up."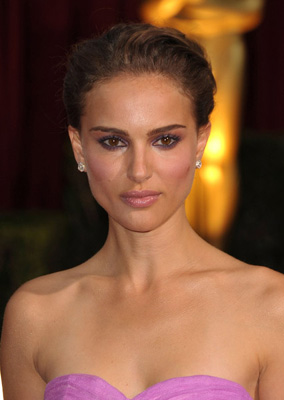 How to get Natalie Portman's Oscars 2009 red carpet makeup look: Jeanine was going for a smoky eye, and used CHANEL Silky Eye Shadow Duo in Orient Express. She used the pale pink as a base and the dark purple smoked around the eye on the lid and smudged in lower lash line. She added CHANEL Intense Eye Pencil in Noir inside the eye, and lots of CHANEL Inimitable Mascara in Noir-Black for thick sexy lashes.
81 Academy Awards red carpet looks: How can one look more beautiful than Natalie Portman. One of my favorite Oscars 2009 red carpet looks. Natalie Portman's hair is completely pulled up and away from her face, leaving her stunning facial features as her main accessory. Love the soft pink lips and slightly slanted eyes. Just beautiful!
Tell us what you think! Does Natalie Portman looks hot or not?
Smoky eyes are the big buzz on the runway this season. Smoky eyes are a dramatic look that can transform you from looking casual to an instant glamour girl, and from plain to sultry. I think the queen of smoky eyes is Kim Kardashian. I also love Natalie Portman's smoky eyes on the cover on Marie Claire April 2008 UK edition. Natalie Portman's smoky eyes make her eyes stand out yet not overdone.
To get Natalie Portman's smoky eyes look you can use the Nars Black Eye Kit which contains NARS Eyeliner Pencil in Black Moon, Mascara in Black Orchid, Duo Eyeshadow in Pandora, and Eye Makeup Remover (3 oz.). Collectively, these coveted pieces produce the perfect sultry and flawless smoky eye. SRP: $60. (via. nordstrom.com).