All Posts Tagged With: "Audrina Patridge"
Who is better to ask what's hot when it comes to hair this fall other than the hair stylists who spend their time doing hair for the runway, ghd Ambassadors: Omar Lopez, Craig Carter, and Andy Bodine.
ghd Ambassadors Omar Lopez, Craig Carter, Andy Bodine, were kind enough to share with Talking Makeup their take on Fall Hair Trends:
From Omar Lopez, ghd Media Ambassador: Movement Is Back with Curling Just The Ends
Movement is back in, but this season, the focus is all on curling just the ends of the hair which is simple and sleek and easy to do. Prep the hair with ghd fat hair lotion and blowdry. The product is heat activated and works the same way mascara does on lashes, using rayon micro fibers to pump up each strand. Play up overall volume by applying from roots to ends, then follow with a little more on just the ends of the hair. This will plump up ends and allow for long lasting fat curls.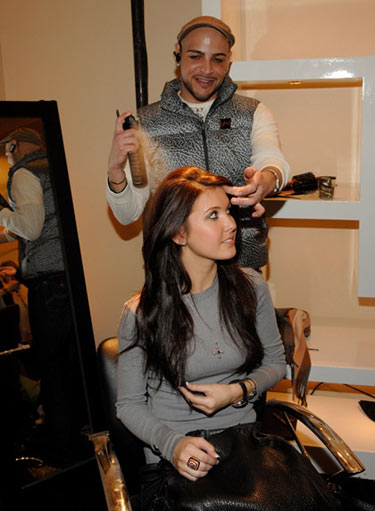 Omar Lopez styling Audrina Patridge
Use the ghd IV styler to straighten the length of the hair, then when you reach the ends, turn the styler 180 degrees to create a slight curl. Finally, use just your fingers to ruffle up the ends to create a slightly tousled look and you have one of the hottest looks for fall!
From Craig Carter, ghd Creative Ambassador: Sleek Straight Ponytails With Natural Shine
Like Paris Hilton and Top Chef host Padma Lakshmi before her, the MTV reality star is now hawking burgers for Carl's Jr.
Audrina Patridge in a bikini and looks amazing, or as I always say: "A WOW", and makes the all burger experience a lot more delicious:)

Carl's Jr.
"I had an absolute blast shooting," Audrina Patridge told People magazine. "It was my first experience shooting a spot with food, and when I pulled up, I was literally salivating looking at all the rows and rows of perfect burgers waiting for me!"
Story & images via: E!Online.com
Audrina Patridge and Erin Lucas are both MTV reality TV stars and both very gorgeous! I Love them both. In the images below they look a like to me as if they were separated at birth.
Tell us what you think! Is this possible or I'm just delusional?

Audrina Patridge star of MTV's The Hills

Erin Lucas star of MTV's The City
Read Marta Walsh's interview with Audrina Patridge!
Read Marta Walsh's interview with Erin Lucas!
MTV's The Hills Finale was aired this past Monday. Just in case you missed it, here is a photo of Whitney Port, Lauren Conrad, and Audrina Patridge. The Hills Finale MTV special party took place at the Tavern On The Green in New York City.
Which The Hills star is your favorite: Whitney Port (left), Lauren Conrad (middle) or Audrina Patridge (right)?
Get ready to the premier of The City staring Whitney Port which is scheduled to air on December 29 at 10PM(check your local listings). Also in the new MTV The City cast, Erin Lucas.
Here is The City Trailer:
Audrina Patridge is one of Talking Makeup's most popular searches. Just in case you missed my interview with the beautiful Audrina Patridge. Here it is, my interview with Audrina Patridge from November 2007!
Audrina Patridge is the only brunette we know on the hit MTV show The Hills. Audrina was kind enough to share with Beauty Interviews some of her secrets for staying beautiful.
I keep my hair beautiful thanks to… Unite/ Bumble n Bumble hair products
My favorite skincare products are… Dermalogica and MD Skin Care
I get my eyelashes looking long, full, and sexy using… Maybelline: the good ole pink and green mascara
The best lip-gloss I ever owned… Lip glosses by Chanel and Too-Faced Cosmetics
My signature fragrance is… Pure Poison by Dior
The one beauty product you will always find in my purse is… My Dior eyeliner
My number one beauty secret is… Wash your face every night, and moisturize your entire body!
The celebrity I find most beautiful is… Faith Hill and Charlize Theron
Beauty Interviews interviewed Audrina Patridge to found out about some of her beauty secrets.  If you are a big fan of the hit MTV show The Hills and Audrina is your favorite then you don't want to miss this interview.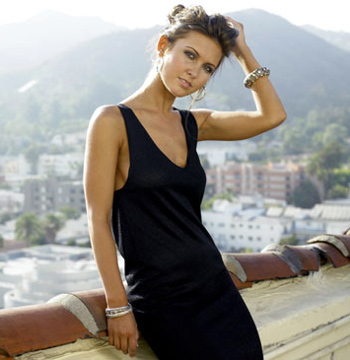 I keep my hair beautiful thanks to…….
Unite/ Bumble n Bumble hair products.
Beauty Interviews November edition is just in! This month's cover features Nude Skincare which was created by Bryan Meehan.  Since we are talking about 'Nude', the cover is quite minimalistic.  Other great interviews you don't want to miss out are with: Faith Kates founder and owner of NEXT Model Management,  Dr Amy Wechsler dermatologist, Celebrity makeup artist Anthea King, and beauty secrets from the star of the hit MTV show The Hills Audrina Patridge. Visit Beauty Interviews today to read full interviews.  Happy reading!