All Posts Tagged With: "Miranda Kerr"
If you watched the Victoria's Secret Fashion Show 2009 last week you probably noticed the Victoria's Secret models sexy shimmery skin. About 2 years ago I've met Linda Hay who is known to do the makeup for the VS beautiful models. Linda told me that she applies Victoria's Secret Sexy Little Things Give Me The Shimmers Shimmering Body Powder to add glow and sexy shimmer to models body. This VS body shimmer happens to be my ultimate favorite. I don't leave my house without it! Fact:)

The Victoria's Secret Fashion Show 2009: Miranda Kerr
Watch Marta's video and find out her top body shimmer picks to get the Victoria's Secret models sexy skin look:
Stoli Vodka presented the official Victoria's Secret Fashion Show After Party at NYC's M2 UltraLounge in celebration of the sexiest show on earth back in the Big Apple. Designed with luxury in mind, M2 Ultralounge created an atmosphere that combined the sexy vibe of an intimate lounge with non-stop energy and entertainment of a mega-club. Guests were treated to signature Stoli Vodka Cocktails, Champagne by Perrier Jouët and Piper-Heidsieck, snacks by Pop Burger, Baked By Melissa's famous cupcakes and the sounds of DJ Rossone.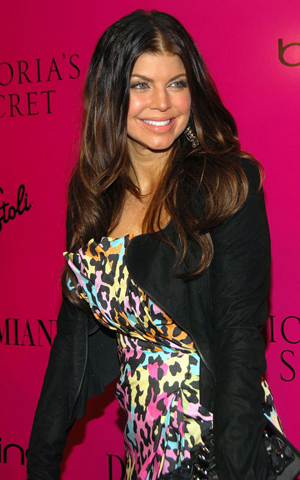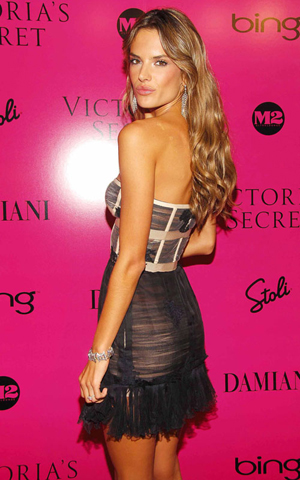 Stoli Vodka and Bing presented the Victoria's Secret Fashion Show After Party at M2 UltraLounge
From left: Fergie and Alessandra Ambrosio
Celebrities spotted at the Victoria's Secret Fashion Show After Party: Victoria's Secret Angel and host of the Victoria's Secret Fashion Show: Heidi Klum, Victoria's Secret Angels Marisa Miller, Doutzen Kroes, Miranda Kerr, Alessandra Ambrosio, Behati Prinsloo, Three Time Grammy Award-Winning Superstars The Black Eyed Peas, Victoria's Secret CEO Sharen Turney, Executive Producers Ed Razek and Monica Mitro, Vice President of Damiani and designer of the $3 million Harelquin Fantasy Bra Silvia Damiani.
Victoria's Secret model, Miranda Kerr is already an avid green enthusiast, and even posed for the first-ever Green issue of Australian Rolling Stone.
Now she's bringing her organic obsession to the beauty world with a brand-new line called Kora. The 100-percent organic skincare line was named after a type of meditation from Tibetan Buddhist tradition. Miranda took part in all steps of creation, from the formula to design, and even the campaign image.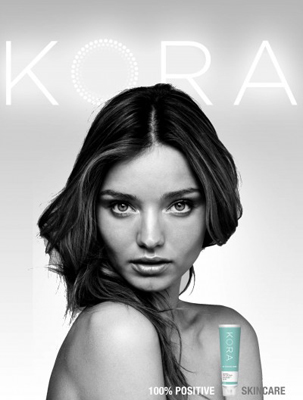 So far it's set to launch in mid-to-late October at David Jones stores in Australia, but hopefully she'll bring the line to the States and the rest of the world soon!
Via: modelinia.com
Miranda Kerr's hairstyle (in images below) reminds me of Kirsten Dunst's hairstyle for the 2009 CFDA Fashion Awards. Kirsten's hair was styled there by Pantene's celebrity hairstylist, Hallie Bowman. I don't normally wear my hair up, it's a habit I find very difficult to break. But, I must say, I wouldn't mind to wear my hair like this (if I ever get invited to a red carpet event…a gal can dream:) I've first learned about The Mixed Textured Chignon by Hallie, and Marta calls it: 'The modern Chignon'. This is a great alternative to the classic Chignon. Not too many people look great with their hair pulled tight and away from face like in a classic Chignon. It can look a bit harsh. Thoughts?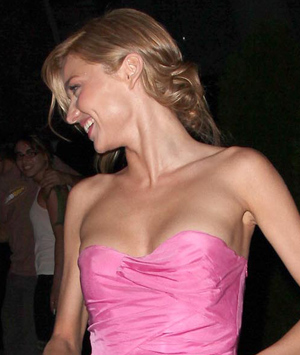 Miranda Kerr's images via www.hollywoodtuna.com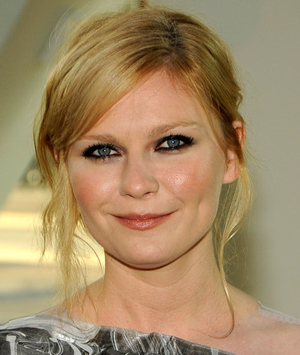 Kirsten Dunst's hairstyle for the 2009 CFDA Fashion Awards
Victoria's Secret supermodel Miranda Kerr was joined by Melissa Rycroft at the Dream Angels Heavenly Enchanted fragrance launch. Also in photo (below), Giuliana Rancic.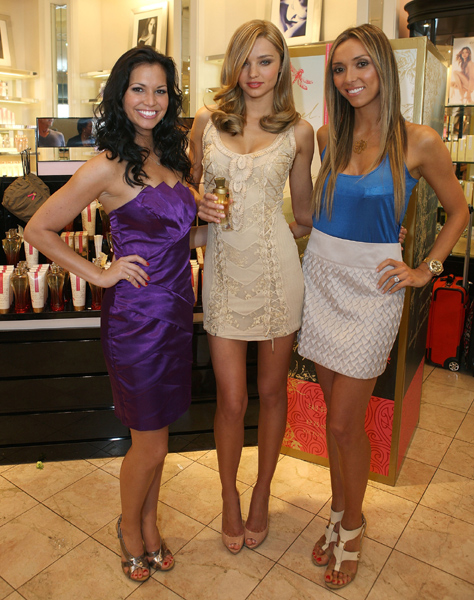 From left: Melissa Rycroft, Miranda Kerr, Giuliana Rancic
Victoria's Secret Dream Angels Heavenly Enchanted Fragrance
Giuliana Rancic interview with Marta Walsh
Miranda Kerr showed up very blonde at the Victoria's Secret Heavenly Enchanted Fragrance Launch.
Vote for your favorite Miranda Kerr hair color!
Miranda Kerr All Blonde at the VS Heavenly Enchanted Fragrance Launch (left) OR Miranda Kerr brunette at the David Jones Autumn/Winter 2009 Season Launch (right), is the question!!:)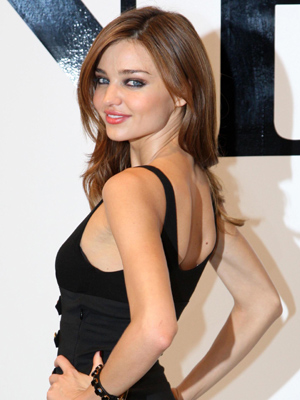 Images vis: www.hollywoodtuna.com
Victoria's Secret Angel Miranda Kerr Brings Sexy To The Red Carpet…Make-up Style
Stepping out into a deconstructed-chic 1930's vibe at the 2009 Metropolitan Museum's Annual Costume Institute Gala, Miranda Kerr wanted her make-up to be sexy, trendy and evoke a modern twist.
"She wanted sultry, smokey and a sensational eyes" said Victoria's Secret Make-up Artist Meredith Baraf."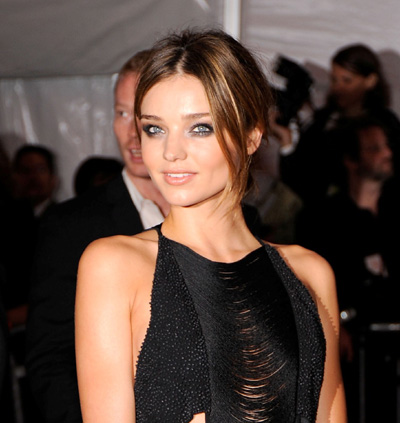 To get her look, Baraf used five simple tips anyone can do at home:
1. Prep: To begin, Baraf always preps the eye. Using products from the new VS Make-up PRO line
she applied VS PRO Lasting FX Eyeshadow Primer all over the lids and under the eye, helping to
create the base for a perfect, long-lasting, smooth eye.
2. Liner: Baraf used VS Make-up Eyeliner in Extreme Black. Applying it on both the upper and bottom
lash line. "The key to the smokey eye is to smudge, smudge, smudge, says Baraf."
3. Eyeshadow: Baraf used VS Eyeshadow in Fierce and blended it in the crease of the eye as well as
VS Make-up in Champagne in the inner corners to make the eyes pop.
The very famous and very glamorous Victoria's Secret Fashion Show took place at the Fontainebleau Hotel in Miami Beach last Saturday, November 15, 2008.
The Victoria's Secret Fashion Show will broadcast Wednesday, Dec. 3rd (10:00-11:00 PM, ET/PT) on the CBS Television Network! This marks the sixth time the show will air on CBS and the first time the show will be in Miami Beach. You don't want to miss it. It is one of the best shows to look forward to every year.

Victoria's Secret Angel Marissa Miller.
Curious how to get the look of the Victoria's Secret Angels from this year's VS Fashion show in Miami?  Talking Makeup has got the scoop for you!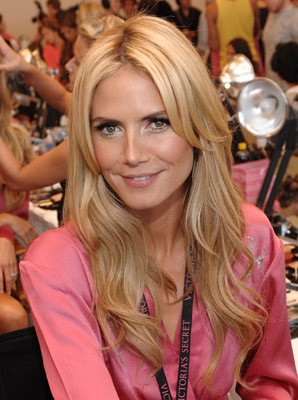 Victoria's Secret Angel Heidi Klum.
Meet the Victoria's Secret Angels: Heidi Klum, Karolina Kurkova, Adriana Lima, Alessandra Ambrosio, Selita Ebanks, the newest angels Marisa Miller, Miranda Kerr, and Doutzen Kroes and more…