All Posts Tagged With: "Hair"
Last night, Rita Ora's natural hair texture made a statement on the red carpet in an undone, flirty ponytail. Inspiration: Brent wanted to complement Rita's extravagant Giambattista Valli Couture gown by creating a look that was young and fresh
Whether its managing home life and kids or tending to a demanding job, to-do lists seem to get longer by the minute (and second!). It's time we get smarter about the choices we make and the priorities we keep. Making simple changes with smart solutions can even start with what you use in the shower. Redken, the leading professional haircare company, has discovered a way for haircare to be smart and multitask.
Love and hair are essentially the same – they both can be temperamental but when you get it right, you want it to stay. Whether you're going to #netflixandchill or hitting the town with your main hang this Valentine's Day the last thing you want is basic hair or a basic formula. Thanks to the strong hair, aficionados at Keranique, their cutting edge, strength building formulas make hair panic is a thing of the past!
When you haven't gotten your roots done or washed your hair. Keranique Tint & Texture Color Density Treatment.
Frizzy, tangled, unmanageable hair? Sounds like the result of a well spent summer day! Whether the wind or water is to blame, Revlon has you covered with an array of brushes to keep your hair smooth and shiny this summer – without any hassle.
Brush up on your summer hair routine with the Revlon One-Step Hair Dryer and Styler, a paddle brush that shortens your styling time, and Soothing Sensations, a collection of brushes that glide through hair like a breeze while promoting the ultimate relaxing scalp massage effect. The brushes are great for summer travel! The ergonomic design of the One-Step makes it easy to pack AND there's no need to pack multiple tools!
Hair by Guido, Redken Creative Consultant
Redken Creative Consultant Guido drew inspiration from classic 70's film stars that really epitomized effortless beauty. In order to create a similar feel for Hermes, Guido used two key blowdry products before twisting the hair to one side for an elegant finish. Hairsprays were left aside so that the hair remained soft and easy.
"It was important for the hair to feel rich and luxurious for Hermes, so I used pillow proof blowdry express primer and satinwear 02 prepping blow-dry lotion to get that gorgeous blowout prior to styling. Once the hair was dry, I created a slight twist around the face and secured it with a pin behind the right ear. It was an understated style, but incredibly elegant nonetheless." -Guido, Redken Creative Consultant
Redken Products Used:
-pillow proof blowdry express primer
-satinwear 02 prepping blow-dry lotion
How To Create the Look:
Spray pillow proof blowdry express primer on damp hair
Apply satinwear 02 prepping blow-dry lotion
Blowdry hair with a round brush
Create a clean side part to the left
Twist front section and pin behind right ear
Redken Creative Consultant Guido worked to create styles for two very distinct powerhouse collections at his last day of shows in Paris this week.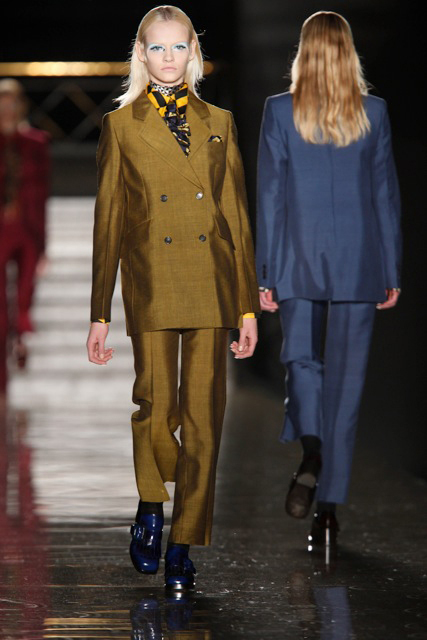 Miu Miu Fashion show Fall 2012
Nina Ricci Fashion Show Fall 2012: "The texture is very natural with a deep side part. I then tucked hair behind one ear and then behind the opposite ear and let the hair hang forward…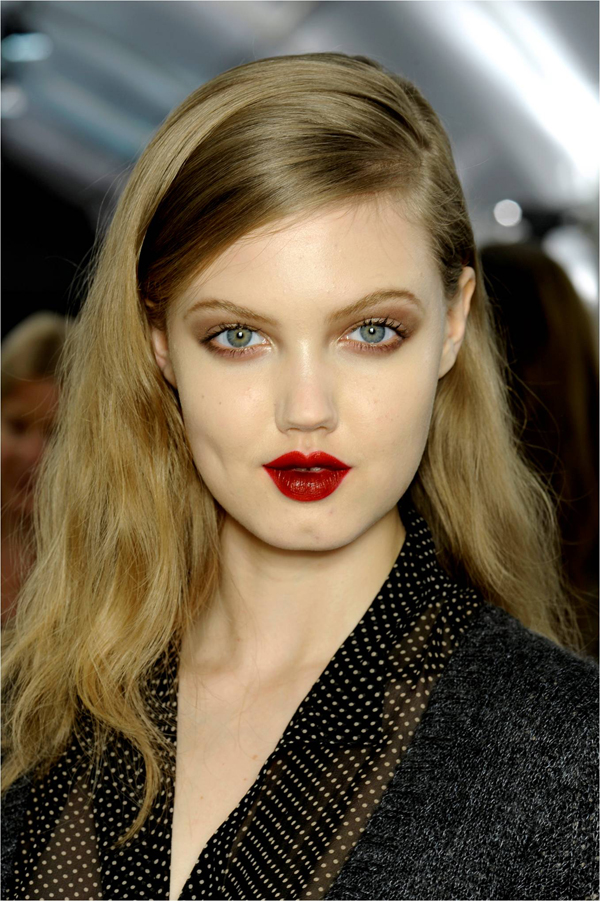 …Adding powder refresh 01 dry shampoo made a dry texture for a matte look- it's duller and natural, not shiny. The deep side part makes the look very cool- easy and pretty."–Guido, Redken Creative Consultant
How to get a deep side part hairstyle
"At Lanvin, the hair is very clean and natural with no product besides my favorite leave-in conditioner, Extreme Anti-Snap…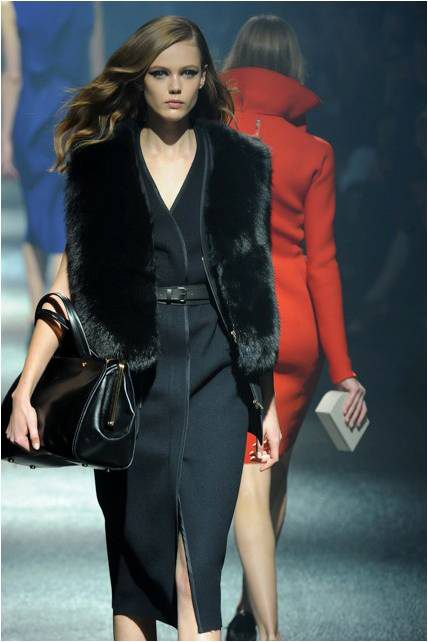 …You'll see that the clothes today are very embellished, very beautiful, very luxe. I didn't really feel like another point of view was needed. All of the parts are different – some girls have side parts and some have messy center parts. Then hair is just tucked behind their ears, it's just very easy hair."–Guido, Redken Creative Consultant
Redken Creative Consultant Guido created an androgynous, rock 'n' roll look at the Fall 2012 Jean Paul Gaultier show, Saturday March 3rd, in Paris.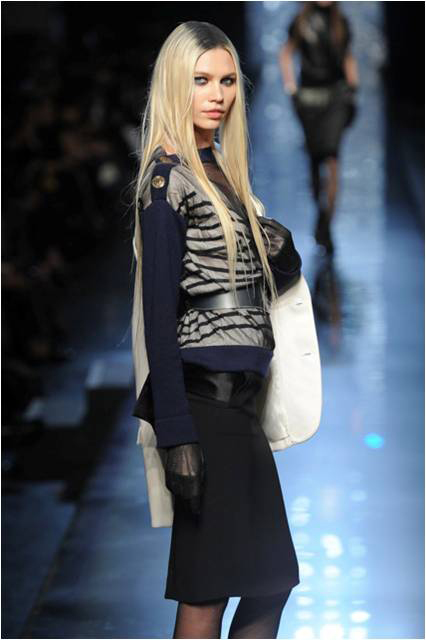 JEAN PAUL GAULTIER
The collection itself was dark and graffiti-inspired, clearly intended for the kind of girl you don't want to mess with.
Redken Creative Consultant Guido kept things simple yet sexy at the Fall 2012 Roberto Cavalli fashion show, Feburary 27th, 2012, his last show in Milan this season. He looked to create a matte, textured hairstyle that would complement the very dark makeup and exotic prints and leathers in the collection itself.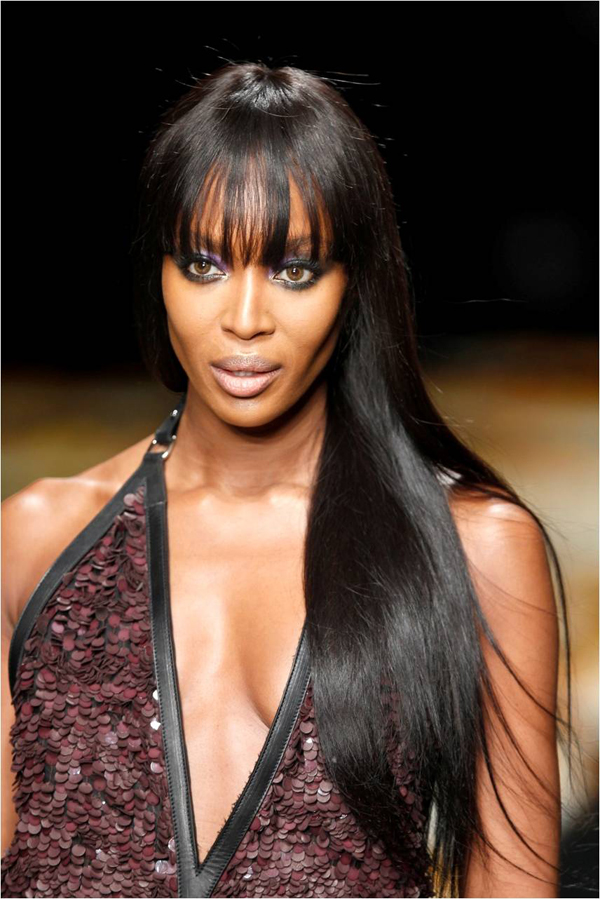 Naomi Campbell at the Roberto Cavalli Fashion Show Fall 2012