All Posts Tagged With: "Harry Josh"
Watch Marta's video blog for today introducing the latest from John Frieda haircare: John Frieda Root Awakening.
Marta also talks about Harry Josh who is John Frieda's International Creative Consultant, and the man behind supermodel Gisele's hair!!!

Marta's video blog is featured on : www.misslush.com
Products:
John Frieda Root Awakening Shampoo & Conditioner
John Frieda Root Awakening Health Boosting Detangling Spray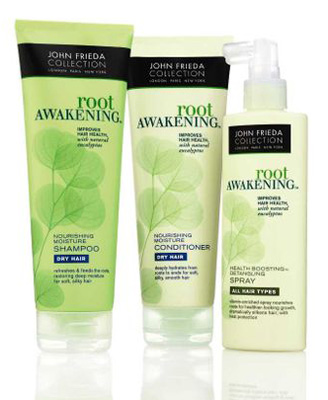 Last week I had an amazing chance to chat with celebrity hairstylist Harry Josh who has been Gisele's colorist for quite some years now. Harry Josh is also John Frieda's International Creative Consultant.
I've interviewed Harry Josh for Talking Makeup's celebrity beauty section: www.beautyinterviews.com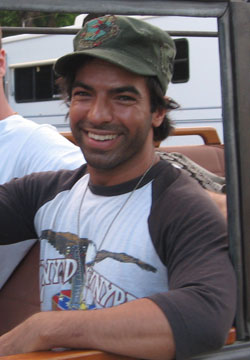 Harry Josh is a top celebrity hairdresser coming to us from Vancouver Canada. Harry Josh is also John Frieda's International Creative Consultant and the hairdresser behind supermodel Gisele Bundchen's hair. Aside from Gisele, Harry Josh styled hair for celebrities like Cameron Diaz, Gwyneth Paltrow, Natalie Portman, Fergie, and Reese Witherspoon.
I caught up with Harry Josh on the telephone interrupting his very busy morning to learn more about his fascinating career as top celebrity hairdresser.
In this interview Harry Josh talked to me about what attracted him to the world of hairdressing. His working relations with Gisele Bundchen. Gives tips to how we can achieve Gisele's hair at home. Lists some John Frieda products he just can't live without. Dishes out summer hair trends and future plans.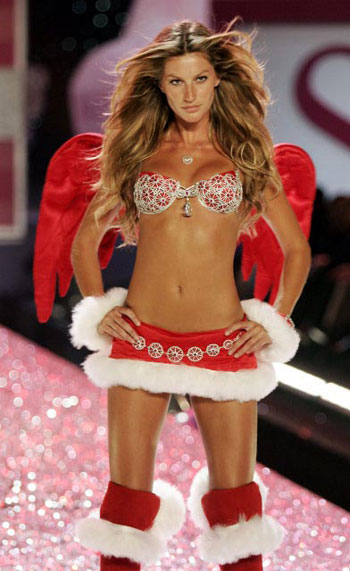 Marta Walsh: Why have you decided on a career in hairstyling?
Harry Josh: I always had a passion to be in front of the camera, I wanted to be an actor or a model and that didn't work out so well. I then realized that if you can't beat them, join them! I remember looking through fashion magazines when I was young , particularly Vogue, and seeing an outtake from a photo shoot of a hairdresser brushing model's hair on a cliff. It didn't even look like a job it looked like fun. As a hairdresser you get to work with beautiful models and to travel to exotic locations. It seemed like a cool job and I wanted to get it!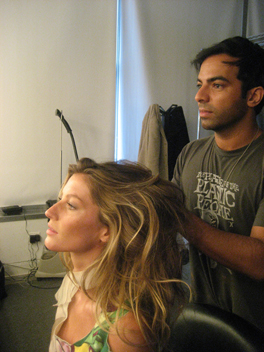 Ali Larter at InStyle Hair Launch Party from stylist Harry Josh!
Celebrities came out last night to celebrate InStyle Hair, a new special issue on sale May 8, at a star-studded event hosted by John Frieda Root Awakening and Marchesa at the Hotel Gansevoort Penthouse.
Harry Josh, John Frieda International Creative Consultant, created a stunning red carpet look for Ali Larter.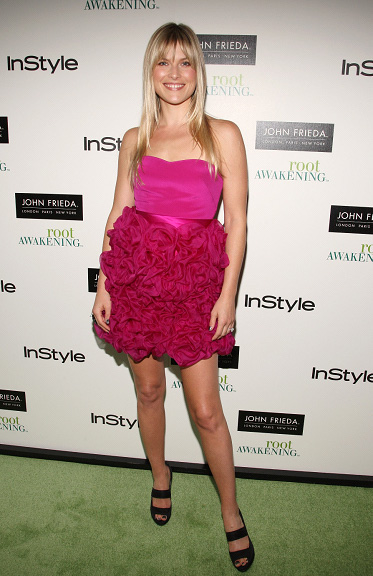 Explains Josh: "The look I created for Ali emphasizes how naturally healthy and vibrant her hair is. I started by spritzing hair with Root Awakening Detangling Spray, then blow dried in sections using a natural bristle brush to maintain her hair's own health and shine. I finished the look with a styling crème to add polish to her naturally sleek, full hair."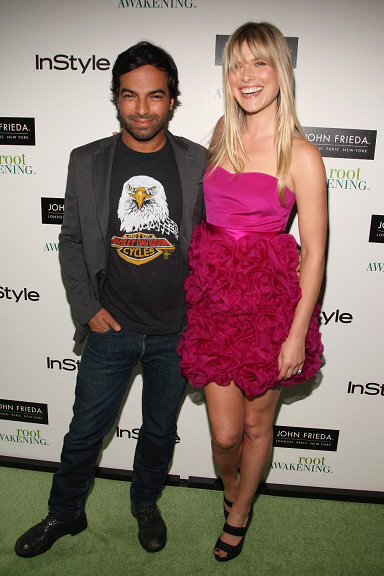 Other celebrities in attendance included Olivia Palermo, Jennifer Esposito, Marchesa designers Georgina Chapman and Keren Craig and Shannen Doherty. With a fabulous view of Manhattan from the Gansevoort Penthouse, guests enjoyed an exclusive showcase of Marchesa gowns complemented by John Frieda hair looks. In addition, partygoers were treated to stylish pampering at John Frieda touchup stations.
Harry Josh Master Stylist Behind Gisele's Hair Reveals Spring's Most Wanted Hairstyles : Trends can be fleeting, but you can always count on the experts at John Frieda to help you achieve timeless yet of-the-moment style with effortless tricks and accessible product recommendations.
Harry Josh, the master stylist behind the iconic looks of A-listers like Gisele, Ellen Pompeo and Fergie, John Frieda International Creative Consultant Harry Josh tells Cosmopolitan magazine in its May issue (on stands now) how to achieve the season's must-have style no matter what your hair type.
Got Fine Hair?
THE GOAL: A natural look that adds volume and movement every time you turn your head.
THE TRICK: Focus on the lower part of strands and stop stressing about all-over waves.
HOW TO: Blow dry the top portion of hair from cheekbones up. Leave the bottom of your hair slightly damp and coil it into a tight bun. Blast the bun with a blow-dryer until its dry. Mist with a flexible hair spray like John Frieda Luxurious Volume All-Out Hold Hair Spray, $6.50.

Did you love Amy Poehler's laid-back Emmy hair at this year's awards on September 21st? Here is your chance to get the look with simple tips from the mastermind behind the look – Creative Consultant for the John Frieda Collection, Harry Josh.
Harry's projection for Red Carpet '09 Hair – "I think we are going to see a lot of hair down and not as long as in past years. Less layers, more clean brushed, sleek looks."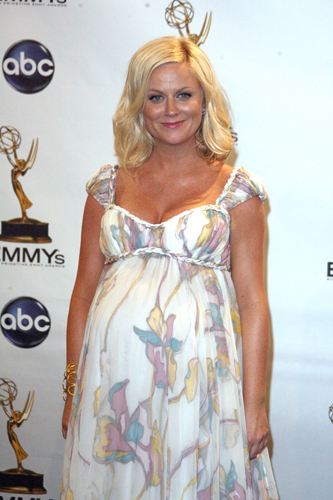 "Amy is so down to earth and doesn't ever take herself too seriously," says Harry. "She wanted her hair to fit her personality and also her chic yet simple dress. So we went with a look that was loose and very easy-going."
Harry's Quick & Easy How To Get Amy Poehler's Emmy Hair:
Step 1: Harry started by shampooing her hair with the John Frieda Lustrous Touch Sheer Blonde Strengthening Shampoo and Conditioner to make it silky, then toweled it dry. To give it lots of volume, Harry applied a palm sized amount of the new John Frieda Luxurious Volume Bountiful Body Mousse from root to end to add some volume.
Step 2: Next, he sprayed her roots with the John Frieda Luxurious Volume Lavish Lift Root Booster Spray to give the crown some extra lift. Make sure not to spray the whole head – focus on the roots only – to keep from weighing hair down. Then he blew her hair dry in sections
MTV's The Hills' Lauren "Lo" Bosworth Gets a Boost at the John Frieda See for Yourself Salon.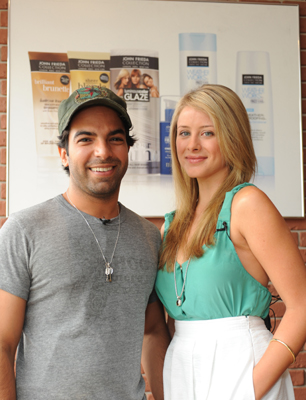 Lo Bosworth and Harry Josh.
To get her hair camera-ready, Lauren "Lo" Bosworth from MTV's hit show The Hills stopped by the John Frieda See for Yourself Salon, where the top stylists behind editorial shoots and celebrity hairstyles are transforming real women's hair before their eyes. At the tour's Venice Beach stop on July 28th, Lo sat down with Harry Josh, hair guru and Creative Consultant for the John Frieda Collection, to talk about what she could do at home to get a volume boost.

Lo Bosworth Gets a Boost.
Harry Josh's Volumizing Tips:
Tip 1 – Volume Starts at the Roots: "Products make all the difference when building volume, so use a formula that creates lift when building volume at the roots." Harry informed Lo. "I start by prepping hair with John Frieda Luxurious Volume Full Splendor Shampoo and Conditioner, then spray the roots with John Frieda Luxurious Volume Lavish Lift Root Booster before blow drying."

John Frieda Luxurious Volume Product line.
Since May, the John Frieda See for Yourself Salon Tour has been traveling around the country stopping in cities like Orlando, Atlanta, D.C. and Philadelphia giving hair transformations to women for free.
Flocks of local women lined up to get their hair styled and to learn tips and tricks from the top hair experts in the industry. The gorgeous salon has a glamorous photo studio for before and after pictures, five stylist stations, two hair washing stations, and lounge sofas for friends and family to sit and watch the transformations happen right before their very eyes! With music pumping and blow dryings blasting, it's definitely a fun place to be.
Celebrity stylist Harry Josh is making appearances on many stops throughout the summer.
Harry is sought after by A-listers such as Hilary Swank, Sarah Jessica Parker, and Gisele Bundchen, to name a few. He was also the master mind behind the gorgeous and popular up-do that Ellen Pompeo sported to the SAG Awards. Harry is offering his expert stylist touch to women this summer on the John Frieda See for Yourself Tour in cities such as Boston, Chicago, Seattle, Los Angeles and San Francisco. Can't make it to the tour? No worries! Check out Harry's tips on summer styling to make your hair frizz-free and fabulous, listed below!
"Summer is a time when heat and humidity can really take a toll on your style. Regardless of how you choose to style your hair – whether it's curly or straight – it's important to use the right products to keep your hair sleek and healthy," says Harry Josh, Creative Consultant for the John Frieda Collection. "Follow my below tips and you'll be able to get the same salon results at home this summer."
Start with a shampoo and conditioner that helps block out moisture and keeps your style in tact like the Weather Works by Frizz-Ease Weather-Proofing Shampoo and Conditioner from the John Frieda Collection. This shampoo and conditioner adds a protective barrier to the hair that will shield out unwanted moisture and lock in the needed moisture so that your hair stays healthy and shiny. It also protects from UV rays that can damage hair. From there, you can style your hair as you choose and feel confident that your style will last throughout your summer activities.
HOW TO STYLE TIPS FOR CURLY HAIR:
1. Once hair is toweled dry, I applied a dime size amount of the Weather Works by Frizz-Ease Weather-Proofing Style Sealent Crème from root to end to help control the frizz and make hair more manageable.
2. Next, I blow-dried her hair, wrapping pieces around my fingers to give it a natural curl.
3. Now that her hair is completely dry, I'm going to rub a small amount of John Frieda Frizz-Ease Thermal Protection Serum between my palms and apply it to the ends. This product is perfect to add instant shine and a finishing touch to your style. The result is healthy looking with an ultra shiny finish.
4. Also, if you're a blonde, try spraying a bit of the John Frieda Sheer Blonde Tousled Tresses Fine Mist Wax for the perfect undone look.
5. If you're a brunette wearing this style, add a small amount of John Frieda Brilliant Brunette Shine Shock Perfecting Glosser to add extra shine and illuminate the brown tones.
HOW  TO STYLE TIPS FOR STRAIGHT HAIR:
1. For this style, I applied a small amount of the John Frieda Frizz-Ease Thermal Protection Serum onto the hair when it was wet to protect hair from damage caused by blow dryer and using a flat iron. Then I blow-dried the hair dry with a large round brush.
2. Especially during the summer, hair can really lack luster and become dry. Applying a bit of the John Frieda Frizz-Ease Secret Weapon Crème is the key to instantly transforming puffy, parched hair into ultra shiny, soft hair. Take a dime sized amount and run it through the hair from root to end for a smooth, supple look.
3. If you're a brunette, try the John Frieda Satin Shine Finishing Crème. It leaves hair silky without making it greasy.
4. If you're a blonde, try substituting the John Frieda Frizz-Ease Thermal Serum for the John Frieda Sheer Blonde Spotlight Sleek & Shine Detangler, concentrating on the ends of hair. This will add a layer of shimmer and illuminate the highlights.
To find an upcoming salon tour stop, you can go to www.johnfrieda.com. The tour will be traveling until the beginning of August. Women can book a coveted 30-minute consultation with a top stylist online in advance.