All Posts Tagged With: "Celebrity Hairstyles"
Marcus Francis worked with Mia Wasikowska at this year's Cannes International Film Festival. Marta Walsh has the scoop on how to her Mia's red carpet look..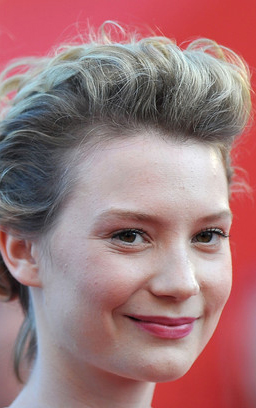 Mia Wasikowska at the Tree of Life Premiere, May 16, 2011.
Hairstyle Inspiration: "Mia chose a stunning rose-nude color gown that had a high lace neckline. I knew that putting her hair up in a loose, effortless chic way was the best to complement the feel of her dress. Mia is a young starlet who is making a strong impression on Hollywood, and by the response in Cannes, the world. Keeping her style very fresh, she radiates an ease on the carpet."
Hollywood was buzzing last night at the "Source Code" premiere! Movie-star Vera Farmiga turned to Suave Professionals Celebrity Stylist, Jenny Cho, to create a "windswept updo" for the big event.
.
Vera Farmiga At The Source Code Los Angeles Premiere
How to get Vera Farmiga's hairstyle At The Source Code Los Angeles Premiere. Follow Suave Professionals Celebrity Stylist, Jenny Cho's tips to make this look your own:
1. Spray Suave Professionals Volumizing Root Boost Spray to damp hair, to support volume on the roots, and blow dry with a medium size round brush.
Kristen Stewart's hairdo on the cover of Vogue February 2011. Iconic hairstylist Oribe created a textured, natural look for Kristen Stewart's February Vogue cover shoot. "Kristen is a beautiful young girl, and this was all about softening her hair to go with the clothes she wore on the cover," Oribe noted of his inspiration. Now Oribe reveals how to add volume, body and movement for this relaxed yet chic style.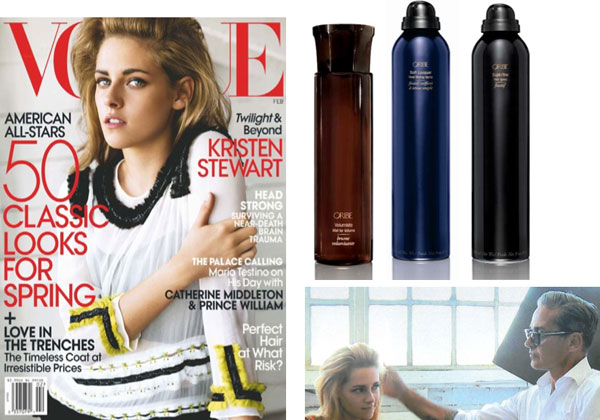 How To Get Kristen Stewart's hairstyle:
1. Spray the hair, section by section, with Oribe Volumista Mist for Volume. This plumping mist swells the hair shaft and leaves it feeling thicker with great texture and hold. Blow‐dry with a round brush for added body and movement.
Anna Paquin's Hairdo at the 2010 Emmy Awards. Frederic Fekkai Celebrity Stylist, Renato Campora, created a soft yet glamorous style for Anna Paquin. The Hairstyle & Inspiration: A soft yet glamorous look to compliment her dress by Alexander McQueen.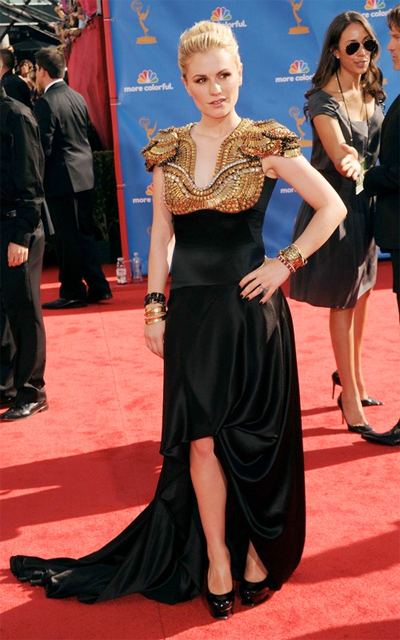 Here's how to get Anna Paquin's hairstyle at the 62nd annual Primetime Emmy Awards: Hair Tutorial
On wet hair, Renato Campora applied the Fekkai Full Blown Volume™ Styling Whip to the roots and the Fekkai Coiff™ Perfecteur Anti-Frizz Silkening Crème. Once dried, he used a ½ inch curling iron and set the hair in pin curls. After 15 minutes, Campora removed the curls and ran his fingers through the hair to loosen and create shape.
Spotted: The Hills star Kristin Cavallari with a new Farrah Fawcett hairstyle! Is this the making of Kristin Cavallari? Maybe! Do you love?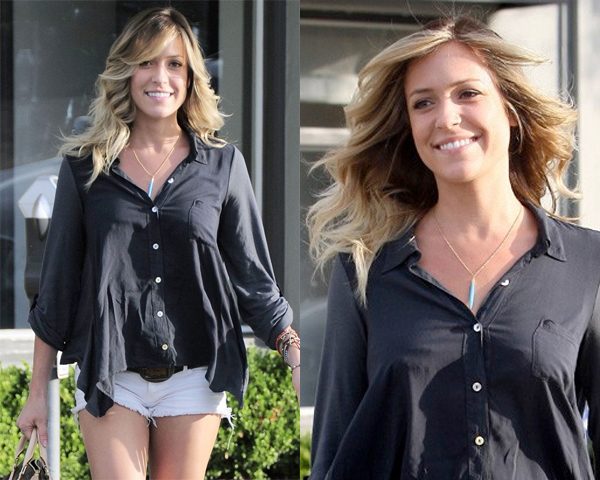 I stumbled upon a cool ELLE.com gallery of the Best Celebrity Hairstyles for 2010 including Nicole Richie's bangs, Kim Kardashian's waves, and the products stylists use to achieve their looks. Here's a sneak peek:
The Bang. Winner: Nicole Richie.

Photo: John Shearer/WireImage
It's no surprise that the prize for best fringe goes to Richie. "The full bang is very late '60s, early '70s, so it's the perfect vintage accessory," says Richie's stylist, Andy Lecompte.
Spotted: Marta's favorite girl Hayden Panettiere sporting a new red hair color! I need few seconds to get used to it, it's not too bad actually. What about you guys: Do you love Hayden has a redhead?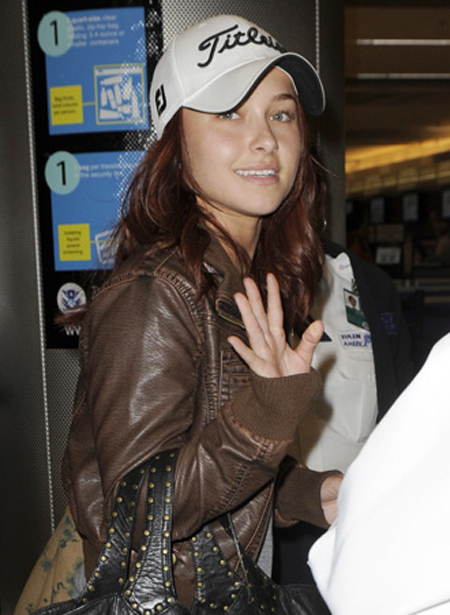 Eva Longoria Parker and Hayden Panettiere New Short Bob Hair Cut
Rachel Bilson leaves the Andy LeCompte Salon in West Hollywood, CA, January 18th, 2010, where she got new highlights by colorist Denis De Souza. Do you love?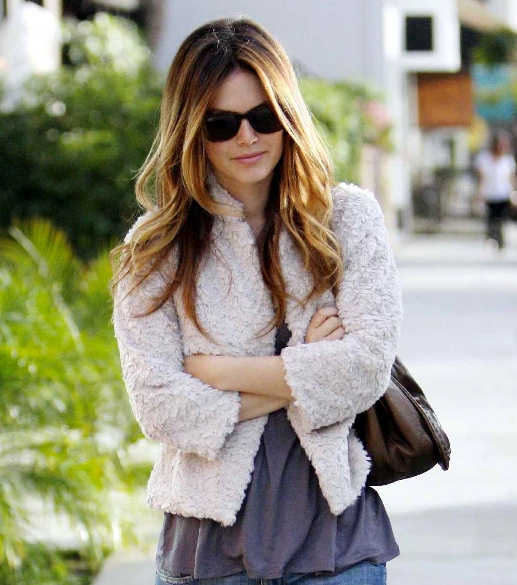 GET THE LOOK: January Jones' dramatic hair look at the 67th Annual Golden Globes Awards, created by top celebrity stylist Mark Townsend, introduced a new, modern take on red carpet style.
The Look & Inspiration: Inspired by her gorgeous black Lanvin dress, Townsend created a head-turning look that was boldly accessorized with a sleek black ribbon headband. "As soon as I saw the dress I knew I wanted to put her hair up," said Townsend, "and I think that adding the satin ribbon as a headband gave a classic French twist with a very modern edge."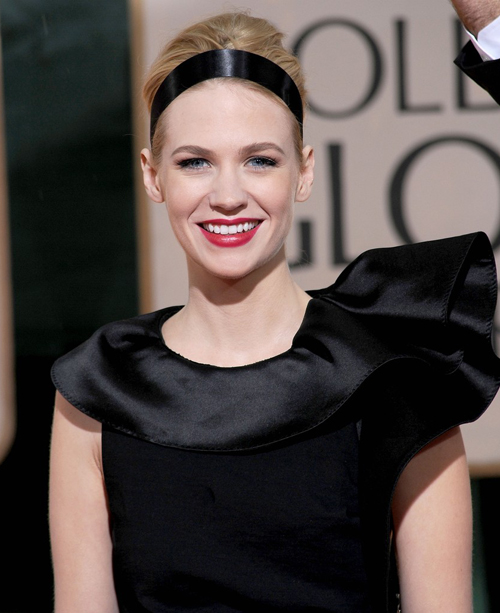 Here's Mark Townsend's hair tutorial on how to get January Jones hairdo at the 2010 Golden Golbes:
I started by applying a small amount of Moroccanoil Treatment to January's damp hair and blow-dried it with a round brush. This unique argan oil-infused formula gives the hair amazing shine and silky finish, an essential to the look I had in mind.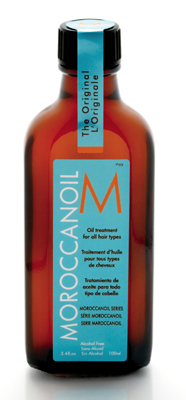 When the hair was dry, I took a dollop of Moroccanoil Hydrating Styling Cream into my hands and then finger combed the hair to give a soft hold and add even more shine and leave the hair extremely smooth.
GET THE LOOK: Love Avatar star Zoe Saldana's hairdo at the 2010 Golden Globes? Talking Makeup got the scoop and the hair tutorial on how to recreated it at home!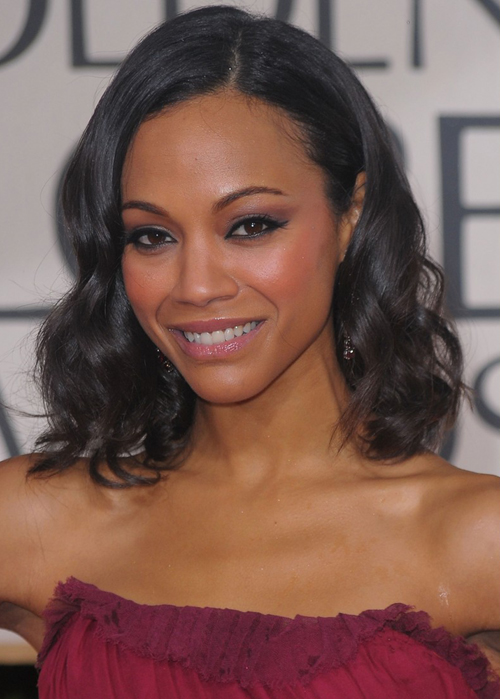 Even in the rain, Zoe Saldana shined! TRESemme celebrity stylist Mara Roszak created soft curls for the fierce star. See below steps on how to recreate the look:
1. Starting with damp hair, apply TRESemme 24 Hour Body Foaming Mousse, and part hair to one side (slightly off center). Blow dry with a small round brush.
2. Spray a soft hold hairspray all over head, like TRESemme 24 Hour Body Finishing Spray, and curl 1″ sections using a 1″ barrel curling iron. Let hair twist as your wrap, and pin to scalp.
3. Let the hair sit in pin curls for at least 10 min. Take out pins, and brush delicately, without a lot of tension to keep the shape.