All Posts Tagged With: "Lipgloss"
Hot NEW Lipgloss: CHANEL introduces ROUGE ALLURE EXTRAIT DE GLOSS, $32.00.
CHANEL reveals a new generation of lip gloss — with color so rich and shine so intense, it could only be inspired by the iconic lipstick, ROUGE ALLURE. Bold color combines with the smoothest, silkiest gel texture for luxurious wear and a deeply dramatic effect. Lips feel comfortable — never sticky or tacky — and look luminous, full and sensuous for hours on end. The double-sided, flocked applicator is beveled to deliver ultra-precise definition. Available in 9 shades.
Available at department and specialty stores and on CHANEL.com: October 2010
Lady Gaga and Cyndi Lauper inspired lipgloss: Loving the new MAC Viva Glam Lipglass GAGA and CYNDI. Here's how they look like in 'real life'!

L to R: MAC Viva Glam Lipglass GAGA and CYNDI
NEW Hot Makeup: Lipgloss. MAC Viva Glam Lipglass in Viva Glam Gaga and Cyndi.

L to R: MAC Viva Glam Lipglass GAGA light blue pink and MAC Viva Glam Lipglass CYNDI mid-tone dirty coral. PREMIERING FALL 2010 FOR SIX MONTHS ONLY! ($14.50 U.S./$17.50 CDN)
Jennifer Aniston's Makeup: CHANEL Celebrity Makeup Artist Angela Levin worked with Jennifer Aniston at the Los Angeles premiere of The Switch on Monday, August 16th, 2010. Talking Makeup has the scoop on how to get miss Aniston's fresh, radiant red carpet makeup look.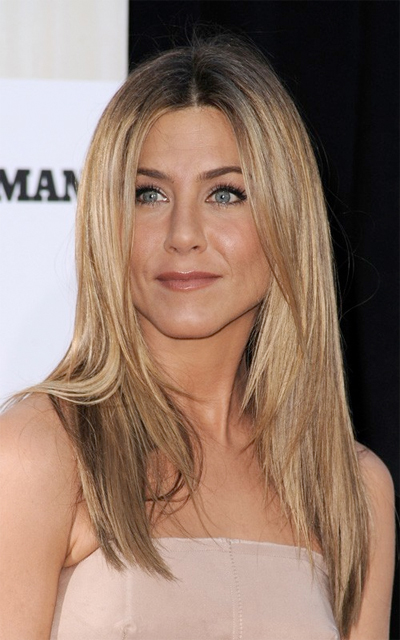 Jennifer Aniston's makeup at the Los Angeles premiere of The Switch by Celebrity Makeup Artist Angela Levin:
"I first prepped Jen's face with the new CHANEL Sublimage Concentrate, to enhance her already radiant skin. Her base was La Mer Foundation in 06, and on her cheeks I dusted a bit of CHANEL Powder Blush in Rose Pétale. On her eyes I used CHANEL Quadra Eyeshadow in Tentation Cuivré, a rich brown and copper shadow palette new for Holiday. The warm shades compliment Jen's gorgeous eye colour.
Lipgloss Trends: Here are Marta Walsh's lipgloss picks from the NEN MAC Dare To Wear makeup collection. How do I describe this lipgloss: It's a cross over between a lipgloss and a sheer lipstick. The pigment is super dense, not sheer, hence the lipstick-like aspect of it. The finish is pearly & shimmery.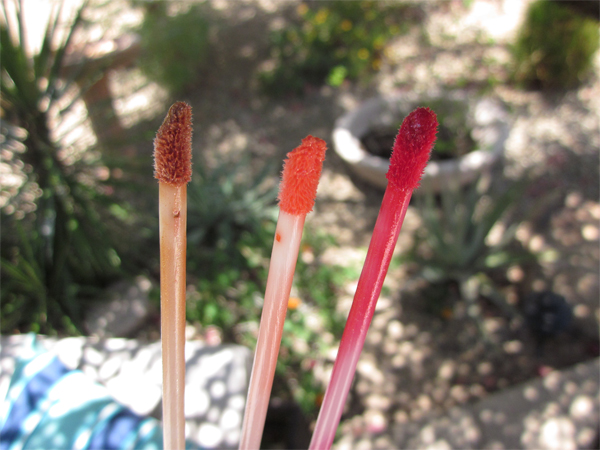 L to R: MAC Dare To Wear Lipglass in WIND  ME UP, SO BAD, BOLD & BRASH
Introducing  WANDERLOVE a new cosmetic brand focused on high quality cosmetic formulas, in great packaging, and at a great price. It was created by Ben Bennett who has been spending years developing prestige cosmetic products for his clients. WANDERLOVE is Ben's own makeup genius.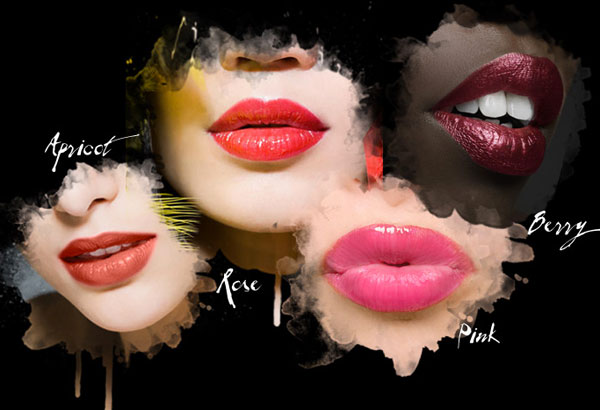 "I felt compelled to create a brand that combines quality formulas, wearable fun colors, and unique stylish packaging, all for a great price. I'm a big believer in affordable luxury. Everyone deserves to have beautiful and useful products. Beauty is about exploration and expressing yourself – that is the spirit of WANDERLOVE. Enjoy."-Ben Bennett
Introducing MAC Superglass. Available May 6th – July 2010.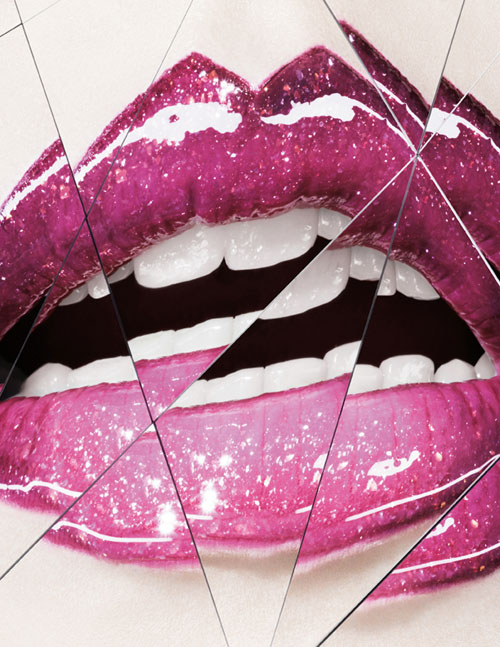 Shattered, decimated, blinded by a fantastic, intergalactic lip light! Just when you thought Dazzleglass was the best-of bright, along comes Superglass, with secret, snowflake-shaped helicone pearls sparkling in three different facets for triple the dazzle! Lips have gone big bang, explosively dimensional, a rare eclipse! Gloss feels slick and sleek on application with no draggy speed bumps, not a hint of grit. Extreme innovation that's a good reflection on MAC…and the seductress lucky enough to strike upon it.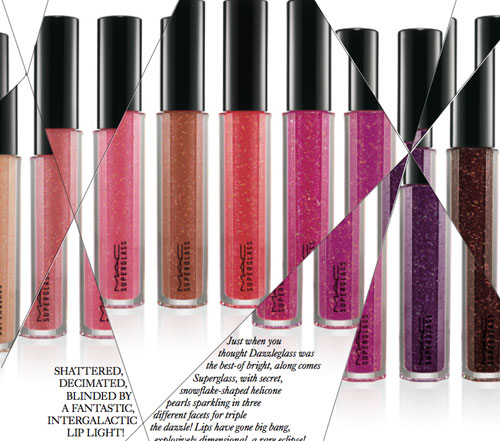 MAC Superglass The Collection
Wonder which makeup to wear at your holiday or New Year's Eve parties? Nothing is more glamorous than Dolce&Gabbana makeup. Here are the highlights:
For lips try The Lipgloss in Gold, $29 or The Classic Cream Lipstick in Fire, $30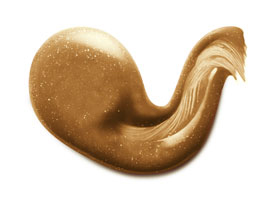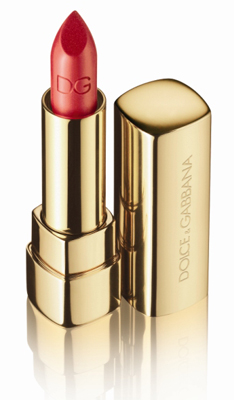 CHANEL introduces Spring 2010 Makeup Collection: 'Coco' Chanel left an indelible imprint on countless women with beautiful, practical and lasting designs that enhanced a woman's natural allure. Today, Peter Philips, Global Creative Director of CHANEL Makeup, honors her legacy with LES IMPRESSIONS DE CHANEL — a collection of clean, classic neutrals that are infinitely wearable and effortlessly chic. He used this collection to create a pure, fresh beauty look for the Spring-Summer 2010 Ready-to-Wear runway show. Quintessential shades, ranging from pink and beige to warm brown and khaki, enhance the complexion and illuminate the face, highlighting a woman's natural beauty. On counter: January 2010.
EXCLUSIVE CREATION:
EMPREINTE DE CHANEL
RADIANT GLOW HIGHLIGHTING POWDER
Limited Edition
This highlighting powder combines subtly shimmering shades of rosewood, beige and brown for a uniquely flattering effect. Skin takes on a natural warmth and luminosity, as if bathed in the softest candlelight. Ideal for brightening the face or emphasizing the cheek or browbone with a unique beveled brush. Pure CHANEL: the world-renowned CC signature imprint. $65.00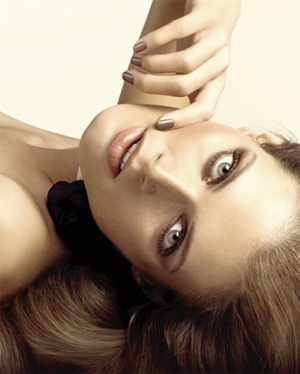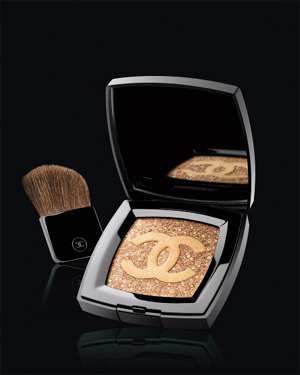 Estée Lauder Introduces: Holiday 2009.
This past October Estée Lauder has launched the Ultimate Red Color. Here the highlights:
The Ultimate Red Color Collection is a luxurious, opulent collection. The classic navy blue, Signature Estée Lauder packaging has been transformed to a holiday gold, encasing jewel-inspired shades of lavish plums and gold flecked caramels. Lips create a high impact in deep shades of cranberry and blackberry while the skin is lightly dusted in luminous, shimmer powder. Available at Estée Lauder counters nationwide and www.esteelauder.com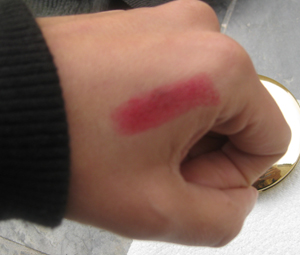 Simply Red Lipstick (left) Simply Red Lipstick swatch (right)