All Posts Tagged With: "Macy's"
Vogue's own André Leon Talley and influential fashion blogger and model, Hanneli Mustaparta will be hosting a special live one-hour webcast of Fashion's Night Out: The Show!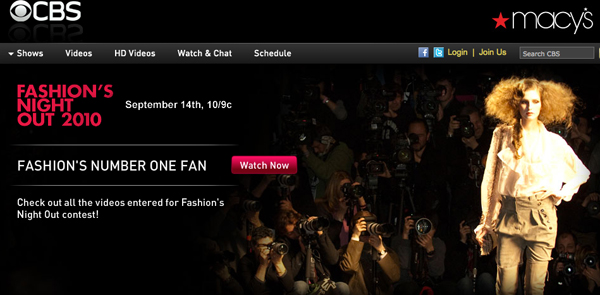 CBS.com announced today a special live one-hour webcast of FASHION'S NIGHT OUT: THE SHOW, the largest public fashion show in New York City history, hosted by Vogue Editor-at-Large André Leon Talley and influential fashion blogger and model Hanneli Mustaparta, Tuesday, Sept. 7 beginning at 7:00 PM, ET.
On Thursday evening, July 22nd, 2010, Estée Lauder kicked off its largest sampling program to date – America's Night to Repair. Continuing the success of last year's first annual America's Night to Repair, for 4 synchronized hours – from 5:00pm – 9:00pm (all local times) – Estée Lauder Beauty Advisors were distributing a total of 360,000 deluxe samples. Customers could choose either a 10-day supply of NEW Advanced Night Repair Eye Synchronized Complex or Advanced Night Repair Synchronized Recovery Complex at ALL Estée Lauder department and specialty store counters nationwide while supplies lasted.

The Estée Lauder window display at Macy's South Coast Plaza Costa Mesa OC California
On the set of Demi Moore's photo shoot for the Harper's Bazaar April cover, Demi tested out the NEW Helena Rubinstein Lash Queen Mascara with stylist Rachel Zoe.
Demi Moore, the face of the new Helena Rubinstein All You've Ever WANTED fragrance, is giving consumers an opportunity to try the new mascara. With each purchase of All You've Ever WANTED at select Macy's, you will receive one tube of the Lash Queen Mascara. Lash Queen Mascara is currently not available anywhere worldwide and this will be the only opportunity U.S. consumers will have to test this exclusive product.
You can view Demi Moore and Rachel Zoe testing the new mascara and talking about her new fragrance here:
The latest beauty luxury by Dior Beauty: Capture Totale ONE Essential Skin Boosting Super Serum which will launch exclusively at Macy's on December 15th, 2009. Capture Totale ONE then will roll out to other department and specially stores January 2010. The MSRP on One Essential is $95. Be on the look out for the Capture Totale One Essential advertisement and marketing program in February 2010 issue of O Magazine!
I had the luxury to try Capture Totale ONE Essential Skin Boosting Super Serum and fall in love with it in an instant. The serum is very light, non greasy, and quenches my skin immediately. I also love the packaging, I know it's not totally related to skincare, but I like that I can dispense the serum with a pump. This way I have more control on how much to apply and not get my hands in the serum.
Paris Hilton launched her new fragrance Siren at Macy's, Glendale California, yesterday. I absolutely love her Santa inspired dress!
Dior will take over the cosmetic floor at Macy's Queens for an exclusive backstage beauty event featuring Celebrity Makeup Artist Ashunta Sheriff and the talented DiorShow Artist Team. Sheriff is one of the most sought-after makeup artists today, known for her signature "glowing skin" technique and her ability to make A-List women of color look gorgeous and radiant, whether on the red carpet or on stage in front of millions of fans. Some of her clients include: Alicia Keys, Mary J. Blige, Ciara and Jazmine Sullivan.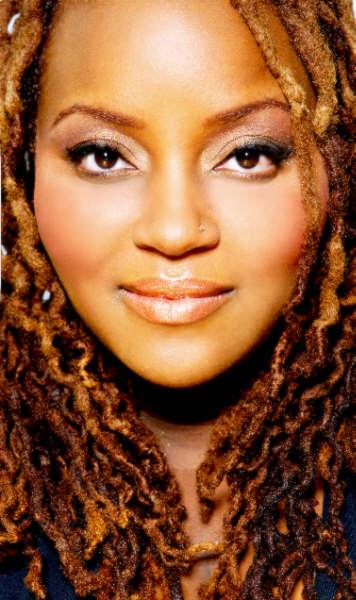 Ashunta Sheriff
WHERE: Macy's Queens Blvd.
THE DIOR Beauty Counter
90-01 Queens Blvd.
Elmhurst, NY 11373
WHEN: Wednesday, September 23rd through Saturday, September 26th
Calling all Saturday shoppers looking for a great deal! Don't miss the new Lancôme Gift with Purchase chic summer tote available exclusively at Macy's. Inspired by all things nautical, this bag, great for the beach or the backyard, is now a last call item and only available until Saturday, June 6th – tomorrow!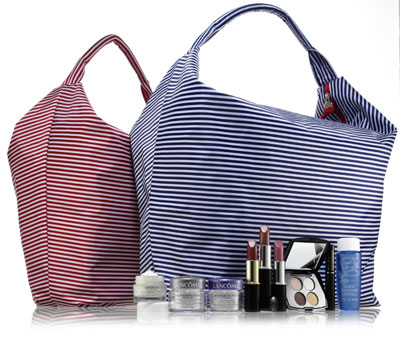 You'll receive this chic travel gift free with any Lancôme purchase of $29.50. Available in brilliant navy or racing red, the bag includes a selection of deluxe size samples of Lancôme's best-sellers including Bi-Facil, Color Design eyeshadows, Hypnôse mascara along with your choice of an anti-aging moisturizer and full-size lipstick (a total retail value of $100).