All Posts Tagged With: "Beauty Secrets"
Few days ago I had the great pleasure to interview actress Bree Turner for Beauty Interviews. Bree has a role in an upcoming film called The Ugly Truth opposite Katherine Heigl. Here it is:
Bree Turner is an actress who began her journey in Hollywood as a professional dancer. Bree was a background dancer in such hit films as The Big Lebowski (1998), She's All That (1999) and Mike Myers' Austin Powers: The Spy Who Shagged Me (1999). Bree's love for performing and being on stage makes acting a natural transition. Bree Turner can be seen opposite Katherine Heigl and Gerard Butler in The Ugly Truth- out July 24, 2009.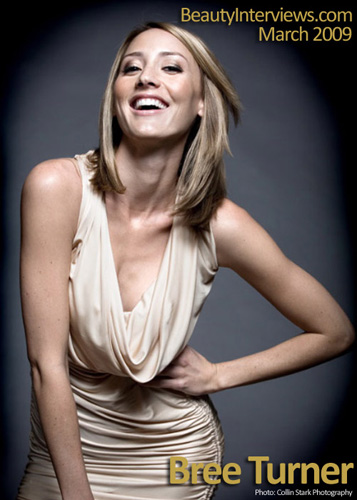 Bree Turner cover of Beauty Interviews March 2009.
Photo Credit: Collin Stark photography.
I caught up with Bree Turner via telephone from LA early in the morning, to talk about her beginnings in Hollywood, her upcoming film The Ugly Truth, future career plans and even some beauty secrets!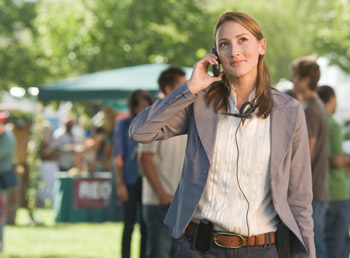 Bree Turner in The Ugly Truth.
Marta Walsh: How did you decide on a career in acting, and what were some of your first breaks as an actress?
Bree Turner: I started out as a dancer which got me on stage. I was pretty shy as a kid so my mom decided to enroll me in a dance class, and I fell in love with being on stage and performing. I danced all through my teens and early 20's. Dancing brought me down to Los Angeles with a dance scholarship in UCLA.
Few months ago I interviewed for Beauty Interviews the multi-talented host, actress and singer Layla Kayleigh from the hit MTV series "America's Best Dance Crew" with Randy Jackson (airs Thursdays at 10pm ET/PT).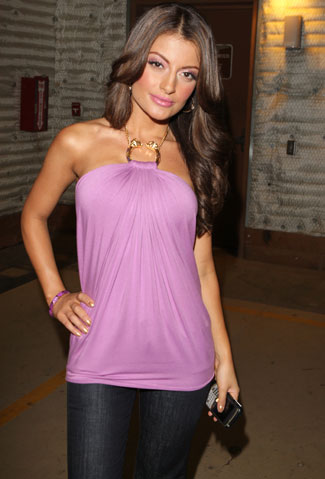 In the interview, Layla Kayleigh talks to me about some of her best kept beauty secrets, the two women celebrities she finds most beautiful, her favorite way to relax, and why does she think Randy Jackson the executive producer of "America's Best Dance Crew" on MTV is so amazing.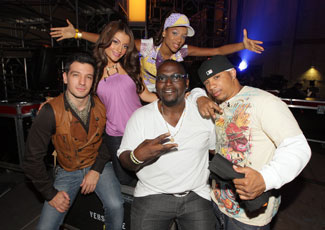 I keep my hair beautiful thanks to…
"Enjoy" is a line that I absolutely love because it's Sulphate-free, which is awesome- I'm a huge fan. Kerastase is also fantastic, they have this amazing hair oil that works wonders and doesn't make your hair greasy (especially for people with ethnic or coarse hair like myself).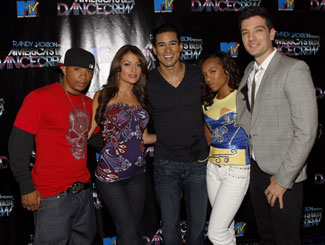 Couple of months ago, I had an amazing opportunity to interview the beautiful Patrica Kara for Beauty Interviews.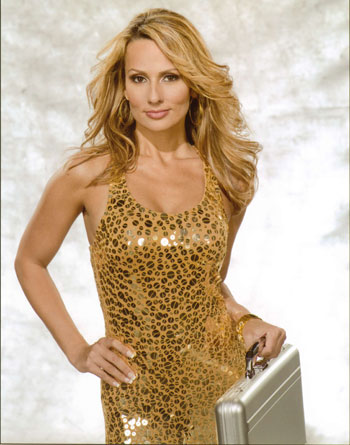 Patricia Kara is an actress, model, and a TV personality best known as Deal or No Deal's #9. Patricia along with Tameka Jacobs, were the only ones chosen to be on the new Daytime Deal or No Deal with Howie Mandel, which premiered in September 2008. In addition, Patricia has appeared in over 20 television programs, such as, E! Entertainment's Wild On, Extra, and the Golden Globes.
Read my interview with Patricia Kara where we chat about her love for hosting TV shows, how Deal or No deal revolutionized her career, beauty secrets, her upcoming calendar, and plans for the future.
Why have you decided on a career in hosting and reporting?
I started out with modeling about twenty years ago back in Chicago. That led me to Florida and New York. When I was in New York my modeling agency started to send me out to auditions for hosting and acting. I started booking jobs here and there. One job led to the next job. Then I moved to LA and kept working. And I love it! Anytime I can talk and get paid for it to, is just great. I find my job real easy, it is what I love to do. With hosting I get to try new and different things, depending on what I'm hosting about, and being part of them in a way most people don't get to do. For example, if I do a show about wake boarding, I'll try wake boarding. I've done a fishing show. I've also hosted a lot of sporting events, such as Kentucky Derby.
Just in-Beauty Interviews August 2008 edition with CSI Miami's beautiful actress Eva La Rue  gracing the cover.
In this month's Beauty Interviews edition, Marta Walsh brought to you amazing interviews with: Tracy Austin one of the world's most famous tennis champions talking about some of her most memorable moments of her tennis career, how Juvederm dermal filler improved her skin, what made her join the Juvederm Decades of Smooth Campaign, and Bille Jean-her toughest opponent in her entire career.
Barbara Carey , a talented entrepreneur and the inventor of Spinlash, the first mascara that revolves around you. In the interview, Barbara Carey talks about her early entrepreneurial days from age 9, Hairagami her most successful invention to date, gives advice on how to decide about what business to be in, and her ten top beauty secrets.
Dr Howard Sobel the creator of DDF Skincare. In the interview Dr Sobel talks about his decision to create DDF, the best part of developing his own skincare line, why he thinks Giuliana Rancic's from E! News favorite DDF Cleanser is so amazing, and his passion to help women and men restore their skin to the most youthful appearance.
Soul Lee is an expert lash and brow expert at Shu Uemura. In the interview Soul Lee talks about her fascination with eye lashes, Shu Uemura's "Rebirth" Collection, gives tips on how to get the modern Marilyn Monroe eye makeup look, and reveals Hollywood's best-kept eye lash secrets.
Kattia Solano the owner of the popular Butterfly Studio Salon in New York City. In the interview Kattia talks about the Butterfly Studio Salon experience, her Best Haircut Award by Allure Magazine, best kept secrets for beautiful hair, and plans for developing her own hair care line inspired by her origins in Costa Rica.
Eva La Rue reveals some of her beauty secrets, her romantic engagement in Africa, what some people may not know about her, and her upcoming movie with Samuel L. Jackson called: Lakeview Terrace.
Happy reading!
We are so excited to publish Beauty Interviews July 2008 Edition today, and feature the beautiful Khloe Kardashian (Kim Kardashian's sister) on the cover.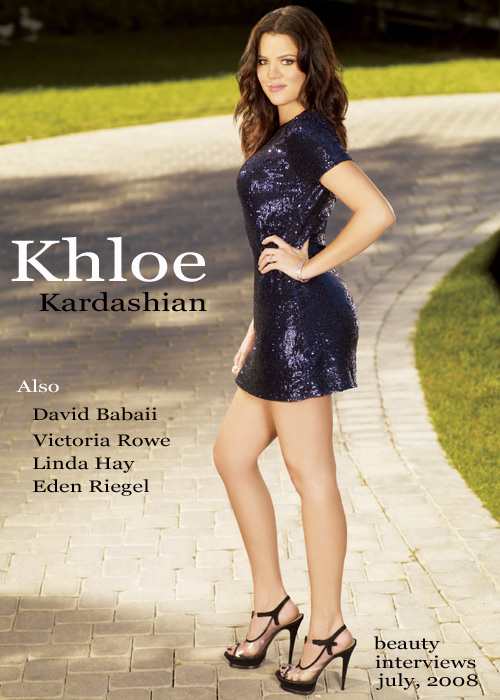 Read all about Khloe Kardashian's beauty secrets, from her signature smokey eyes look to the lip gloss her and Kim Karadashian are obsessed about, her favorite city in the world, and future career plans.
Other great interviews in Beauty Interviews July 2008 Edition include:
Danneel Harris is the hot starlet from One Tree Hill. You can see more of Danneel in the new movie: Harold and Kumar Escape from Guantanamo Bay, which was scheduled to be released on April 25th. Danneel also was on the cover of Maxim Magazine November 2006 edition together with Sophia Bush and Hilarie Burton, and in Maxim March 2008 Edition.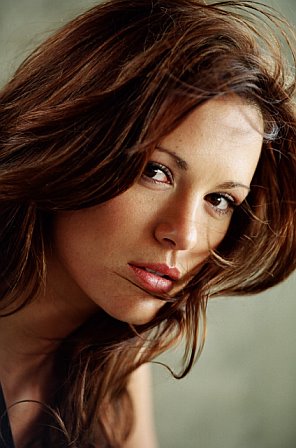 Actress Danneel Harris.
In this interview Danneel talks to Beauty Interviews' Marta Walsh about some of her beauty secrets, why she loves Los Angles so much, and her obsession with Great White Sharks.
I keep my hair beautiful thanks to .. Nioxin for color treated hair. It helps to keep my hair full. Its not just for balding men anymore. It helps combat the constant stress of coloring and styling my various jobs require.
This is Talking Makeup's top 10 celebrity beauty secrets.
1. "Skincare, skincare, and skincare"-IMAN.

2. "I try to live a healthy balanced life always, so I don't do anything different before the big day (red carpet). I think you get into trouble if you're experimenting with crazy or drastic beauty treatments the day before!"-Heidi Klum.
3. "Monthly deep facials by Gina Jensen at Dangene McKay Bailey in Los Angeles"-Giuliana Depandi Rancic.
4. "Plenty of sleep!"-Melania Trump.

5. "Wash your face every night, and moisturize your entire body!"-Audrina Patridge.
6. "Mints for fresh breath and lip gloss and moisturizer for the body..To me, I feel looking natural and healthy is the best way to look"-Carrie Ann Inaba.
7. "Duh, Lots of sleep. Also no salty foods the night before big events, it makes your face look puffy"-Danneel Harris.

8. "Sleep. Eight hours of sleep every night no doubt and my second one is water"-Sally Pressman.
9." Vaseline. I use a little under my eyes and on my hands at night. It keeps the skin moisturized"-Bridget Marquardt.

10. "As corny as it sounds, is to face life and others with a smile- there is nothing more beautiful than genuine and open smile. And drink LOTS of water"-Maite Schwartz.
via: Beauty Interviews.
I just did an interview with the beautiful Eva La Rue for Beauty Interviews August edition. Eva La Rue shared with me some of her beauty secrets.
Eva La Rue talked to me about her favorite makeup, skincare, and hair care products, and more.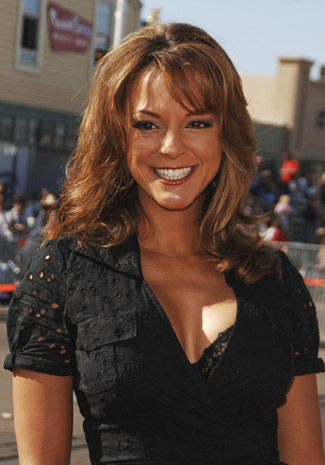 Actress Eva La Rue. 
Eva La Rue is known for her role of Natalia Boa Vista on CSI: Miami. Beginning season 5, Eva became a full-time cast member. Previous to CSI: Miami, Eva La Rue portrayed Dr. Maria Santos Grey on All My Children.
Eva La Rue was a pleasure to talk to, very laid back and chilled. We can't wait to share with you Eva La Rue's secrets to staying absolutely gorgeous. So make sure you stop by Beauty Interviews to read Eva La Rue's entire interview!
Eva La Rue was interviewed by Marta Walsh for BeautyInterviews.com.
I just did an interview with the beautiful Khloe Kardashian, the youngest of the three sisters (Kim Kardashian and Kourtney Kardashian being the other two), who co-owns DASH, a high-end women's boutique, and SMOOCH, a children's clothing store in Calabasas, California. Khloe is also known for her role on the show "Keeping Up with the Kardashians". Khloe shared with me some of her beauty secrets.

Khloe Kardashian.
Khloe Kardashian was a pleasure to talk to. Khloe is very sweet and has a great sense of humor. I love people who can make me laugh, it's one quality that I really admire.
The entire interview with Khloe Kardashian will be published in Beauty Interviews upcoming July Edition, so make sure you check it out!
Khloe Kardashian was interviewed by Marta Walsh for BeautyInterviews.com.
The very beautiful Melania Trump is featured on the cover of Beauty Interviews March 2008 edition. Melania Trump is the ever glamorous wife of Donald Trump, entrepreneur and star of the hit TV show: The Apprentice and The Celebrity Apprentice. Melania was interviewed by Marta Walsh and shared some of her beauty secrets.
Other great interviews in Beauty Interviews March 2008 Edition include: Bobbi Brown, Hello!Magazine's Beauty Editor Nadine Baggott (also the editor of: www.beautybynadine.com), Katianna Nightingale founder of Aqua Tan, and Karen Sinclair Drake the creator of a new skincare line: Sophyto. To read Melania Trump's interview and all these other brilliant interviews, visit Beauty Interviews!