All Posts Tagged With: "Curly Hair"
Last week I got invited to New York City for the John Frieda Sheer Blonde Entourage kick off event.
The John Frieda Sheer Blonde is series of events and perks available for blondes (like myself, real or fake LOL). The blonde VIP program began on March 18th, 2010, in New York City at the Highline Ballroom with a private performance by Grammy-nominated singer-songwriter and blonde icon Natasha Bedingfield which I got to greet and meet! Natasha's third album drops this spring FYI.
So I wake to this beautiful view of the Hudson river from my room at The Standard Hotel on Washington Street New York City.
I get to learn about John Frieda's latest product launches. The John Frieda has just expanded their Root Awakening hair care line with 3 NEW products: John Frieda Root Awakening Strength Restoring Smoothing Lotion, John Frieda Root Awakening Strength Restoring Gel, and John Frieda Root Awakening Strength Restoring Hair Spray. $6.49 each. Available at food, drug and mass retailers nationwide from March 2010.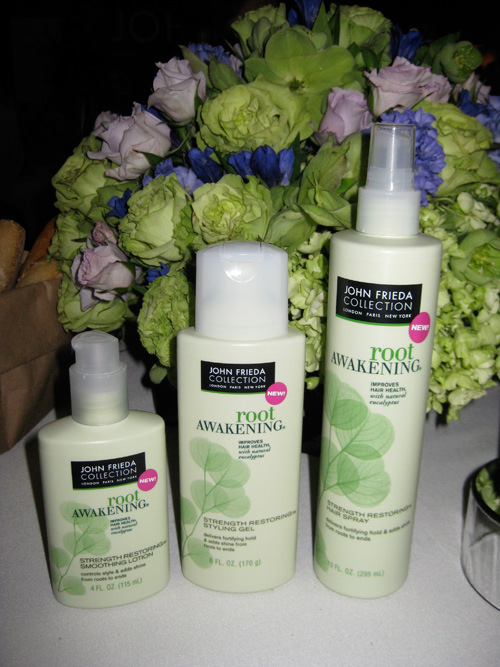 L to R: John Frieda Root Awakening Strength Restoring Smoothing Lotion, John Frieda Root Awakening Strength Restoring Gel, John Frieda Root Awakening Strength Restoring Hair Spray
Taylor Swift was spotted recently with straight hair. This is the first time I've ever seen Taylor in a straight hairdo.
What's the verdict guys: Taylor Swift looks best with curly hair or straight hair? Left or right?:)
Last week I had the pleasure to join a webcast from New York City hosted by the John Frieda experts: John Frieda, Harry Josh, Luigi Murenu.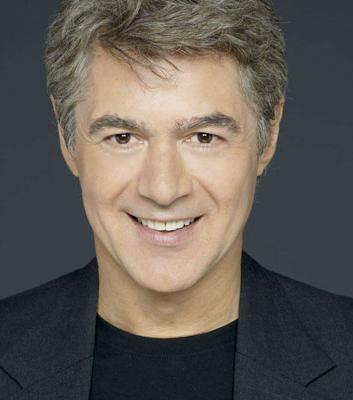 John Frieda
It was amazing to finally see the man behind truly one of my favorite brands ever, John Frieda. I can't never forget when one day after I moved to New York City from Israel back in 1991, my sister told me that I MUST get this hair serum! It was the beginning of a new era in my life. The era of straight sleek hair. And a goodbye to the mousse-full big hair. In other words, the John Frieda Frizz-Ease Hair Serum is one product that revolutionized my (beauty) life.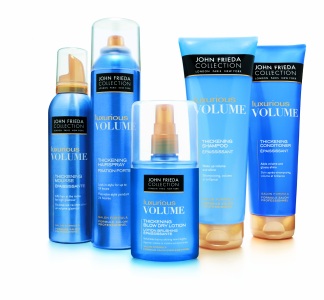 Show: J. Mendel Sprong 2010 Collection
Lead Hair Stylist: Odile Gilbert for Moroccanoil 
Hair Trend: Volume, tons of volume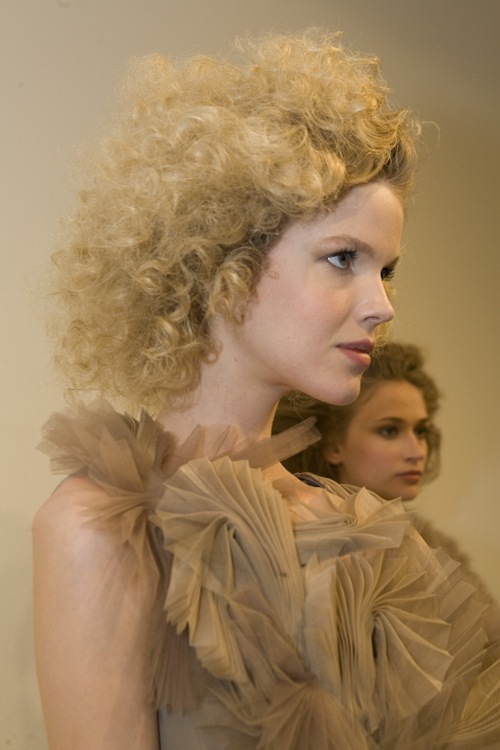 © David Webber for Moroccanoil
Inspiration: The swooping stacked cut lines of artist Noriko Ambe. The organic splendor of artist Tara Donovan. Citing these two biomorphic artists as his springboard for the season, J. Mendel designer Gilles Mendel cultivates a collection seeded in elegant technicality and fluid emotion. "It's the idea of using structured fabrics and adding an element of softness by using curved seams and intricate cut work," says Mendel. "Each piece is an emotion."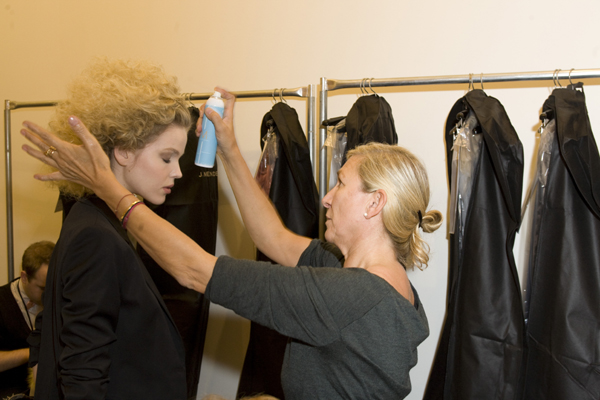 Odile Gilbert for Moroccanoil spraying the Moroccanoil Luminous Hair Spray, previewed at Fashion Week 7 available in December, 2009
© David Webber for Moroccanoil
Hair:  To mirror this dance between tailored precision and soft, sloping curves, and to evoke a feeling of ethereal airiness, stylist Odile Gilbert fashions a voluminous hairstyle that revels in the organic, chaotic nature of mussed curls. "It's all about volume — tons of volume — and a round, fluid shape. This look is very feminine." says Gilbert, adding "It's not feminine-frilly; rather it's femininity with a modern twist."
Debra Messing's head-turning look was one of the most beautiful seen at the 61st Annual Primetime Emmy Awards. Complimenting her dramatic red Michael Kors gown, star stylist Robert Vetica created a truly inspired low, asymmetrical ponytail shaped into a free-flowing cluster of curls that resembled an elegant chignon.
"It was all about style complemented by sensuous movement and healthy, natural-looking ease," said Vetica. "A smooth, shiny texture was the essence of the look."
The technique was as brilliant as the look, and was achieved without any curling or flat irons, using only Moroccanoil Treatment, Moroccanoil Glimmer Shine Spray, a blowdryer and a round brush.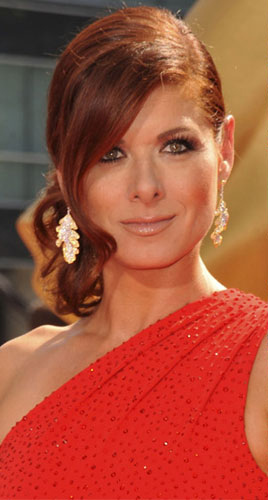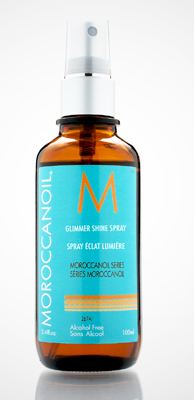 To ensure smooth, natural-looking and weightless shine, Vetica first generously applied argan-oil infused, original Moroccanoil Treatment to Messing's coarse textured, curly wet hair. "Her hair loves the ultra-light richness of Moroccanoil Treatment and it absorbs in instantly without any residue. There's nothing else like it for this kind of shine," said Vetica.
In a sea of styling aids, these 13 are tops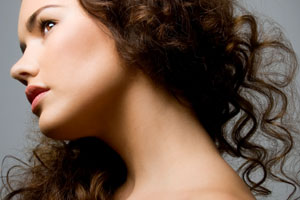 Curly-haired ladies, the search is over. According to TotalBeauty.com editors and users, these products successfully tame, soften and sculpt curls to their finest, Botticelli-esque state. Read on to find out which conditioners and styling aids will finally get you to stop calling your hair "kinky," "frizzy" or (gasp!) "shapeless."
New Kiehl's for curls: Introducing "Weightless" Curl-Defining Spray.
To add to the daily repertoire of our beloved curl-conscious customers world-wide, Kiehl's Since 1851 is proud to introduce an advanced styling technology to the Stylist Series Collection, "Weightless" Curl-Defining Spray. Utilizing a unique combination of natural ingredients, our curl-defining gel-spray strengthens and fortifies hair while providing lightweight, long-lasting definition and hold that revives curls and waves for a soft and voluminous effect.
"Weightless" Curl-Defining Spray addresses the growing customer desire for styling products that offer health benefits to hair in addition to optimal styling benefits. Our non-greasy formulation allows for extended control over unwanted fly-aways and frizz, while imparting natural curls with a healthy-looking shine. Formulated with Kiehl's nurturing ingredients of Sesame Seed Oil, Sunflower Seed Oil, Soybean Oil, Silk Powders, and Vitamin E, the formula provides the correct dosage of nutrients to make hair less susceptible to the dryness that curly-haired customers often experience.