All Posts Tagged With: "Gwyneth Paltrow"
Here's a sneak peek to Gwyneth Paltrow's VOGUE August 2010 Cover and photo shoot. Gwyneth to me is the modern day Audrey Hepburn. A true classic actress, witty, charming, and full of elegance. BTW have you heard Paltrow's fluent Spanish in Spain On The Road Again with Mario Batali. And, she can cook!

Mario Testino/VOGUE
Kiehl's Since 1851, the venerable New York-based purveyor of fine quality skin and hair care preparations, is pleased to introduce a limited edition Lip Balm #1 Set to celebrate its most iconic product. Commemorating the 40th anniversary of Kiehl's best-seller, and longstanding favorite of both male and female patrons alike, this gift set consists of six Lip Balm #1 formulas in Coconut, Cranberry, Mango, Mint Vanilla, and Original – all of which treat, soothe and hydrate lips.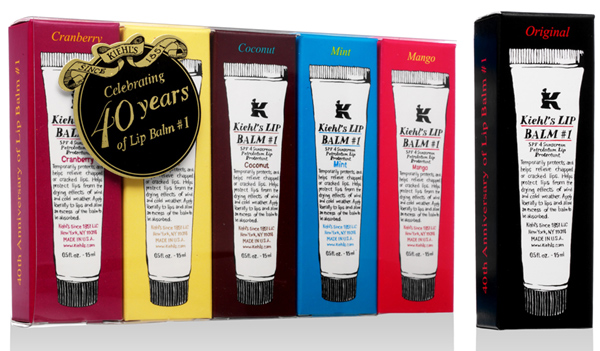 A must-have of many celebrities – including John Mayer, Gwyneth Paltrow and Halle Barry – Lip Balm #1 is the most well-known and beloved formula worldwide. Infused with Squalane, Sweet Almond Oil, Allantoin, Aloe Vera and Vitamin E, this rich, emollient balm is recommended for all skin types and is particularly beneficial to those with dry, parched lips.
Jennifer Aniston loves Dior Addict Ultra-Gloss Reflect!
Celebrity makeup artist Jorjee Douglas, who recently worked with Jennifer Aniston on the set of the upcoming film "The Baster" (also starring Jason Bateman), says that Jennifer can't get enough of Dior's Ultra-Gloss Reflect in Beige Velvet #127.
Douglas is a well-known Hollywood makeup artist, who also has credits for "500 Days of Summer," "He's Just Not That Into You" and the recent Gwyneth Paltrow film "Two Lovers." She called in tons of Dior product while working with Aniston on the New York-based set this summer!
Images via:
Hollywoodtuna.com
Emmanuelle Chriqui looked stunning as always on the  "Entourage" premiere – Chriqui opens up to Women's Health (www.womenshealthmag.com) in the July/August 2009 issue on her exotic look, challenges she's faced in her career, and advice on how to embrace being different.
Embracing her uniqueness: "There's been a massive shift of consciousness. We have an African American president, there's been a huge influx of Latin talent in mainstream music and film, and there's a real audience for international films like Slumdog Millionaire. Guess what? The girl next door isn't necessarily blonde and blue-eyed anymore. So I don't feel like I need to morph into that All-American thing. Now it's about accepting who you really are and being proud of that. When you have confidence that's what becomes attractive to other people and makes them want to work with you and spend time with you."
Estée Lauder Introduces Pure White Linen Pink Coral: A delicate, tender and peaceful fragrance for all seasons.
When you find a fragrance you love, you want to wear it forever. Now, Estée Lauder brings you a new addition to the irresistible collection of Pure White Linen fragrances that you can live in all year round. New Pure White Linen Pink Coral is an utterly feminine, tender and peaceful fragrance that gently sweeps over the senses in soft waves, capturing the feeling of being by the ocean at daybreak, just as it is blushed by dawn's warm light.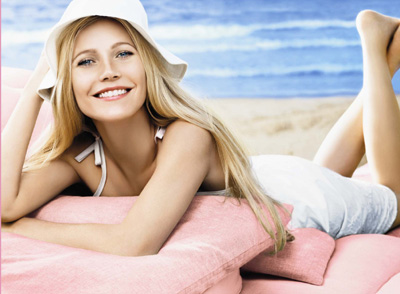 With a composition of perfectly blended sea-kissed Apple Blossoms, Waterfruits, Sweet Peas and Camelias blushed with Honeysuckle and Sandalwood, Pure White Linen Pink Coral is a scent that is feminine, peaceful and wonderfully, perfectly pretty.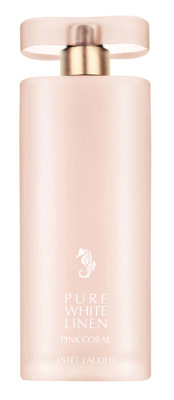 "Pure White Linen Pink Coral is the perfect feeling and fragrance to complete the Pure White Linen collection," said Karyn Khoury, Senior Vice President of Fragrance Development Worldwide, Estée Lauder. "The Pure White Linen values of sophisticated simplicity and relaxed elegance are reinforced, but with a unique view that is tender and feminine."
Gwyneth Paltrow, one of the most classic actresses in Hollywood, has recently launched a new lifestyle website: GOOP. If you haven't yet visited the site, you must, at least I think so:)
Gwyneth Paltrow is sharing with us through GOOP her experience with spirituality, style, cooking, healthy eating and fitness tips, her favorite places to eat and dine and even her favorite hotels.
Gwyneth Paltrow's real balance in life is very inspiring!
And by the way, have you seen Gwyneth Paltrow's cooking show with Mario Batali, Mark Bittman, and Claudia Bassols on PBS: Spain: On The Road Again (on Thursday nights?). Well, Gwyneth impressed me with her fluent Spanish! 'Astonishing', as Gwyneth says. 
The hot new hairstyle that celebrities are sporting is the modernized, layered bob as seen on Anne Hathaway, Gwyneth Paltrow and Jennifer Garner. Formerly forbidden since the 70s, this cut is making a strong comeback this season celebs are growing out their layered bobs to hit just above the collarbone. This cut creates beautiful lines by emphasizing your neck and shoulders.
This is how to get Anne Hathaway's modernized bob by Frederic Fekkai's Adir Abergel:
To get this modern day bob look, you need a good volumizer like Frederic Fekkai's Fekkai Coiff Bouffant to use all over the roots and dry hair upside down to create fullness.  Adir then wrapped hair around a 1″ curling iron, making sure to leave the ends out to create a relaxed curl. To soften this look you can add a slight wave by using Frederic Fekkai's Coiff Oceanique Tousled Wave Spray to modernize texture and take it away from soccer mom territories.
"Clients should ask for a choppier bob so it's not so blunt, but rather has texture on the ends with longer layers that frame the face for body," says Adir. "The long bob can become soccer mom-esque if it is too blunt, so make sure your stylist removes some bulk from hair by chops into the ends."
THE PRODUCTS ALL BY FEKKAI: Coiff Oceanique Tousled Wave Spray, Coiff Bouffant.
One of my favorite Hollywood actresses, Gwyneth Paltrow, also happens to be the face of Pleasures Perfume by Estee Lauder. 
ET recnetly nnraveled Gwyneth Paltrow's Pleasures. Here it is:
Gwyneth Paltrow reveals what pleases her!
ET goes behind the scenes of her new Estée Lauder ad campaign for Pleasures fragrance where Gwyneth heads to one of her favorite childhood haunts — Long Island.
"My best simple pleasures are just being present and being with my kids," Paltrow reveals.
The actress is shot casually lounging in grass next to a guitar and serenely taking a swing on a swing set. Watch the Hollywood star and doting mom talk about the location where she shot the ad campaign — a place she calls her "epitome of pleasure."
Watch Gweneth Paltrow in this video:  
Estee Lauder's Brightest Stars Featured on Newly Redesigned Website www.esteelauder.com !
Get to know their models – Gwyneth Paltrow, Elizabeth Hurley, Carolyn Murphy and Hilary Rhoda.
Starting now, you can bring Estée Lauder's iconic spokesmodels – Gwyneth Paltrow, Elizabeth Hurley, Carolyn Murphy and Hilary Rhoda – into your home! They are all featured on the new esteelauder.com website.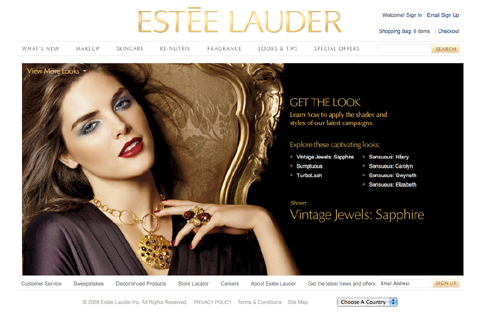 From personal profiles, their current beauty must-haves and behind-the-scenes images, take an inside look at each model from Estée Lauder advertising shoots. You can also learn exactly what makeup looks they are wearing in the ads and get tips on how to apply the products at home to replicate the look.
One of my all time favorite actresses, the gorgeous Gwyneth Paltrow, has appeared on the cover of Vogue May 2008 Edition.
But it seems that according to Perez Hilton blog: "…the May issue of Vogue with Gwyneth Paltrow on the cover is the mag's worst seller of the year so far. It only sold 310,000 newsstand copies. Vogue averages around 450,000 copies sold at newsstand per issue".
Can you believe this? I'm not sure why this is the case, Gwyneth Paltrow looks beautiful on the cover of Vogue. What do you think?