All Posts Tagged With: "Angelina Jolie"
Talking Makeup, thanks Lancôme, has the scoop on how to Angelina Jolie's makeup look at Cannes Film Festival 2009!
Celebrity makeup artist Mary Burton created the glamorous red carpet makeup look for Angelina Jolie at Cannes.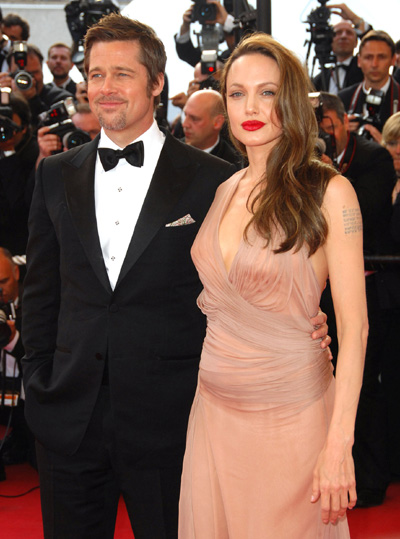 To define Angelina's lashes Mary used two different mascaras, Lancôme Hypnôse in Black and Lancôme Ôscillation in Black and applied a few coats of both to add volume and length.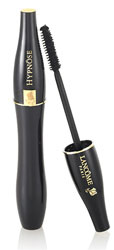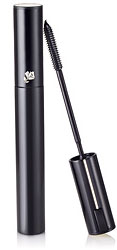 Mary used Lancôme Color Design Lipstick in Candy Apple to create her voluptuous red pout.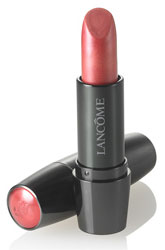 Angelina Jolie looked stunning in Versace as she walked the red carpet for the premiere of Brad Pitt's new movie Inglourious Basterds directed by Quentin Tarantino.
All Lancôme products are available at www.lancome-usa.com .
Angelina Jolie arrived the Inglourious Basterds premiere at the Cannes Film Festival 2009 wearing red lips.
Angelina Jolie and Brad Pitt are very exciting and an intriguing couple to watch. Seeing them make an appearance in Cannes on the red carpet is a moment I didn't want to miss. I know, I'm a sucker:)
Every woman should have a red lipstick in their makeup bag. Red lips are classic, timeless, and super glamorous. Red lips are in!

Image via: www.hollywoodtuna.com
Angelina Jolie's makeup look, particularly the red lips, is taken straight from the runways of New York Fashion Week Fall 2009. It reminds me of a MAC makeup look created by artist James Kaliardos for the Ruffian fashion show. "The look is inspired by Carolyn Bessette, it's young and confident." James kaliardos.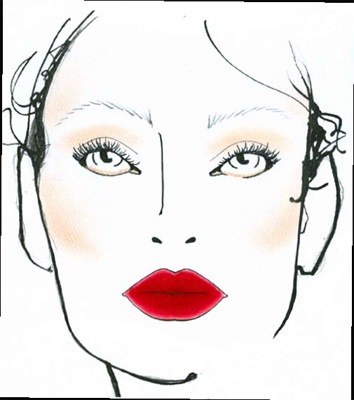 Oscar wasn't the only accessory that sparkled at last nights show luxurious, brilliant hair shined its way throughout the main event. Pureology PureArtists Mary Katherine Hecht, Tyson Daniel, Sherilynn Smart, Darren Pena and April Webster and Wendy Belanger list the top three hair trends of last night's 81st Academy Awards along with step-by-steps for you to achieve the award show look at home. 
Top celebrities including Michael Shannon, Viola Davis, Amy Adams, Taraji P. Henson, Jane Seymour and Ted Danson, that attended the WOW! Creations Lifestyle Gifting Lounge at the Beverly Hilton Hotel received Pureology InCharge Firm Finishing Spray

…and GlossingMist Shine Spray in their gift bags.

Top hair trends at the Oscars:
1. Elegant Partial Up-Do as seen on Angelina Jolie
2. Futuristic Mold as seen on Kate Winslet
3. Chic Chignon as seen on Natalie Portman
Elegant Partial Up-Do: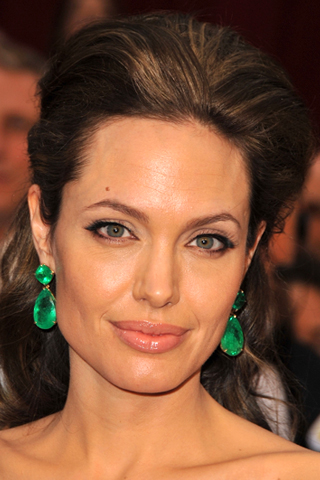 Angelina Jolie.
1. Set the hair with a 1.5 inch curling iron using Pureology InCharge Flexible Styling Spray. Pin the curls, let set and cool.
Lancôme graced the faces of three Best Actress nominees: Kate Winslet, Anne Hathaway and Angelina Jolie.
Kate Winslet looked beautiful in a multi-toned one shoulder YSL dress. Celebrity makeup artist Jillian Dempsey wanted to create a classic, natural look.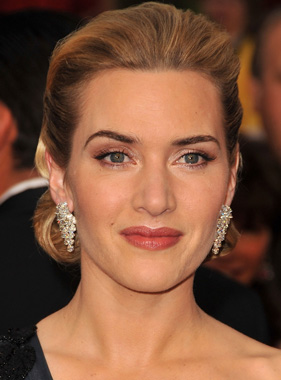 First, Jillian Dempsey prepped Kate's skin with Lancôme La Base Pro primer to create a smooth canvas for a polished complexion. She lightly brushed Lancôme Brow Expert in Naturel on the brows to play up their natural shape. Jillian Dempsey for Avon Pro Eyeshadow Trio in Ice Shimmer was applied to the eyes and the lashes were coated with Jillian Dempsey for Avon Pro Mascara in Black. To create a sheer, neutral colored lip, Lancôme Color Fever Lipstick in Old Flame was applied for a soft, matte finish.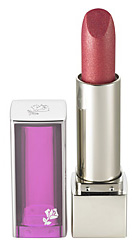 Lancôme Color Fever Lipstick in Old Flame.
Anne Hathaway looked regal in a sparkling jewel encrusted Armani Privé gown. Her makeup look was sophisticated and elegant.
81 Academy Awards red carpet looks: Angelina Jolie is living up to her title as one of the most beautiful women of all time tonight at the 2009 Oscars. Angelina Jolie's red carpet look for the Oscars is elegance at its best. Love the emerald green earrings which bring out her eyes. Makeup is soft, pink lips and a black eye liner. Hair is pulled up in the front but left loose at the back.
Tell us what you think! Angelina Jolie looks hot or not?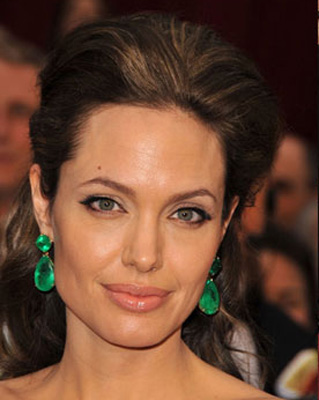 Angelina Jolie on the Cover of Cosmopolitan Germany January 2009!
Does it take six children to look as beautiful as Angelina Jolie? Incredible:)
Angelina Jolie's hair color is jet black on this Cosmopolitan cover. Angelina's makeup is very clean: nude lips, mascara on top lashes, very little eye liner.
Do you like Angelina Jolie on the cover of Cosmopolitan Germany January 2009 as much as I do?
I'm a big fan of Jennifer Aniston. Jennifer looks incredibly young and beautiful for a woman approaching her 40th birthday very soon. What a true beauty!
Check out Jennifer Aniston on the Cover of Vogue Magazine December 2008 Edition and see for yourself:
What do you think? Are you an Angelina Jolie fan or a Jennifer Aniston fan?
 

| | |
| --- | --- |
| | Can you match these stars to their over-injected big lips? |

In a perfect world we'd all have gorgeous, bee-stung-looking lips, but with the exception of a few lucky ladies like Angelina Jolie, most of us don't. Apparently, these stars refuse to accept that reality and instead inject their lips until they look like over-inflated balloons. See if you can identify the offenders by their big lips alone. …More