All Posts Tagged With: "Conditioner"
To get my hair silky smooth and frizz free is sometimes a mission. So many times I spend up to 1 hour blow drying my hair and my hair keeps frizzy. Sounds familiar? Not this weekend though. Thanks to Living Proof Shampoo and Conditioner. Wow. My hair not only was straight and silky after blow drying, but it is still frizz free 2 days later!! (I try not to wash my hair everyday). I haven't tried the Living Proof styling products, now I'm very tempted. I think I've seen Living Proof hair care products in Sephora and Sephora.com
Marie Claire voted Pantene Beautiful Lengths conditioner one of the Best Products of All Time!
Pantene Beautiful Lengths Conditioner was voted one of the Best Products of All Time by Marie Claire editors in the December issue! Noted as one of the "industry classics," beauty editors raved that "by detangling and preventing breakage, this lightweight hydrator helps hair grow longer and stronger."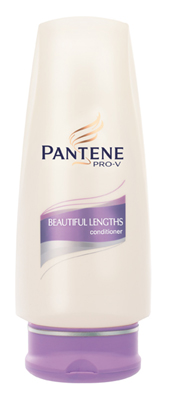 Celebrity Stylist Theodore Leaf Tends the Tresses of 90210 Star Jessica Lowndes with BIOLUSTRÉ before her 21st Birthday Bash, November 7, a the The Roosevelt Hotel, Hollywood CA.
The Look: A glamorous, "showgirl" up-do inspired by Moulin Rouge.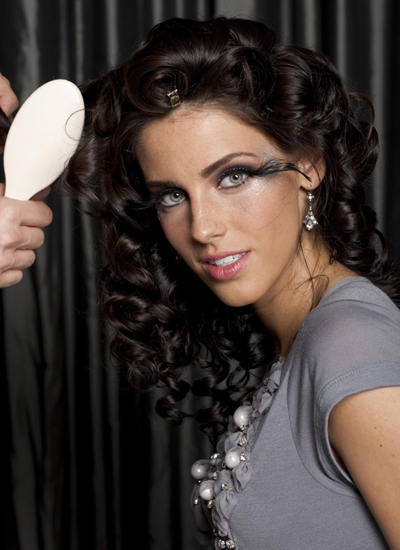 To restore healthy shine to her hair and prepare for styling, Jessica used Biolustré's intense 4-step repair system:
– Release Cleansing Shampoo: A gentle, low PH cleansing shampoo designed to remove excess oils and product build-up.
– Revive Repair Treatment: A unique formula clinically proven to repair hair to a near virgin condition, restoring softness, shine and strength.
– Restore Maintenance Treatment Shampoo: An innovative formula containing Biolustré's exclusive Lustreloc Technology, which delivers low levels of polymers to provide added strength and shine to hair.
Fall will soon be turning into winter- wreaking total havoc on your hair! Did you know that in order to keep hair healthy during the winter months, you should begin preparation now?
"The winter months tend to dry out hair, causing lots of static and frizz," says Jackie Stevens, expert stylist at Gatsby Salon (www.GatsbySalon.com ) in Green Brook, NJ. "Static is the result of lack of moisture in the hair fiber- so once static becomes apparent deep conditioners should be applied to the ends of hair in an attempt to re-nourish the hair fiber as quickly as possible. This will ensure your hair stays healthy during the cold winter weather."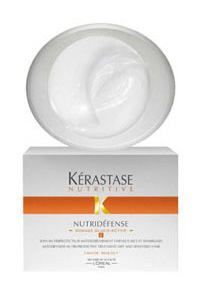 Kerastase NUTRIDÉFENSE is an excellent conditioning treatment that replenishes and saturates the hair with a lightweight softness while offering anti-dryness protection to counter the effects of harsh external elements.
Billy Jealousy launches an exclusive kit for ULTA and ulta.com for $24 (value $36).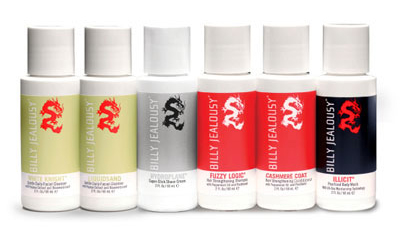 Just in time for the Holidays, Mr. Billy Jealousy has launched a little something special with his friends over at ULTA. Now you can finally give your man that subtle hint of what to use before date night or a day at the gym.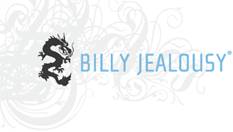 2oz White Knight Facial Cleanser: White Knight contains essential moisturizing agents to provide necessary hydration while cleansing skin. The white, foaming formula cleanses without stripping the skin of essential oils. SLS-free, Paraben free, no fragrance added.
Celebrity Hair Stylist Paul Labrecque was kind enough to give us his best kept secrets for getting and maintaining straight hair! Paul tell us all about the tools, styling products, techniques, and even special treatments we need to say good bye to frizzy hair and hello to smooth, silky, and sexy straight hair.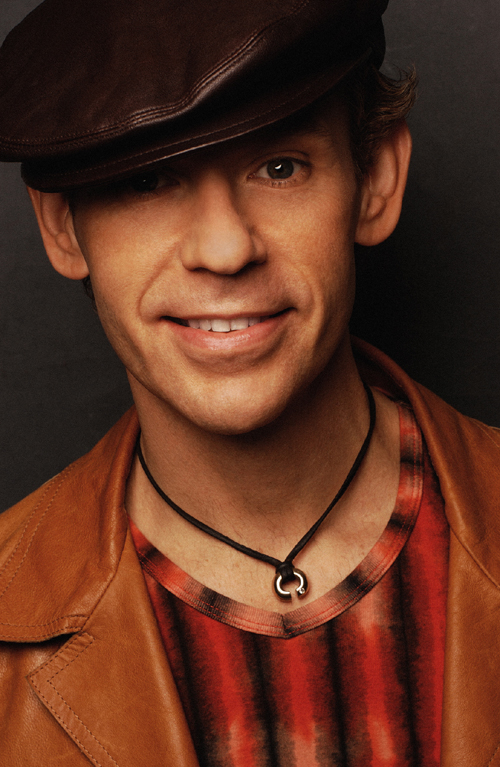 Paul Labrecque 
Straight Hair:
TOOLS
Round 100% boar bristle brushes – They help to spread the body's own natural oils thus leaving far less frizz. Paul Labrecque Haircare has a range of 4 brushes.


Paul Labrecque Large 3" Round (18 row) – 100% Boar Bristle
Celebrate the Holidays with a Gift from Pureology: Whether it's a stocking stuffer or a hostess gift at the next holiday party, Pureology offers the perfect gift for that special someone.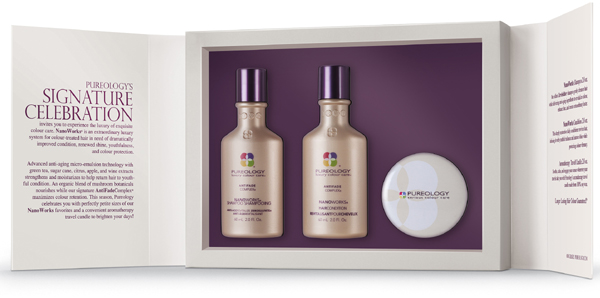 Holiday NanoWorks Hostess Gift: Present this beautiful gift box featuring Pureology's super luxury system and aromatherapy candle to the "hostess with the mostest."
NanoWorks Shampoo (2.0 oz. petite)
NanoWorks HairCondition (2.0 oz. petite)
Aromatherapy Travel Candle
Price: $28.00
Talking Makeup is excited to annoucne the launch of "Nexxus Now," an online-resource for all things hair!
This month, Nexxus is excited to bring you Nexxus' exclusive "Fall Update 2009" featuring easy how-to video tutorials and fall trend forecasts from Nexxus Experts, Creative Director Kevin Mancuso and Color Director Sharon Dorram-Krause. Be sure to also check out the interactive "Color IQ Quiz," with helpful insider tips from Sharon, on how to keep and maintain beautifully vibrant color.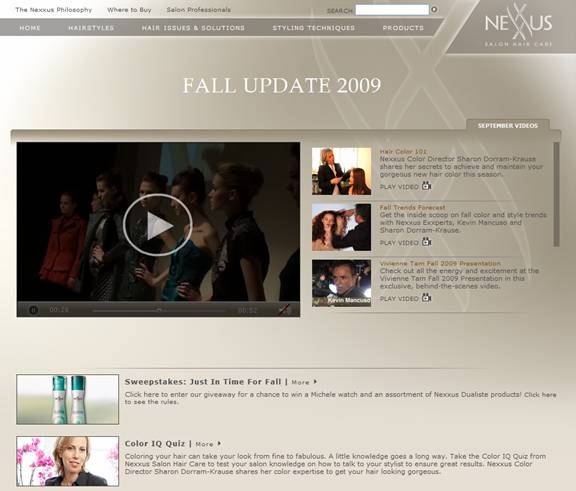 Be sure to check out Nexxus.com each month for new hair care updates, trends and limited-time consumer sweepstakes.
Last month during my visit to New York City for Fashion Week I stopped by at Frédéric Fekkai at The Mark Hotel to get my hair blow dried. It was a much needed blow out. The New York weather makes my hair so frizzy, and what I call" "poofy" i.e. too much volume (LOL I'm not even sure this word exist in the English dictionary). And running around town all day, whose got time to do their own hair?!!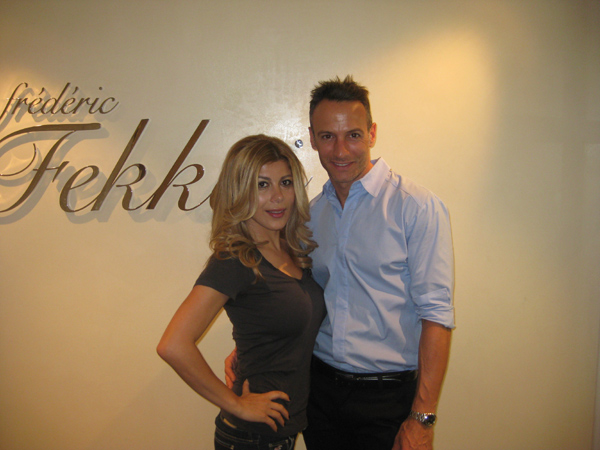 Fabulous Anthony at the NEW Fekkai Madison at The Mark Hotel just gave me Hollywood waves! Luv him:)
I crossed Central Park in a cab all the way to the East Side and arrived at the Frédéric Fekkai at The Mark Hotel. The building was so pretty and newly renovated which is kind of rare for NYC, everything is normally so ancient. My service was impeccable, and the best part was that I got to do my nails and my hair at the same time. I felt like I can totally can get used this life. Wouldn't you?:)

Marta's nails in Essie Sexy Divine gorge deep black-ish purple:Mani by Gabriela at Fekkai salon The Mark hotel NYC
Loved my hair stylist Anthony! He blew dry my hair and gave the perfect Hollywood curls without even using a curling iron. And Gabriela who did my nails with Essie Sexy Divine did a great job in making my manicure last for 4 days! I yet need to investigate which top coat she used on my nails. I assume it was Essie as well.
Talking Makeup is excited to share with you Frederic Fekkai's latest partnership with the Art of Elysium (theartofelysium.org).
As a special one-time philanthropic event, Frederic Fekkai himself the man behind the iconic namesake brand in conjunction with the Art of Elysium will provide his signature haircuts (valued at $1000) for an introductory price of $200 in an effort to make this possible for many. Frederic will donate 100 percent of the proceeds from the haircuts to the Art of Elysium.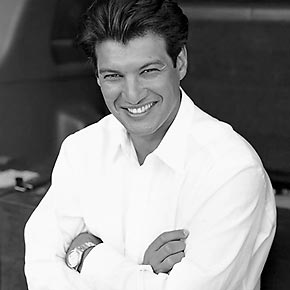 You can book an appointment at the Frederic Fekkai Melrose Place Salon from Oct 25th – Nov. 5th and are first time patrons will have the opportunity to meet Frederic and experience firsthand his world-renowned expertise, a truly once in a lifetime opportunity while supporting the Art of Elysium.
Where: The New Fekkai Melrose Place Flagship Salon, 8457 Melrose Place, West Hollywood
Dates: Oct 19th & 20th, and Oct. 25th – Nov. 5th
Time: Select days and time slots
To Book: Call the Melrose Place Salon number 323-655-7800 and mention Elysium