All Posts Tagged With: "Hairspray"
Kristen Stewart at The Runaways premiere. Hairstyle by Frederic Fekkai celebrity stylis Adir Abergel. The Look: A rocker chic pompadour. Inspiration: Homage to the 1950's rockabilly pompadour hair.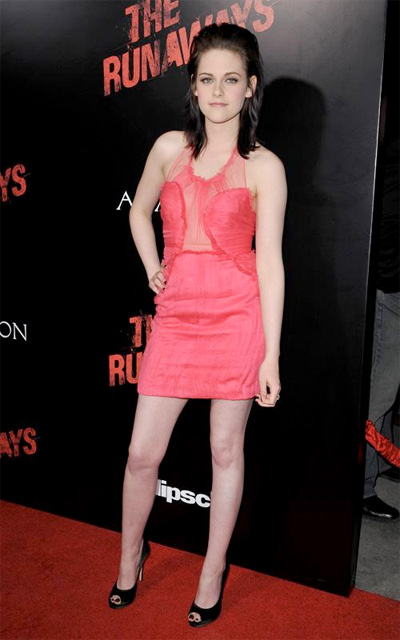 The hair tutorial: How to get Kristen Stewart's hairdo
Abergel started by applying some Full Blown Volume Lifting Hairspray to the roots and hand blow-dried the hair until it was completely dry. Once the hair was dry, he took a 1″ curling iron and barreled curled 2″ sections of the top of hair, and pinned it in place starting at hairline all the way to the crown. He then lightly waved the hair that was not in pin curls and left it down. To finish this look he took the pin curls out and backcombed the roots in order to add volume for the pompadour effect.
The NEW Garnier Fructis haircare products for Spring 2010 are available now at drugstores.

Triple Nutrition Nutrient Spray, $5.99
Garnier's FIRST two-in-one dual-action treatment spray transforms dry, damaged hair into well-nourished, healthy looking hair with an incredible shine. Perfect for that midday refresher and "pick-me-up" or use on wet hair for leave-in conditioning.
Amanda Seyfried Oscars 2010 Hair Tutorial by Celebrity Hairstylist Sally Hershberger.
"I thought Amanda Seyfried looked amazing, so youthful and modern. There were a lot of up-dos out there that left me totally underwhelmed but Amanda was perfection!" – Sally Hershberger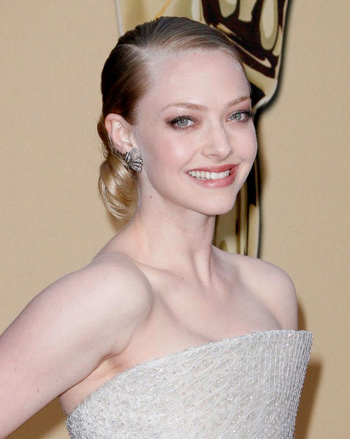 How to get Amanda Seyfried's Oscars 2010 up-do by Sally Hershberger:
1. To start, shampoo hair with Sally Hershberger's Normal to Thin Shampoo and avoid using conditioner so you can create a texture that will hold throughout the night.

Hair Tutorial: Frederic Fekkai Celebrity Stylist, Adir Abergel tousled Jennifer Garner's tresses for her Valentine's Day Premiere. The look: Enhancing out Jennifer's natural curls by creating full waves and wonderful movement.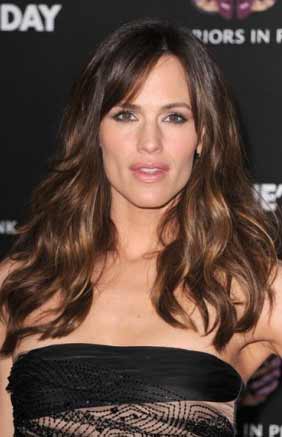 How to get Jennifer Garner's hairstyle at the Valentine's Day Premiere:
First, prep the hair by applying Fekkai Full Blown Volume Lifting Hairspray ($23) at the roots. Next blow dry the whole head with your hands to create texture and bring out the natural wave. Follow by taking a round brush and blow dry the bangs forward and to one side.
Hair Tutorial: Miley Cyrus' sexy textured style at the 52nd Annual Grammys was a perfect rocker chic look that played off her Herve Leger mini bandage dress and emphasized her long, natural waves. "Miley has effortless style and taste," said her stylist Scott Cunha, "and I always try to complement this by working with her natural hair texture, accentuating the waves and texture with a curling iron and a flat iron."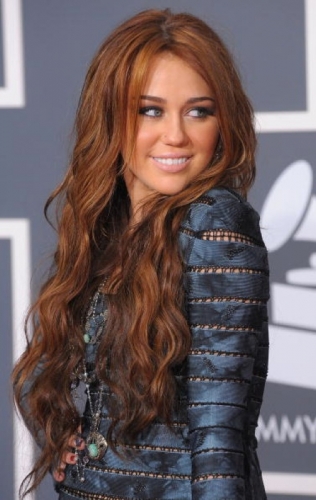 To create the look, Cunha first applied Moroccanoil Treatment on damp hair for silky shine, smoothness and to eliminate frizz. He diffuser-dried her hair and then created a dual-textured look, first using a flat iron from the roots down, then a 11Ž4″ curling iron to wave the rest of the hair.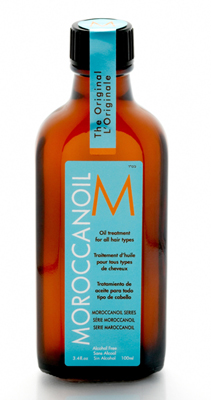 GET THE LOOK:  Jennifer Lopez dazzled at the 52nd Annual Grammy Awards, wearing a dramatic silver Versace gown, and 70's-inspired hair designed by stylist Robert Vetica. Volume and texture were the hallmarks of the all-one-length, below the shoulder look.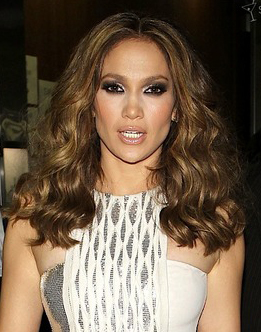 Vetica started by applying Moroccanoil Treatment on wet hair and blow-dried it smooth, creating a middle part using a large round brush for volume. He then used a 1″ curling iron, curling each section, and dragging the curled spirals down. He started in the back, working towards the front of the head and lifting her hair away from the face.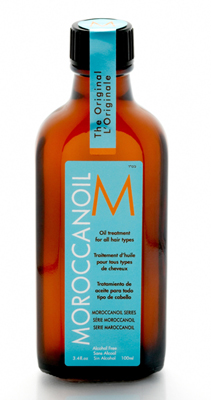 GET THE LOOK: Here's fabulous Jessica Alba at Sundance 2010 for her Premiere of 'The Killer Inside Me'. Frederic Fekkai Celebrity Stylist Renato Campora created Jessica's hairstyle. The Look & Inspiration: a modern undone look for an evening night out, using a headband to define the look.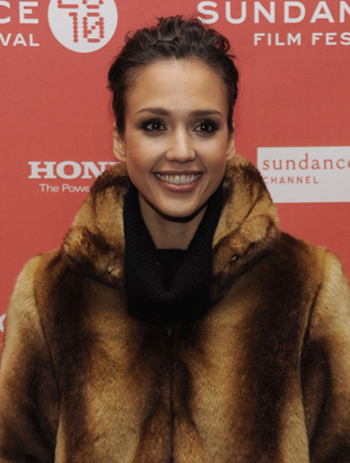 Here's How to get Jessica Alba's hairstyle at Sundance 2010:
On wet hair, Campora used Fekkai Coiff  Strong Hold Volume Mousse. He blow dried the hair using his fingers in order to create texture. Next, he wrapped hair around a hair stick to the back of the head and locked it into place. Campora then diffused the hair at the roots.
GET THE LOOK: On Saturday, January 23, 2010 at the Shrine Auditorium in LA, Hollywood honored its own top talent at the 16th Annual Screen Actors Guild Awards. Nominated for Outstanding Performance by a Female Actor in a TV Movie or Miniseries, for her role in Georgia O'Keefe, Joan Allen sparkled and shone on the red carpet. Sebastian Stylist Design Team member Thomas Dunkin crafted the actress' soft, cascading waves that gracefully grazed her shoulders and complemented her overall look.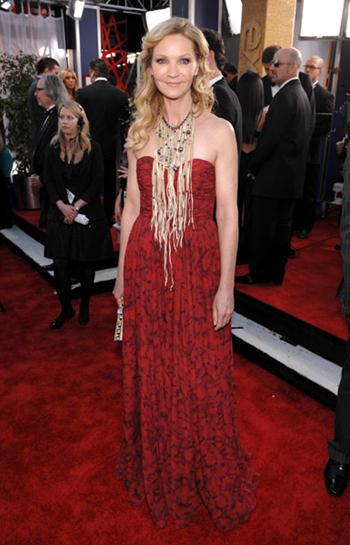 To recreate this A-list style at home, Thomas shares these step-by-step instructions:
1. To begin, apply Sebastian Professional Taming Elixir to slightly damp hair
2. Blow-dry hair straight to give the hair a smooth, even base to work on and part slightly to the left of center
3. Once dry, use a ¾-inch curling iron to wave the hair by starting at the nape and taking 2-inch sections of hair and leaving them loose to drop slightly
GET THE LOOK: As newcomer and star on one of the hottest shows, True Blood's Anna Camp looked beautiful and effortlessly chic at Saturday's SAG Awards 2010. TRESemme Celebrity Stylist Mara Roszak, who styled Anna for the awards show, provided us with tips on how to recreate the look:

1. Apply mousse, such as TRESemme 24 Hour Body Foaming Mousse to damp hair and rough dry.
Frederic Fekkai Celebrity Stylist Adir Abergel created Sandra Bullock's hairstyle for the 16th Annual Screen Actors Guild Awards.
The Look:  modern, carefree twist.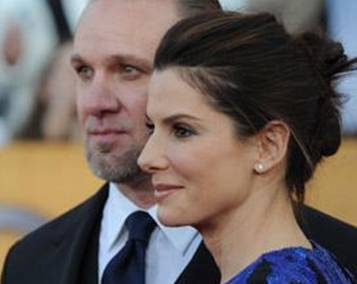 How to get Sandra Bullock's hairdo at the 2010 SAG Awards:
First, Abergel applied FEKKAI COIFF CONTRÔLE IRONLESS STRAIGHTENING BALM to keep the hair frizz-free. Then, he dried the hair with a FEKKAI LARGE ROUND BRUSH to create a smooth foundation.