All Posts Tagged With: "Giorgio Armani"
GET THE LOOK: Celebrity makeup artist Genevieve gave Courteney Cox her Golden Globes look, pairing a sexy smoky eye with a pale nude lip. Genevieve gave us all the details on the nominee's look.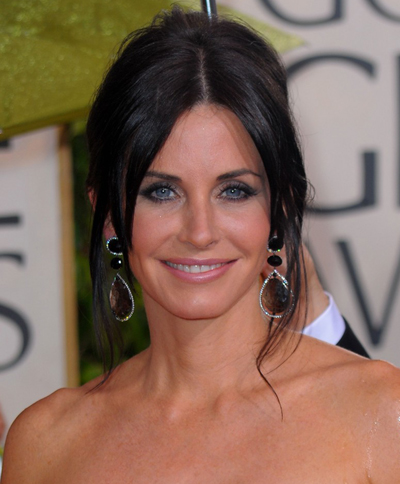 Genevieve lined Lancôme Le Crayon Khôl in Gris Noir on the upper and lower lash line to define Courteney's eyes. Several coats of Lancôme Hypnôse mascara in black gave her lashes a beautiful boost of volume. Genevieve added Lancôme Color Design Eyeshadow in Honeymoon to the inner corner and The New Black to the outer corner to make Courteney's eyes pop. Genevieve added just a touch of color to the cheeks with Giorgio Armani Sheer Cream Blush #2. For Courteney's soft neutral colored pout, Genevieve dabbed on Lancôme Color Design Lipcolor in Pale Lip.
All Lancôme products are available at www.lancome-usa.com.
Megan Fox star of The "Transformers: Revenge of the Fallen" was chosen to grace the official worldwide Emporio Armani Women's Underwear and Armani Jeans campaigns for the Spring/Summer 2010 line. Armani is my favorite fashion designers. I would love one day to wear a gown my Armani. A dream! The closest I can get to feed my Armani craving is Armani Exchange LOL. Although, recently I bought a beautiful white button shirt from AX which was EXCATLY the same feel and material of a Giorgio Armani shirt I bought years ago in the Giorgio Armani store in New York City!
Megan Fox in Armani ad: Do you Love?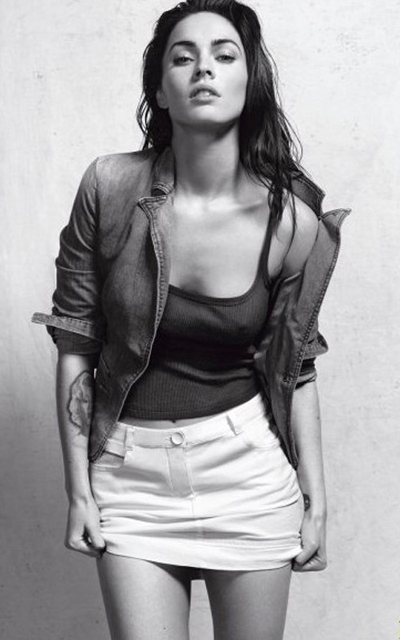 See more Megan Fox photos!
Last week I had the pleasure to meet with Giorgio Armani celebrity face designer Tim Quinn at Saks Fifth Avenue Biltmore in Phoenix. I had fabulous time chatting with Tim and also getting my makeup done. One of the products that caught my attention was the  Giorgio Armani Mascara Top Coat Gold. I love shimmer (you know me) but shimmer on my lashes, my beauty world couldn't be any better. I have got to have it! After Tim applied Eyes To Kill mascara by Giorgio Armani Beauty on my lashes he added a coat of the Mascara Top Coat Gold. My lashes and eyes sparkled like no tomorrow, and Marta was very happy:)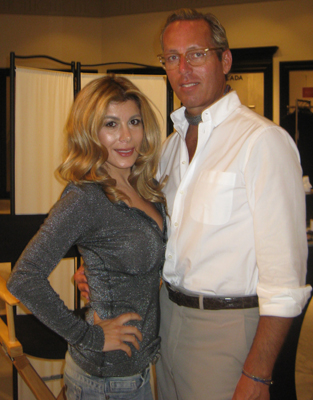 From left: Marta Walsh, Giorgio Armani celebrity face designer Tim Quinn, and Giorgio Armani Mascara Top Coat Gold
Giorgio Armani Mascara Top Coat Gold: Sparkling top coat mascara creates a luminous and sophisticated shimmer effect on your lashes. The limited edition mascara has a professional applicator for perfect lash separation and definition. $28.00
I  was walking along 5th Avenue in New York City this evening. I had to stop my walk with great excitment after seeing a  stunning window display at the Giorgio Armani store. It reminded me how much I adore Giorgio Armani's latest perfume addition: I'dole d'Armani.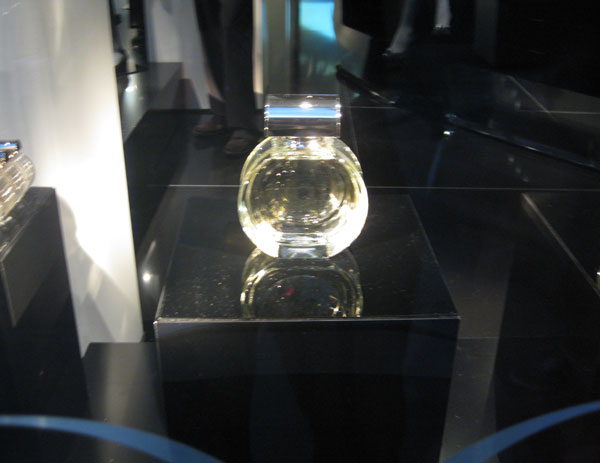 A sneak peek through the Giorgio Armani store on 5th Avenue New York City and to a gorgeous big bottle of Idole d'Armani
Idole d'Armani smells very elegant (Yes. Elegance has a scent!:) If you're not into sweet, fruity, or floral perfumes then this exquisite woody fragrance might be the one for you. Idole d'Amani is perfect for a wedding day, special date, or just anytime you want to feel and look glamorous. It has a very distinct scent and stands apart from any other perfumes I know. Every woman should own one classic perfume, Idole d'Armani is a great place to start.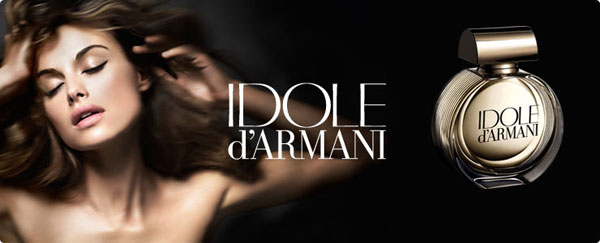 I always remember this quote by Giorgio Armani: "I have always carried with me an ideal of femininity – an irresistible combination of grace, beauty and independent spirit. IDOLE d'ARMANI is my tribute to this ideal, and to women everywhere."
Celebs were hitting the streets of New York City last night to celebrate Fashion's Night Out. Giorgio Armani Beauty's A-Team was also out last night – getting top stars glam for a preview dinner for the Richard Hambleton exhibition, which will open September 15 and was presented by Vladimir Restoin Roitfeld and Andy Valmorbida in collaboration with Giorgio Armani.
True to the Armani aesthetic the A-list guests including, Bruce Willis and wife Emma Heming, Kerry Washington and Devon Aoki were outfitted in understated, elegant looks. The makeup was classic and featured strongly lined eyes and pinkish-nude lips. See below on how to get the looks from these celebs last night: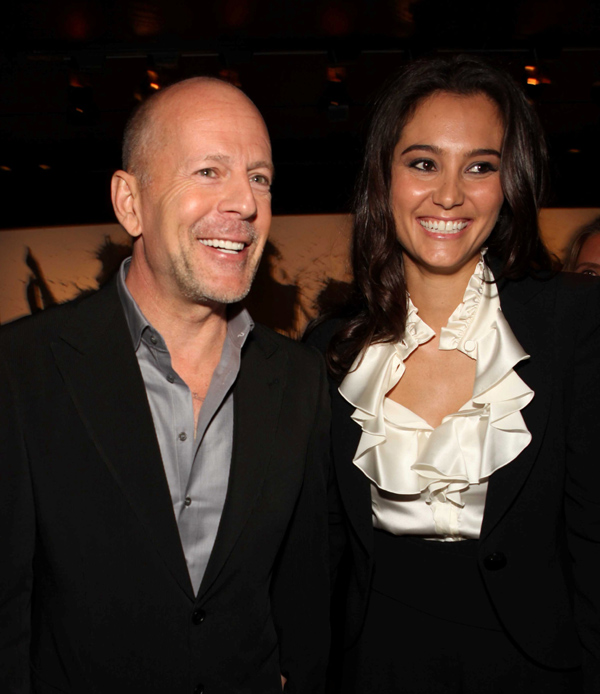 Emma Heming (above image next to Bruce Willis): Luminous Silk Foundation 7 gave Emma a dewy complexion and fluid sheer 11 was dabbed on to her cheeks to add a rosy glow. Her lids were dusted with Maestro Eye Shadow XX and Smooth Silk Eye Liner was blended along the lash line to create a dramatic smoky effect. A sweep of Eyes to Kill Mascara and a wash of nude lip shimmer were added as finishing touches to her natural glam look.
Kerry Washington: Lasting Silk UV SPF 20 Foundation 9 was swept across Kerry's face to create a matte complexion, with subtle luminosity. To add dimension, blending blush duo 4 was used for contouring and added a pop of color on the cheekbones. To add a touch of drama, maestro eyeliner and Eyes to Kill Mascara were used to define the eyes and a sweep of Lip Shimmer 59 in taupe completed the look.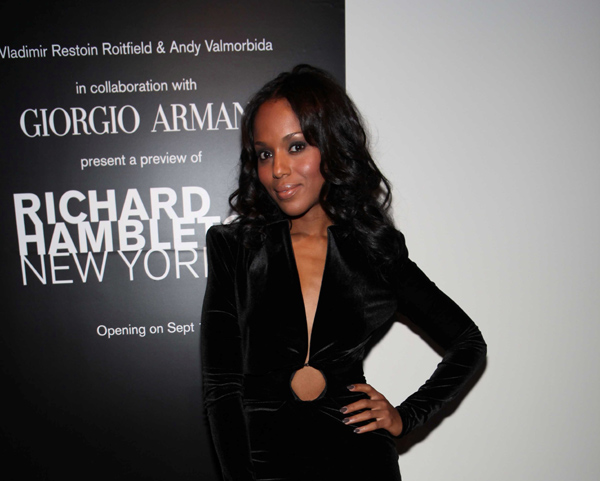 Devon Aoki: Face Fabric 3 offers sheer coverage and allowed Devon's natural glow to shine through. Sheer Bronzer 5 was applied to the cheekbones to define her look and give her complexion a sun-kissed effect. Eyes to Kill Palette 1 offers taupe and grey shades, which were used to create a subtle smoky eye with liquid liner and a sweep of mascara added to complete the look.
Few weeks ago I was given an incredible chance to chat with Tim Quinn over the phone. Tim Quinn is Giorgio Armani's Celebrity Face Designer National Director, Creative Artistry.
I met Tim in New York City during my trip with DailyMakeover.com this past July (2009). The meeting was in Pastis one of my favorite restaurants to hang out when I used to live in New York City. As soon as I was introduced to Tim during breakfast I knew I had to interview him and share with you his beauty insights and story of top celebrity makeup artist. As you can sense, I'm a huge fan. I remember telling him that I loved his style and that he looks "Very Armani": That very pale almost platinum blonde hair, and the chic eye glasses. Believe it or not, Mr. Giorgio Armani himself set a table next to me in Cipriani Downtown SOHO few years ago, so I got to know the look:)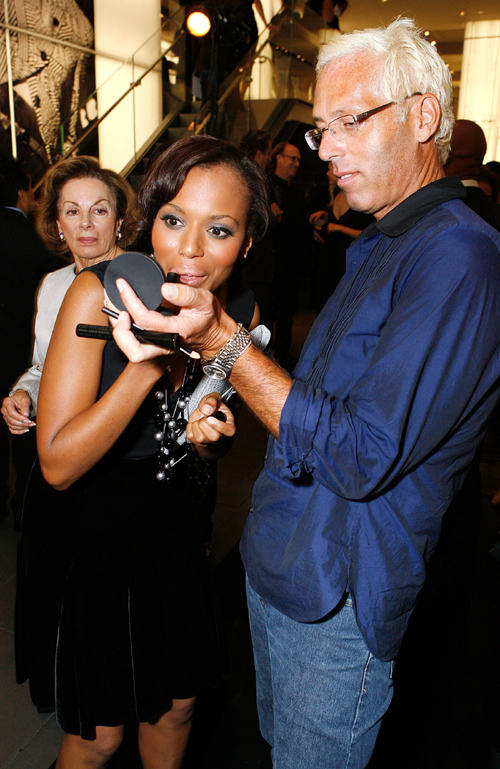 Tim Quinn and Kerry Washington
A little bit about Tim Quinn: After training in Milan alongside world-renowned makeup artist Pat McGrath, Tim Quinn joined the Giorgio Armani Beauty team with the launch of the brand in September 2001. His myriad experience as an artist includes work in TV, print, and film. Tim has been featured as one of the "25 Beauty Stars" in W Magazine and has worked backstage at several award shows including the Academy Awards and the Golden Globes. Tim has worked with a number of celebrities such as Glenn Close, Debra Messing, Victoria Beckham, Kim Cattrall, Gwen Stefani, Kate Bosworth, Minnie Driver, and Brooke Shields. He has designed faces for Helen Mirren, Julia Roberts, Naomi Campbell, Katie Holmes, Sarah Jessica Parker, Barbara Walters, Lucy Liu and Drew Barrymore.  I might even missed few names!
Marta Walsh: When did your fascination with beauty begin?
Tim Quinn: From as far back as I can remember I was drawn to the world of fashion and beauty. I was born and raised in the countryside of Connecticut and was always encouraged by my parents to go outside and play – TV was only for special occasions and the internet was still years away, so my siblings and friends would create our own worlds of entertainment. My paternal grandmother was widowed rather young and she remarried an attorney from New York. They lived in New York City during the week and at her country home in Litchfield, CT on the weekends. My visits and travels with them truly influenced my young mind – I thought of her life as my very own 'Green Acres'. I became a glamour addict – watching her dress for dinner in NY, DC and even Iceland – the whole idea of the hair, makeup, jewelry and furs created such a glamorous world that was so different then the life I knew in Connecticut.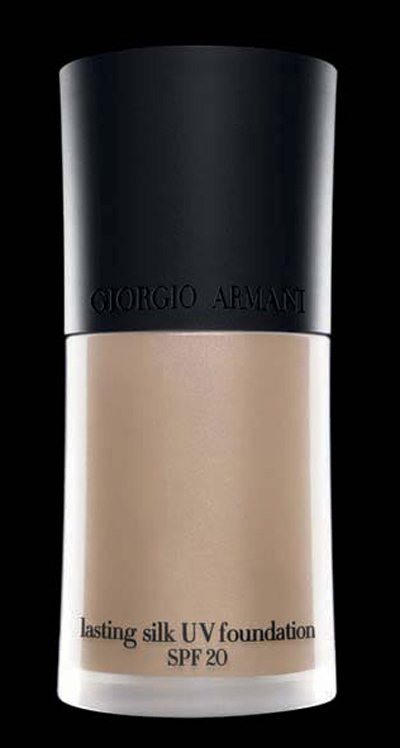 "What is attractive in a woman is a certain self-assuredness… it is in her eyes that one senses her strength" –Giorgio Armani
Fashion and beauty synonymously influence each other. While Spring fashion will be in full swing under the tents in Bryant Park come September, the runways of Fall 2009/Winter 2010 will soon be coming to life! While the beloved black smoky eye is coveted by all women, a new twist was added this year to give it a fresh and just-as-chic look – royal purple! As seen on various runways, the purple smoky eye was paired with both nude and intense lips. For Giorgio Armani's Fall 2009/Winter 2010 fashion shows, feminine, yet intense smoky eyes with hints of purple and bold red lips ruled the catwalk.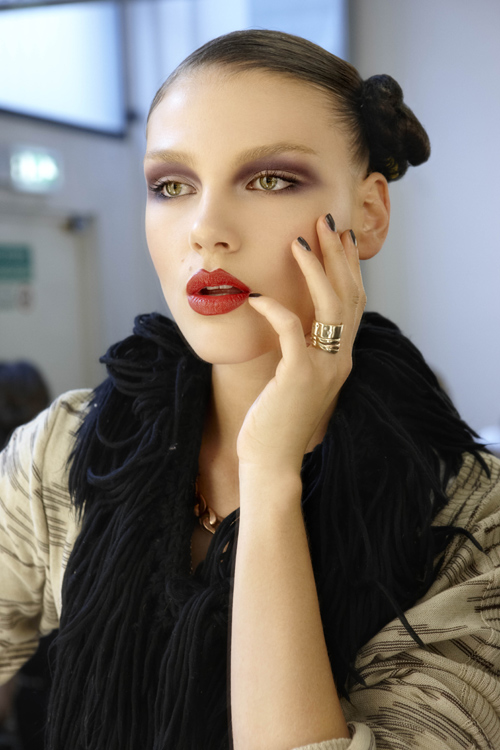 Giorgio Armani Beauty Fall 2009/Winter 2010 runway show. The Look: The Purple Smoky Eye
Right on trend, Giorgio Armani Beauty introduces the Eyes to Kill eye shadow palettes in four shades, including Gun Metal Grey – a daring grey center surrounded by gun metal grey wrapped in a royal purple. Tim Quinn, Giorgio Armani Beauty's Celebrity Makeup Artist, says "Purple is the new black when it comes to smoky eye. It is just as intense as black, but in a more subtle and daring way that still creates the allure of the sexy, smoky eye."
Giorgio Armani Beauty's NEW Fall 2009 Collection: 
Giorgio Armani Beauty launches its Fall Collection, using subtle but distinct tones accentuating a deep smoky eye contrasted with a fresh luminous complexion and a muted, but intense lip color. Created by Giorgio Armani, the timeless color "Greige" has a new take on the smoky eye and is the new fall dress code for face.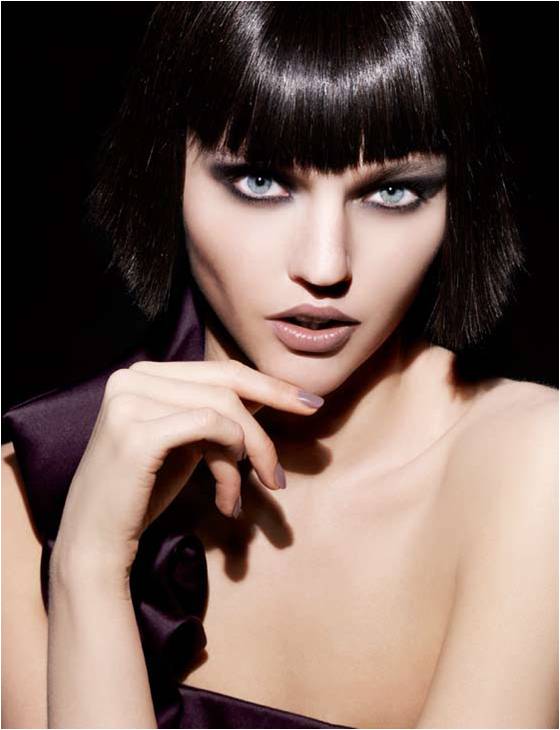 The star product of the collection is the Manta Ray Eye Duo Palettes. Inspired by the precious and luxurious materials used in Giorgio Armani fashion accessories, the palettes are dressed with an exotic Manta Ray pattern. The selection of color harmonies inspired by nature offer depth and mystery to the eyes with subtle contours and highlights, $38.
Victoria's Secret Sexy Little Things Give Me The Shimmers Shimmering Body Powder is one of my favorite things in the world. I know I'm a little OTT or Over The Top, but I believe I need a little sparkle in my life. I LOVE to shimmer, it cheers me up! What can I say, I'm a total girly girl.
On my last visit to NYC this July, I had an amazing opportunity to meet Tim Quinn, Giorgio Armani Beauty's top makeup artist. As soon as we shaked hands Tim asked me: "Wow. How did you get your glow?" This is what I answered: "Scottsdale Arizona sun & Victoria's Secret Sexy Little Things Give Me The Shimmers Shimmering Body Powder, thank you."
Victoria's Secret Sexy Little Things Give Me The Shimmers Shimmering Body Powder smells amazing and adds subtle shimmer to your skin.
Don't be afraid to shimmer girls:)
I'm excited to share with you an interview I did with Celebrity Makeup Artist Mylah Morales. Mylah Morales' clients include Rihanna, Jennifer Hudson, and Leona Lewis.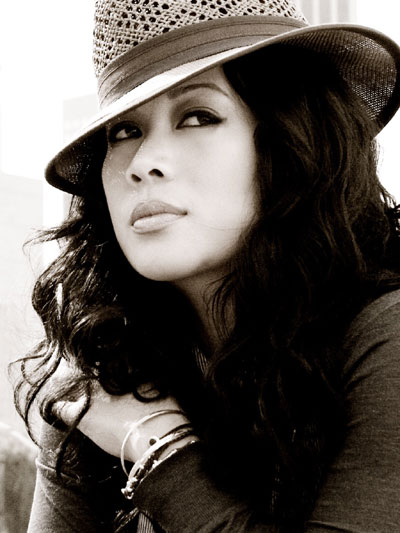 Mylah Morales
In this interview Mylah Morales talks to me about some of her memorable makeup looks she did with Rihanna, Jennifer Hudson & Leona Lewis. What's in her makeup bag. The secret to becoming a successful makeup artist, and future plans.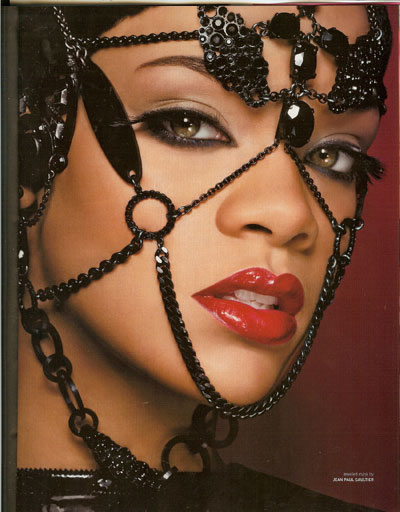 Marta Walsh: When did your fascination of makeup begin?
Mylah Morales: I have loved make up and fashion ever since I was a little girl. I've always been into glamour and fashion, so luckily I found my niche.
MW: How did you get your first big break?
MM: I'm the type of girl who knows what she wants and goes after it! Success is something that comes in small doses. I think my popularity has stemmed from my work with Rihanna