All Posts Tagged With: "Eye Pencil"
GET THE LOOK: January Jones was wearing CHANEL Beauté at the 67th Annual Golden Globe Awards. January's makeup look was created by Makeup Artist Rachel Goodwin.
Beauty Inspiration & The Look: "January's Golden Globes makeup was all about taking a fresh approach to the classic red lip."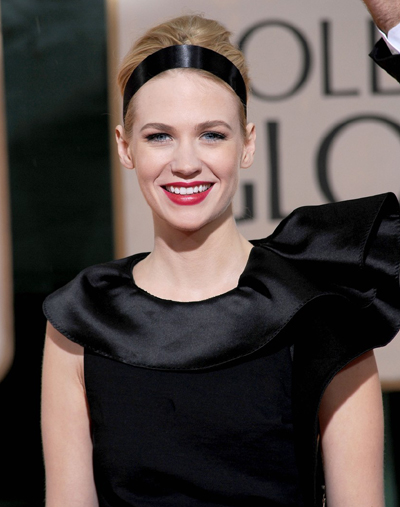 Beauty Tip: "I used Le Blanc de CHANEL under her base to create luminous 'glowing from the inside' porcelain skin, then treated her lips with CHANEL Hydramax + Active Lip Treatment before applying CHANEL Rouge Coco Lip Colour in Paris – a gorgeous garnet red from a new lipstick line launching in March. I painted the finest black line on her upper lid with CHANEL Automatic Liquid Eyeliner in Noir and shaded under her eyes with CHANEL Intense Eye Pencil in Graphite in the outer corners. I finished her look by layering lots of different false eyelashes then added Exceptionnel de CHANEL Noir Obscur Mascara over the top for an intense black lash line."
GET THE LOOK: Kate Hudson was wearing CHANEL Beauté at the 67th Annual Golden Globe Awards. Kate's makeup look was created by Makeup Artist Leslie Lopez.
Beauty Inspiration & The Look: "Golden Globes makeup is all about the dress. When I saw Kate in her gorgeous white dress, I knew we had to go for a clean, sophisticated, pretty look – very Grace Kelly."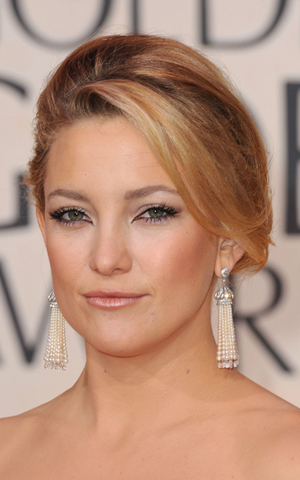 Beauty Tip: "I prepped Kate's skin with CHANEL Sublimage Fluid before applying her base, L'Oreal True Match Foundation in N-3. In the crease of her eyes I used the grey shade from the CHANEL Quadra Eye Shadow in Blue Celestes. I applied the lightest silvery white shade under the brow bone, as well as under the lash line. The inside of her eyes were lined with Almay black eye pencil, and I finished the eyes with CHANEL Inimitable Mascara in Noir. Finally, on her lips I used CHANEL Aqualumiere Sheer Colour Lipshine in Malta, a sheer subtle peach shade."
Introducing NARS Spring 2010 Makeup Collection: Inspired by Catherine Deneuve's role as Lucille in La Chamade, the NARS Spring 2010 Collection features soft, sexy shades that are as elegant as they are versatile.
"I love Catherine's makeup look in this movie," says François Nars, Founder and Creative Director of NARS Cosmetics who chose supermodel Amber Valletta for the campaign. "It's very sophisticated and bourgeois in a Parisian '16th Arrondissement' way. She is the perfect reference for this collection, and apropos for spring, a time to embrace color and get noticed."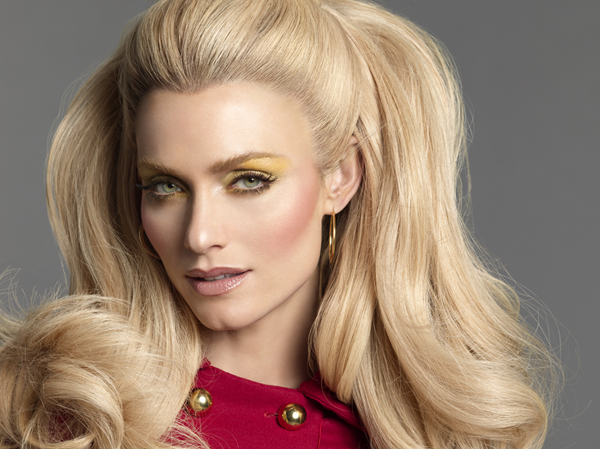 NARS Cruising Lipstick, $24: This subtle, sexy pink lipstick hue provides a sheer natural long-lasting color.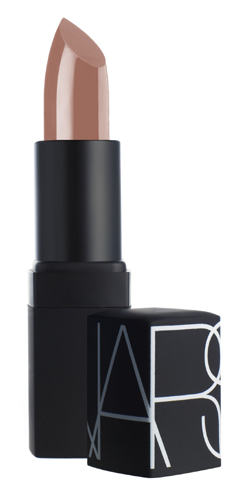 As seen in Vegas Magazine! The perfect Holiday gift for under $40.
Rain Cosmetics Player's Beauty Collection $35.00 This limited edition Rain Cosmetics Collection will revitalize your complexion and freshen your look for the Holidays and New Year!
"Great products in great packaging, this was made for me!"–Joanna Krupa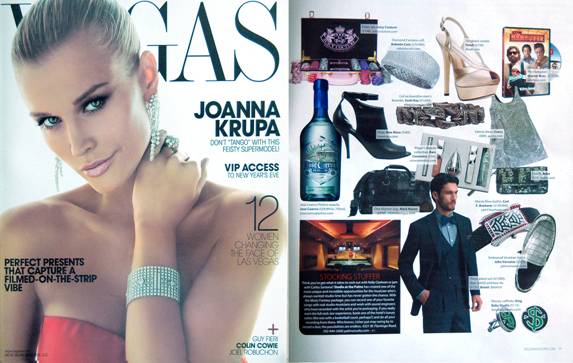 Estée Lauder is excited to share the Blacker Than Black Makeup Collection (limited edition, launching December 2009) for a vampy, dramatic eye look. Just in time for holiday parties, six mascaras are introduced in a jet-black, sleek formula for lashes that draw all the attention while the Eyeshadow Quad in Black Smoke (permanent addition) creates that coveted smokey eye.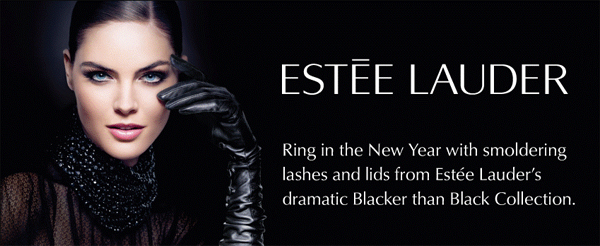 Now beautifully bold, dramatic eyes are just a wave of the wand away. Don't be shy, make your eyes the center of attention with Estée Lauder's new Blacker Than Black eye collection. This unique collection features six of Estée Lauder's most popular mascara formulas each in a richer, more concentrated, more dramatic black shade for eyes that appear bigger, bolder, more dramatic! Because the mascara is so concentrated, it creates a contrast that defines and frames the eyes for a look that is at once highly sophisticated and utterly alluring. And, whether your look calls for lashes that are lengthened, defined, volumized, lifted, curled or a combination, you can achieve the look you want as each of these luxurious mascaras offer the same unique benefits as their original formulas, but now with the deepest, intense jet black effect.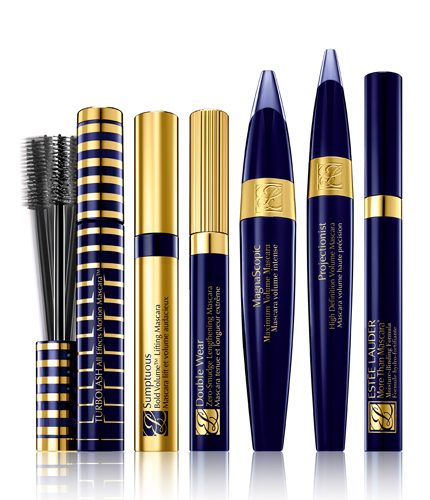 MAC Magic Mirth And Mischief
Brush Bags
The Magician's tricks are all in the bag – a sleight of hand that provokes the question, "How did you do that?" The answers have been gathered together in three different techniques, with three different effects: Do-the-Trick Buff and Line Brushes, containing 168SE, 187SE, 209SE, 219SE and 252SE tools; Wave Of A Wand Sweep and Define Brushes, holding 129SE, 190SE, 212SE, 227SE, 275SE tools; and finally, Morning, Noon & Knight Everything Eye Brushes with 194SE, 204SE, 224SE, 266SE and 275SE tools. All sparkle with the irresistible spirit and decorative shine of the season.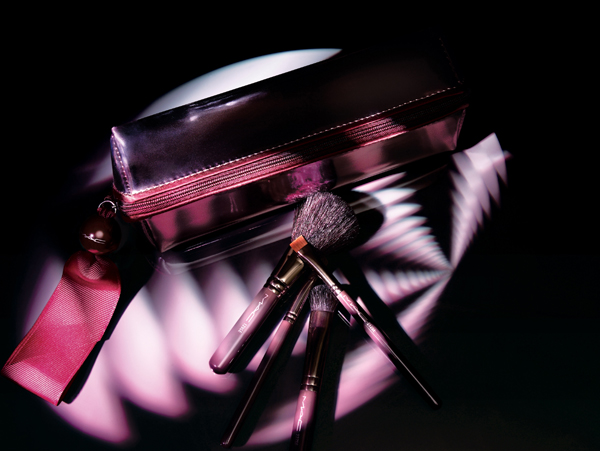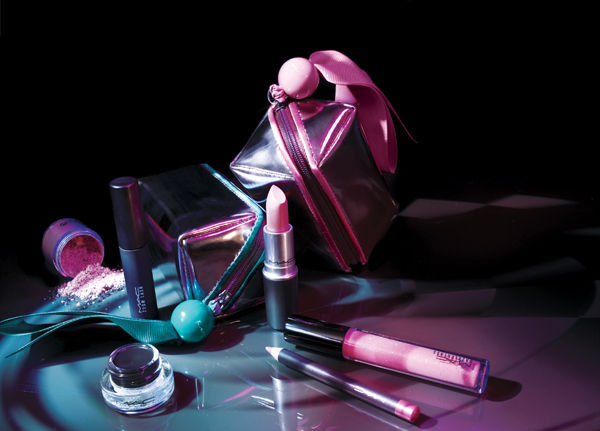 Lip and Eye bags
The Fete Set needs their party favours – little pick-me-ups and help-me-alongs that keep the swish in swing, the glamour going all night long. High-tone metallic bags for Lips and Eyes, everything you need to make mirth, all in one place. Get your hands on Put A Spell On You Pink or House Of Mirth Deep Lip Bags, all with Lipstick, Lip Pencil and Dazzleglass in tow. Add Naughty Noir and Alakazam! Chocolate Eye Bags, both with Fluidline and 209SE Brush, Pigment and Zoom Lash accoutrements. lip eye and face kits Eight precociously pretty new holiday kits, presented and packaged with bubbly optimism, sophisticated and amusing as a New Yorker cartoon. For Eyes: 6 Devil May Dare Warm Eye Shadows, 6 Mystic Cool Eye Shadows, 6 Smoke and Mirrors Eye Shadows, and 6 Sorceress Eye Shadows. For lips: Heavenly Dish Neutral Lip Kit and Possessed by Pink! Lip Kit. Finally for face: Hocus Focus Colourful Face Kit and Fab-racadabra Bronze Face Kit. Each a world of wonder, to collect and give – but only to the most delightful of the deserving.
How hot is Monica Cruz? No, that's not Penelope Cruz, it's Monica, her sister. Don't they look alike? It took me few minutes to realize it wasn't Penelope. Monica is the ultimate brunette beauty. She almost makes me want to dye my hair brown again! I also love her very black smoky eye, the classic.  Any Thoughts guys?
To get Monica Cruz' black smoky eye try Magic Kajal Eye Pencil by Givenchy, $21.50. This eye pencil allows you to apply a precise line or a create a smudge or smoky eye effect.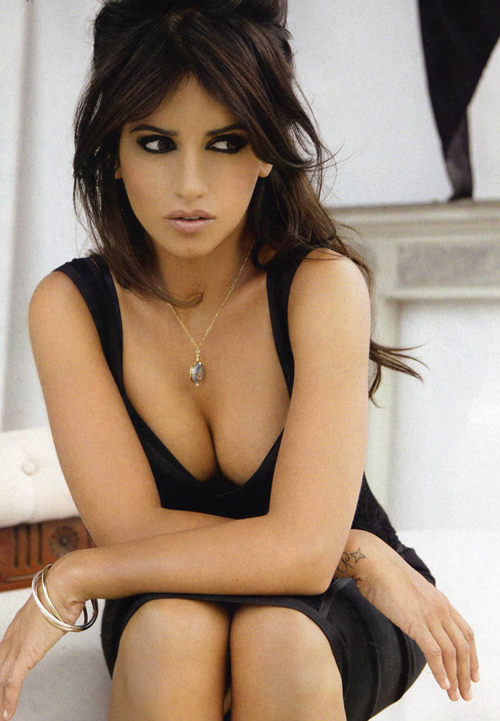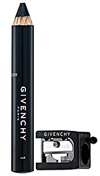 And, what do you think about Monica smoking in photo below? Maybe it's a cultural thing. It was shot for Spanish Elle, maybe smoking it's not as big a deal as in the U.S.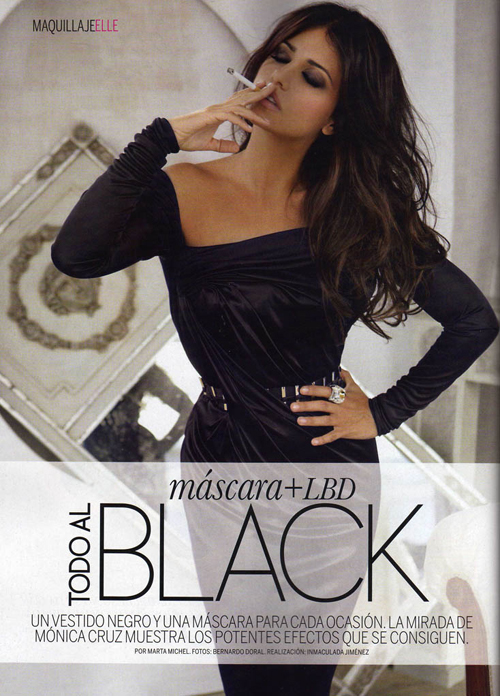 Images via: www.hollywoodtuna.com
Red carpet beauty scoop: get the look of Christina Applegate at the 2009 Emmy awards. Christina 's look was created by Makeup Artist: Joanna Schlip for Clarins.
The Makeup Look: Joanna was inspired by Christina's dramatic, sweeping gown by Basil Soda when creating her makeup look. The vintage glamour of the navy stunner called for simple makeup that still made a statement. With her hair pulled back in a chic chignon, Joanna was able to play up Christina's eyes with a sexy retro smolder, while keeping her skin fresh and lips softly pink. Like the dress, Christina's makeup exuded a Brigitte Bardot 60's cool, with a modern twist.

Emmy nominee Christina Applegate, nominated for Lead Actress in a Comedy Series for "Samantha Who" at the 61st Primetime Emmy Awards. Nokia Theatre, Los Angeles CA, September 20, 2009. Photo Credit: Mathew Imaging/WireImage.com
Skincare: To create a radiant glow, Joanna prepped Christina's skin with three steps: First she cleansed with Clarins Water Comfort One Step Cleanser. She then applied Clarins Multi-Active Day moisturizer, followed with Clarins Beauty Flash Balm for smooth, hydrated, radiant skin.
This week I tried products from Pur Minerals, a cosmetics line deigned to be free of petroleum-based oil, alcohol, talc, fillers, fragrance and dyes.
I really liked Pur Minerals Colour Correcting Foundation Primer in Green which reduces redness and evens out skin tone. I like to use this primer under my eyes to cover dark circles, and anywhere on my face I find a bit red, $29.50.
4-in-1 Pressed Makeup Foundation with SPF 15 which is is a natural mineral makeup concealer, powder and SPF 15 protection all in one. It applies beautifully on the face and covers minor skin imperfections. It feels light on your skin and not too heavy or overdone. You see your skin, not makeup, just a bit more perfect, $24.50.