All Posts Tagged With: "Pureology"
I loved Nicole Richie's look at Oscars 2010: the Reem Acra gown and the hairdo.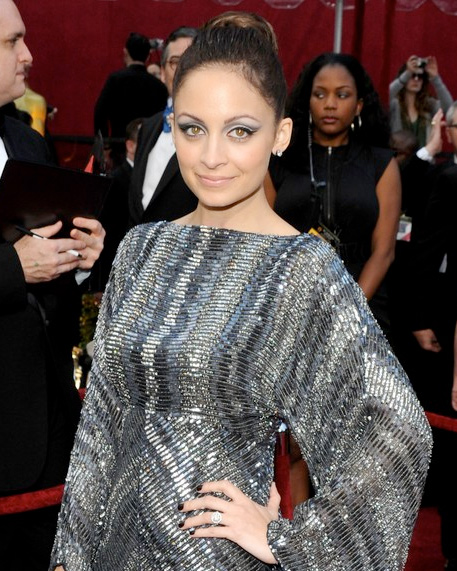 Hair Tutorial: Here's how to get Nicole Richie's Oscars 2010 Classic Bun with Pureology hair care products
1. Blow hair dry with Pureology SuperSmooth RelaxingSerum (also Marta's ultimate favorite) from hairline towards the back of the head.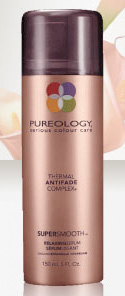 On my visit to New York City for Fashion Week this month I had the luxury to stop by at the Elizabeth Arden Red Door Lounge at the W Hotel. There I met with the Red Door Spa National Creative Director, Zahir Ziani, and also had one of the most va va voom blow outs of my hair history by the fabulous Billy Dee Williams (he's a true artist). Well, see for yourself. Thank you the Red Door Spa team!
Visit www.reddoorspas.com to find the nearest Red Door Spa to you!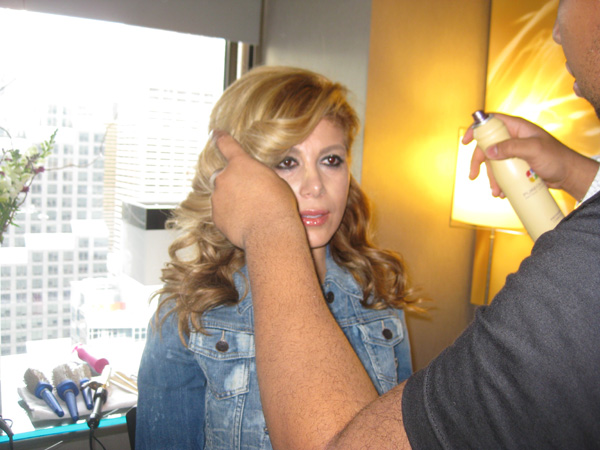 Marta Walsh at the Red Door Lounge. with Billy Dee Williams my hairstylist who swears by
Pureology hairspray!
Pureology Serious Color Care, the pioneer in ZeroSulfate shampoos, is working towards a more sustainable future and is proud to continue its support of Global Green USA, the U.S. affiliate of Green Cross International. Founded in 1994, Global Green's mission is to help solve the world's most pressing environmental challenges. Pureology will be offering the Hydrate To Make a Difference promotion featuring the best selling Hydrate System (March – June 2010 in salons).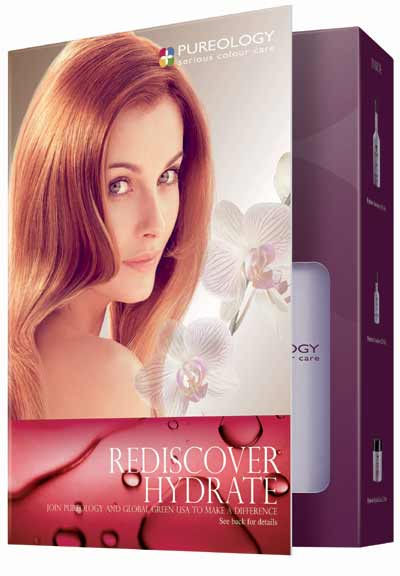 "Pureology is excited to continue its ongoing support of Global Green USA and will make a $20,000 donation in conjunction with these promotions," states Kirsten Marsh, Assistant Vice President of US Marketing for Pureology. "Additionally, consumers will receive $10 off their PureGreen Membership from March 1 – June 30, 2010, with this promotion. PureGreen Members receive a subscription to Global Green USA's Quarterly e-newsletter, Global Green USA pin, and personalized Global Green USA membership card."
It's been a long but fun beautiful year here at Talking Makeup. I've tried many beauty products and fell in love 100 plus times. Here is the list of my favorite hair products for 2009! I really hope you all enjoy "The List" and love them as much as I do:)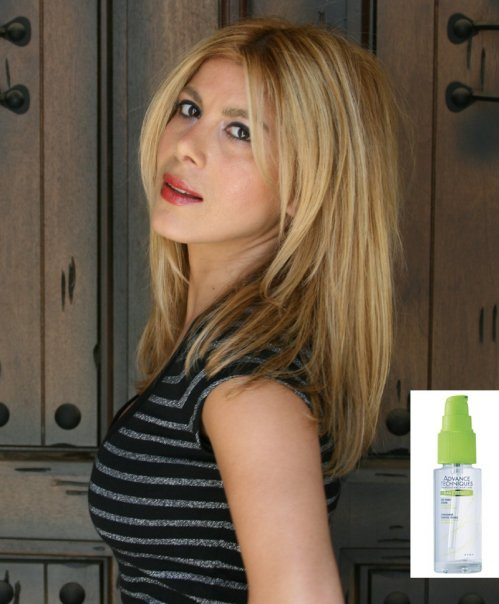 Marta Walsh is having a great hair day thanks to Avon Advanced Techniques Dry Ends Serum:)
Shampoo & Conditioner
For Blonde Hair:
1. Pantene highlighting expressions
2. John Frieda Collection sheer blonde
3. Redken Blonde Glam
Frizzy hair, dry hair, color treated hair:
1. Pantene Smooth Vitality
2. Pureology supersmooth and Pureology hydrate
3. Living proof no frizz
4. Paul Labrecque Repair
5. Moroccanoil moisture repair
6. L'Oreal Professionnel Paris vitamino color
7. Pantene Pro V Restoratives Frizz Control
8. L'Oreal EverPure Moisture
9. Leonor Greyl nourishing shampoo for long and dry hair
This holiday season Pureology gifted Hollywood with the Holiday Hydrate Kit to keep hair hydrated during the winter months. This kit comes in an eco friend box perfect for that sustainable conscious star in need of a bit of pampering. The gift set includes Pureology's top selling HydrateShampoo, HydrateCondition and GlossingMist.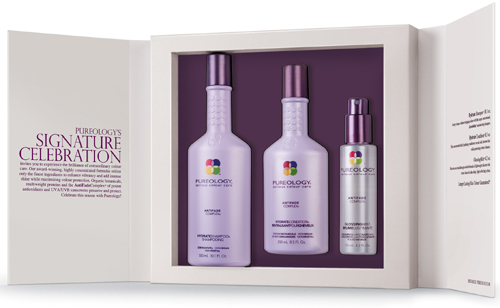 Recipients of the Pureology gift include: Sarah Jessica Parker, Heidi Klum, Victoria Beckham, Jennifer Lopez, Marc Anthony, Ricky Martin, Salma Hayek, Britney Spears, Paris Hilton, Drew Barrymore, Sharon Stone, Eva Longoria Parker, Fergie, Josh Duhamel, Faith Hill, Carmen Electra, Natalie Cole, Cate Blanchett, Jennifer Love Hewitt, Halle Berry, Miley Cyrus, Justin Timberlake, Charlize Theron, Courteney Cox Arquette, Reese Witherspoon, Teri Hatcher and Oprah Winfrey.
Celebrate the Holidays with a Gift from Pureology: Whether it's a stocking stuffer or a hostess gift at the next holiday party, Pureology offers the perfect gift for that special someone.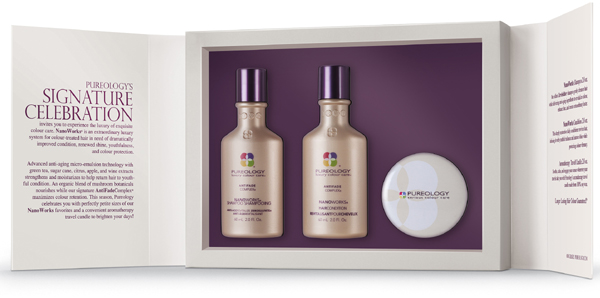 Holiday NanoWorks Hostess Gift: Present this beautiful gift box featuring Pureology's super luxury system and aromatherapy candle to the "hostess with the mostest."
NanoWorks Shampoo (2.0 oz. petite)
NanoWorks HairCondition (2.0 oz. petite)
Aromatherapy Travel Candle
Price: $28.00
Pureology Serious Colour Care provides the professional hair colourist and their clients with the highest quality, premium products, and continues this level of excellence into the digital world with the renovated Pureology.com. The website features new Pureology brand imagery with a dynamic homepage and expandable interactive framework.
Oscar wasn't the only accessory that sparkled at last nights show luxurious, brilliant hair shined its way throughout the main event. Pureology PureArtists Mary Katherine Hecht, Tyson Daniel, Sherilynn Smart, Darren Pena and April Webster and Wendy Belanger list the top three hair trends of last night's 81st Academy Awards along with step-by-steps for you to achieve the award show look at home. 
Top celebrities including Michael Shannon, Viola Davis, Amy Adams, Taraji P. Henson, Jane Seymour and Ted Danson, that attended the WOW! Creations Lifestyle Gifting Lounge at the Beverly Hilton Hotel received Pureology InCharge Firm Finishing Spray

…and GlossingMist Shine Spray in their gift bags.

Top hair trends at the Oscars:
1. Elegant Partial Up-Do as seen on Angelina Jolie
2. Futuristic Mold as seen on Kate Winslet
3. Chic Chignon as seen on Natalie Portman
Elegant Partial Up-Do: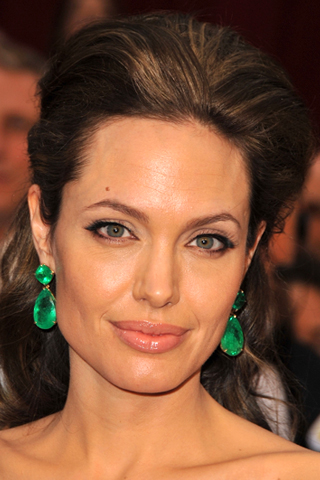 Angelina Jolie.
1. Set the hair with a 1.5 inch curling iron using Pureology InCharge Flexible Styling Spray. Pin the curls, let set and cool.
Volume and elegance swept the 15th Annual Screen Actors Guild Awards last night. Pureology PureArtists, Mary Katherine Hecht, Wendy Belanger, Sherilynn Smart and April Webster give us the latest hair trends from last night's award show.
Top Hair Trends seen at the 15th Annual Screen Actors Guild Awards:
Soft, peek-a-boo waves as seen on Evan Rachel Wood and Olivia Wilde.
Low Textured Bun as seen on Amy Adams, Kate Winslet and Christina Applegate.
Loose Pinned Curls as seen on Eva Longoria Parker.
How to get Soft, peek-a-boo waves:
1. Create a left side part. Take a two inch pie section on the right side and spray the hair with Pureology SuperSmooth Hot Iron Protection Spray.
Classic, elegant and simple described Sunday's night's look of the 66th Annual Golden Globe Awards. Pureology PureArtists highlight the top hair trends on the red carpet.
As the 2009 award season commences, the look of the night was simple and tasteful hairstyles. Pureology PureArtists, Mary Katherine Hecht and Sherilynn Smart give your readers the latest hair trends from last night's red carpet event and tips how to achieve the look at home.
The top three trends seen on the red carpet…
1. French Twist as seen on Kate Winslet, Eva Mendes and Christina Applegate
2. Classic Upsweep as seen on Evan Rachel Wood, Amanda Seyfried
3. Modern Chignon as seen on Anna Paquin, Eva Longoria, Kate Beckensale