All Posts Tagged With: "Giorgio Armani Beauty"
This week, Giorgio Armani Beauty unveils the secret to achieving the perfect complexion with the debut of the "Armani A-List Essentials".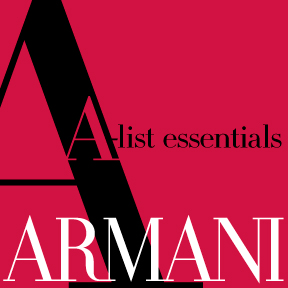 Giorgio Armani Beauty Celebrity Makeup Artist Tim Quinn has hand selected his favorite pieces from the collection that are essential to his highly coveted makeup kit. "There are a few products that I use on all of my celebrity clients – from Sophia Bush to January Jones – in order to achieve that flawless complexion. I always start with the Fluid Master Primer to create a smooth surface and follow with a foundation that is appropriate for both my client's skin tone and complexion. I finish by applying Fluid Sheer liquid highlighter along the outer edge of the eye and along the tops of the cheek bones to create that perfect luminous glow. The one tool that I use with all three products and absolutely cannot live without is our Blender Brush – it's my secret weapon!"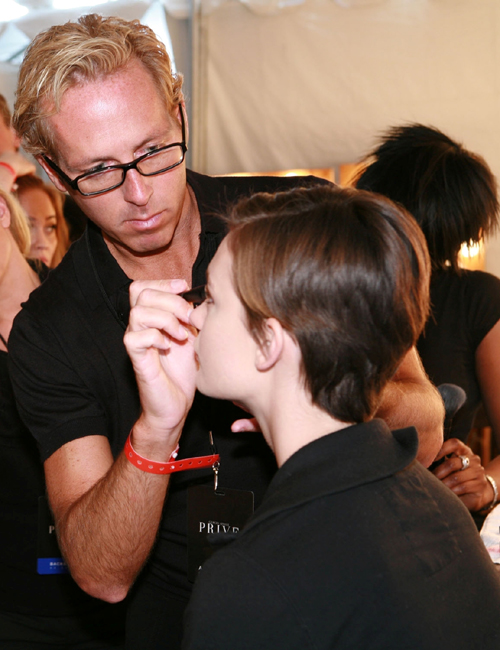 Giorgio Armani Beauty and Maxim are giving one lucky winner the chance to roll like a VIP and rub shoulders with gridiron MVPs when Miami hosts football's biggest event in February 2010. Maxim's Big Game Party is one of the biggest sports parties of the season and every year is a star-studded event. Live like a VIP and experience football's biggest showdown by attending the game and the hottest party of the season.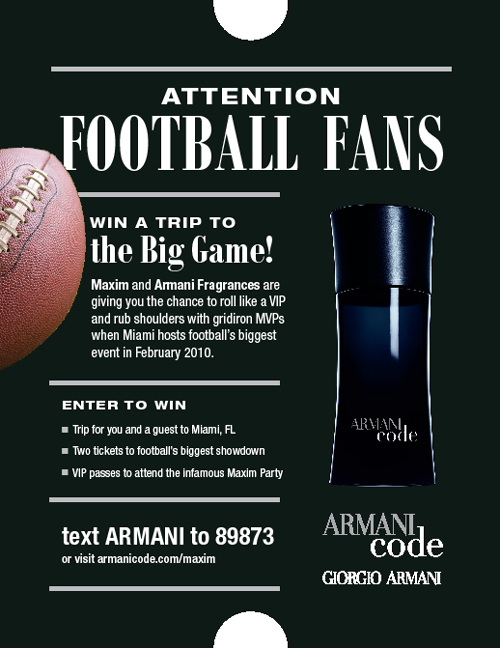 To enter to win a trip to the Big Game, text ARMANI to 89873 or visit www.armanicode.com/maxim . The prize includes a trip for the winner and a guest to Miami, FL, two tickets to football's biggest showdown, and VIP passes to attend the infamous Maxim Party.
Wow guys, sounds very luxurious!
Rouge d'Armani: Color ecstasy. Pure, luxurious ecstasy in lip color. More than color, more than comfort, more than contour, more than hold. More than a lipstick.
In image below Rihanna is wearing Rouge d'Armani during Fashion's Night Out September 10th, 2009.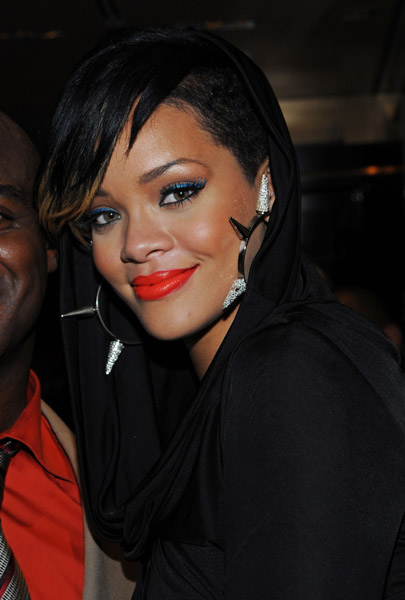 Rouge d'Armani hasn't even hit counters and has already become a cult favorite among beauty insiders – editors, makeup artists and celebrities alike. For Fashion's Night Out, the Giorgio Armani Beauty counter was a hot spot on Vogue's "Beauty Itinerary" with Rouge d'Armani 600 selected as a favorite by Vogue editors, while later that month Harper's Bazaar declared Rouge d'Armani 500 a "must-have" lipstick. Rouge d'Armani has also become a staple in makeup artists' kits whose brushes grace some of Hollywood's hottest stars, including Jennifer Nettles, Jordana Brewster, Taylor Swift and Camilla Belle. Several celebrities have been spotted wearing Rouge d'Armani around town, including Rihanna featuring Rouge d'Armani 401 and Kerry Washington wearing Rouge d'Armani 100 during NYC's Fashion's Night Out – it was the perfect long-wear lipstick for the night's festivities.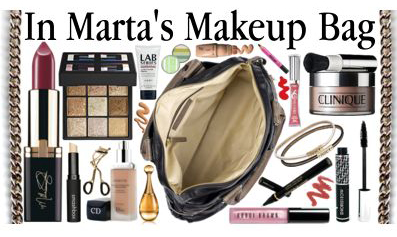 Watch Marta video blog talking about some of her favorite products in her makeup bag!
Products Marta loves:
DiorShow Mascara by Dior
Giorgio Armani Beauty Eyes To Kill Mascara
Giorgio Armani Beauty Lasting Silk UV Foundation SPF 20
Giorgio Armani Beauty Light Master Primer
Lancôme celebrity makeup artist Vanessa Scali worked her magic on Fame star Kherington Payne at the movie's Los Angeles premiere last night. Talking Makeup got on the inside scoop behind the rising star's graphic, smokey eye, pretty golden skin and shimmery nude mouth.
To start, Vanessa prepped the skin with Lancôme's Génifique Youth Activating Concentrate, which kept Kherington's skin fresh in the 100 degree heat. Lancôme's Effacernes in Light Bisque –Vanessa's favorite formula—was dabbed underneath the eyes. Bobbi Brown's Foundation Stick was applied on select areas with a small brush and blended with the fingers.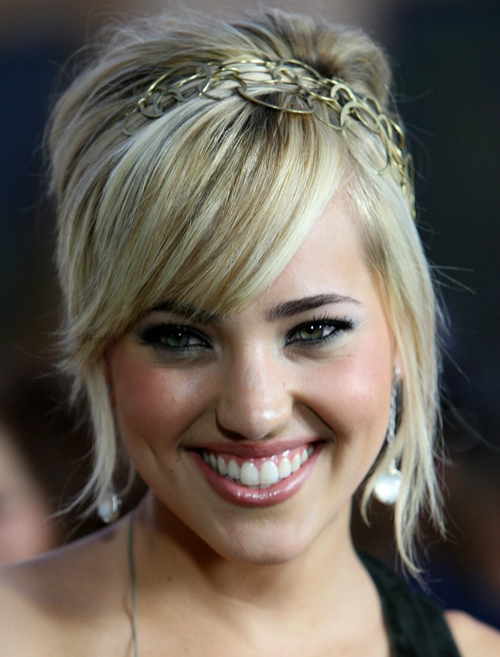 Lancôme's Blush Subtil in Sheer Amourose delivered a glowy look and was accented with Giorgio Armani Beauty's Fluid Sheer #2 on the cheek and brow bones. A dusting of Lancôme's Photôgenic Sheer Loose Powder, just on the T-zone.
For Kherington's dramatic eyes, Vanessa layered Shu Uemura's Pressed Eye Shadow in ME Black #990 and ME Olive #471.
Last week during New York Fashion Week I met fabulous Bailey Vincent Clark editor of www.makeovermomma.com at the Jill Stuart Spring 2010 fashion show. While we were waiting for the show to start, Baily ignored all the celebrities and "the beautiful people" attending the show just to interview me. Incredible! Bailey wanted to know all about my beauty secrets as a mom of 2 boys: Jake (3) and Kieran (1).

Marta Walsh (left) Baily Vincent Clark (right) at the Jill Stuart Spring 2010 Fashion Show
Beauty Bloggerati expert and makeup aficionado Marta, from Talking Makeup, is not only a pro at applying, buying and suggesting the best of everything beauty…but she is a mom to two boys! Check out her Top Must-Have Mom products for ladies on-the-go…
1) DiorShow Brow Styler (a ultra-fine brow pencil, perfectly for looking polished in a flash).
2) Clinique Superbalanced Powder Makeup SPF 15: "I don't have time to apply tons of products in the morning. This is great when I don't want to add foundation, powder, and the works."
3) Giorgio Armani Beauty Master Corrector (comes in four different skin balancing shades, to counteract any facial blotch, blemish or mishap!)
I  was walking along 5th Avenue in New York City this evening. I had to stop my walk with great excitment after seeing a  stunning window display at the Giorgio Armani store. It reminded me how much I adore Giorgio Armani's latest perfume addition: I'dole d'Armani.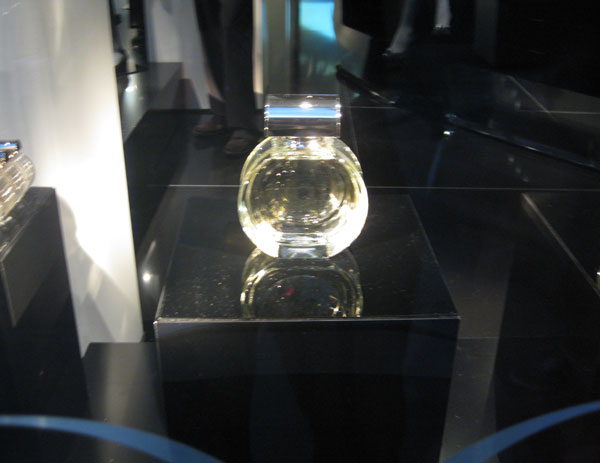 A sneak peek through the Giorgio Armani store on 5th Avenue New York City and to a gorgeous big bottle of Idole d'Armani
Idole d'Armani smells very elegant (Yes. Elegance has a scent!:) If you're not into sweet, fruity, or floral perfumes then this exquisite woody fragrance might be the one for you. Idole d'Amani is perfect for a wedding day, special date, or just anytime you want to feel and look glamorous. It has a very distinct scent and stands apart from any other perfumes I know. Every woman should own one classic perfume, Idole d'Armani is a great place to start.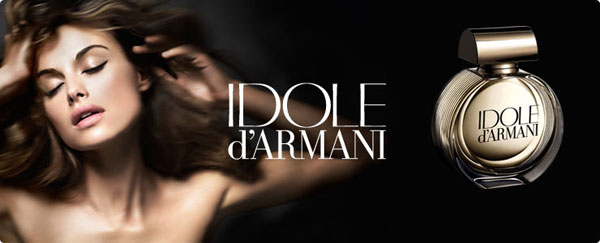 I always remember this quote by Giorgio Armani: "I have always carried with me an ideal of femininity – an irresistible combination of grace, beauty and independent spirit. IDOLE d'ARMANI is my tribute to this ideal, and to women everywhere."
We've just learned that Rihanna wore Giorgio Armani Beauty's latest lipstick addition: Rouge D'Armani 401  during Fashion's Night Out 9/10/09.
Rouge D'Armani was debuted during Fashion's Night Out by Giorgio Armani Beauty.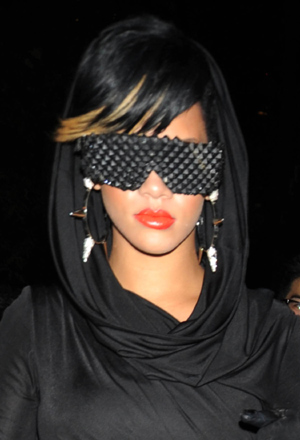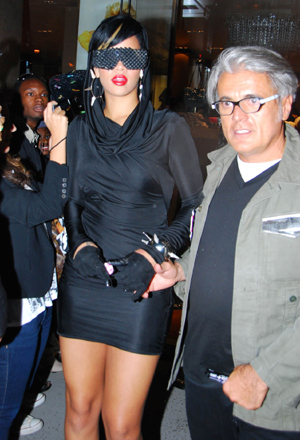 Get A Sneak Peek To Rouge d'Armani NEW Lipstick by Giorgio Armani Beauty
Images via www.hollywoodtuna.com
Join Fashion's Night Out with Giorgio Armani Beauty and get a sneak peek to Rouge d'Armani-the NEW Lipstick!!
Fashion's Night Out – Giorgio Armani Beauty: Our lips are sealed…with a kiss…and you can be the first one to get in on the secret during Fashion's Night Out on Thursday September 10th. Come to the Giorgio Armani Beauty counter at Saks Fifth Avenue NY where National Artistic Director and Celebrity face designer, Tim Quinn, will be for one night only from 5pm-8pm to discuss fall trends and debut Rouge d'Armani – the new lipstick from Giorgio Armani featuring 8 hour wear and pure color ecstasy.
For that night only Giorgio Armani Beauty will feature Rouge d'Armani #400 rouge and #600 plum, (a shade that's sure to be in Vogue Beauty Editor Sarah Brown's makeup bag for fall!). Be the first to get these luxe lipsticks at Saks Fifth Avenue from 5pm-8pm on the 10th because after that both Tim and the coveted shades disappear until October 15th…(psst – we will also have a wait list at the counter so you can be the first to get them when they officially hit counters next month!)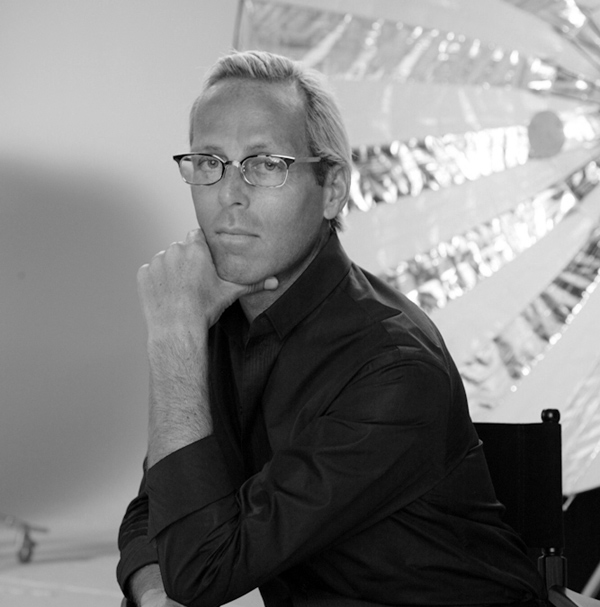 Tim Quinn, National Artistic Director and Celebrity face designer for Giorgio Armani Beauty
Few weeks ago I was given an incredible chance to chat with Tim Quinn over the phone. Tim Quinn is Giorgio Armani's Celebrity Face Designer National Director, Creative Artistry.
I met Tim in New York City during my trip with DailyMakeover.com this past July (2009). The meeting was in Pastis one of my favorite restaurants to hang out when I used to live in New York City. As soon as I was introduced to Tim during breakfast I knew I had to interview him and share with you his beauty insights and story of top celebrity makeup artist. As you can sense, I'm a huge fan. I remember telling him that I loved his style and that he looks "Very Armani": That very pale almost platinum blonde hair, and the chic eye glasses. Believe it or not, Mr. Giorgio Armani himself set a table next to me in Cipriani Downtown SOHO few years ago, so I got to know the look:)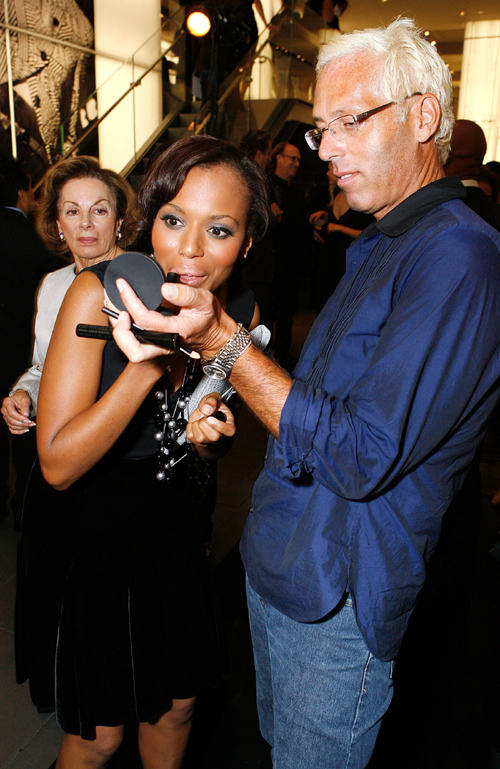 Tim Quinn and Kerry Washington
A little bit about Tim Quinn: After training in Milan alongside world-renowned makeup artist Pat McGrath, Tim Quinn joined the Giorgio Armani Beauty team with the launch of the brand in September 2001. His myriad experience as an artist includes work in TV, print, and film. Tim has been featured as one of the "25 Beauty Stars" in W Magazine and has worked backstage at several award shows including the Academy Awards and the Golden Globes. Tim has worked with a number of celebrities such as Glenn Close, Debra Messing, Victoria Beckham, Kim Cattrall, Gwen Stefani, Kate Bosworth, Minnie Driver, and Brooke Shields. He has designed faces for Helen Mirren, Julia Roberts, Naomi Campbell, Katie Holmes, Sarah Jessica Parker, Barbara Walters, Lucy Liu and Drew Barrymore.  I might even missed few names!
Marta Walsh: When did your fascination with beauty begin?
Tim Quinn: From as far back as I can remember I was drawn to the world of fashion and beauty. I was born and raised in the countryside of Connecticut and was always encouraged by my parents to go outside and play – TV was only for special occasions and the internet was still years away, so my siblings and friends would create our own worlds of entertainment. My paternal grandmother was widowed rather young and she remarried an attorney from New York. They lived in New York City during the week and at her country home in Litchfield, CT on the weekends. My visits and travels with them truly influenced my young mind – I thought of her life as my very own 'Green Acres'. I became a glamour addict – watching her dress for dinner in NY, DC and even Iceland – the whole idea of the hair, makeup, jewelry and furs created such a glamorous world that was so different then the life I knew in Connecticut.