All Posts Tagged With: "brows"
Star Beauty Product:  Christi Harris Brow Planning System ($59) Beauty expert Christi Harris introduces a complete approach to shaping and maintaining the perfect brows. Featuring all the tools you need to naturally fill and contour, the at-home kit makes you your own brow artist—no experience necessary.
Marta highly recommends the Christi Harris Brow Planning System! I love how all the tools you need to shape your eyebrows are in one kit. It keeps your makeup area well organized and it is also perfect for travel! The kit includes every brow shade for dark brunette to blond and you can adjust it. I don't leave my house with out it!
Visit www.christiharrisbrows.com for additional product details.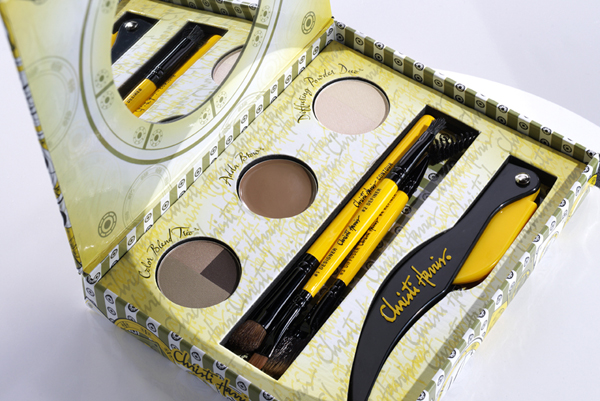 WATCH: Eye Brow Tutorials by Christi Harris!
Beginner Steps to Blissful Brows. Guidelines for a tiny and well-groomed brow. To get started, the beginner steps are a great way to improve your current brow look. This video will educate you how to easily design, define, diffuse your way to beautiful brows.
Vera Farmiga was sporting red lips at the Up in the Air LA Premier on Monday, November 30th, 2009, Westwood, Los Angeles, CA. Vera was wearing a dress by Dolce & Gabbana and her makeup look was created by Tina Turnbow, a Natural Makeup Artist.
"Vera's look was simple glamour: Her dress was ephemeral – a white, almost grecian Dolce & Gabbana, and I wanted her makeup look to shine forth her beautiful features, while keeping that simple, effortless air."-Tina Turnbow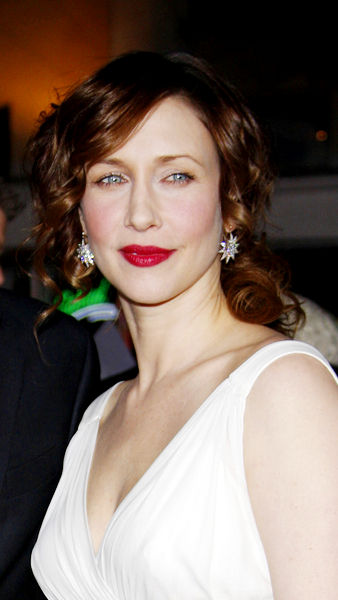 Face Products: "Vera has a beautiful, fair complexion, so I kept it simple – with a lightweight foundation and finished with a light, rosy blush.
Foundation: Almay Pure Blends Mineral Makeup in Fair – "l love that this foundation is 97.4% natural"
Blush: Revolution Organics Freedom Glow Beauty Balm in Blushed – "It's a beautiful cream stick that creates very natural-looking rosy cheeks." Mineral Fusion Blush in
Trace "a soft, baby pink to highlight cheek bones"
Powder: Tarte Provocateur SPF 8 Pressed Mineral Powder & Compact in Fair
Jennifer Lopez lit up the red carpet at the 'This Is It' premiere.
Here is how you can get Jennifer Lopez aka JLO's look for less with MILANI COSMETICS:
"She will usually emphasize one feature at a time, never allowing her makeup to overpower her exquisite features," says Celebrity Makeup Artist Bebe Booth, who has worked with everyone from Britney Spears to Shannon Elizabeth. Bebe reveals how you can recreate Jennifer's look for less with MILANI COSMETICS for around $50! www.milanicosmetics.com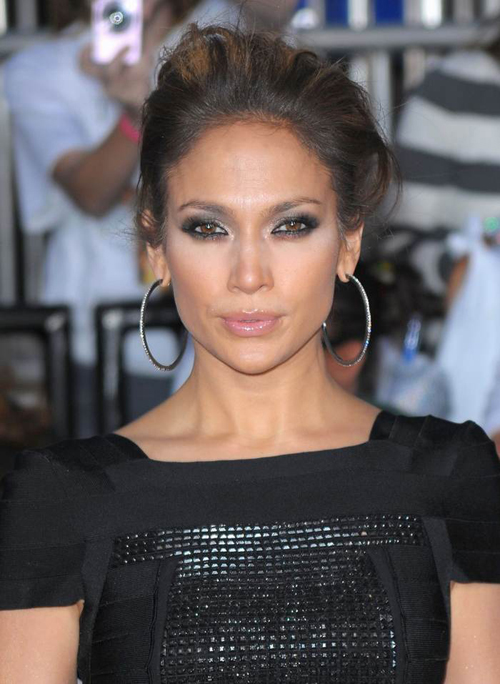 EYES: It is all about the eyes for this look. To achieve these beautiful bold smokey eyes for an evening out on the town, you will need several shadows to create the look. I recommend two palettes from Milani's Runway Eyes Fashion Shadows; Backstage Basics ($8.99) for your shimmery silver & black shades and the Ready To Wear ($8.99) palette for the golden highlight around the inner corners of your eyes. Each of these palettes has six shades to choose from, so you have many options for creating a soft or heavy smokey eye. For this look, keep the darker shades toward the outer crease and the shimmer highlights toward the inner crease of the eye.
The Show: Maria Grachvogel
Lead Artist: James Boehmer, NARS Cosmetics International Lead Makeup Artist
Trend: Bold Red Matte Lips and Strong Brows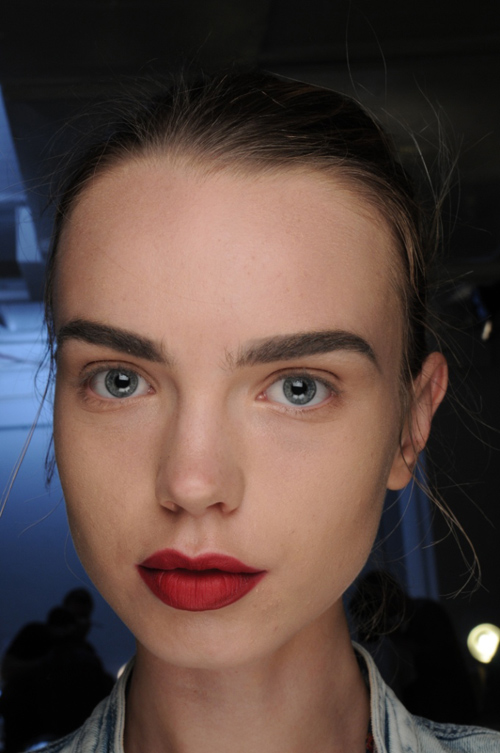 Inspiration: Maria Grachvogel used iconic references of Princess Margaret as photographed by Lord Snowden and Tippi Hedren in "Marnie" to convey the mood of her collection in a modern way- polished yet glamorous.
Look: The look is polished and strong- inspired by a glamorous and modern twist of Hitchcock's femme fatale. "This look is not about the glowing skin underneath- it's about the makeup- the brows need to be long and sketchy and the lips need to be rounded and bee-stung," said lead artist James Boehmer. A flat, matte lip paired with a strong brow was balanced by a bare eye. "The lip," James warns, "has to be really rich and vibrant- the focus is getting that rich lip otherwise the look can appear as if something is lacking."
Below are some key products and steps for recreating the look:
The show: Liquid Metal
The trend: A strong cat eye
The Color Story: Incorporating the vintage yet edgy style seen in the collection, the makeup look features structured brows, a strong cat eye, porcelain skin and deep red lips. The makeup look was by Sephora PRO Beauty Team, lead by Gilbert Soliz.

Photography courtesy of Nick Baratta
How to Get the Look:
• Complexion – To create a polished face, start with the Sephora Collection Hydrating & Smoothing Foundation. Then, buff on the Sephora Collection Mineral Double Compact Foundation SPF 10 with the Rounded Powder Brush #4.
• Eyes – Master the cat eye by applying the Sephora Collection Waterproof Retractable Eyeliner in Black to the top lash line. Use the Sephora Collection Brow Tint Pen to create sophisticated and structured brows.
• Lips – To complete the look, try the Kat Von D Painted Love Lipstick in Underage Red.
Simplify your life with the newest fall launches from Darac Beauty.
Darac Brow Trio: Brows are the best place to set the stage for symmetry and youthful beauty. This on-the-go pencil has everything you need: a goof-proof chiseled brow pencil, an eye brightening phosphorescent powder for a bright alluring look, and a perfect brow blending brush ($22).

Darac Solution Central: Solution Central is a perfectly sleek solution to the age old problem of where your brushes and tools live. Cups get knocked over and allow brushes to collect dirt and dust.
Sania the Brow Expert's Secret Weapon: Dior's NEW Brow Styler!!! Sania Vucataj of Sania's Brow Bar is the go-to brow guru for celebrities, socialites and top editors alike. Her expertise has been featured in Vogue, Elle, Allure, Harper's Bazaar and O the Oprah Magazine. Sania's Brow Bar is located just steps from Bergdorf's and Bendel's at 18 West 56th Street in NYC (www.saniasbrowbar.com ).
Sonia's trick of the trade? Dior's NEW Brow Styler ($28). Says Sania: "I love this pencil because it's extremely defined, so it's amazing when outlining the brow and filling in any sparce areas," says Sonia. "Because of the pencil's precision, you can draw in very subtle, soft, feathery strokes to achieve the effect of little hairs. The consistency of the pencil is amazing because it's not waxy-it's a very dry tip which blends beautifully with the hairs."
Find out what goes behind makeup on the set of Mad Men on AMC: MAC Artist Relations department provides makeup support to several movies, theater and TV shows. Of course, Mad Men is one of them! Talking Makeup is excited to share with you a Q&A with Mad Men's lead makeup artist Lana Horochowski.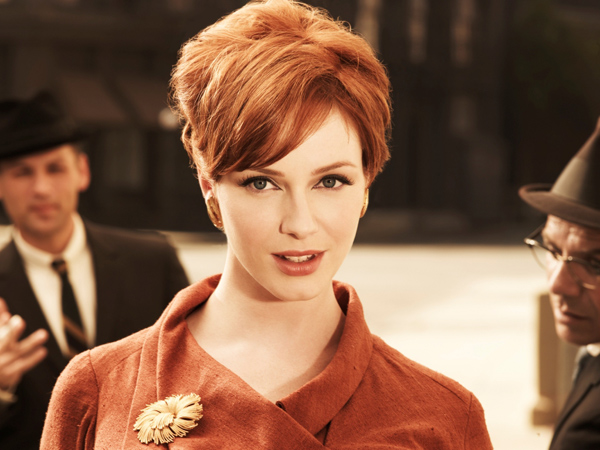 Q: You're the new department head at Mad Men for Season 3, will you be making any changes to any characters makeup?
A: Since we are moving a little forward into the future, we have changed up the color palette for each character to go along with the time period.
Q: When you were preparing for this season, did you do any research for inspiration? If so, what most inspired you?
A: Weeks and weeks of meetings and research. I love looking through the old magazines. They are a great reference and a huge source of inspiration; however, we do try to keep the characters looking like real people that do their own makeup and not like movie stars with a makeup artist standing by. Magazines and old movies are a great guideline for a basic look and color selection.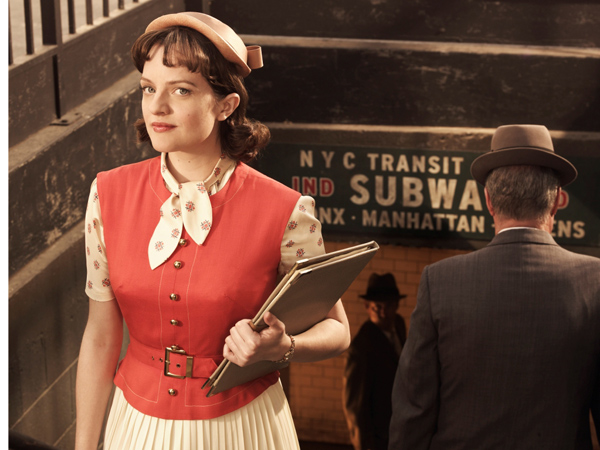 Sienna Miller was wearing CHANEL Beauté makeup at the U.S. premiere of G.I. Joe, Thursday, August 6, Los Angeles, CA.
Here is how to get Sienna Miller's makeup look at the U.S. premiere of G.I. Joe:
Makeup Artist Kate Lee: Beauty Inspiration: "Sienna was really keen to embrace the spirit of old Hollywood for the premiere of GI Joe at the Chinese Theatre. The dress was a glamorous YSL silk chiffon encrusted with beads in a kind of neutral colour. "
Beauty Tip:"Adir Abergel and I wanted to create a look that would be classical but modern. It was Sienna's idea to go with a strong lip. I kept the rest of the make up very neutral, gently sculpting the cheek bones with a mixture of Soleil Tan de CHANEL and CHANEL Powder Blush in Tempting Beige. The eyes were clean and simple to bring the attention to the lip. I used CHANEL Éclat Lumière in Beige Rosé all over the lid and then shaded in the sockets with CHANEL Soft Touch Eyeshadow in Sand. I spent quite a bit of time on the brows to lengthen them, and after lashings of Exceptionnel de CHANEL in Smoky-Noir, I added both individual and cut up strip lashes. The lips were a mixture of two CHANEL Rouge Allure shades, Fatale and Obscure, both launching this Fall."
Image via: mirror.co.uk