All Posts Tagged With: "Manicure"
Sneak Peek: The cover for the next V Magazine (issue #65) which hits newsstands Tuesday, May 11th, 2010: "The Summer Scorcher issue," starring gorgeous actress Scarlett Johansson. Scarlett stars in Iron Man 2 which opens in theaters today, May 7th, 2010. The 21st century starlet was shot by famed photographers Inez van Lamsweerde and Vinoodh Matadin, and discussed her transformation as a woman with the various challenges she has faced throughout her career as an actress.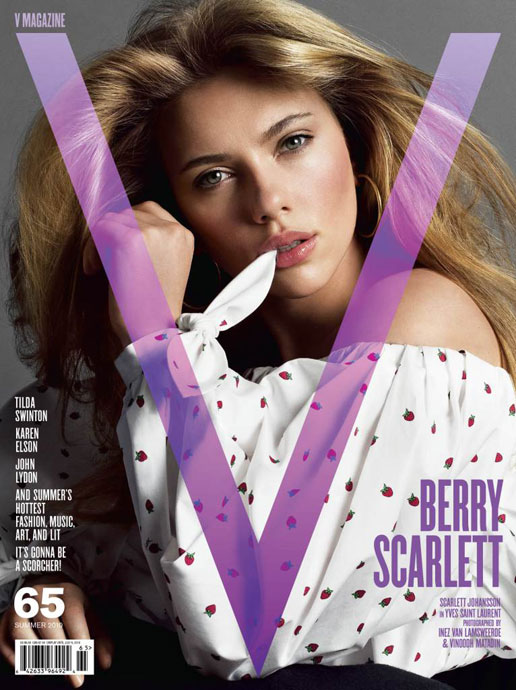 "Working with these incredible hair and makeup teams, you go in looking like a schmoe, and you come out like a movie star."-Scarlett Johansson
CND introduces Fall's limited edition Colour & Effect: "Texture adds to the strength of the look – and autumn is all about dimensional manicures," says CND Co-founder Jan Arnold. Nails take their cue from striking blue-greens, effervescent reds, and offbeat beige, camels and grays this season.

Steely Dan: Extravagant midnight manicures and tonal shades of heathered mushroom and gray nails complement this Fall's masculine palette of mossy greens, black leather and textured fabrics. To achieve Ruffian's (seen in image above) "Lunar Eclipse" manicure, pair deep blue Inkwell with Gold Chrome around the cuticle edge for a metropolitan look.
Nail Trends: French Nude Colony by CND: While the runways have been filled with prim clothing, nails are going nudist! Not bare-naked, but perfected flesh tones. Just as airbrushing makes skin appear flawless, these gorgeous Colours hide imperfections and make for an elongated, natural-looking nail. At Sonia Rykiel, CND used warm, opaque neutral Desert Suede for a creamy finish. At Giambattista Valli and Jasmine di Milo, CND used semi-sheer neutral Putty for gorgeous, chic manicures.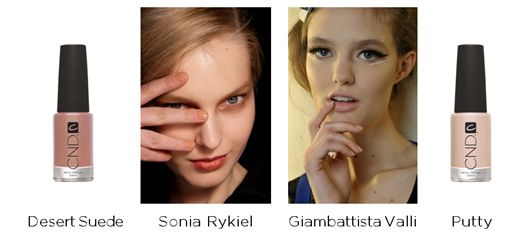 GET THE LOOK: Love Marion Cottilard hairdo at the 2010 Golden Globe Awards? Marion Cotillard's dramatic Golden Globe hair look, created by master stylist Robert Vetica, complemented her elegant Dior gown with a subtle touch of rock and roll.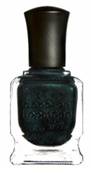 Manicurist Deborah Lippmann polished off some of Hollywood's hottest looks at the Golden Globes on Sunday. Past Golden Globe winner Marion Cotillard wore Don't Tell Mama. The young and modern shade was the perfect accent to her green Dior gown.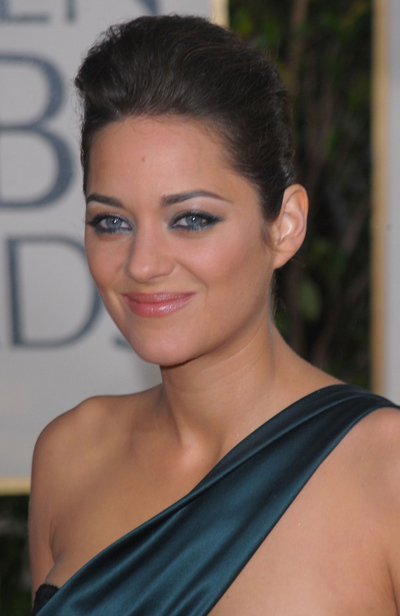 "I wanted a look that was glamorous, but with an edge," said Vetica, "and was inspired by the rock and roll pompadours of the 50s, further strengthened with a sleek, modern French twist. Since shiny, healthy-looking hair was essential to the look, I first applied argan oil-infused Moroccanoil Treatment to wet hair, and blow dried it straight using a diffuser to keep a bit of natural texture. Then I pincurled the entire head front to back, so that hair would easily flow back and up into the pompadour shape. After releasing the pin curls, I ran Moroccanoil Hydrating Styling Cream through the hair with my hands. After brushing back and up, I back combed the top, and pulled the sides back tight, leaving some volume on top. Next, I twisted the hair into a tight french twist which was then asymetrically attached with eye-catching diamond hair clips created by Chopard. I fishined the look with a light misting of Moroccanoil Glimmer Shine Spray to give Marion's hair a beautiful, naturally luminous shine."
Kate Hudson looked pretty and elegant in Marchesa at the 67th Golden Globes. Kate wore a strapless silk crepe gown with sculptured band bodice and bottom flared skirt.
Celebrity manicurist Deborah Lippmann polished off some of Hollywood's hottest looks at the Golden Globes on Sunday. Kate Hudson wore a classic deep red called Lady Is A Tramp to offset her pure white Marchesa dress.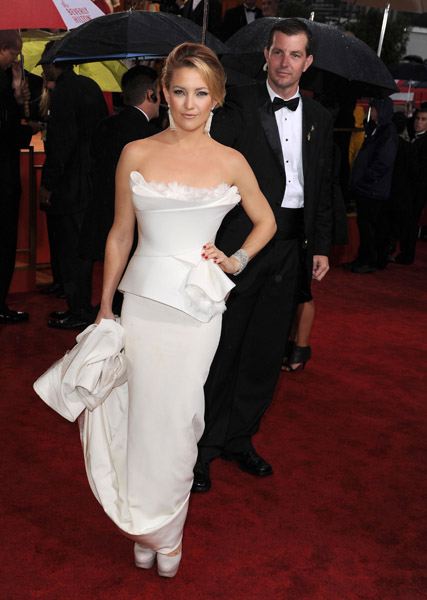 Hello lovelies! Amazing deals being offered at the OC61 Salon & Spa in New York City through December 31st.  OC61 Salon & Spa is located at 33 East 61st Street. 212-935-6261 for appointments.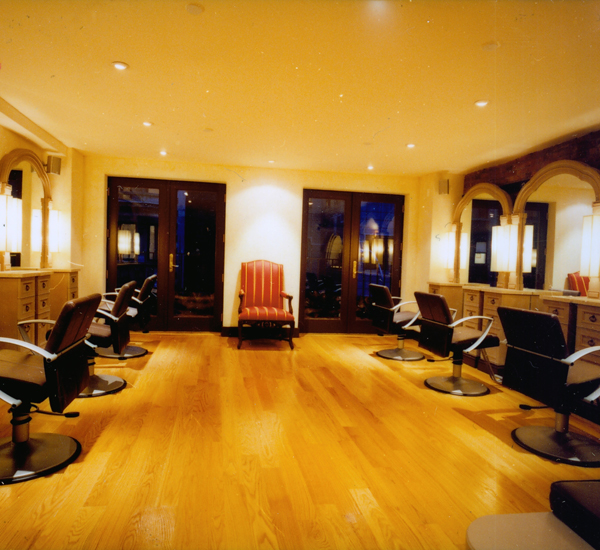 · Receive a complimentary blow out with a facial, manicure and pedicure ($240)
You can have your cake and eat it too. Indulge in a complimentary blowout after getting your face, hands and feet in shape for the holidays.
In need of a beauty revamp? Expert style advice or hot new party looks?
Topshop has teamed up with the Serge Normant at John Frieda Salon, Jouer cosmetics and nail specialists M2M to create the ultimate army of fashion and beauty experts – and they are here to help get you looking party perfect!

For one week only – December 14-21 -you are invited to stop by the Topshop Dressing Room to kick up their feet and get pampered like the stars.
CND Colour & Effects is a NEW range of professional quality nail polishes with endless possibilities. I was introduced to the world of CND nail polish backstage at Baby Phat by Kimora Lee Simmons Spring 2010 Collection and since then I am SO curios to try! I will keep you posted guys. Meanwhile enjoy the news:)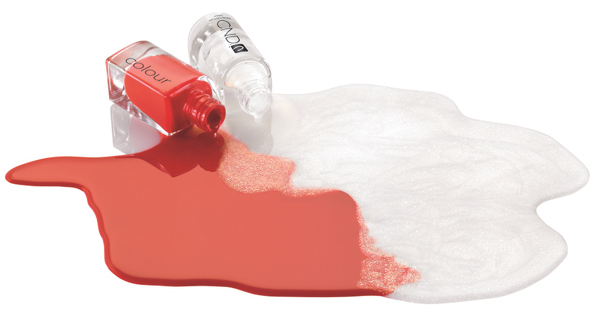 • Full spectrum palette of 50 luscious crème Colours including sheer, semi-sheer and opaque neutrals, pinks, darks and brights plus 3 pure chromes in gold, silver and copper
• 15 dazzling Effects in sheer hues of three textures – Pearl, Shimmer and Sparkle – to "accessorize" crème polish or wear alone
• 3-Free – no toluene, formaldehyde, or DBP (Dibutyl Phthalate)
• Rich and creamy two-coat, fast-drying formula
• Ergonomically designed bottle with rubberized cap for no slip-grip and easy opening
• State-of-the-art brush with clear, triangular-shaped nylon bristles for flawless application
Autumn has arrived and with it an array of rakish hues to match the cool, crisp fall wardrobe. From matte finishes to smoky shades and fun designs, Sephora provides you with the latest nail necessities to polish off your dashing look.
Revamp your nails with these trendy colors:
· NEW! Sephora by OPI in Dark Room ($9) – The fall runways were flourishing with dramatic shades! Grab this deep hunter green with black undertones to make a statement.

· NEW! Dashing Diva Nails ($10) – Made for glamour gals on the go, these press on nails allow for a quick, flawless manicure minus the mess. From vampy decals to French tips, get a polished look in seconds!
· LIMITED EDITION! Sephora by OPI in Matte Metro Chic ($9) – Perfect for the fashion forward manicure maven, this matte-finish polish is a true beauty must-have.
During my time in NYC for Fashion Week Spring 2010 last week I stopped by the fabulous CVS & Robert Verdi lounge. The lounge was full of the latest hot new products at CVS. One of them was Sally Hansen latest HD nail color collection which I was absolutely in love with. The manicurist at the lounge applied Sally Hansen HD Nail Polish in Opulent Cloud: a gorgeous silver, with golden and some purple undertones. This shade is very chic and modern and the icing on the cake: it didn't chip for  4 days!! I call it: "The Nail Polish That Doesn't Chip". It's currently available at CVS, so go check it out!!
I took images below while I was getting my manicure at the CVS Robert Verdi Lounge in New York, a special event for beauty editors and beauty bloggers: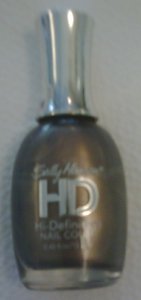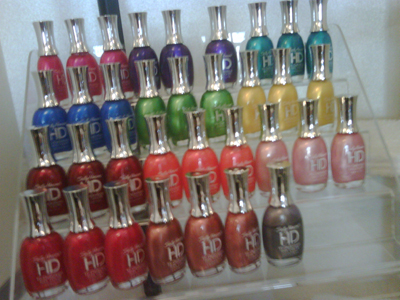 Sally Hansen HD Nail Polish in Opulent Cloud (left) more colors on right
Also, NEW Sally Hansen Complete Salon Manicure: Watch a sneak  peek video backstage at Tracy Reese fashion show during New York Fashion Week Spring 2010 and learn more about Sally Hansen Complete Salon Manicure, a collaboration with fashion designer Tracy Reese ans Sally Hansen. Also in video: Gabrielle Union.
A fashionable collaboration between nail color expert Sally Hansen and designer Tracy Reese at her Spring 2010 Runway Show. For the eighth season in a row, Sally Hansen has joined forces with fashion icon Tracy Reese to create the ultimate accessory for the feminine yet modern spring wardrobe, inspired by Reese's visionary spring collection. The runway look was created with Sally Hansen Complete Manicure in Midnight In New York which provides a deep ebony base, while Hidden Treasure brushes on an unexpected finish of molten metallic, for an exclusive, never-been-seen before manicure.
The Tracy Reese For Sally Hansen 2010 Spring Runway Nail Collection will be available nationwide in April 2010.

Tracy Reese For Sally Hansen