All Posts Tagged With: "Stila"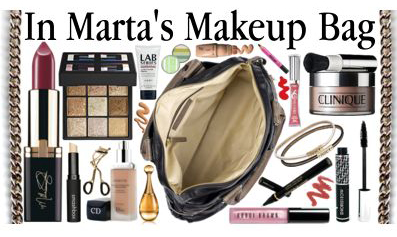 Watch Marta video blog talking about some of her favorite products in her makeup bag!
Products Marta loves:
DiorShow Mascara by Dior
Giorgio Armani Beauty Eyes To Kill Mascara
Giorgio Armani Beauty Lasting Silk UV Foundation SPF 20
Giorgio Armani Beauty Light Master Primer
New York Fashion Week Spring 2010 is here and we can't be more excited! I'm heading to NYC this weekend to report from some of the hottest fashion shows this season. Get the the scoop HERE on the latest on backstage makeup & hair by beauty brands, such as: MAC Cosmetics, Stila, Shu Uemura, Redken, Warren Tricomi and more.
I will be twittering from New York City a lot so make sure to follow Talking Makeup and me, Marta Walsh, on Twitter: www.twitter.com/TalkingMakeup
Inspired by looks created for the first ever Barbie runway show – Fall 2009 New York Fashion Week – the new Barbie Loves Stila fall collection has everything you need to get all dolled up.
The collection is available on the Stila Cosmetics site from September 2009, and you can even snatch up the ultra-glam Barbie Loves Stila Smudge Pot and Barbie Loves Stila Lip Glaze NOW on www.stilacosmetics.com  as a special preview.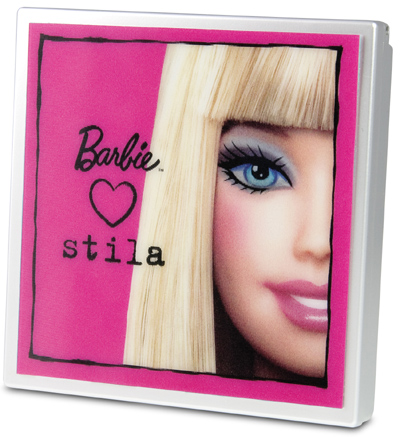 Barbie Loves Stila All Doll'd Up Palette ($28): A must-have for any glam girl, this adorable refillable compact – decorated with a lenticular of the iconic Barbie stare contains FOUR eye shadow trios (TWELVE eye shadow shades!) for endless looks and countless levels of glamour.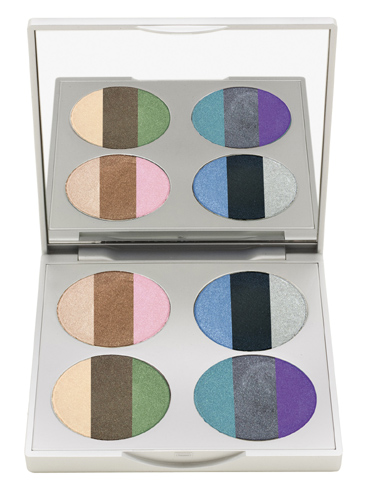 Join the fabulous follwing fashion and beauty brands during Fashion's Night Out in NYC, Thursday, September 10th, 2009! I feel New York Fashion Week Spring 2010 in the air:)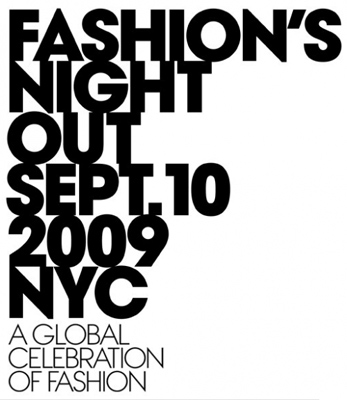 Oscar Blandi Salon: The Oscar Blandi Salon will offer an exclusive Blowout Lessons and Bellinis Master Class at 9pm. This service teaches clients the necessary skills to style and maintain the look of a salon blowout at home. Customers can sign up in advance to participate. Bellini's, champagne and hors d'oeuvres will be served.
Laura Mercier: The Laura Mercier counters in Saks, Bergdorf Goodman, Henri Bendel and Bloomingdale's will be hosting "Lash Out" events where consumers can receive complimentary lash application with a lash purchase.
Who's the Fairest? was launched September 1st (09), this is very exciting news because Marta Walsh (ME:) of Talking Makeup is one of their contributors! So make sure to check it out guys:)!!
A little bit more about Who's the Fairest?: It is the blog for beauty private-sale site The Fairest. With an All-Star team of expert contributors led by Editorial Director Nadine Jolie. Who's the Fairest? strives for truth in beauty and an in-the-know roundup of what you need to look and feel your best.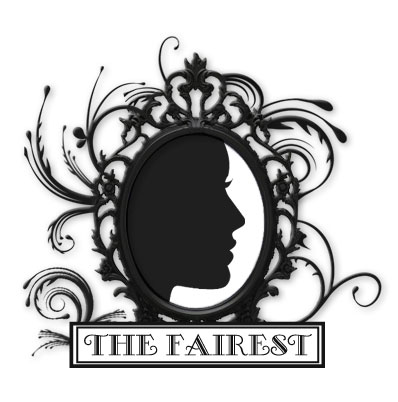 The Fairest is an exclusive, members-only online beauty destination where beauty lovers (like you:) can participate in premier-brand, private sale boutiques, each open for 24 to 48 hours. Membership is free and members can purchase today's top beauty brands up to 75% off of retail.The first two sales are Stila and COOLA Suncare, an amazing organic sunscreen line that smells divine and is chock-full of antioxidants.
Tune in to HSN tomorrow, Tuesday, September 2nd AND Wednesday, September 3rd! Stila Pro Jeanne Tamayo is taking over the HSN airwaves! Jeanne will be featuring exclusive Stila sets for HSN as well as insider beauty secrets. You don't want to miss it!
Show times in image below, also check Stila offerings!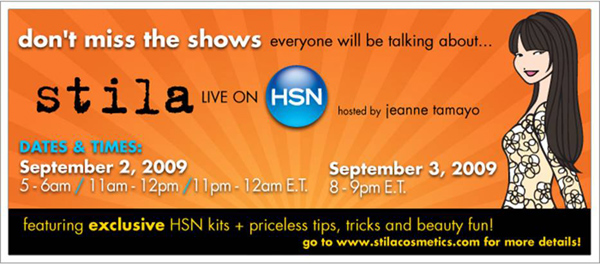 Few weeks ago I was given an incredible opportunity to interview actress and FAME star Kay Panabaker. It was such pleasure chatting with Kay over the phone. She came across as extremely intelligent, witty, and very dedicated young woman. She completed her BA in History from UCLA before she turned 18! And, she is beautiful. Watch out Hollywood!
Kay gave me the biggest compliment: "Thank you for an intelligent interview and questions. I'm not used to those. I'm used to 'What's your character like' and 'Whose the most famous person you have in your cell phone'. I appreciate this interview, it was great."-Kay Panabaker.
Thank you Kay!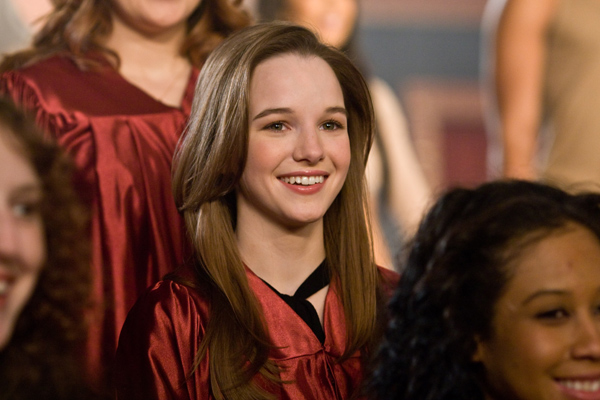 Kay Panabaker plays the role of "Jenny" in the upcoming film FAME, a movie based upon the 1980 film which follows NYC talent attending the New York City High School for the Performing Arts, (Known today as Fiorello H. Laguardia H.S.) The Movie "FAME" is in theatres September 25th, 2009 (USA).
I caught up with Kay one afternoon this summer to chat about her love for acting. Her charcter "Jenny" in the upcoming film "FAME". How she finds the balance between life and an acting career. Kay even reveald to me what's in her makeup bag and future plans.
Marta Walsh: Why have you decided on a career in acting? How did it all began for Kay?
Kay Panabaker: My sister (Danielle Panabaker) and I kind of fell into acting. She and I used to do the same activities, like dancing. We would then take the same dance classes, and then the same print work and commercials. That was back in Georgia. When we moved to Chicago we started to do more theatre. One of our agents then recommended that we should move to LA. My mom was very skeptical. She told us it was a crazy idea and that we will never make it. So in a way I fell into acting, but I've been loving it pretty much from the beginning. When I was 10 I hardly even watched TV, so I don't how I discovered the love for acting and movies.
MW: How do you find the right balance between school and enjoying life as a young woman and at same time working in Hollywood? What advice can you give to young aspiring actors and actresses?
KP: School and education are very important to me and I believe it is possible to do both. Just because you want to be an actress doesn't mean you can't go to school. I started community college when I was 13. I used to go to work during the day and go to school at night. I would do my homework in whatever spare time I had. Sure there is a sacrifice. I gave a bit on a social life but I made it work, and I'm so thankful that I did. I now have a degree I can fall into. I have more options. I got my degree so young I can even still go back to school if I decide do. There is nothing I can't do!
I'm so excited to share with you my interview with "Eastwick" star Jaime Ray Newman who plays the character of Kat Gardener. Eastwick is an American television drama series, that is scheduled to premiere on ABC on Wednesday, September 23, 2009 at 10:00 PM ET. Eastwick is a television adaption of the 1987 feature The Witches of Eastwick. Show's cast also includes Lindsay Price, and Rebecca Romijn.
Newman's previous roles include: Kristina Carter Cassadine on the soap opera, General Hospital. And, a part in the Steven Spielberg's Catch Me If You Can, with a scene opposite Leonardo DiCaprio.

Jaime Ray Newman
In this interview Jaime Ray Newman talks to Marta Walsh about her first breaks as an actress. Her role as Kat Rougemont on the new ABC show "Eastwick". Beauty secrets, and future plans.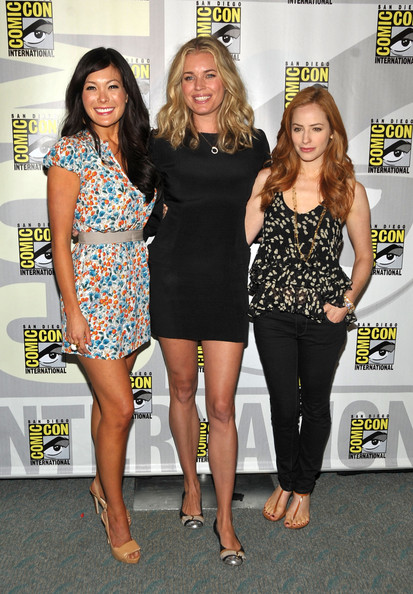 "Eastwick" stars from left: Lindsay Price, Rebecca Romijn, and Jaime Ray Newman
Marta Walsh: How did you decide on a career in acting, and what were some of your first breaks as an actress?
Jaime Ray Newman: I did my first professional play when I was 12. A local theater came to my middle school to audition girls for a new Israel Horowitz play, and I got the gig. My parents first reaction was "There are two people in this household with careers and you're not one of them". But after much begging, they acquiesced, and away I went. My first real break was playing Kristina Cassadine on "General Hospital". I was fresh out of college and thrilled to be working.
MW: What attracted you to Kat Rougemont's character on the new ABC show "Eastwick"?
JRN: I love playing Kat. She's quite unlike me, actually, so I really get to dig and create a character. She's undertaken so much responsibility (5 children, a full time job, a husband who may as well be one of her kids) that she hasn't had a second for herself since she was 18. She's struggling to find her voice again, and that is always fascinating to me. Playing someone in deep conflict is always the most interesting.
Watch "Eastwick" trailer below, the show looks so cute! It's like "Sex and The City" meets "Charmed".
I recently had an amazing chance to interview actress Taylor Schilling who plays Nurse Veronica Callahan in an upcoming NBC TV series "Mercy". There are two other nurses in "Mercy": Chloe Payne played by Michelle Trachtenberg, and  Sonia Jimenez played by Jaime Lee Kirchner.
Schilling made her debut on the big screen in the role of Jackie in the First Independent Pictures film "Dark Matter," which co-starred Meryl Streep. The film, inspired by actual events, follows the journey of an ambitious Chinese scientist working towards his Ph.D. in America, only to be marginalized to the extent that he ultimately loses his way.
"Mercy" premieres Wednesday September 23RD 8/7c.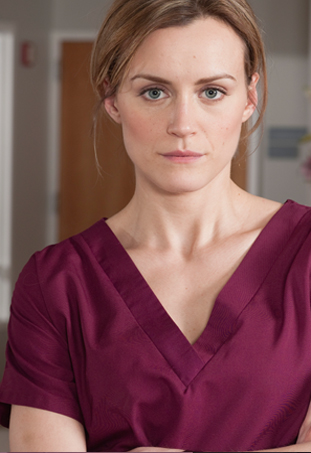 Taylor Schilling
In this interview Taylor Schilling talks to Marta Walsh about her beginnings in the acting world. What attracted her to Veronica's character on the new NBC show "Mercy". Taylor even shares with us some of her beauty secrets and her future plans.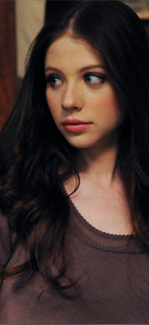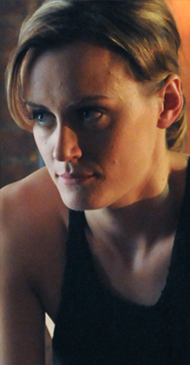 "Mercy" stars from left: Michelle Trachtenberg, Taylor Schilling, and Jaime Lee Kirchner
Marta Walsh: How did you decide on a career in acting, and what were some of your first breaks as an actress?
Taylor Schilling: I have wanted to be an actor for as long as I can remember…I studied acting in undergraduate and graduate school in NYC. Was only a year ago but seems like forever!
MW: What attracted you to Veronica's character on the new NBC show "Mercy"?
TS: I suspect on some level, everyone has experienced a life changing event that has left them feeling like a fish out of water back home. Veronica is trying to navigate through that feeling in her relationships, at work, with her family and friends…everywhere. She makes mistakes. She's flawed and she's raw. I appreciate her vulnerability and ferocity, her compassion and desire to do the right thing.
Watch "Mercy" trailer here:
The Stila Pro Artistry Team, lead by Dom Briguglio, brought the looks to life at the Cynthia Rowley Resort Show on Thursday, June 11th.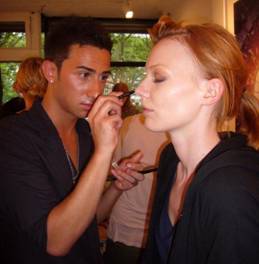 To compliment the collection that highlighted Cynthia's existing fabrics refashioned into her latest creations, the makeup team worked with two cult favorites re-imagined. Using NEW Mango Crush Lip & Cheek Stain and NEW Golden Noir Smudge Pot, Stila created a look inspired by these multi-tasting travel-friendly essentials, perfect for a quick getaway.
Stila Mango Crush Lip & Cheek Stain: Featuring a long-lasting breakthrough formula that reacts with pH levels in the skin, this sheer blush or a lip tint delivers a perfect shade every time. Mango Crush contains genuine extracts of its namesake fruit, is high in antioxidants, and is formulated with Vitamin A, C & E to protect skin while adding moisture.