All Posts Tagged With: "face cream"
CHANEL 2010 SPRING/SUMMER HAUTE COUTURE BEAUTY: Get The Look and makeup tutorial.
"Karl Lagerfeld gave me three key words: Neon Baroque, Chemical Pastels and Liquid Silver. For the lips I used the new Summer 2010 Rouge Allure Lipstick in Genial. This coral shade perfectly matched the Technicolor and Neon Baroque spirit Karl wanted for the makeup at this show."- Peter Philips, Global Creative Director of CHANEL Makeup.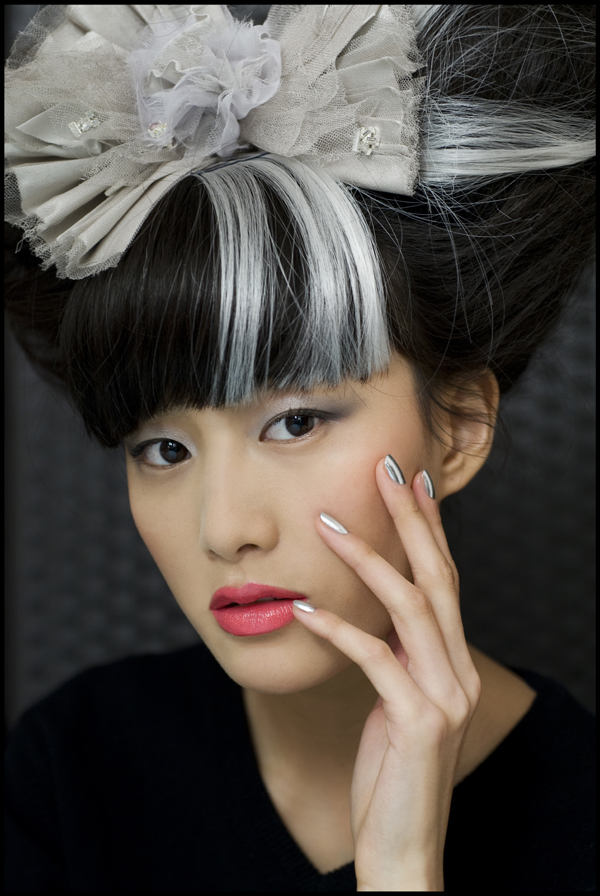 Photo Credit: vincent lappartient – photographe
Marta Walsh says: I love the CHANEL Spring/Summer 2010 makeup, particularly the coral lips and the silver nail polish. I also loving the grey and white highlights on model's hair, and yes, the hairstyle.
Peter used the following CHANEL products to create the runway beauty looks:
Skincare:
Skin prepared with Hydramax + Active Nourishing Cream for Dry Skin (Available in March 2010)
Complexion: Base Lumiere Illuminating Makeup Base Pro Lumiere Professional Finish Makeup SPF 15
Poudre Universelle Libre Natural Finish Loose Powder
Stylo Eclat Lumiere Highlighter Face Pen
Correcteur Perfection Long Lasting Concealer
GET THE LOOK: Actress Katrina Bowden, star in the hit show "30 Rock" made her mark on the red carpet of the 2010 SAG Awards this weekend! mark celebrity makeup artist Jamie Greenberg explains how she created Katrina's sultry look for the event.
How to Get Katrina's Memorable Makeup Look at the 2010 SAG Awards:
Face
"I started by prepping Katrina's face with mark For Goodness Face Antioxidant Skin Moisturizing Lotion and mark Kiss Dry Goodbye Lip Smoother onto her lips. I evened out her complexion with mark Face Xpert Flawless Touch Makeup in Golden then buffed Champagne onto her cheek bones for emphasis. To give her that natural looking rosy glow, I used mark Just Pinched Instant Blush Tint in Peachy, smoothed onto the apples of her cheeks followed by a dash of mark Bronze Pro Bronzing Powder. I finished her face with a final brush of mark Matte-nificent Oil-Absorbing Powder to eliminate any excess shine. I then used mark Jewel Body Cream on any exposed skin to give her body a gorgeous glow."
Just tried and loved Michael Todd Cosmetics KNU Anti-Aging Tri Complex moisturizer, $130. It is THE perfect moisturizer for the cold and dry winter months because it is thick and super hydrating. Did you know that this cream has a high concentration of purified snail secretion? According to the Michael Todd website scientists have concluded that this same substance can aid many human skin disorders because of its regenerative properties. Who knew? I'm an Escargot fan, that means I eat snails. Really, I love Escargot. Does this also mean it's good for me? Food for thought for sure. Nevertheless, my first reaction to KNU Anti-Aging Tri Complex was: "WOW".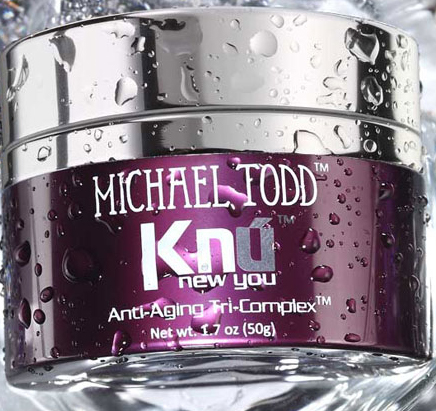 GET THE LOOK:  Gabourey Sidibe, Golden Globe nominee for her lead role in the movie Precious, partnered with Bobbi Brown to create her Golden Globe glow.
"I wanted Gabourey to look pretty powerful, but still like herself, so I gave her glowing skin and modern, sexy eyes. She doesn't need a lot of makeup, so we added some sparkle shadow, lashes and color to her lips and cheeks, and she was perfect. I love this look because she has a natural glow and looks like the prettiest version of herself."-Bobbi Brown.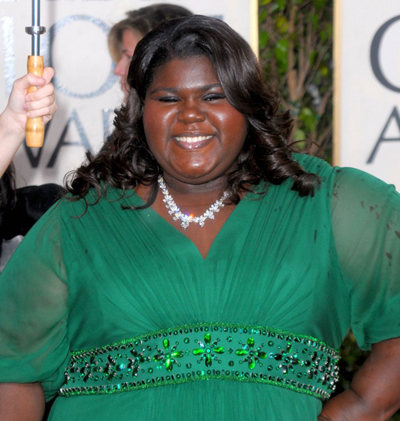 Makeup tutorial on how to get Gabourey Sidibe's makeup look at the 67th Golden Globe Awards using Bobbi Brown products:
Step 1: Prep skin with Soothing Face Tonic and Hydrating Face Cream
Step 2: Apply Chestnut Concealer under eye. Use Concealer Brush to get an even application.
Step 3: Apply Oil-Free Compact Foundation in Chestnut with a sponge and/or Foundation Brush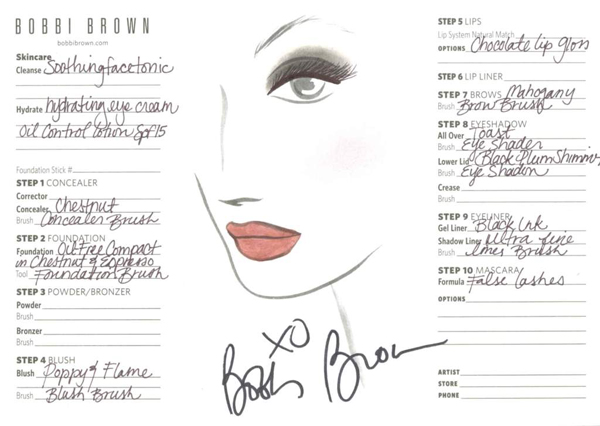 GET THE LOOK: Funny lady and Golden Globes nominee Tina Fey was made up by celebrity makeup artist Ana Marie last night at the 67th Golden Globe Awards using Lancôme products. Here's the scoop on Tina Fey's makeup at the awards straight from Ana Marie. The inspiration, says Ana Marie, was Old Hollywood/1950's with a twist.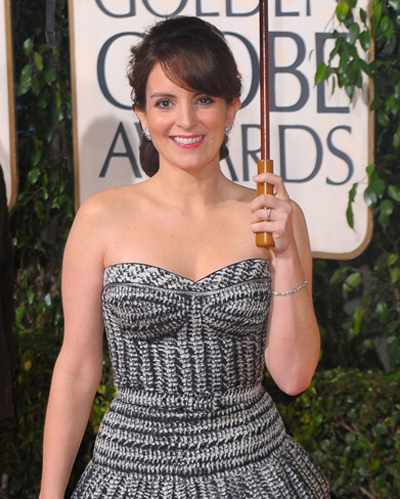 The makeup tutorial on how to get Tina Fey's makeup look by celebrity makeup artist Ana Marie for Lancôme:
Tina's skin was prepped with Lancôme Secret de Vie Toner (Ana Marie's favorite!) and moisturized with Bienfait Multi Vital, a combination that keeps the skin looking vibrant all day. Lancôme Absolue Foundation in Pearl evened out Tina's complexion. Ana Marie applied it with a foundation brush and blended with a damp sponge to make the foundation more transparent.
GET THE LOOK: Thanks to Celebrity Makeup Artist Gita Bass Talking Makeup has the scoop on how to get Toni Collette's radiant look at the 67th Golden Globe Awards last night.
"For Toni Collette I combined warm healthy skin with a bronze metallic smoky eye and nude glossy lip" according to Gita. She prepped her eyes with AMOREPACIFIC Moisture Bound Intensive Vitalizing Eye Complex (available at Sephora.com)  to reduce any puffiness and to ensure the concealer and shadow stay in place all night. To create the perfect canvas for a flawless radiant complexion, Gita prepped Toni's skin with AMOREPACIFIC Moisture Bound Refreshing Hydra Gel. The whole look was set with AMOREPACIFIC Moisture Bound Skin Energy Spray for a final touch of hydration and staying power. 
 "I added a layer of La Mer's The Body Crème to keep her skin looking glowing and radiant. To keep her face looking flawless I used The Radiant Concealer SPF 25 under her eyes and on any redness. I prepped her lips with the amazing La Mer Lip Balm to keep them full and hydrated all night long." added Gita.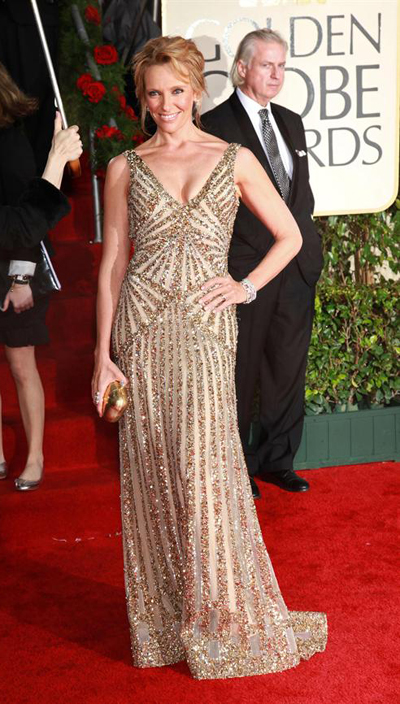 GET THE LOOK: Christina Hendricks from Mad Men makeup look was created Celebrity Makeup Artist Vanessa Scali using products from shu uemura's newest launches: Depsea Hydrability and Égérie Spring 2010 Collection.
Inspiration & The Look: "Effortless and chic: sheer satin eyes, pink milk-maid cheeks and a siren mouth. Christina's dress has a sexy, yet soft look. We mirrored this with her make up. I love the contrast of the angelic, innocent face with the sexy edge of a strong mouth."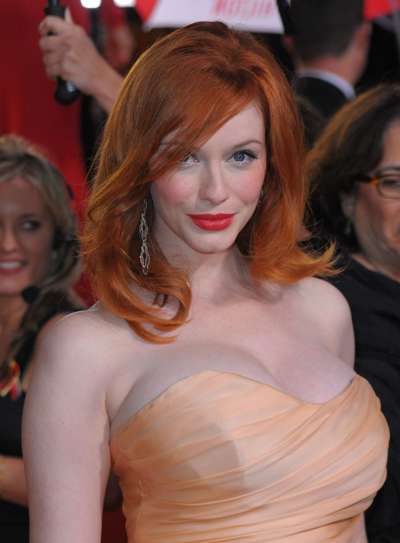 Here is how to get Christina Hendricks' red carpet makeup look at the 2010 Golden Globes:
PREPARE: I used shu uemura's new Depsea Hydrability Moisture Cream. This cream seriously hydrates, yet disappears into the skin leaving the skin feeling fresh and smooth.
UNDEREYE: Lancôme's Effacernes in Porcelain.
FOUNDATION: Applied minimal foundation, because Christina has nearly flawless skin. I used shu uemura's Nobara Cream Cover Stick foundation.
GET THE LOOK: January Jones was wearing CHANEL Beauté at the 67th Annual Golden Globe Awards. January's makeup look was created by Makeup Artist Rachel Goodwin.
Beauty Inspiration & The Look: "January's Golden Globes makeup was all about taking a fresh approach to the classic red lip."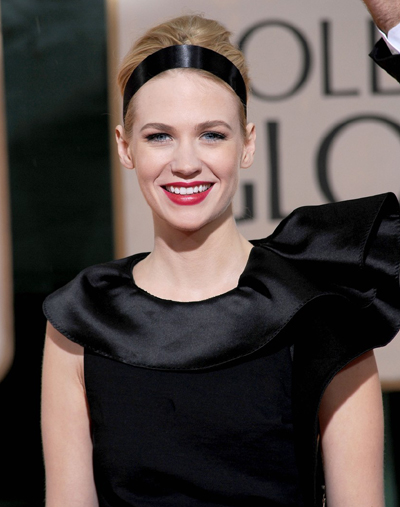 Beauty Tip: "I used Le Blanc de CHANEL under her base to create luminous 'glowing from the inside' porcelain skin, then treated her lips with CHANEL Hydramax + Active Lip Treatment before applying CHANEL Rouge Coco Lip Colour in Paris – a gorgeous garnet red from a new lipstick line launching in March. I painted the finest black line on her upper lid with CHANEL Automatic Liquid Eyeliner in Noir and shaded under her eyes with CHANEL Intense Eye Pencil in Graphite in the outer corners. I finished her look by layering lots of different false eyelashes then added Exceptionnel de CHANEL Noir Obscur Mascara over the top for an intense black lash line."
GET THE LOOK:  Nicole Kidman was wearing CHANEL Beauté at the 67th Annual Golden Globe Awards.  Nicole's makeup look was created by Makeup Artist Angela Levin.
Beauty Inspiration & The Look: "Nicole is a true Hollywood movie star – and I knew I wanted to go with an old Hollywood look. Somewhere along the way, I decided to kick it up a bit and make her eyes more sexy and sultry."
Beauty Tip: "To prepare Nicole's skin, I used CHANEL Sublimage Cream all over her face and neck, and CHANEL Sublimage Eye Cream under the eyes. Her eyes were a combination of CHANEL Soft Touch Eyeshadows – in Jungle, Bois Bleu, and Le Bronze. I gave her a slightly dramatic look with two coats of CHANEL nimitable Mascara in Noir. On Nicole's cheeks I used the perfect coraly ink blush, CHANEL Powder Blush in In Love. On her lips she wore CHANEL Rouge Allure Laque in Santal."
GET THE LOOK: Kate Hudson was wearing CHANEL Beauté at the 67th Annual Golden Globe Awards. Kate's makeup look was created by Makeup Artist Leslie Lopez.
Beauty Inspiration & The Look: "Golden Globes makeup is all about the dress. When I saw Kate in her gorgeous white dress, I knew we had to go for a clean, sophisticated, pretty look – very Grace Kelly."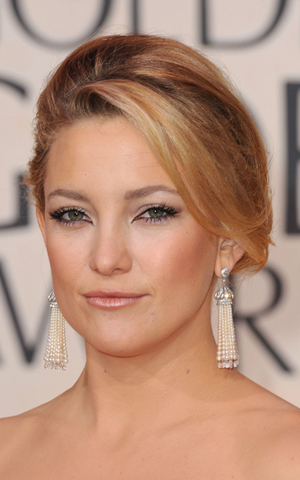 Beauty Tip: "I prepped Kate's skin with CHANEL Sublimage Fluid before applying her base, L'Oreal True Match Foundation in N-3. In the crease of her eyes I used the grey shade from the CHANEL Quadra Eye Shadow in Blue Celestes. I applied the lightest silvery white shade under the brow bone, as well as under the lash line. The inside of her eyes were lined with Almay black eye pencil, and I finished the eyes with CHANEL Inimitable Mascara in Noir. Finally, on her lips I used CHANEL Aqualumiere Sheer Colour Lipshine in Malta, a sheer subtle peach shade."