All Posts Tagged With: "Hair Trends"
I love Eva Longoria's hair and makeup at the Women in Entertainment Breakfast today. I see bigger hair on the runway and on the red carpet lately. But the big hair is not the 80's frizzy big hair, but a more sleek with soft cascading waves. I do want to try this look at home:)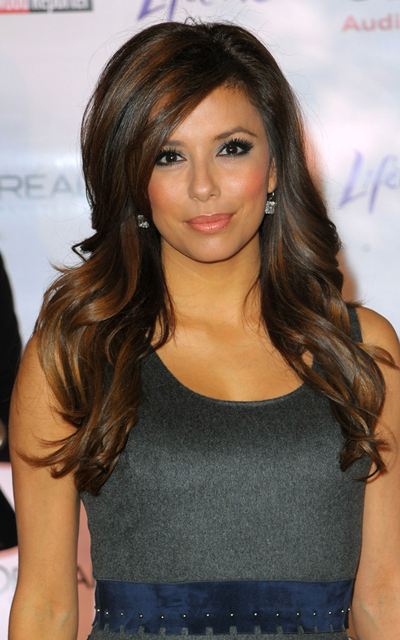 Eva Longoria
Other celebrities spotted at the Women in Entertainment Breakfast: Hilary Swank and Halle Berry. Hilary with a short wavy bob and Halle with a pixie short hair.
Which celebrity hairdo are you: Eva Longoria, Hilary Swank, or Halle Berry?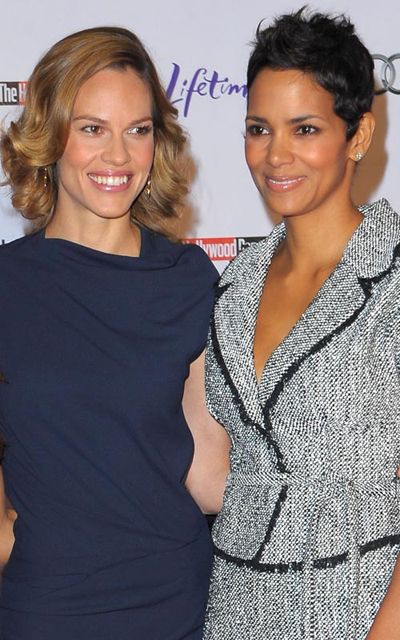 From left: Hilary Swank and Halle Berry
Hair Trends: The return of big wild sexy hair.
NBC's Deal Or No Deal has been one of the hottest shows on television. Besides enjoying comedian host Howie Mandell with his shiny, bald head, men are tuning in to see one thing: The Deal Or No Deal girls! And, the girl that stands out from the rest is #13 — Leyla Milani. Even Oprah loves her: Oprah says Leyla is her favorite.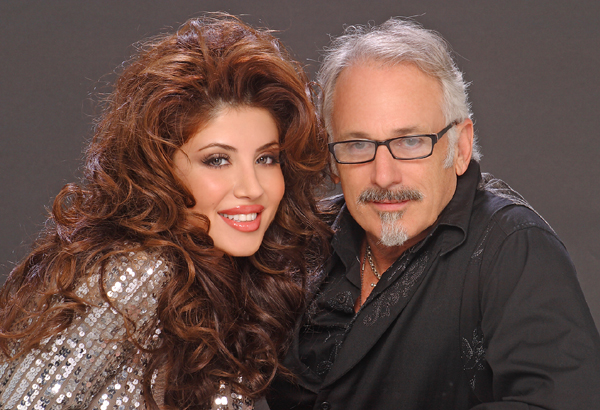 Leyla's big, wild and sexy hair is created by stylist Allen Edwards, the man who created the Farrah Fawcett, and Allen has done it again. Talking about influencial hairdressers. "Leyla Milani is one of the most beautiful women that I've ever met and her hair has the potential to make her the next Farrah Fawcett," states Edwards. "Women all over the country love to be sexy and every woman deserves that. The easiest way is to start with your own hair, and get that Leyla Milani look". Leyla's hair has its own cult following and rumor has it that Lloyds of London is drafting insurance for her famous mane.
Last week I had the pleasure to join a webcast from New York City hosted by the John Frieda experts: John Frieda, Harry Josh, Luigi Murenu.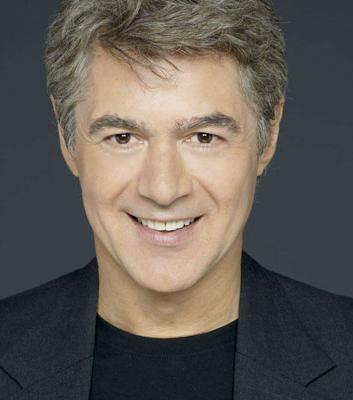 John Frieda
It was amazing to finally see the man behind truly one of my favorite brands ever, John Frieda. I can't never forget when one day after I moved to New York City from Israel back in 1991, my sister told me that I MUST get this hair serum! It was the beginning of a new era in my life. The era of straight sleek hair. And a goodbye to the mousse-full big hair. In other words, the John Frieda Frizz-Ease Hair Serum is one product that revolutionized my (beauty) life.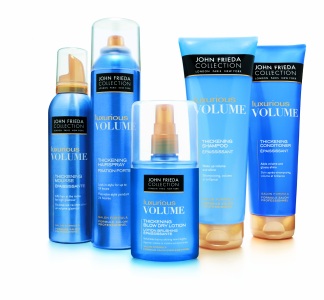 New York Fashion Week Spring 2010 Hair Trends Report:
Designer: Charlotte Ronson Spring 2010 Collection
Hair by: lead stylists Allen Ruiz for Avon Advance Techniques
Hair Trend: Classic Ballerina Chignon
Inspiration: The look mirrors the Charlotte Ronson collection, which is inspired by a remake of 80's style. The hair was created to evoke a fresh, young wispy look and a "just walked out of dance class at Julliard" look to play off her fabrics and bold designs.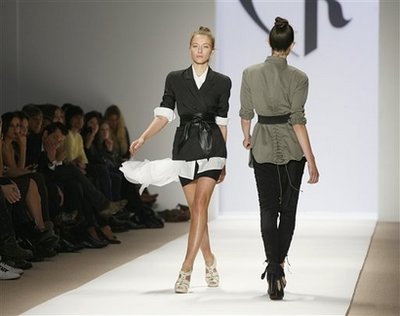 How to get the hairdo:
Step 1: Prep the hair from root to tip with Advance Techniques Salon Volume Finishing Spray to enhance natural shine and create volume.
New York Fashion Week Spring 2010 Hair Trends Report: 
Designer: Costello Tagliapietra Spring 2010 Collection
Hair by: Sebastian Professional
Hair Trend: 40s inspired faux bob.
Inspiration: Costello Tagliapietra's Spring '10 beauty look is a seamless combination of elegance, youthfulness, natural beauty and romance. The hair, both feminine and fresh, is loosely inspired by the traditional roll style from the '40s with soft curls that sit just above the shoulder.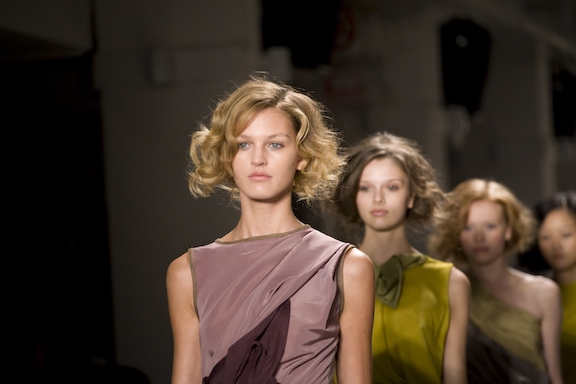 To put a modern twist on a '40s staple, Sebastian Professional lead stylist Thomas Dunkin recommends a method of building texture and shape with techniques that keep the hair looking soft, romantic and not too "done." Finish with an elastic touchable texturizer or flexible shine spray to create a look that's elegant yet playful. Here's how to create your own '40s inspired faux bob:
1) Apply Sebastian Professional Texturizer to damp hair; distribute evenly throughout.
2) Blow hair out straight with a medium to large-sized round brush.
3) Spray hair with a flexible hairspray for added texture, section hair, curl it with a medium-sized barrel curling iron and set.
4) Take out pins, gently brush out the curls and then roll hair under, section by section, fastening it under at the neck with bobby pins.
5) Apply Microweb Fiber to hands and gently work through the front of the hair to create an imperfect, lived-in effect. Finish by misting with a strong-hold hairspray.
Who is better to ask what's hot when it comes to hair this fall other than the hair stylists who spend their time doing hair for the runway, ghd Ambassadors: Omar Lopez, Craig Carter, and Andy Bodine.
ghd Ambassadors Omar Lopez, Craig Carter, Andy Bodine, were kind enough to share with Talking Makeup their take on Fall Hair Trends:
From Omar Lopez, ghd Media Ambassador: Movement Is Back with Curling Just The Ends
Movement is back in, but this season, the focus is all on curling just the ends of the hair which is simple and sleek and easy to do. Prep the hair with ghd fat hair lotion and blowdry. The product is heat activated and works the same way mascara does on lashes, using rayon micro fibers to pump up each strand. Play up overall volume by applying from roots to ends, then follow with a little more on just the ends of the hair. This will plump up ends and allow for long lasting fat curls.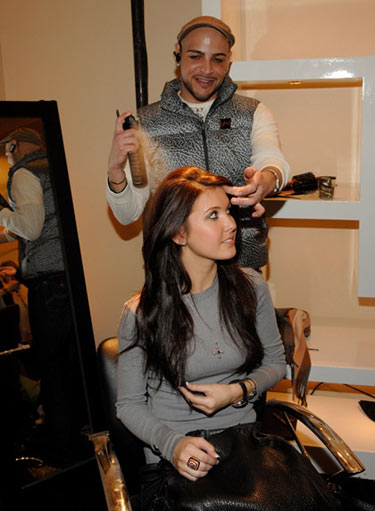 Omar Lopez styling Audrina Patridge
Use the ghd IV styler to straighten the length of the hair, then when you reach the ends, turn the styler 180 degrees to create a slight curl. Finally, use just your fingers to ruffle up the ends to create a slightly tousled look and you have one of the hottest looks for fall!
From Craig Carter, ghd Creative Ambassador: Sleek Straight Ponytails With Natural Shine
According to Redken: One of the hair trends for Fall/Winter 2009 is a Masculine Feminine, a chic pairing of tough and soft. Think of it as dual personality hair: Classically feminine styles toughened up with a silk finish, or a mixture of sleek and soft textures on the same head of hair.
The Masculine Feminine hair style was seen on the runway at: Alberta Ferretti. Jean Paul Gaultier. Lanvin. Marc Jacobs. Miu Miu. Roberto Cavalli. Versace.
Celebrity that comes in mind with this Masculine Feminine hair trend is Rihanna and her style at the MET Costume Institute Gala Benefit 2009.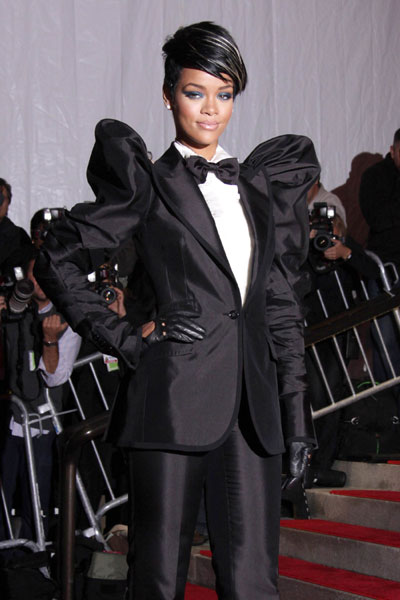 Image via: www.hollywoodtuna.com
Masculine Feminine as seen at Lanvin Paris Fashion Week Fall 2009:
MTV Movie Awards Red Carpet Hair Trends: Naturally Tousled Waves like Kristen Stewart and Vanessa Hudgens & Sleeked Back Hair like Megan Fox!
Anyone catch the MTV Movie Awards last night? Twilight ruled supreme, winning Golden Popcorn buckets for best movie, best actor and best actress to name a few.
But the real winners at this year's awards were all the stylish gals of young Hollywood. Trendy outfits, perfectly applied makeup and great hair graced the red carpet and partied long into the night.
By far the most popular look of the evening was naturally tousled waves. From Twilight's Kristen Stewart, who rocked the looked with a pair of Converse sneakers, to High School Musical hottie Vanessa Hudgens, this style was the real winner of the night!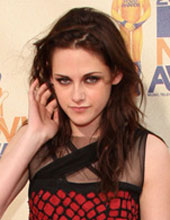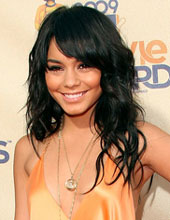 Kristen Stewart (left) Vanessa Hudgens (right)
How To Get MTV Movie Awards 2009 naturally tousled waves look: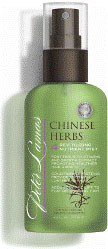 Hair Trends With Redken Fall/Winter 2009 according to Guido, Redken Creative Consultant:
A Strong Presence: "This season, it's all about the 'do'…hairstyles that have a strong presence, that push the boundaries. These kind of looks are dependent on the use-and in many cases the overuse-of hair products."
A Positive Force: "Hair now is a reaction to the times we're living in. It's strong, positive and forceful-it's empowering to women."
A Way To Update And Adapt: "We've taken looks from the 40s, 50s, and 80s and updated them with new elements. Women can adapt these looks for everyday by toning down a bit. If a look has extreme shine, use a little less shine product. If it has exaggerated volume, lessen the height."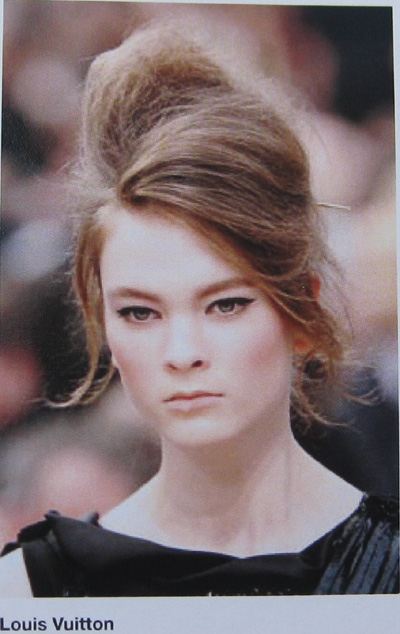 Hair Trends With Redken Fall/Winter 2009: New Classics: Traditional Styles With A Modern Twist.
What happens when good celebs have bad style days
Usually, celebrity style is something worth emulating. This time, not so much. Check out the seven celebrity hair trends we'd like to leave in the past — and don't try them at home.