All Posts Tagged With: "Acne"
The VOTRE VU AU REVOIR Trouble Spot Treatment is perfect for that occasional "OMG I got a pimple" moments. It dries your pimple, cools it, & soothes! Bye bye annoying spots & acne! Remember to not shake the bottle. I use a Q Tip to apply directly on to the blemish or trouble spots. Yes, pimples happen to the best of us!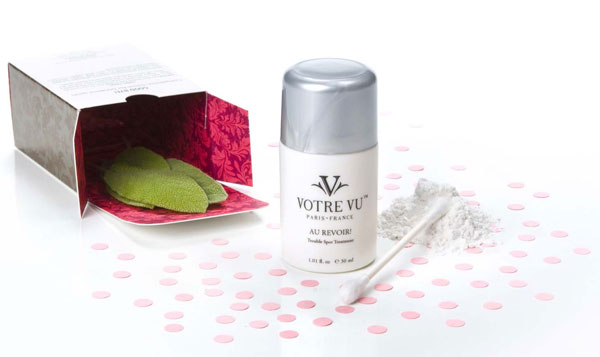 VOTRE VU AU REVOIR Trouble Spot Treatment retails for $19. Available at www.votrevu.com
Expert Skincare Tips: St. Ives Q&A with Dr. Marsha Gordon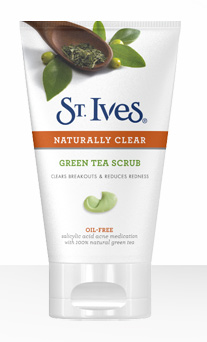 As the weather gets warmer, my breakouts and irritation become worse. To keep my skin acne-free all year round, should I be adjusting my regimen as the seasons change?
While many women need to adjust their skin care regimen as the seasons change, this can be especially true for women with acne-prone or oily skin. Your regimen that worked in the winter may leave skin feeling oily and clogged during the warmer months. In the spring, I recommend switching to a light, oil-free moisturizer and using a cleanser and scrub to help remove dead skin cells and keep pores clear. I personally like the new St. Ives Naturally Clear Green Tea Cleanser and Scrub (image above), which contain a safe concentration of Salicylic Acid to effectively fight blemishes and reduce redness, while 100% natural Green Tea soothes skin.
Any women have to deal with unsightly acne flare-ups throughout the year. While clogged pores may be one of the most common symptoms of this skincare concern, redness and irritation can be just as much a source of distress. Unfortunately, many over-the-counter treatments can be too harsh for your inflamed, acne-prone skin. To the rescue is NEW St. Ives Naturally Clear Green Tea, a line of skin care solutions that gently fights blemishes and reduces redness, while also containing 100% natural green tea which helps to soothe and calm skin. Formulated with Salicylic Acid and 100% natural green tea, this new two-step regimen offers an effective, yet gentle, acne solution.
St. Ives Naturally Clear Green Tea Cleanser ($5.69 for 6.75 fl oz. pump) is a refreshing cleanser that is made with 2% Salicylic Acid and 100% natural green tea, which help to clear blemishes and calm redness associated with acne.
Makeup Tutorial: Makeup Artist Dawn Broussard collaborated with Neutrogena brand ambassador Emma Roberts to create the starlet's look for the Hollywood premiere of "Valentine's Day."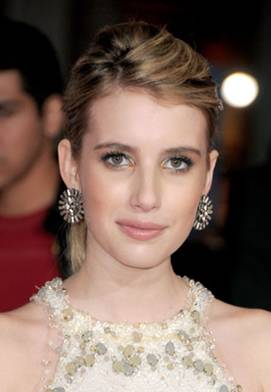 How to get Emma Roberts makeup look at the Los Angeles Valentine's Day Movie Premiere: 
Face:
To keep her skin looking beautiful on and off the red carpet, Emma regularly cleanses with Neutrogena Oil-Free Acne Wash Redness Soothing Facial Cleanser.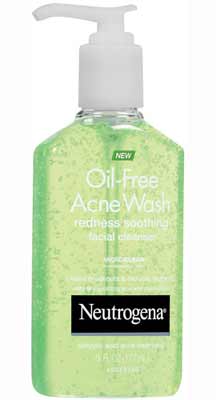 Winter Skin & Winter Hair: Are you looking for skincare products and haircare products to help you with the cold and dry winter months? Here are some ideas and hopefully answers to your prayer:)
Miss Oops Butter Hands, $15 – missoops.com or select boutiques across the country
Rich moisture with SPF protection. Nothing screams your age like wrinkled, sun-damaged hands. Miss Oops helps you fake it with Butter Hands, a nourishing hand cream that envelops skin in buttery moisture while shielding the delicate skin of the hands from damaging UV rays. Formulated with luxuriously creamy hydrators and SPF 30 protection, Butter Hands is your secret weapon in the fight against signs of aging.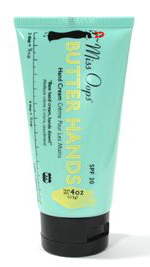 Marta also LOVES Miss Oops Pedicure In A Bottle, $18: this foot cream really turns my dry feet into a softer prettier version of themselves! It is an foot exfoliating cream and I like to use it daily for a cumulative effect. The smell is minty and fresh.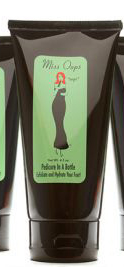 Why not start the new year right with clear skin this time? After heavy partying, food and drinks, you could use a new regimen to help whip your skin back into shape!
Kairos Acne Clear Solutions Oil Reducing Pore Perfecting Treatment, $28: This potent blend of natural oils and 1.0% Salicylic Acid is designed to gently exfoliate, minimize excess oil, curb bacteria, and penetrate pores to control and help prevent acne. The treatment keeps hair cleaner longer as it clears breakouts, eliminating the "greasy look" on both hair and skin. Just use the treatment twice a week after shampooing, using the special tip applicator to apply to the scalp in sections. Leave on 3-5 minutes before rinsing and conditioning. The treatment can even be used directly on active acne areas on the face and body to treat and prevent breakouts. www.kairosclear.com

Happy New Year! Hope you enjoyed the holidays and are gearing up for a brand new decade! This year we should all vow to be a little greener, and actually do something to reduce our carbon footprints. Go green simply by choosing paraben-free mascara, a biodegradable compact, or a body wash with the Natural Product Association seal of approval! Start your new natural collection off right with some of the below eco-chic cosmetics and skincare items—they're natural beauty best-sellers!
Clean up your act with Josie Maran Bear Naked Wipes. These natural cleansing cloths are biodegradable (meaning they won't clog landfills after you throw them away) and they're made with natural ingredients that will soothe, comfort, and gently cleanse your skin without harsh chemicals or toxins. Plus, a portion of proceeds goes to the NRDC's Polar Bear Initiative, the campaign to save polar bears' natural habitats, bringing a whole new meaning to "Earth-friendly". Now available in a new travel size! Sephora.com; $6.00 – $12.00.
Holiday parties are just around the corner and after a year of pinching pennies, we all deserve to kick back and enjoy, while looking absolutely fabulous! So maybe you have to skip that new dress – no problem! You can get a stunning new look simply by heading to your nearest drugstore. Here are some tips on how to hit those holiday parties looking (and feeling) like a million bucks by spending only a few:
Beauty is really skin deep
Want to look younger? Brighter? Beautiful? Don't we all… And now we can! RoC's new Multi-Correxion Skin Perfecting System is clinically shown to transform skin in just two weeks! The three-step system has all you need for you daily skin routine and works to combat multiple signs of aging so you get transformational results.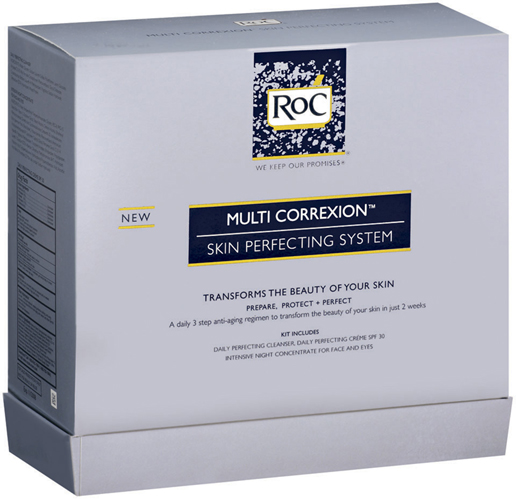 Anyone heard about the Wonderbar facial bar? First time for me. The description is quite interesting. Makes Marta want to try:)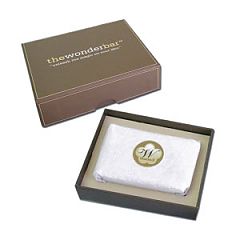 The Wonderbar is not a soap, it is a facial bar which is enhanced by the unique combination of Chlorey'nahre, our proprietary complex extracted from algae, with 3000 year old Heilmoor clay of Austria, a natural therapeutic ingredient. The use of nanotechnology to develop Chlorey'nahre results in quick & complete absorption into your dermis to help your skin stay supple, radiant and youthful.
Kairos Acne Care, a hair care line that can help treat acne? Read more.
A pioneering way to help treat and prevent acne. Throughout their twenty years of nursing, Catherine Parker and Doreen Campbell have treated countless patients who thought they had tried everything to combat their acne. From cleansing constantly to switching skincare products, many acne sufferers had given up hope until Catherine and Doreen asked a crucial question: What kind of hair products do you use? The vast majority of patients had no idea that the formulas they used on their hair could have a big impact on their skin.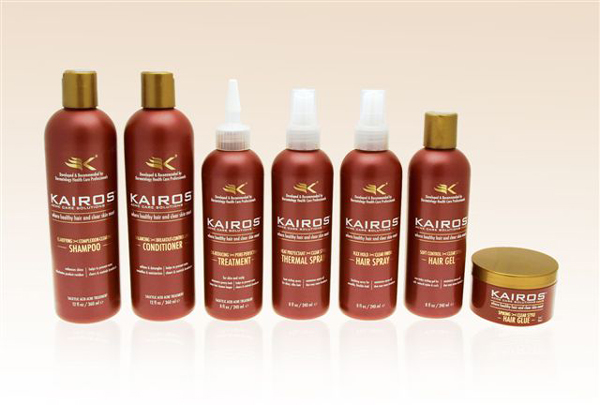 Drawing on years of experience working in an acne clinic as a Nurse Practitioner and Registered Nurse respectively, Catherine and Doreen developed the world's first hair care line designed to respond to the needs of acne sufferers: Kairos Acne Care.