All Posts Tagged With: "Shampoo"
BAN THE DULL DO: Styling product buildup is often the culprit of dull strands. Restore your hair's gloss with a shine-enhancing shampoo like Wella System Professional Luminous Shampoo, the perfect starting step for extra sparkly style!

Wella System Professional Luminous Shampoo:
Gently removes debris and dirt from hair while refining the surface of each hair strand. Begins the process of reducing porous "voids" in the hair that cause diffusive light reflection. Adds strength and moisture to hair through a unique tri-complex.
Tip: Always do a final rinse with a cool to cold water to naturally smooth hair cuticles and enhance shine potential!
Looking for last minute stocking stuffers?! We've got you covered! Check it out…
PHILIP B TRAVEL KIT
Give a little luxury this holiday season without breaking the banks! The PHILIP B Travel Kit ($30) combines PHILIP B favorites they're good for you, beautifully effective and instantly transporting. Delicate flower oils nourish hair from the inside out, leaving it thick and shiny without added weight. Custom-blended plant essences hydrate thick, unruly curls for perfect bounce and movement. Naturally aromatic botanicals soothe or invigorate your senses on contact.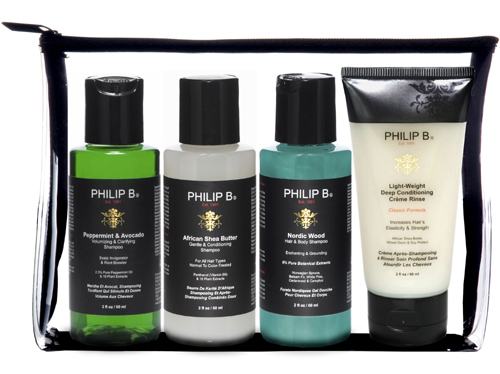 HerCut the first-ever haircare for your haircut, not your hair type? What?! Read more.
Remember the last time you got an amazing haircut? Your stylist nailed the look, capturing your personality in the cut. Every hair fell into place just so, and you left the salon walking on air. Fast-forward to your first shampoo—how did your style stand up without the stylist?
It doesn't take an expert to maintain straight-from-the-salon style—it takes products that support your cut. HerCut introduces the first hair care line designed to keep first-day haircut performance alive by catering to the needs of specific haircuts rather than specific hair types.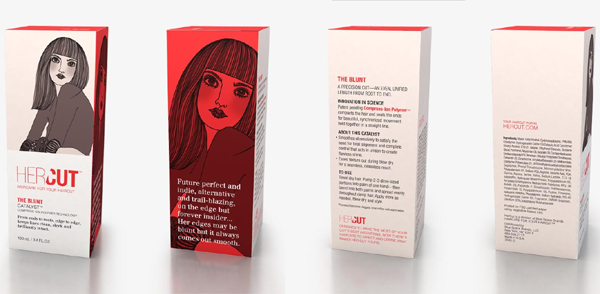 "Every time you get a haircut, you're making a huge investment—both emotionally and financially," explains Bob Salem, HerCut creator CEO and founder of Blue Space Brands. "HerCut empowers you to protect that investment, not only by preserving the impact of your cut but also by enabling you to fully embrace the personality of the style."
"It's an industry secret that there are really five essential hair styles that all stylists master during their training," adds HerCut Brand Ambassador and Emmy Award-winner Kyan Douglas. "No matter what your hair type, your stylist uses the same techniques to create your signature style. Maintaining that look is about using products tailored to the cut, not the hair itself. For the first time, HerCut offers products that bring out the best in every cut, giving you flawless style long after you leave the salon."
Lately I'm giving the Oscar Blandi Pronto Dry Shampoo a go. First time for me! I'm still getting the hang of using it. I put a little bit on my ends and tiny on the roots. If your hair is oily, the powder works well in controlling that too oily feeling. I wouldn't skip my wash entirely with this dry shampoo. But on the days I haven't washed my hair this product makes my hair smell good and refreshed. Verdict: it's a keeper. Available at Sephora and sephora.com
To get my hair silky smooth and frizz free is sometimes a mission. So many times I spend up to 1 hour blow drying my hair and my hair keeps frizzy. Sounds familiar? Not this weekend though. Thanks to Living Proof Shampoo and Conditioner. Wow. My hair not only was straight and silky after blow drying, but it is still frizz free 2 days later!! (I try not to wash my hair everyday). I haven't tried the Living Proof styling products, now I'm very tempted. I think I've seen Living Proof hair care products in Sephora and Sephora.com
Billy Jealousy launches an exclusive kit for ULTA and ulta.com for $24 (value $36).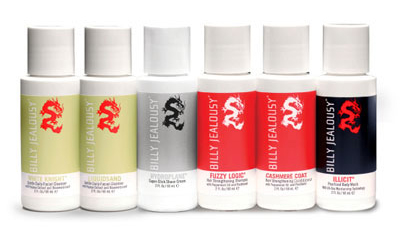 Just in time for the Holidays, Mr. Billy Jealousy has launched a little something special with his friends over at ULTA. Now you can finally give your man that subtle hint of what to use before date night or a day at the gym.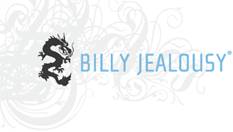 2oz White Knight Facial Cleanser: White Knight contains essential moisturizing agents to provide necessary hydration while cleansing skin. The white, foaming formula cleanses without stripping the skin of essential oils. SLS-free, Paraben free, no fragrance added.
Nothing says fall, Halloween, and holiday season like I Love Candy Corn Shampoo, Shower Gel & Bubble Bath by Philosophy, $16. It smells sweet. And, it's very creamy, just like all the other signature body washes by Philosophy. If you love Philosophy body washes in Crème Brulée and in Vanilla Birthday Cake you would love this! It's a limited edition so don't miss it if you want it:) Calling all candy corn lovers!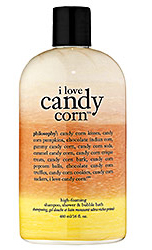 I stumbled upon this vintage Jerry hall video commercial for Revlon Flex Shampoo from the 1980's. Which reminds me Revlon Flex Shampoo was probably the first ever shampoo I've used back growing up in Israel. It was revolutionary for us back in the days, LOL. I'm also very fascinated to see the different hair styles and looks women perceived as in style in those days. I'm a huge Jerry Hall fan. Before Kate Moss and Heidi Klum there was a beautiful supermodel called Jerry Hall. It is not just Jerry's looks that I like, it's her incredible charm and grace when she talks, and how she carries herself.
Secret: Marta loves to shop in Walmart for beauty products! I know, some of you might be surprised. But I believe in life you need to mix and match. I like to mix expensive beauty products with some classic super affordable products.
Here are Marta's picks:
Cover Girl lash blast Volume Blasting Mascara: I hear this mascara by Cover Girl is a total super star and is securing its place as a classic. It made my lashes this morning long and full in just seconds.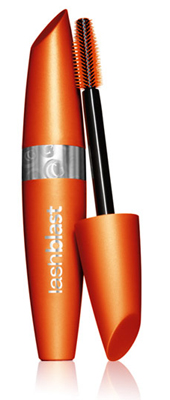 Celebrity Hair Stylist Paul Labrecque was kind enough to give us his best kept secrets for getting and maintaining straight hair! Paul tell us all about the tools, styling products, techniques, and even special treatments we need to say good bye to frizzy hair and hello to smooth, silky, and sexy straight hair.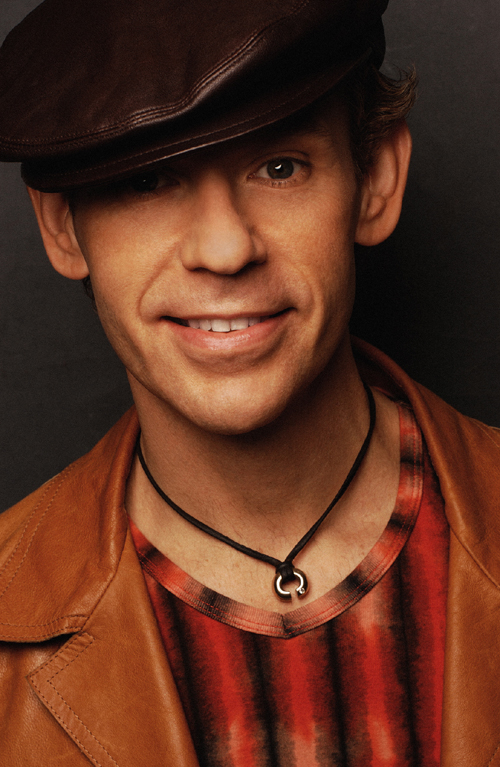 Paul Labrecque 
Straight Hair:
TOOLS
Round 100% boar bristle brushes – They help to spread the body's own natural oils thus leaving far less frizz. Paul Labrecque Haircare has a range of 4 brushes.


Paul Labrecque Large 3" Round (18 row) – 100% Boar Bristle