All Posts Tagged With: "Versace"
GET THE LOOK:  Jennifer Lopez dazzled at the 52nd Annual Grammy Awards, wearing a dramatic silver Versace gown, and 70's-inspired hair designed by stylist Robert Vetica. Volume and texture were the hallmarks of the all-one-length, below the shoulder look.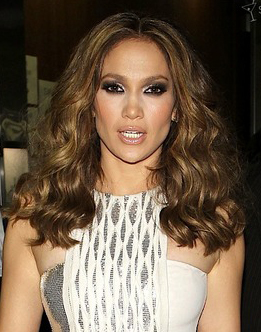 Vetica started by applying Moroccanoil Treatment on wet hair and blow-dried it smooth, creating a middle part using a large round brush for volume. He then used a 1″ curling iron, curling each section, and dragging the curled spirals down. He started in the back, working towards the front of the head and lifting her hair away from the face.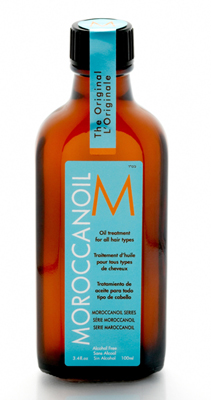 BEST DRESSED: Beyonce looked stunning in a Versace dress at the 2010 Grammys! I also loved Beyonce's sleek long hair. She is one of the most beautiful girls in the world imo. Breathtaking.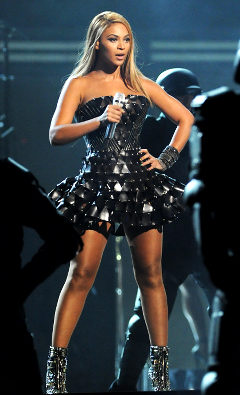 Image: Kravitz/FilmMagic.co via: nydailynews.com
BEST DRESSED: Jennifer Lopez rocked the Versace gown tonight at the 2010 Grammys . Not just the dress, JLO's entire look was to perfection: the hairstyle and the makeup. I'm adding this Versace dress to Marta's wish list!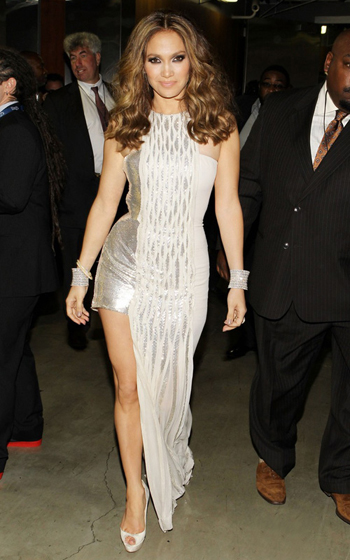 When I think about Rock Stars all I see is amazing parties and lots of fun. But have you  ever wondered what it's like to be a rock star's daughter? America's version is Nicole Richie and Britain's versions are the following beauties. Which of Britain's It Rock Star Daughters is your favorite?
Peaches Geldof is the daughter of British rock star Bob Geldof and British television presenter and writer Paula Yates. Peaches seems to get tons of press in the UK for being a party girl. However, Peaches is not just all about good times. She writes a column for Nylon Magazine. In 2009 Peaches was signed to a six-figure modeling deal to become the face of the Miss Ultimo collection. She is also a DJ and a TV reporter. Peaches reminds me a lot of her mother who has passed away in 2000 with her beauty, charm, and journalism talent. You can even follow Peaches Geldof on Twitter.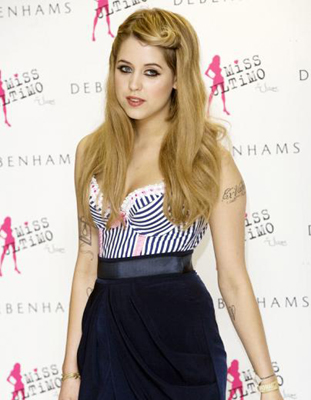 Frederic Fekkai Celebrity Stylist Renato Campora tended to the tresses of Blake Lively for the 2009 Emmy Awards.
Inspiration: A goddess style updo inspired by the modernity and elegance of the red Versace gown.
How to get Blake Lively's ponytail:
Renato Campora started out by applying Fekkai Coiff Strong Hold Volume Mousse onto wet hair. Next he blow-dried the hair smooth and applied the Fekkai Coiff Extra Control Styling Gel to prep the hair. He then teased all the hair and pulled it up into a high ponytail. By adding some hair extensions to the ponytail, he created extra length for a more dramatic look. Afterward, he braided the entire ponytail and fastened at the end. Campora finished by applying Fekkai Coiff Magnifique Ultra-Light Finishing Crème throughout the entire look for a smooth and sleek effect.
Blake Lively seems to not get much love on Twitter this evening because of her dress and ponytail. I, on the other hand, think Blake looks absolutely stunning tonight. Everything about the look shows a trend setter, not a follower. The dress was low cut but her body type can pull it off perfectly. If you got it flaunt it. Isn't what they say? It reminded me of the very famous JLO aka Jennifer Lopez moment few years ago when she stepped out in a low cut green Versace dress. Maybe this is Blakes's moment as well! I just got back from New York Fashion Week Spring 2010 and one of the prominent hair tends and looks on the runway was a ponytail (Gottex and Alexander Wang had all over their shows!) Blake is ahead of her times with her Emmy Award 2009 look and that takes courage, a trait I so admire.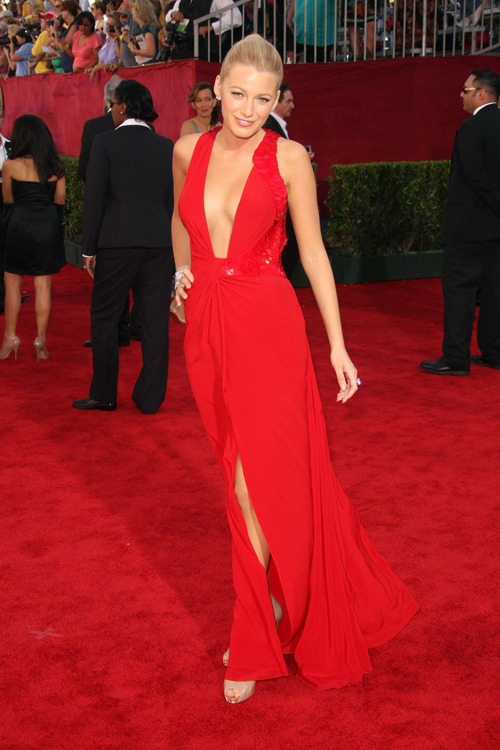 Few weeks ago I was given an incredible chance to chat with Tim Quinn over the phone. Tim Quinn is Giorgio Armani's Celebrity Face Designer National Director, Creative Artistry.
I met Tim in New York City during my trip with DailyMakeover.com this past July (2009). The meeting was in Pastis one of my favorite restaurants to hang out when I used to live in New York City. As soon as I was introduced to Tim during breakfast I knew I had to interview him and share with you his beauty insights and story of top celebrity makeup artist. As you can sense, I'm a huge fan. I remember telling him that I loved his style and that he looks "Very Armani": That very pale almost platinum blonde hair, and the chic eye glasses. Believe it or not, Mr. Giorgio Armani himself set a table next to me in Cipriani Downtown SOHO few years ago, so I got to know the look:)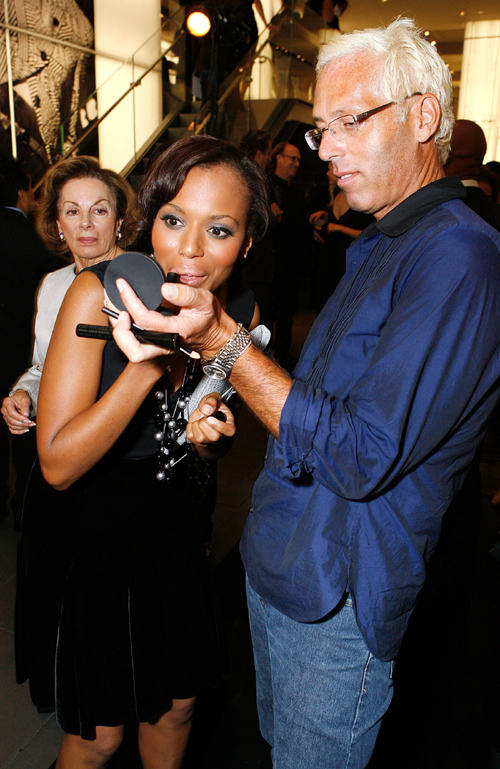 Tim Quinn and Kerry Washington
A little bit about Tim Quinn: After training in Milan alongside world-renowned makeup artist Pat McGrath, Tim Quinn joined the Giorgio Armani Beauty team with the launch of the brand in September 2001. His myriad experience as an artist includes work in TV, print, and film. Tim has been featured as one of the "25 Beauty Stars" in W Magazine and has worked backstage at several award shows including the Academy Awards and the Golden Globes. Tim has worked with a number of celebrities such as Glenn Close, Debra Messing, Victoria Beckham, Kim Cattrall, Gwen Stefani, Kate Bosworth, Minnie Driver, and Brooke Shields. He has designed faces for Helen Mirren, Julia Roberts, Naomi Campbell, Katie Holmes, Sarah Jessica Parker, Barbara Walters, Lucy Liu and Drew Barrymore.  I might even missed few names!
Marta Walsh: When did your fascination with beauty begin?
Tim Quinn: From as far back as I can remember I was drawn to the world of fashion and beauty. I was born and raised in the countryside of Connecticut and was always encouraged by my parents to go outside and play – TV was only for special occasions and the internet was still years away, so my siblings and friends would create our own worlds of entertainment. My paternal grandmother was widowed rather young and she remarried an attorney from New York. They lived in New York City during the week and at her country home in Litchfield, CT on the weekends. My visits and travels with them truly influenced my young mind – I thought of her life as my very own 'Green Acres'. I became a glamour addict – watching her dress for dinner in NY, DC and even Iceland – the whole idea of the hair, makeup, jewelry and furs created such a glamorous world that was so different then the life I knew in Connecticut.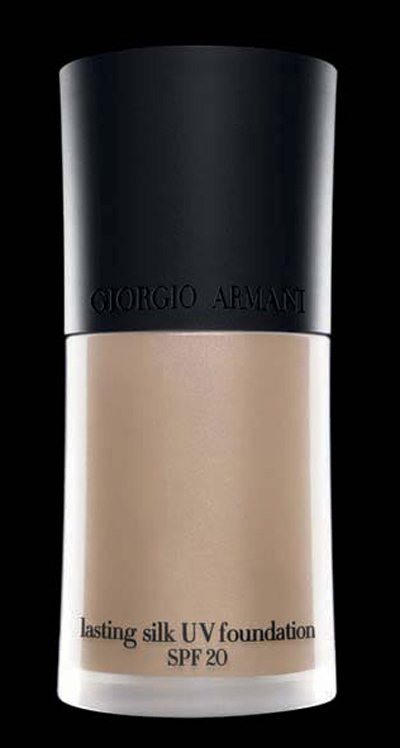 The night before the big Orphan premiere, Vera Farmiga visited the ARCONA facial studio in Santa Monica and received their signature Facial Contouring & Enzyme Peel – her skin glowed.
Vera Farmiga's makeup look was created by celebrity makeup artist Tina Turnbow Inspired by Vera's gorgeous ivory Versace gown and her beautiful glowing skin, Tina created a soft look using gold and peach tones, with a shot of orange on her lips.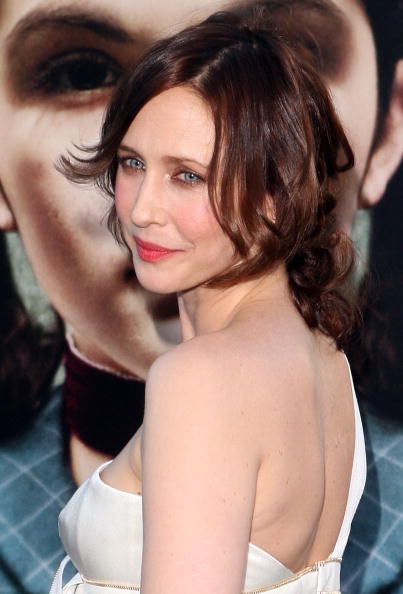 Skin: Tina prepped Vera's skin by first cleansing it with ARCONA's Triad Pads. She then spritzed ARCONA's Mineral Magic and applied ARCONA's Peptide Hydrating Complex to hydrate her skin thoroughly. "I loved using ARCONA's Mineral Magic on Vera's skin. It gave it a nice luminescent quality!" said Tina.
Foundation: Because Vera's skin had a natural glow, Tina kept the coverage to a minimum by using ARCONA's Sunsations Mineral Makeup in Ivory Seychelles.
Cheeks: Tina used Tarte Cheek Stain in Tipsy to add light peach tones to her skin.
Versace introduces Bright Crystal a new light version of the original, Versace Crystal Noir.  Versce Bright Crystal is a fresh, vibrant and floral fragrance, with delicate notes of pomegranate grains, lotus flowers, plant amber, peony, acajou, iced accord,yuzu, magnolia, mahogany, and musk. 
Versace Crystal Noir is a gorgous blend of gardenia and amber.  Cost:  $48 for 30 ml Eau de Parfum Spray.  $70 for 50 ml Eau de Parfum Spray.