All Posts Tagged With: "curls"
It's almost that time of the year: Valentine's Day. Have you decided how are you going to wear your hair on that very romantic day? Here are some hairdo tips by celebrity stylist and Nexxus Creative Director Kevin Mancuso:
Voluminous Curls: "Whether structured or loose, voluminous curls are always in style, and work with many hair types and lengths, for an irresistible look and unforgettable night."– Kevin Mancuso, Nexxus Creative Director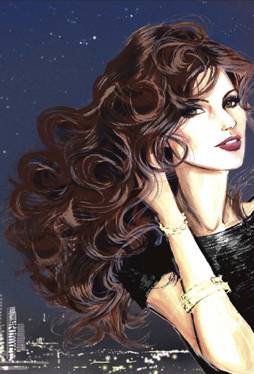 Valentine's Day Hair Tutorial by celebrity stylist and Nexxus Creative Director Kevin Mancuso:
Prep
· Start your hairstyle in the shower by using a volumizing shampoo and conditioner, like Nexxus Diametress Luscious Volumizing Shampoo and Sublime Volume Luscious Volumizing Conditioner. 
GET THE LOOK: Penelope Cruz style and look at the 67th Golden Globe Awards was one of my favorite. I loved her super chic black Armani dress which had a mixture of stripes and lace. And I loved her hairdo and makeup.
Inspiration & The Look: Inspired by Penelope's vintage Armani dress and her fresh from vacation tan, iconic hairstylist Oribe channeled classic Hollywood glamour for Penelope's red carpet style. He created cascading, pinned back waves for a relaxed, elegant look.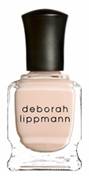 Manicurist Deborah Lippmann polished off some of Hollywood's hottest looks at the Golden Globes on Sunday. Penelope Cruz wore Night And Day to compliment her bronzed glowing skin.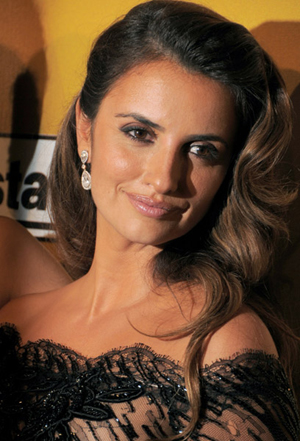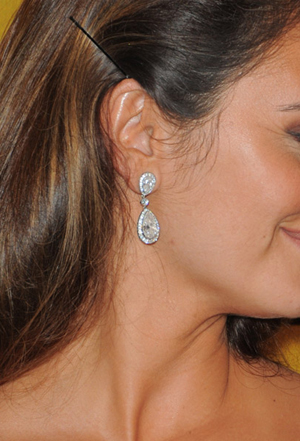 Oribe used his Imperméable to shield Penelope's hair from the day's rain and humidity.
How To Get Penelope Cruz Hairdo at the 2010 Golden Globes:
1. Start by working Gel Serum through the hair and then use hot rollers or a curling iron to set the hair. Spray Imperméable or an anti-humidity spray on the hair before using the curling iron to help protect the style and prevent frizz.
2. Brush loose curls into place
GET THE LOOK: Rose Byrne's gorgeous hairstyle at the 67th Golden Globe Awards.
Kicking off the award season, star style ruled the red carpet at tonight's Golden Globes. Harry Josh, John Frieda International Creative Consultant, shares his styling secrets with easy-to-use tips and tricks to achieve Rose Byrne's stunning look.
"I went for an old school Hollywood style with a modern twist," said Harry. "The shape and silouette is classic, but I roughed it up a little and loosened the waves to make the look less up tight."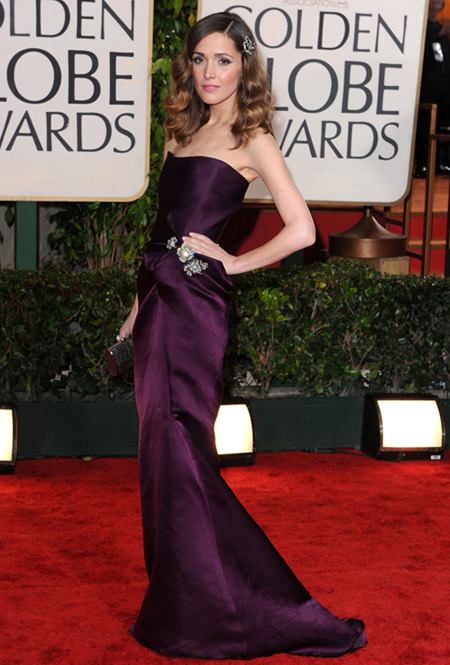 Harry began by applying John Frieda's Luxurious Volume Bountiful Body Mousse to Rose's wet hair to add texture.


Last night Frederic Fekkai Celebrity Stylist Renato Campora styled Jessica Alba, for the 2010 People's Choice Awards giving her a young, modern, undone bob.
Here is how to get Jessica Alba's hairdo at The 2010 People's Choice Award:
Starting with wet hair, Campora applied FEKKAI COIFF STRONG HOLD VOLUME MOUSSE all over the head to create the foundation for Alba's style. Next, he formed a middle part, and used a FEKKAI Large Round Brush to blow the hair dry. Using a 1 inch curling iron, he created loose curls letting them fall to cool. To finish the look, Renato applied FEKKAI COIFF Nonchalant Piecing & Forming Wax at the end of the curls, adding texture and creating a tousled look. This is a modern look for all women and can be worn as everyday or as an evening look.
I can't wait to get my hands on the new Jimmy Choo for H&M shoe collection! Did you know that Aveda did the Rocker Chic hair for Jimmy Choo for H&M launch party? Talking Makeup has the scoop on how you can get the look at home.
Show: JIMMY CHOO FOR H&M
Lead Hair: Ginger Boyle for Aveda, Planet Salon, Beverly Hills, CA
The Look: The look is very rock and roll—edgy and imperfect with thick, ruffled texture. A new flat-iron technique creates square-shaped waves for easy, rocker chic style.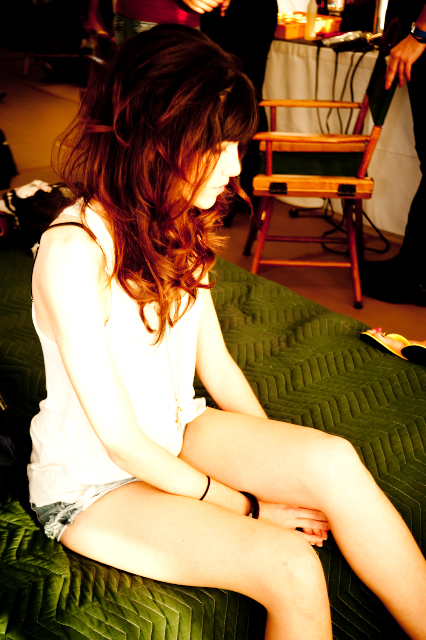 Get the Look/Step-by-Step:
Step 1: Separate hair into top and bottom sections, creating a horizontal line from ear to ear. Further divide the top section into two to three layers, depending on the amount of hair. Twist and secure each layer at the top of the head with a hair clip.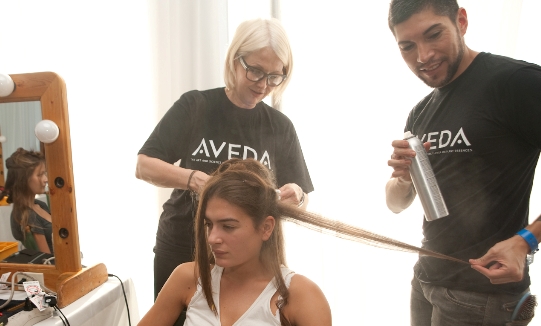 Last night Frederic Fekkai stylist, Angee Grmoyles tended to the tresses of Molly Sims for the 6th Annual Friends of El Faro event.
Inspiration: A fun and flirty yet still sophisticated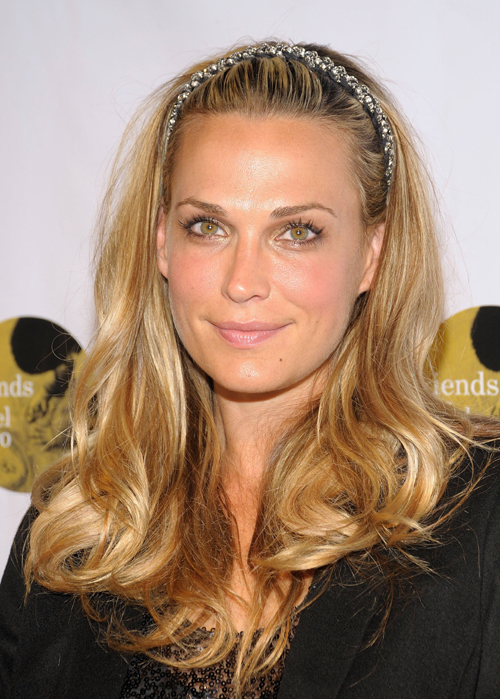 How to create Molly Sims hairdo:
First, Angee sprayed Coiff Bouffant Lifting & Texturizing Spray Gel to the wet hair to add body and fullness. She then blow-dried the hair with a diffuser to add volume. Next, she curled the hair with a 1 ½ iron and placed the curls in pins. After ten minutes she took down the pins. Then, Angee tossed the hair with her finger tips. She finished the look with the Fekkai Sheer Hold Hairspray to hold the style in place and loosely combed the head band back for easy maintenance, creating a fresh and styled look.
New York Fashion Week Spring 2010 Report: John Patrick Organic Show Odile Gilbert for Aveda. Also, Aveda Lead stylists: Dennis Clendennen, Dionysus, The Woodlands, Texas.
The John Patrick Organic show took place this morning at Keen's Steakhouse in New York City.
The hair look for John Patrick Organic is a modern, playful take on Bohemian-chic. Hair is smooth and shiny on top with soft, free-flowing curls below the cheekbone and volume at the front—pulled back into a barrette, adding a girly touch.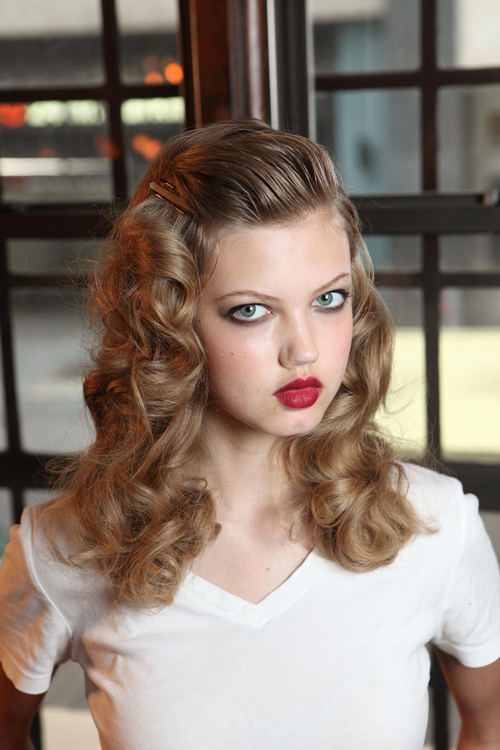 Get the Look Step-by-Step:
• Step 1: Prep hair with Aveda Phomollient Styling Foam to add body, volume, and shine.
• Step 2: Brush hair through and create a deep side part.
• Step 3: Divide hair into three sections: bottom, sides/top and middle, and secure in place with hair clips. Spray each section generously with Aveda Air Control Hair Spray for shine and hold.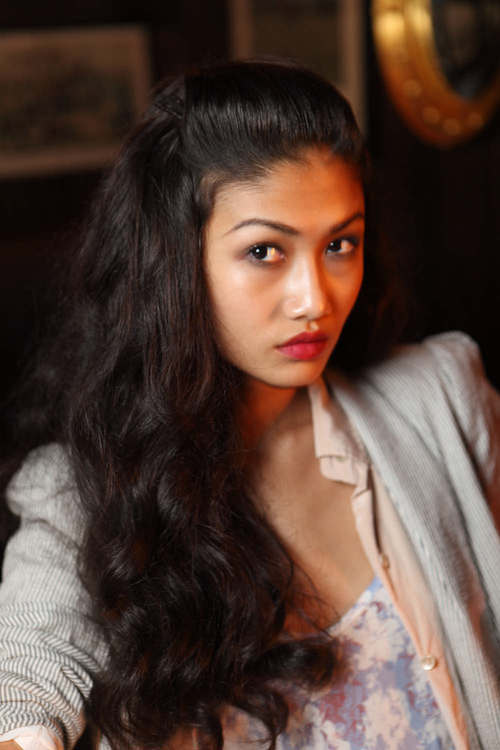 Who is better to ask what's hot when it comes to hair this fall other than the hair stylists who spend their time doing hair for the runway, ghd Ambassadors: Omar Lopez, Craig Carter, and Andy Bodine.
ghd Ambassadors Omar Lopez, Craig Carter, Andy Bodine, were kind enough to share with Talking Makeup their take on Fall Hair Trends:
From Omar Lopez, ghd Media Ambassador: Movement Is Back with Curling Just The Ends
Movement is back in, but this season, the focus is all on curling just the ends of the hair which is simple and sleek and easy to do. Prep the hair with ghd fat hair lotion and blowdry. The product is heat activated and works the same way mascara does on lashes, using rayon micro fibers to pump up each strand. Play up overall volume by applying from roots to ends, then follow with a little more on just the ends of the hair. This will plump up ends and allow for long lasting fat curls.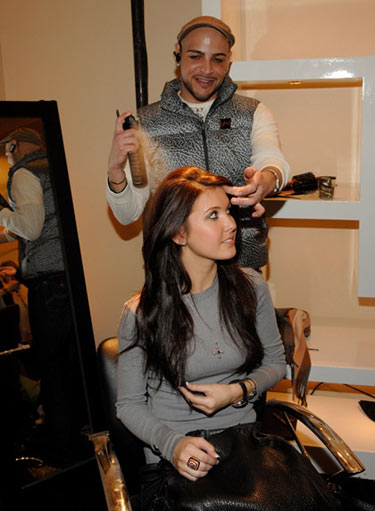 Omar Lopez styling Audrina Patridge
Use the ghd IV styler to straighten the length of the hair, then when you reach the ends, turn the styler 180 degrees to create a slight curl. Finally, use just your fingers to ruffle up the ends to create a slightly tousled look and you have one of the hottest looks for fall!
From Craig Carter, ghd Creative Ambassador: Sleek Straight Ponytails With Natural Shine