All Posts Tagged With: "Olay"
Did you know that the first time I've ever tried any makeup from Cover Girl was during New York Fashion Week Spring 2010? I can already feel many of you are surprised. Well, growing up in Israel back in those days we didn't have many options for makeup . It was a beauty brand I was not at all familiar with. Luckily, I can't think of a better introduction to Cover Girl, now one of my favorite makeup lines, by Jake Bailey Cover Girl's celebrity makeup artist. I met Jake at the CVS Reinventing Beauty Lounge back in September 2009, he did my makeup using all Cover Girl products and needless to say Marta was in love!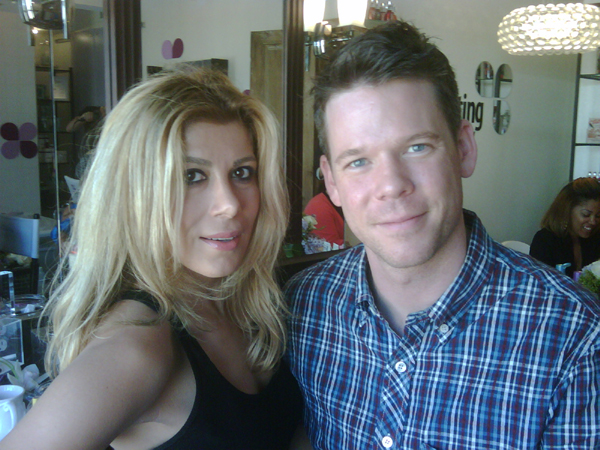 Marta Walsh and Jake Bailey Cover Girl's Celebrity Makeup Artist
These are the Cover Girl makeup products Jake Bailey used on Marta's face:
Face
Cover Girl and Olay Simply Ageless foundation #260 Classic Tan which felt so refreshing on my skin
Taylor Swift is gracing the cover of In Style December 2009 Issue!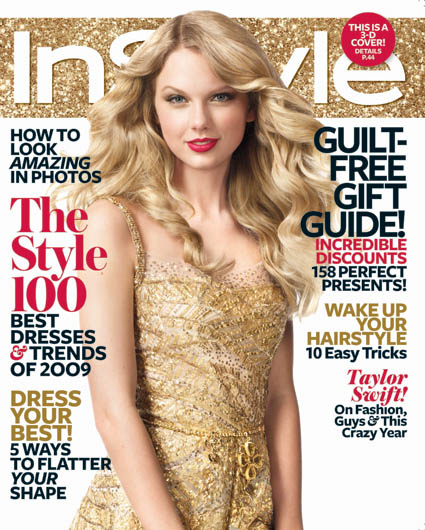 Also, Instyle magazine is bringing a NEW way to shop. Instyle's December issue is offering you the chance to shop 25 Brands, from Chanel to Intel in 3D. Beauty deals includes: L'Oreal, OLAY, Lancome, Chanel and MORE. Gifting In 3-D, A New Dimension In Holiday Shopping employs augmented reality technology to create a fun and engaging new way to shop. PLUS you can Enter to Win a $1,000 Shopping Spree in NYC
Does this scenario sound familiar: You are standing in front of a huge skincare isle or shelf in your local drugstore and you just can't decide which moisturizer to buy. Well, my decision is easy these days: I'm in LOVE with Olay PROx Intensive Wrinkle Protocol. The creams are super hydrating, silky to touch, and never heavy or greasy. No strong fragrance, which is a big plus. Honestly, this is my favorite Olay moisturizer line, alot of it to do with the fact that not only it works amazing on my skin, there is no strong perfume smell. You know me, I'm not so keen on perfume in my skincare.
The Olay PROx Intensive Wrinkle Protocol kit includes: age repair lotion with SPF 30. wrinkle smoothing cream. deep wrinkle treatment.
I'm so excited to share with you my interview with an Olympic Ice Dancer Tanith Belbin! I love watching figure skating and ice dancing therefore interviewing Tanith is a dream come true.
Tanith Belbin is a Canadian-American ice dancer. Though she holds dual citizenship, she competes for the United States and has competed for the U.S. since she began skating with Benjamin Agosto in 1998. With Agosto, Belbin is the 2006 Olympic silver medalist, four time World medalist, three time Four Continents champion (2004–2006), and five-time U. S. champion (2004–2008).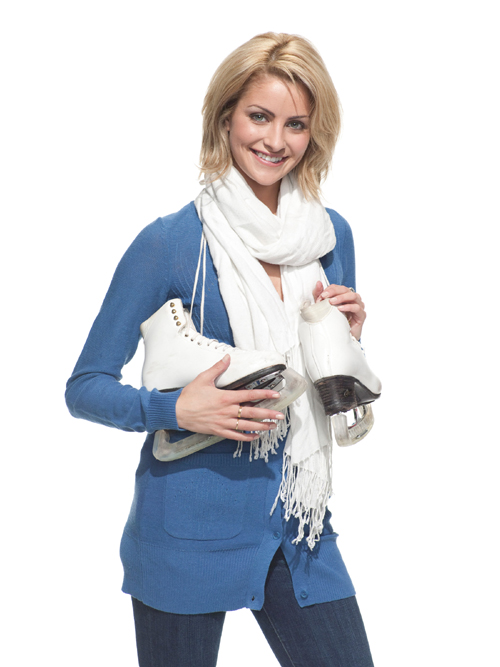 Photo credit: NBC Sports / USOC
Tanith Belbin was born in Kingston, Ontario and raised in Kirkland, Quebec. She lived and trained in Canton, Michigan for many years, before moving to Aston, Pennsylvania to train at Ice Works. Belbin's mother, Michelle (McKinlay) Belbin, is a costume designer and she makes some of Belbin's costumes. She trained as a figure skater in St. John's, Newfoundland.
Talking Makeup would like to wish you all a very Happy Halloween and give you a special treat thanks to Walmart! What you get is a whole basked full of beauty products that are sold at your local Walmart *. You don't want to miss this one!!
How To Enter to WIN:
1. Go to Talking Makeup's YouTube channel and subscribe!!
2. Go to video page HERE and leave a comment!!
Products mentioned in Marta's video blog: 
Products:
Covergirl color lip
Covergirl lash blast volume blasting mascara
Covergirl eyeshadow trip in shimmering sands
Olay regenerist micro sculpting cream/amino peptide
Crest advanced seal white strips
Pantene pro-v moisture renewal shampoo damaged hair
Secret clinical strength deodorant
*The Walmart Beauty Products Giveaway courtesy of Walmart
Secret: Marta loves to shop in Walmart for beauty products! I know, some of you might be surprised. But I believe in life you need to mix and match. I like to mix expensive beauty products with some classic super affordable products.
Here are Marta's picks:
Cover Girl lash blast Volume Blasting Mascara: I hear this mascara by Cover Girl is a total super star and is securing its place as a classic. It made my lashes this morning long and full in just seconds.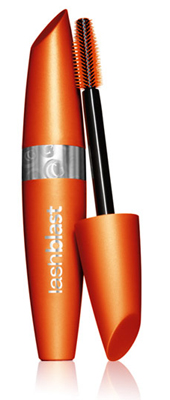 Prevention magazine put the leading anti-aging beauty products to the test again this year and found seven products deserving of the "Defy Your Age" seal, including Olay ProX Age Repair Lotion, Neutrogena Norwegian Formula Age Shield Hand Cream and Estée Lauder Idealist Dual-Action Refinishing Treatment.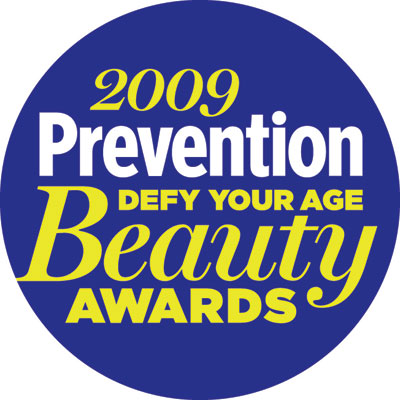 To determine the winners, Prevention enlisted seven leading dermatologists to test the claims of the 35 most promising products of the year on a group of 175 women, ages 40-plus, for a period of up to eight weeks. The doctors then employed state-of-the-art equipment to measure which products best delivered on their claims using before and after skin analysis. The teams investigated seven categories of products including hand, eye and night creams; lip, adult acne and microdermabrasion treatments; and day lotions with . This year's winners are all available for less than $50.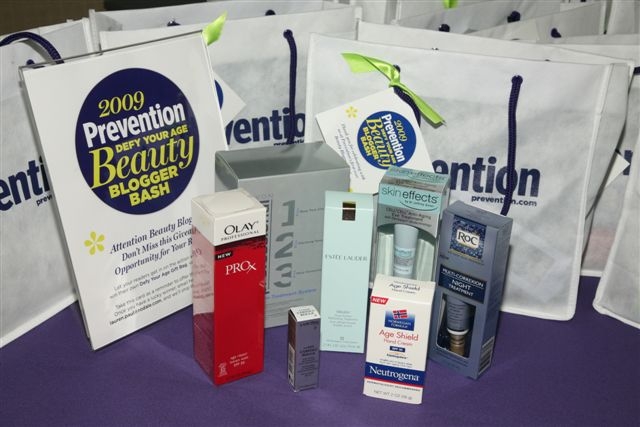 It seems to me that Olay is becoming synonymous to quality yet affordable skin care. If you are a fan of Olay Regenerist you might want to learn about Olay's latest addition, which was first introduced in July 2006: Olay Definity.
Here are some facts about Olay Definity: A precision technology anti-aging skin care collection containing the Olay-exclusive Essential Glucosamine Complex to reduce the appearance of skin discolorations such as dullness and brown spots by up to 78 percent vs. base moisturizer. With daily use, Olay Definity penetrates up to 10 surface layers deep and hydrates to both help reverse the appearance of past damage coming from beneath skin's surface and allow natural rebuilding of skin's collagen.
There two main ingredients in Olay Definity: N-acetyl glucosamine and Niacinamide. N-acetyl glucosamine is found to work with moisturizing Niacinamide to improve the skin's moisture barrier, visibly reducing the appearance of hyperpigmented spots and improve the overall evenness of skin tone. Niacinamide works to hydrate and soften skin while creating strong moisture barrier to help reduce the appearance of red, blotchy skin.
Definity Product line-up:
Olay Definity Deep Penetrating Foaming Moisturizer: an aerated serum less dense than a lotion or cream, but with equal penetration performance. It feels virtually weightless on the skin and easier to spread than a cream or serum, hence more even coverage.
Olay Definity Correcting Protective Lotion with SPF 15: has a broad spectrum of UV protection and provides a luminous effect that helps correct the appearance of color imperfections.
Olay Definity Intense Hydrating Cream: luxurious cream contains the highest levels of glycerin in the line to provide hydration deep into multiple levels of the skin.
How to use:In the morning, apply the Deep Penetrating Foaming Moisturizer followed by the Corrective Protective Lotion SPF 15 for light weight moisture with UVA/UVB protection. In the evening, use the Deep Penetrating Foaming Moisturizer with the Intense Cream for deep moisturization. SRP: $27.99.
Olay Regenerist Micro-Sculpting Cream is the latest addition to the Olay's Regenerist skincare line.  Olay Regenerist Micro-Sculpting Cream is a result of 50 years of Olay research.  This cream by Olay has the highest concentration of amino-peptide complex infused with intracellular fortifier and a touch of precious marine proteins.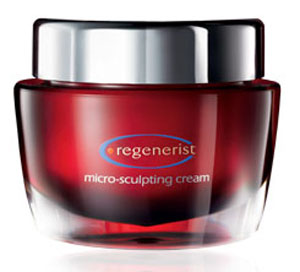 Intracellular hydration regenerated volume and shape across skin's 10 million surface cells progressively lifting and micro-sculpting to help: firm sagging-prone areas, even the jaw line, smooth skin's surface, and restore elasticity.     
Seems like the Olay Regenerist skincare line is the most wanted skincare in your local drugstore.  Every time Talking Makeup is trying to get this sought after Olay Regenerist face lotion the shelves are empty.  Is this sounds familiar?  It is good news that you don't need to spend a lot of money to get a moisturizer that works.  So what's in Olay Regenerist UV Defense Regenerating Lotion?  Olay Regenerist UV defence Regenerating Lotion combines the exclusive Olay amino-peptide complex with vitamin C, Olay moisture and UVA/UVB SPF 15 sunscreen to speed surface cell turnover and enhance skin's condition one cell at a time. 
This lotion by Olay is also light, non-greasy, and has light-bending powders to soften the look of fine lines and wrinkles.  This face moisturizer by Olay is lightly scented.  Cost: under $20.  We haven't yet seen an fragrance free lotion in this Olay Regenerist line except, Olay Regenerist Eye Lifting Serum. 
Olay Regenerist eye Lifting Serum is formulated with a concentrated form of an exclusive amino-peptide complex that hydrates to firm and visibly lift skin around the entire eye area.  According to Olay's official site you should be noticing a complete turnaround in just 24 days.  Your under eyes will get smoother, firmer and brighter.  Your under eyes will also get smooth corners and even-toned.  Olay Regenerist eye Lifting Serum is gentle, fragrance free, dermatologist and opthamologist tested, non-greasy, suitable for everyday use.  Cost: less then $20.  Other products is the Olay Regenerist skincare line: Olay Regenerist Daily Regenerating Serum, Olay Regenerist Deep Hydration Regenerating Cream, Olay Regenerist Targeted tone Enhancer which will give Regeneration and diminished appearance of age spots and discolorations, Olay Regenerist Microdermabrasion and Peel System, and there is even Regenerist Anti Aging Lip Treatment.  Olay Regenerist's newest addition is Olay Regenerist Eye Derma Pod which delivers the benefits of 3 eye treatments in one system.  What it does: Olay Regenerist Eye Derma Pod does resurfacing, filling in lines and wrinkles, and decongesting puffy under eyes.